Top 20 Greatest Album Closing Songs
How do you close out an album in spectacular fashion?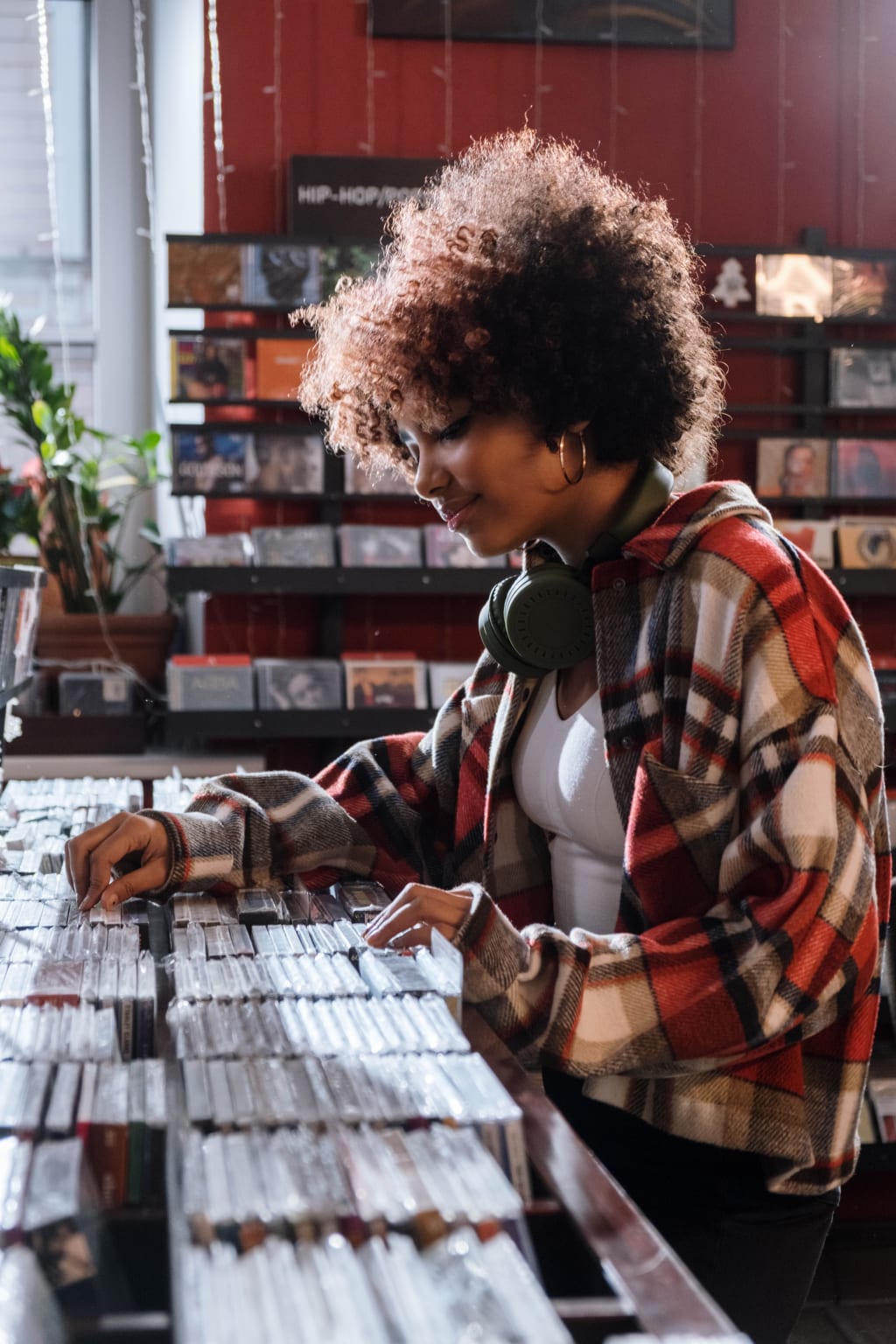 Picture taken from Pexels
Although there has been a lot of discussion since the turn of the century and the advent of music streaming services about whether or not the album as a concept will survive. Many artists still present their latest bodies of work in the form of an album. I remember when CDs came along and replaced cassettes. As a teenager, I loved CDs and the whole "listening to an album" experience.
I was enthralled and entranced with albums that had come before me and the albums by artists and bands that were around when I was growing up. I deeply appreciated the journey they could take you on - expressing emotions, describing the events in their lives or offering opinions on the state of the world, and society. Even the albums that had no cohesive running theme still felt deliberate in their track listing order.
I will save the debate over whether the album can continue as a format for another time. One thing I have always appreciated was the way a band chose to sign off on an album. There is a multitude of different ways they can choose to do it, depending on genre and the overall mood of the album. Some bow out in bombastic style with the most rousing song on the album. Some lead you on a sprawling epic that becomes the defining part of the album, while others bow out in a beautiful and hushed whisper. The closing song is like the reward for sticking with a band or artist on their sonic journey.
I recently saw on Twitter that there was a trending hashtag #AlbumClosingSongs where people shared their favourite long-player closers and that made me think about my own favourites.
So, I want to share with you a list of the album closers that I have appreciated over the years and why I think they deserve to be highlighted.
While there are lots of classics that many other lists include, I am hoping, owing to my eclectic music taste, that there are some album closers from long-players and artists or bands that you have never heard before. While it is true that art and music are subjective, I do welcome your suggestions and thoughts in the comments.
Pink Floyd - Eclipse
Dark Side of the Moon
I am not sure when the first time I heard Dark Side of the Moon was, but I do know that Eclipse always stood out to me. Well, the pairing of Brain Damage and Eclipse, to be precise.
If you have never listened to the whole album, though, I'd urge you to do so, because it's a masterpiece. As we are drawing attention to album closers, though, we'll stay on Eclipse.
It's the perfect end to a flawless album. After the last quiet notes of Brain Damage fades, in comes the crashing majestic sound of that gloriously OTT organ work by Richard Wright and Roger Waters describing the human experience with stunning succinctness.
I love how it builds to a lovely climax, with David Gilmour, Richard Wright and female singers providing the backup.
The album is already a very thought-provoking piece, as is just about anything the prog rockers put out, but I've always felt that despite the dark tone of DOTM, Eclipse is ultimately a positive end.
It's just majestic.
Black Sabbath - Into the Void
Master of Reality
This is probably my favourite Black Sabbath song from my favourite Black Sabbath album. It has everything that makes classic Sabbath a pleasure to listen to, in my humble opinion. The attention-grabbing riff, that intoxicating gap-filling meaty bassline and that solid backing beat pounding away with Ozzy crying out about the Earth becoming so bad that astronauts fly off into space to find somewhere new to live.
As with Lord of this World and Children of the Grave on Master of Reality, both Tony Iommi and Geezer Butler tuned their guitar and bass a step and a half to achieve that heavier, dark sound.
The song has an epic feel, separated really into two parts - there's the slow and pulsating intro that makes way for a very heavy bluesy, mid-paced piece that then unleashes into something much faster and similar to thrash metal that would not really become a thing until the 80s. It closes with a blistering and effortlessly cool solo by Mr Iommi.
James Hetfield of Metallica stated that Into the Void was his favourite Black Sabbath track, while the late, great Eddie Van Halen said that the main riff was one of his favourites of all time. High praise indeed and richly deserved.
Queen - Princes of the Universe
A Kind of Magic
There is a lot that can be said about A Kind of Magic and Princes of the Universe. Interestingly the album served as the unofficial soundtrack for the Christopher Lambert-starring film Highlander. Princes of the Universe was actually the original title of that film.
I have always loved Princes of the Universe. I think it's the fact that it's heavier than a lot of Queen's other stuff and still has the glorious harmonies, several changes in pace and tone, and some of Brian May's best guitar work, in my humble opinion.
Mogwai - Mogwai Fear Satan
Mogwai Young Team
Glasgow's post-rock and predominantly instrumental band Mogwai have been making heady, noisy, contemplative and sublime music for over 30 years and their debut album was released in 1997. The sprawling masterpiece of quiet reflective moments and loud and noisy soundscapes came to an end with this incredible track. 16 minutes of sheer distorted bliss.
This really sums up Mogwai in a song - there's the contract between the quiet and the loud, the build-ups, taking simple progressions and repeating them to keep the tension rising. The blistering guitars give way to a breakdown that features some truly haunting flute. Each and every re-listen is a rewarding experience as you pick up on more of the nuances of the composition.
The Clash - Train In Vain
London's Calling
It almost feels like a strange way to end such a socio-politically charged album. With a break-up song. However, when you think about it and what London Calling was - a show of strength and sheer diversity on the part of The Clash - it makes perfect sense.
Ending such an iconic album with a very funky break-up song.
Mike Singleton wrote a wonderful piece about this song that I recommend you read if you haven't already.
The Chemical Brothers - The Private Psychedelic Reel
Dig Your Own Hole
The Chemical Brothers have remained at the forefront of electronic music since the 90s and its not hard to see why. Although they have evolved with time, their knack for creating bombastic cuts with clever hooks and pounding beats is still there. If I had to single out my favourite album by the duo, though, it would be their sophmore release Dig Your Own Hole. It took what they did on the first album to another level. From the opener of Block Rockin' Beats to this epic, it is a fun ride.
This has remained my favourite Chemical Brothers song since I first heard it back when the album was released. The 9+ plus minutes are just epic. Driven by repeated sitar line that is warped and manipulated as the track progresses and merges into the background as other synth flourishes fill the room before giving way to two astonishing clarinet solos.
It's nine minutes of bliss!
Nine Inch Nails - Hurt
The Downward Spiral
I don't really listen to The Downward Spiral much these days. However, when it was first released in 1994, it was one of my favourite albums. The depth of emotional rawness on it, its musical creativity and the cohesiveness of its concept floored me. If there is one song I still listen to aside from a handful of the others, it's Hurt. Reflective and dark ballads were something that Nine Inch Nails were no strangers to, as they had Something I Can Never Have on Pretty Hate Machine, their debut album.
The sparse acoustic guitar, the sparse piano and all the distortion and production manipulation make this quite a rollercoaster, which is why it is the only sensible way Trent Reznor could have closed out such a dark album that lives up to its title.
I have always appreciated that the last line of this album at least offered some hope.
The song went on to become even more popular than it already had after this was a commercial success because Johnny Cash released a cover that took on new meaning.
Bob Dylan - Desolation Row
Highway 61 Revisited
Highway 61 Revisited is such an iconic album and features arguably two of Bob Dylan's best songs, so it's not really surprising that I've picked out the masterpiece that is Desolation Row. compared to Like a Rolling Stone which was quite up-tempo, though punctuated by Dylan's sarcasm, Desolation Row is a quieter affair that packs an even bigger punch. Across the 11 minutes and 21 seconds of the song, many historical, biblical, fictional, literary and some others.
Cinderella, Romeo, Cain, Abel, Hunchback of Notre Dame, Good Samaritan, Noah, Albert Einstein, Robin Hood, Dr. Filth, The Phantom of the Opera, Casanova, Ezra Pound and TS Eliot on the Titanic are all featured in what has been described as a Fellini-esque parade of oddities and the grotesque and is an example of the high level of poetical lyricism that much of Dylan's work is famous for.
Bob Marley & the Wailers - Redemption Song
Uprising
One of Bob Marley's greatest songs is also a massive departure from the kind of work he was most famous for. There was no sign of the reggae flavour in most of his work. In fact, it sounds similar to a Bob Dylan acoustic ballad. The fact that it is just Marley and an acoustic guitar does not take away from how powerful a song it actually is, though.
As an interesting sidenote, Joe Strummer recorded two versions of this song. One with him and his band at the time The Mescaleros and another with Johnny Cash. Both are essential listening.
The Beatles - A Day In The Life
Sgt Pepper's Lonely Hearts Club Band
What do you do when you have two unused songs by two of your band's main songwriters? Merge the together to make a strange cohesive masterpiece to close out the most iconic albums of all time, that's what!
There is so much that has been said about A Day in the Life. The references to drugs, the middle section that was written by McCartney seems to fit just right, even though it had not been written alongside Lennon and Lennon's parts inspired by newspaper headlines and stories. I would be hard-pushed to pick a favourite song by The Beatles, but A Day in the Life is certainly up there.
It ends one of the most creatively diverse and inventive albums of all time on quite a sombre note with one of the most famous recorded chords of all time following an epic orchestral crescendo. Starr, McCartney, Lennon, and Mat Evans (a voice assistant) shared three pianos, while George Martin was on Harmonium and they all played an E-Major chord at the same time. The chord then rings out for more than 40 seconds, which was achieved by continuing to increase the recording sound while the vibration faded.
A truly sublime way to finish one of the most important albums of all time.
Nirvana - All Apologies
In Utero
There are a lot of ways to interpret All Apologies, the final single from Nirvana before Kurt Cobain committed suicide. You could write a full article on this song alone. It feels to me like an apology for not meeting expectations. Something that Kurt struggled with. It's notable because of its lowkey sound, the addition of cello and the lack of aggression that is felt through many of Nirvana's best-loved songs. In Utero showed how much the band had matured, while also perhaps becoming disillusioned (especially on the part of Cobain).
I actually find that although I love Cobain's screams, his voice when it's reined in a little has a fragile and impeccably melodic sound.
Jeff Buckley - Dream Brother
Grace
Written as a plea to his friend, Chris Dowd from the funk metal band Fishbone, who was thinking about walking out on his pregnant girlfriend, in a similar way that Jeff Buckley's dad, Tim Buckley, did. Like most of the album, Dream Brother is a sad reminder of what we lost when Buckley was taken from us. The amount of emotion the man could express in his voice was untouchable in many ways, especially from the time when he first emerged.
Lynyrd Skynyrd - Freebird
(Pronounced 'Lĕh-'nérd 'Skin-'nérd)
No look at the best closing albums could be complete without one of the greatest of them all, Freebird. A tribute to the late, great Duane Allman of the Allman Brothers, it's incredible to think this was on their debut album. Clocking in at just over 9 minutes, the masterpiece is about what it means to be free. Birds are free to fly wherever they want and the character in the song wants to leave his partner because although he doesn't want to hurt her, there are so many things he still wants to do before he settles. What starts as quite a sombre and lowkey song develops into a faster-paced track with an incredible solo that is as full of emotion as the rest of the song.
Prince - Purple Rain
Purple Rain
Closing out his 1984 album of the same name, Purple Rain was almost a completely different song. It started out as a 10-minute instrumental with a country feel that was intended as a collaboration with Stevie Nicks. At the time, Nicks politely told Prince that she felt overwhelmed by the idea, and wished she could do it but knew she couldn't. It was only that after a session with his band tried working on the song and Wendy Melvoin played some guitar chords that it took on its unique sound.
According to Prince, it is about being with the one you love at the end of the world and putting your faith in God, letting him guide you through the purple rain, when there is blood in the sky, blue and red make purple. It is arguably his best song and ends what is already a stone-cold classic of an album perfectly.
Jimi Hendrix - Voodoo Child (Slight Return)
Electric Ladyland
If ever there was a way to end an album like Electric Ladyland, Voodoo Child (Slight Return) is it. Incredibly, but also unsurprisingly, considering the skill of Hendrix, the song's guitar and vocal work was improvised by the man himself. You'd swear the studio was going to catch fire as Hendrix blistered all over the track!
The Rolling Stones - You Can't Always Get What You Want
Let It Bleed
There are many songs on my list that are featured on other lists just like it and this classic by The Rolling Stones that completes one of the greatest albums of all time is one of them.
You Can't Always Get What You Want ends on a more uplifting note than the bruising starting point of Gimme Shelter.
It is the sound of a band that was at the height of its powers and every second and minute of the epic is important and it never outstays its welcome. If anything, I could listen to the end for another minute or two, but that's just me.
Led Zeppelin - When The Levee Breaks
Led Zeppelin IV
A reinterpretation of a Kansas Joe McCoy and Memphis Minnie song, When The Levee Breaks ends Led Zeppelin IV in bombastic fashion. The thundering beat pounded with passion by John Bonham, the iconic guitar work of Jimmy Page and that stunning harmonica and vocal by Robert Plant. A classic way to bow out on a classic album.
It feels like something completely new form of blues rock, while still paying homage to the old ways.
Bruce Springsteen - Jungeland
Born To Run
With an iconic album like Born To Run, it makes sense that The Boss would close it with such a beautiful anthemic piece that starts with 23 violins and ties all the themes of the album together perfectly. It's hard to pick out whether it's The Boss, the composition itself or that sublime saxophone solo that is the highlight.
I would put forward the argument that everything about this song makes it magical.
The Who - Won't Get Fooled Again
Who's Next
Over 8 minutes of musical brilliance and genius vision. If it feels like it doesn't fit in with the rest of Who's Next, that was kind of the point. This was supposed to be used in a rock opera guitarist Pete Townshend was working on. It still manages to sit nicely as a bookend for the album with the opener, Baba O'Riley. Even people who have never heard the song will recognise it from a variety of TV shows and the plethora of cover versions there are out there of the song.
Fleetwood Mac - Gold Dust Woman
Rumours
What a way to end such an iconic album that covers divorce in such a sonically masterful and deeply emotional and biting fashion. Gold Dust Woman sees Stevie Nicks giving a very dark insight into the excess and depths cocaine addiction brought her and many people during that time period.
Powerful and gripping. A song that pulls no punches and rightly so.
*
Well there you have it, my choice of the Top 20 album closing songs. Well, at the time of writing and publishing this, that is. As things often change as my mood changes. However, the 20 above would always be somewhere in the mix. I actually started with a list of nearing 50 but felt that would be too much.
As a companoon to this I am also working on a Top 20 Album Opening Songs that I'll link to this when it is up and ready for viewing.
I hope you enjoyed this article. If you did, I would appreciate it if you left a comment, clicked the heart or both. If you have any suggestions for best closers, please feel free to mention those too.
If you have time, why not check out some of my othe work:
One of my entries, with a music theme, for the recent Reset Your Password Challenge:
Some thoughts, mumblings and shouts on words:
Inspired by my Imposter Syndrome:
You can also take a look at the rest of my work here.
About the Creator
I'm Paul, a poet, and writer from Glasgow. After 12 years of writing solely for others, it's time to start writing for myself.
Expect a heady mix of fiction, non-fiction and poetry. If you like what you read, please subscribe!
Reader insights
Outstanding
Excellent work. Looking forward to reading more!
Top insights
Expert insights and opinions

Arguments were carefully researched and presented

Easy to read and follow

Well-structured & engaging content

On-point and relevant

Writing reflected the title & theme
Add your insights