To the Beat: October 2020
A monthly playlist curated by creators, for creators.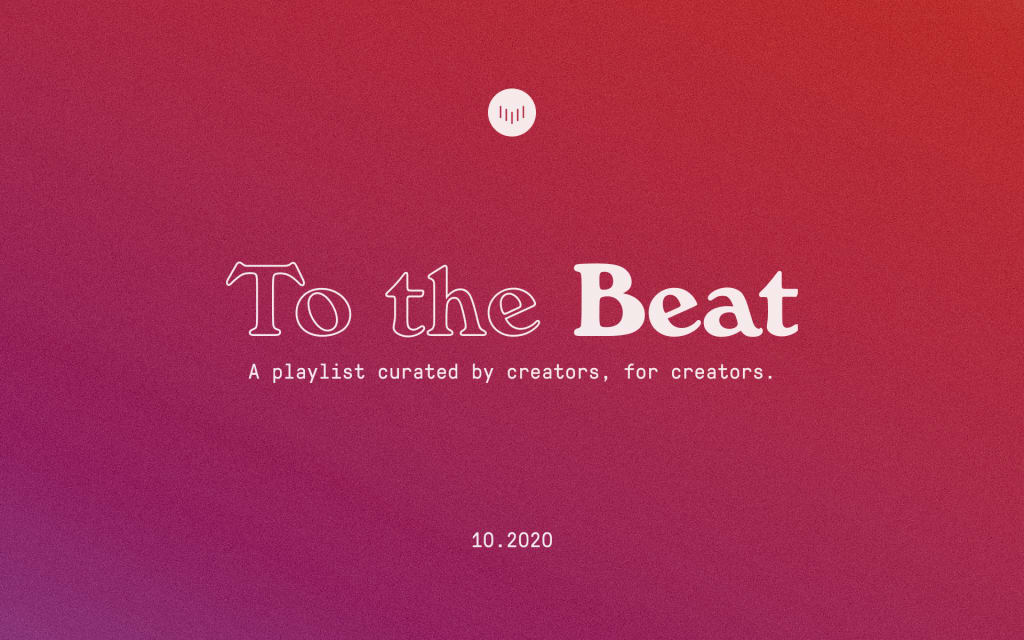 We're wrapping up another month with a new round of To the Beat! This month's playlist is one to motivate, spook, and inspire, with plenty of throwbacks and classics, fit for any event. Beat, our music community, had incredible stories based on different experiences and tastes in music that led us to create this one of a kind playlist for you. We found songs that mean a lot to you, help you get through stressful times, and some feel-good jams that boosted our workday mood this week.
We can't have an October playlist without a little Halloween treat! Since spooky season is very much still in full swing, there are a few Halloween-inspired songs that made the list.
Thanks to all of our creators for sharing your stories with us this month on Beat. Without you, we probably wouldn't have as much control over the office music or discovered some killer throwbacks and new jams to impress our circle of friends. Put on your headphones, turn up the volume, and check out the full playlist at the end of the story.
But first, here are five stories that stood out to us:
1. Enhance your productivity with a playlist for your brain by Steph Eva
"Did you know that choosing the right tunes to listen to while working or studying, can actually enhance your productivity levels, boost your creative thinking & increase your work rate?" If you've got a final to study for, a deadline to meet, or just need to get in the zone to get that to-do list down to zero: these songs will get the job done.
2. Sixteen Songs to Scare Your Soul by M J Steel Collins
A playlist sure to give you the spooks and thrills for a Halloween most of us won't ever forget. From Black Sabbath to Michael Jackson, these creepy classics won't expire at midnight.
3. A Playlist Fit for a King by DCAUTHOR360
Rap royalty dates back to hip hop's early days. It's quite difficult to debate on who takes the crown as the king of hip hop, and this playlist is indeed fit for a king.
4. ARTISTS MY PARENTS INTRODUCED ME TO WHEN I WAS YOUNG by Axelle T. Marchesin
Here's a good throwback to the classics of rock. You probably heard these songs in the car on the classic rock station on road trips, or your parents blasted these bands at home on their decades-old sound system. Still rocks though!
5. The Happy Egoist: My Playlist for the Self by Skylerized
This story and playlist are all about number one. That's you! Sit back, relax, get some time in for yourself, and focus on you.
In the full playlist below, you'll see a lot more great songs we collected over this month, so you won't want to skip ahead. We promise not to put a spell on you, but this month's round-up is sure to satisfy just about any creator. Whether you're staying in having some me-time, working against the clock on a deadline, or DJing the Halloween get together – we've got you covered. Put this on shuffle and get to work (or play!) Again, thanks to all of you for sharing your music and your words with us this month. We can't wait to see what you come up with in November!
About the Creator
Collaborative, conscious, and committed to content. We're rounding up the best that the Vocal network has to offer.
Reader insights
Be the first to share your insights about this piece.
Add your insights