To the Beat: January 2021
A monthly playlist curated by creators, for creators.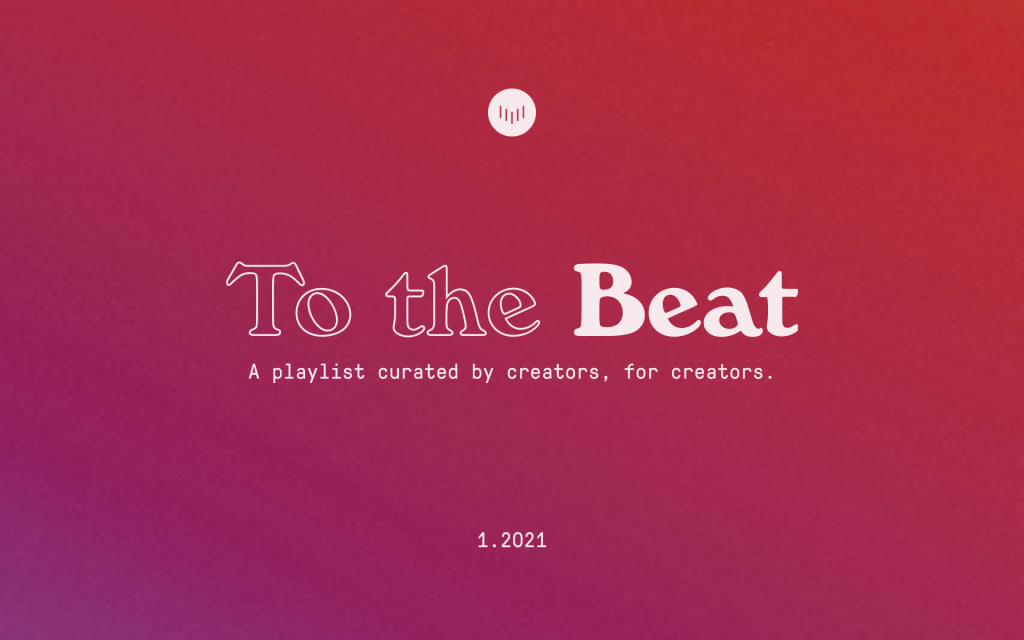 I always tell the girls, never take it seriously,

if you never take it seriously, you never get hurt,

you never get hurt, you always have fun,

and if you ever get lonely, just go to the record store

and visit your friends.
– Cameron Crowe, Almost Famous
Well, in this case, the record stores are still closed, some out of business, and others are grappling to survive as the pandemic remains. With a collective sigh of relief, we have you, the Vocal community, to help us through with another edition of To the Beat. What a year month it's been so far. With one major historical event after the other, this year's been taxing, and we're only 31 days in. But like a dear and loyal friend, we find solace in the songs you share through your stories on Beat.
This month's playlist starts a tad heavy, but before you can say, first Black, South Asian, and female vice president, the mood shifts. By mid-month, a wave of hope and lighter vibrations begin to fill our earbuds and refill our weary spirits. In last month's edition of To the Beat, on the eve of 2021, we optimistically toasted to 2020, ready to start anew, and we think this compilation of songs fits the bill. This edition highlights five stories that felt extra special as we embark on this extraordinary new chapter, new year, and era. As you check out each story, share a like or send a tip if a particular song or anecdote spoke to you.
Somebody crowd me with love

Somebody force me to care

Somebody let come through

I'll always be there

As frightened as you

To help us survive

Being alive

Being alive

Being alive
According to Maggie's playlist, there are at least twelve versions of "Being Alive" that hit home, especially in these times. First introduced in Stephen Sondheim's 1970's musical comedy "Company," the song has been covered by Barbra Streisand, Tony Bennett, Sutton Foster, and even featured in an episode of "Glee." Maggie explores how the song has acquired new meaning over time, depending on the artist, character, or plot. It reminds us that "no matter who performs it, so many people connect with "Being Alive" because it's about wanting, and that's what makes us all feel alive." We can relate to that universal need, especially for those feeling extra isolated, lonely, or uncertain right now.
Capitalism is dehumanizing, and this song exemplifies that. It only took me five hours to realize it. So, kudos to Paul McCartney for writing a song that so accurately portrays the contemporary condition. Kudos to Paul McCartney for so effectively and devastatingly tearing apart a system that exploits young people, for pulling the mask off of these job listings that seek mostly to tear away the individuality of their workers and create only mindless profit machines.
Steven peels away the layers of Paul McCartney's "Temporary Secretary" through a modern-day lens. Throughout his five-hour course spent repetitively listening to this "psychedelic nightmare" song, he uncovers deeper meaning. Perhaps the whole point was to unnerve the listener, shaking awake violently to an exploitative society. "The purpose of the song is to deconstruct the aspect of capitalism that causes mid-tier managers to petition their higher-ups for young people to exploit for their personal benefit." We'll never hear it the same again.
The Queen of Country not only delivered an impressive slate of creative projects in the form of books, music, and Netflix movies, but also gave us a Covid-19 vaccine and plenty of love and light to help us make it to 2021. Is there anything she can't do?
Agreed, Jesse. An unstoppable force to be reckoned with, Dolly can do no wrong. As the tides begin to change and a new commander steers us ahead, we hear an international sigh of relief. We can take a break now from the endless breaking news and dive deep into Dolly Parton's deep cuts.
The epitome of Flamboyance, before LGBTQ acceptance, he was the the very impetus of "What happens in Vegas stays in Vegas," while always regarded as the ultimate gentleman.
He's referenced in more than 200 songs, for starters, ranging from country to hip hop, and we wouldn't have Las Vegas residencies without him. "His pianos have been borrowed for the 2019 GRAMMY Awards and the 2020 Oscars. His jewels have been exhibited at the Paris Museum of Modern Art and Monte Carlo Fashion Week. His costuming has been exhibited at the New York Metropolitan Museum of Art, and inspired numerous stars' attire at the 2019 MET Gala." It's evident his legacy behind the candelabra lives on in Vegas, and beyond.
There's a light at the end of the tunnel

Keep your eyes on the road ahead

But if you're feeling lost in the night

It's okay to cry

Just as long as you hold your head

'Cause we're on our way to better

Better's ahead, better's ahead

It get's worse 'fore it gets better

But better's ahead, better's ahead

Better days are comin' (better and better and better, ooh-ooh)
Cheryl shares a look back on Inauguration Night. The serotonin boost that Inauguration BROADWAY! so gladly provided was a star-studded finale to a historic day. "We looked for the light and have now found the sunshine." Is this an indication that we may finally be able to see some light, even just a glimmer, at the end of this long and winding tunnel?
68 songs, 4 hours and 29 minutes: encapsulating a month in music
Like visiting an old friend, reading and listening along to your Beat stories this month gave us the relief we so desperately needed. Your stories serve as a reminder that there will always be music, while discovering a new soundtrack that memorializes these unique and unprecedented times. A small, digital version of a time capsule, if you will. Listen to the full playlist below, and we'll see you back here next month.
– The Vocal Curation Team