The Definitive Ranking of Dolly Parton Songs
Deep Cuts from a Dolly Super Fan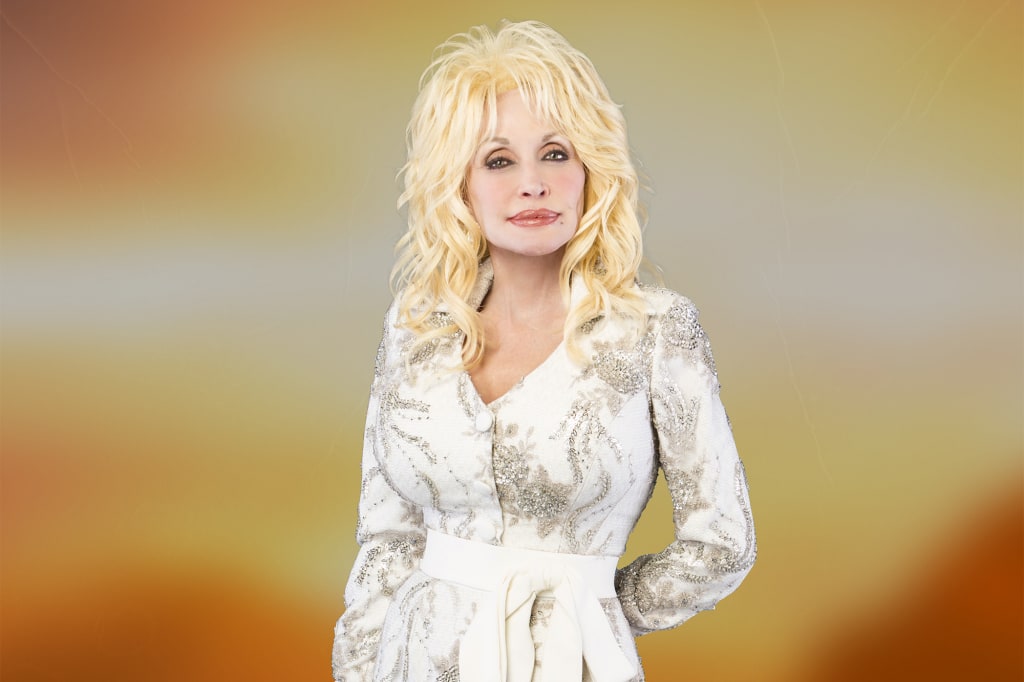 Courtesy of The Dolly Parton Company.
It cannot be denied that 2020 was the year of Dolly. The Queen of Country not only delivered an impressive slate of creative projects in the form of books, music, and Netflix movies, but also gave us a Covid-19 vaccine and plenty of love and light to help us make it to 2021. Is there anything she can't do?
With a renewed interest in her music came the chart reentries of some of Dolly's greatest classics: 9 to 5, I Will Always Love You, Jolene, Here You Come Again, etc. These are, of course, the songs that made her an American legend, and I'm always happy to see the love and attention these records receive. But, with a catalogue of over 3,000 songs and 51 studio albums, some of the hitmaker's most stunning performances are buried deep and casual fans never have the opportunity to enjoy them. Lucky for you, reader, I'm going to change all of that for you. In just a few scrolls, you'll find yourself even more impressed by the artistry of Dolly Parton than before.
As a self-titled Super Fan of Ms. Parton, you can trust that I have the knowledge I need to deliver this definitive ranking. Consider this your behind the scenes tour of Country music's greatest artist. Keep in mind, however, that what you won't find on this list are any of Dolly's best known, chart-topping hits—in fact, some of the songs below are arguably better. My very scientific method for determining what made the list was simple...Dolly songs I never skip on shuffle, and hopefully by the end of this article, neither will you.
No. 20 — Mule Skinner Blues (1970)
Though not an original, Dolly's cover of this classic country tune from the 1930s is unique in every way. The song is perfectly suited to her high-soprano yodel. Even more reason to love it—Dolly was only the 2nd woman ever to put out a record of the song.
No. 19 — Heartbreak Express (1982)
Though she's been married for over 50 years, Dolly has written her fair share of break-up songs. Heartbreak Express, however, breaks all sorts of conventions and expectations by pairing the story of a scorned lover with jazzy horns and train sound effects. The result is a campy tune perfect for dancing to when you're down.
No. 18 — Never Not Love You (2016)
Taken from an album celebrating 50 years of marriage to her husband, Carl Dean, Never Not Love You is a love song that rivals I Will Always Love You. I guarantee you won't be able to keep from smiling and thinking of all your favorite people while you listen.
No. 17 — Travelin' Prayer (1999)
In the late 90s and early 2000s, Dolly recorded a trio of bluegrass albums that were critically acclaimed and included some of her best work. On this Billy Joel cover, Dolly's incredibly artistry is front and center as she transforms Joel's pop hit into a bluegrass anthem—it's hard to believe it wasn't always hers.
No. 16 — Heartsong (1994)
Heartsong is bittersweet, as it marks a time in Dolly's career where country radio had all but turned their back on her in favor of younger singers. However, it's also a time when Dolly was spending more time in the Smokies, building Dollywood, and returning to her musical roots. On this live album she even says "I spent many years trying to make a living doing this kind of music and I couldn't. Now that I don't need the money anymore, well maybe I can!" Heartsong captures the beauty of the Smokies, the warmth of home, and the importance of being true to yourself.
No. 15 — It's All Wrong, but It's All Right (1977)
A very unique entry in Dolly's catalogue, It's All Wrong, but It's All Right showcases her storytelling prowess. Certainly more scandalous than her other songs, this song tells of an illicit love in the most beautiful way. Because of its sexual undertones, Dolly herself was surprised Country radio agreed to play the song.
No. 14 — I Really Got the Feeling (1978)
If you're looking for song to turn on during your evening, summer drive with the windows down, this is the one. I Really Got the Feeling has the perfect retro vibe that'll have you in a smooth groove immediately.
No. 13 — A Tender Lie (2001)
I know, I know, another cover...but I couldn't help myself. Coming from her album Little Sparrow (which the New York Times called her best work), Dolly's vocals on A Tender Lie are haunting and the instrumentation captures her musical depth. This one will stay with you long after you turn it off.
No. 12 — Potential New Boyfriend (1983)
I won't try and justify this pick by saying it's profound or artistically rich...but it sure is fun. Dolly does camp better than anyone else and Potential New Boyfriend demonstrates that. This song is also notable for being Dolly's first song to be more successful on a chart other than country music.
No. 11 — Only Dreamin' (2008)
Written in New York City when Dolly was feeling homesick for the Smokies, Only Dreamin' is reminiscent of the old Celtic and Irish tunes that inspired Dolly growing up. The story it tells is heartbreaking, but it's one everyone can relate to—dreaming for something that will never come true. If you're in to having a "Sad Music Playlist" on your Spotify, this one is a must add.
No. 10 — Think About Love (1985)
When Think About Love comes on, I can't get the tune out of my head for days after. The bridge also does an excellent job of showing off Dolly's surprisingly powerful soprano belt—something I find instantly energizing.
No. 9 — Joshua (1971)
I'm rather disappointed in myself for not having more early-era songs on this list, but Joshua is at least a good representation of the work Dolly put out in the beginning of her career. She is first and foremost a storyteller, and Joshua is an entire soap opera drama told all within three minutes.
No. 8 — Will He Be Waiting For Me (1999)
Dolly is often credited with helping to bring bluegrass to the forefront of the American music scene, and whenever I hear Will He Be Waiting For Me I immediately understand why. It's an excellent introduction into what bluegrass music is—relatable stories told through simple melodies adorned with catchy, improvised instrumentation. In a word—beauty.
No. 7 — Better Get to Livin' (2008)
Better Get to Livin' marked the return of Dolly to mainstream country music and heralded in the age of Dolly becoming more than just a singer, but instead a living legend (the cover art for this album is also iconic). Better Get to Livin' represents the mantra we should all be living by, especially after surviving 2020. If you ever need a quick spiritual alignment, this song always does the trick.
No. 6 — Cologne (2008)
I hesitated to put so many songs from Backwoods Barbie on the list, but I consider the album to be one of her greatest musical achievements of late. I would recommend it as an excellent starter album for any new Dolly fan. Cologne details one of the most gut wrenching perspectives on an affair I've ever heard. It's one reason why Dolly's songwriting is unrivaled—she inhabits the stories and lives of other people so effortlessly.
No. 5 — Travelin' Thru (2005)
This one is long, but it is an achievement. It resulted in Dolly's second Oscar nomination, meaning it joins the same echelon as 9 to 5. Travelin' Thru is an excellent example of what music can be when it isn't constrained to traditional radio format. It's also everything you want in a movie soundtrack anthem—inspiring, uplifting, comforting and so dang catchy.
No. 4 — I'm Gone (2002)
I'm Gone is from the final album in the acclaimed bluegrass trio and it continues Dolly's tradition of playing the scorned woman—something she does incredibly well. Notwithstanding 9 to 5, I'm Gone is probably the Dolly song that is most fun to sing along to (once you can learn all one million words it includes). In my opinion, it should be included in the Bluegrass Hall of Fame all on its own.
BONUS: The music video below for I'm Gone may be one of the trippiest things I've ever seen...the early 2000s were a strange time.
No. 3 — If (2002)
Dear reader, I too am shocked that a cover made the top 3, but I truly don't think there is a more beautiful song in Dolly's discography. If proves once and for all that Dolly's mountain voice is unrivaled. Show this song to anyone that ever challenges the supremacy of Dolly Parton.
No. 2 — Why'd You Come In Here Lookin' Like That (1989)
Show me a person who can sit still during this song and I'll show you a monster. It perfectly combines all of Dolly's strengths—storytelling, campiness, upbeat dance beat, and pure country sound. If you find that you're just as big of a fan of this song as I am, check out the live version here...you won't regret it.
No. 1 — Baby I'm Burnin' (1978)
This song is pure, adulterated joy and excitement. I will admit that this is likely going to be a controversial number one, but anytime I hear this song I will drop everything to dance along (I highly recommend shooting finger guns during the laser sound effects immediately following the word "pistol" in the chorus). I also think the song is the perfect introduction to anyone that doesn't know Dolly beyond her famous hits—I've never met a person who couldn't get down to Baby I'm Burnin'.
As I conclude this list, I recognize there are hundreds of other songs that are deserving of being included. It pained me to cut it to down to these 20, but I do think they do an excellent job of showcasing a wide range of styles and colors from Dolly's extensive catalogue. And hopefully, if you're already a Dolly super fan, I didn't leave off your favorite song! If I did, feel free to tweet at me and give me all of your unfettered opinions about what I missed.
As a gift to you, I've also created a Spotify playlist of this list so that you can enjoy the Dolly Deep Cuts like a true super fan. You can find it here! Happy listening friends.
____________________________________________________
If you enjoyed this list and would like to see more content like it please feel free to leave me a tip or share it to your social media feed!
Twitter: @Jessemichaelhix