The 'List: Best (Depending On Who You Ask) of 2017
My Personal Choices for the So-Called "Best in Music" of 2017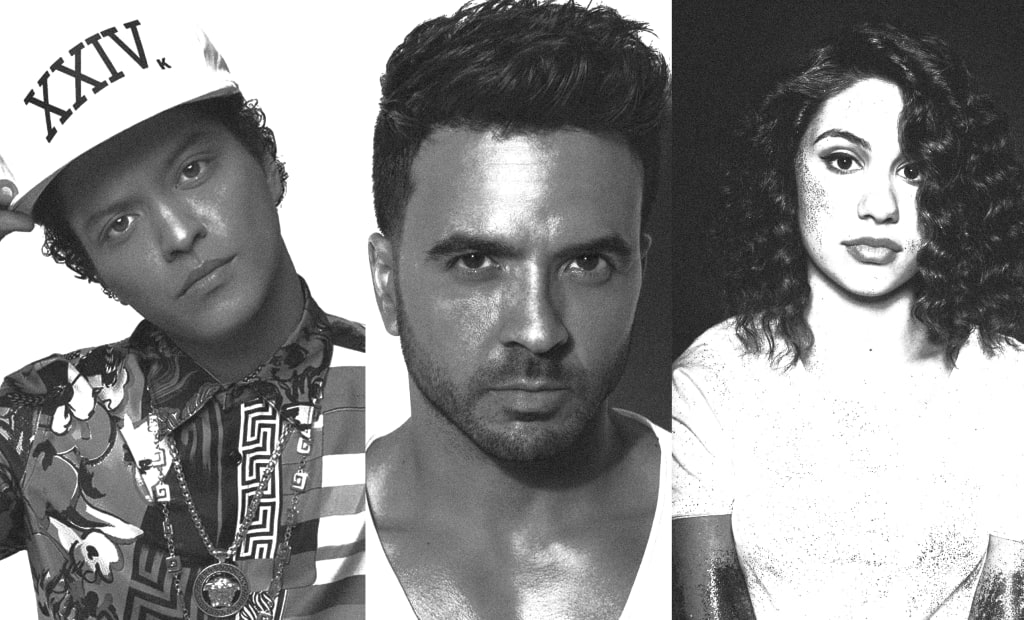 Hello, one and all.
If any of you follow my posts, you all know by now that I do not listen; or rather barely to, any new music, unless it's by an artist that I'm still willing to validate and listen to. 2017, in my opinion, has been a less-than-stellar year in music, mostly because (realizing that it's a one-sided argument) the music has been so sub-par and one-note, that I must now chuck it up to a major generation gap.
And to be clear, but a small few on my 'list aren't exactly songs that I would revisit a year, maybe two years or more down the road. But, since I insist on being current, I do keep my ears to what's new on social media and can still delineate what I like and what I consider pure shit.
On that happy note, here's a great year in 2018 and the hope for more diversity in music in the years to come.
Cherry Picks
Although he was an instant darling when he duetted with rap star Wiz Khalifa for the tribute song: "See You Again" for the Furious 7 movie, this New Jersey native hasn't exactly endeared himself to me. I personally find his vocal delivery a little too nasally for my taste. But, as it sometimes happens, a song can instantly get my attention (no pun intended) and that was his 2016 duet with Selena Gomez: "We Don't Talk Anymore" which ought not to be confused with the 1980 Cliff Richard classic. So, this new tune is an admittedly catchy one which melds a mild R&B/funk sound to his bubblegum song feel. I purchased it, so therefore, it deserves a ranking in my "year's best." *sigh*
Not since 1996 did a "Spanglish" dance/pop hit literally leech and suck its way into our consciousness when Los Del Rio, along with the Bayside Boys, gave us a mangled version of the Seville, Spain's duo's version of "Macarena." Let me not get started on that horrific dance craze that followed. But two Puerto Rican pop/reggaeton recording artists, along with Canadian pop/R&B wunderkind, wound up getting our Trump-administration-era country a-toe-tapping with this admitted guilty pleasure sans dance craze, played at many 2017 proms, bar mitzvahs, sporting events and clubs; which — okay, this is for those who do not speak Spanish, is about our favorite human pastime. SEX! There! Stew on that for a while!
The UK male answer to Adele who has NEVER been a favorite of mine did score some respect points with this change-up - a fun, sexy dancehall/pop confection in the vein of Justin Bieber, who, fun little fact; co-wrote Bieber's smash hit from 2016: "Love Yourself," which may (or not) have been a pot shot at Bieber's former love interest Selena Gomez. It was his first number one on the Billboard Hot 100, and my personal hope that he may impress me yet in the years to come.
A nice break from the usual alternative/indie bands that come out with that so-called "one major hit." This tune, by a band out of Alaska, no less, gets my vote for "Best Retro-sounding Song" of the year. The main hook riffs off the Marvelletes/Carpenters' smash "Please, Mr. Postman," and not since Nick Gilder's 1978 sex-drenched rock classic "Hot Child In The City," have I had such fun trying to guess the lead singer's gender! The strong falsetto is provided by lead singer John Gourley. The song was used in commercials for products ranging from Vitamin Water, Apple, and YouTube TV. Proof that you don't need an old song to sell products on television anymore. Just one that sounds like it.
Surprise, surprise! A band that has been popular since the late-00s had finally made their way into my life soundtrack, with not one — but, two hits this year! Both were anthemic in their execution and managed to be strategically played on every form of format known to man: television, radio, social media, reality TV, ads... etc, etc. This one had the punchiest chorus since Fun's 2012 Tears For Fears-knock-off hit, "We Are Young." Moving on to...
Their second big hit this year and still poised to enter us into 2018. I'll admit the repetitive synth-manipulated chorus is a bit on the hammy side, but the "underdog" lyrics still make this one resonate. The Las Vegas, NV band had finally won me over.
This singer/superstar still never fails to impress. I've been a fan of hers since she reinvented herself as a Rock/Pop Queen back in 2001. She's mastered many music genres ranging from pop/hip-hop/R&B, to alternative/rock/dance. This time, it's a dance-y club anthem with her best vocal performance since "So What," from 2008. Speaking of performances; that "dangling-from-a-building" performance on the American Music Awards still gives me nightmares to this day; but I will extend kudos for pulling off such a scary stunt!
Another anthemic song, but the surprise being that it was from the same duo who gave me last year's favorite dance/rock jam: "Closer" with singer Halsey. This time, it's a kinder-gentler sound; a ballad about being (or not) a superhero in a romantic relationship. Coldplay lead singer Chris Martin gives a sweet vocal performance in a song that can be either seen as charming... or mawkish and ho-hum.
His solo comeback from last year still made a dent early one this year. This obviously Zapp/Roger Troutman-inspired-retro-New-Jack-Swing jam had the catchiest chorus since the 2015 Mars collaboration with UK DJ-Producer Mark Ronson: "Uptown Funk." Or even — The Weeknd's ode-to-white-powder-channeling-Michael-J funk anthem, "Can't Feel My Face" from that same year. While it didn't go all the way to number one, Mars would indeed continue his 2017 lucky streak with his seventh number one single: "Just What I Like."
And now... the winner!
For me, half the battle is a song that has a catchy hook and the ability to make my leg bounce and my toe tap. To its credit, I thought it was another Chainsmokers song. But, the credit goes to a Russian/German EDM artist and a 21-year-old Canadian pop/dance artist who made a song that, at the very least, kept me guessing enough to buy it and play it repeatedly for the summer. The song samples another song called "Poltergeist" by a singer named Banks. Cara is up for a Best New Artist Grammy and Zedd put singers Hailee Steinfeld and Foxes on the map. Kudos to making 2017 memorable with at least one "almost" perfect song.
Thank you and wishing you all the best in the new year!
Next List Pending.

Carlos Gonzalez
A passionate writer and graphic artist looking to break into the BIG TIME! Short stories, scripts and graphic art are my forte! Brooklyn N.Y. born and raised. Living in Manchester, Connecticut! Working on two novels now!
See all posts by Carlos Gonzalez →