The Everly Brothers
Harmony Singing That Influenced Other Artists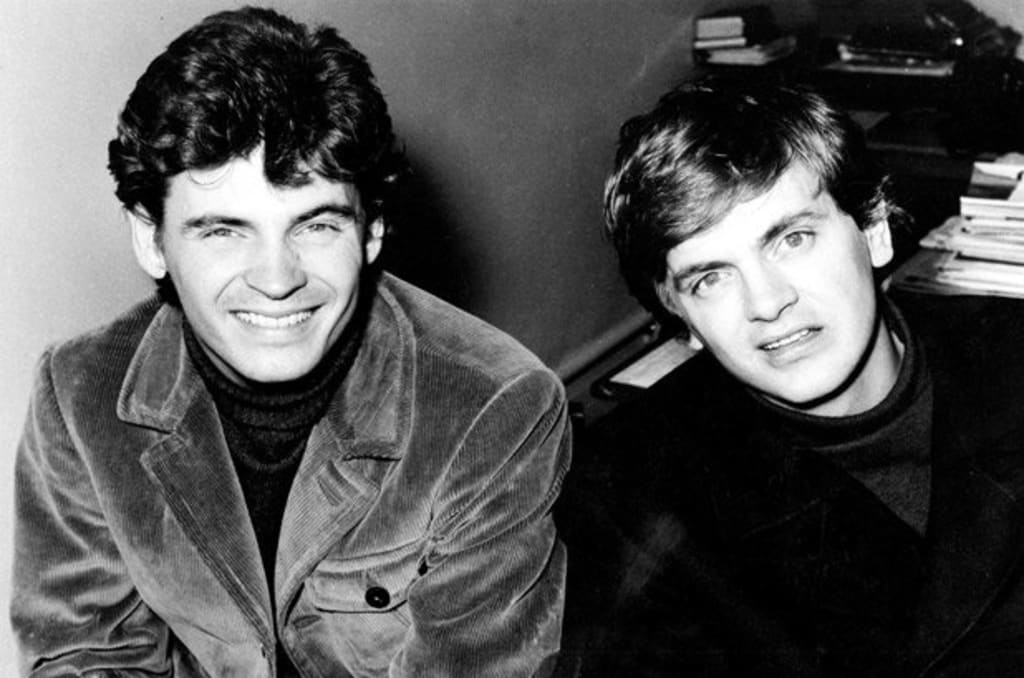 The Everly Brothers were two real-life brothers Isaac Donald "Don" Everly and Phillip "Phil" Everly who played rock and roll songs with a kind of American country flair. They had lots of very touching songs which just made you want to sing along. They were best known for their steel-guitar playing and close harmony singing. They were inducted into the Rock and Roll Hall of Fame in 1986. The great harmony singing of the brothers strongly influenced other rock groups of the 1960s including Simon & Garfunkle, The Beach Boys, and The Beatles who developed their early singing styles doing performances using Everly covers.
Unlike others who started in the rock and roll business, the Everly Brothers' father, Ike, was a musician and had a radio show in Iowa on which the entire family Ike, his wife Margaret, and Don and Phil got to sing. The family also traveled around and performed.
The song which later became one of their greatest hits and was also performed by other artists "Bye, Bye, Love" was at first rejected by other acts. However, believing in the song's potential, the Everly Brothers didn't give up and finally, this song reached number two on the pop charts, number one on country charts and number five on the R&B charts. What a long way to go for a song that was rejected. In fact, it is still extremely popular today and can be heard on the radio.
Their next string of hits both in the US and the UK were "Wake Up Little Susie," "All I Have to Do is Dream," "Bird Dog," and "Problems." They also discovered that they had songwriting talent and Don's "(Till) I Kissed You" reached number four on the US pop charts. During the years 1957 and 1958, the Everly Brothers toured with Buddy Holly and influenced his style.
The Everly Brothers' biggest hit became "Cathy's Clown" which went on to sell eight million copies on the Warner Bros. Record label. This followed a succession of hit songs in the US like "So Sad (To Watch Good Love Go Bad)," "Walk Right Back," "Crying in the Rain," and "That's Old Fashioned." For those of you who are rock and roll fans, you probably recognize and know most of these songs as you can still hear them today and they sound just as great. They were at their very peak in 1962.
The brothers put their career on hold during the time they served in the Marine Corps. Afterward, they returned to singing and released more singles from 1963 through 1970, however, only three of the songs made the Hot 100. There came a bad period where their health suffered but even though at this time they went on a UK tour which Don couldn't finish and Phil continued with Joey Page on bass as a substitute for Don. It was a rocky period and things were made worse when the Everly Brothers' popularity began to decline just before the British Invasion period in 1964. Finally, in the early 1970s, the duo broke up their act and went their separate ways.
For a while, they attempted solo careers without much success. However, Phil wrote "Don't Say You Don't Love Me No More" for the hit comedy movie Every Which Way but Loose in 1978, which starred Clint Eastwood. When this movie had a sequel "Any Which Way You Can" he wrote "One Too Many Women in Your Life."
Finally, the Everly Brothers got together in 1983 for a reunion concert at the Royal Albert Hall in London on September 23rd. In 1997, they received the Grammy Lifetime Achievement Award and have a star on the Hollywood Walk of Fame. Phil Everly died on January 3, 2014, of lung disease just before his 75th birthday.