The Beatles' Sgt. Pepper Celebrates 50 Years of Veneration with Exquisite Box Set
Why Every Beatles Fan Needs Sgt. Pepper's Lonely Hearts Club Band: Super Deluxe Edition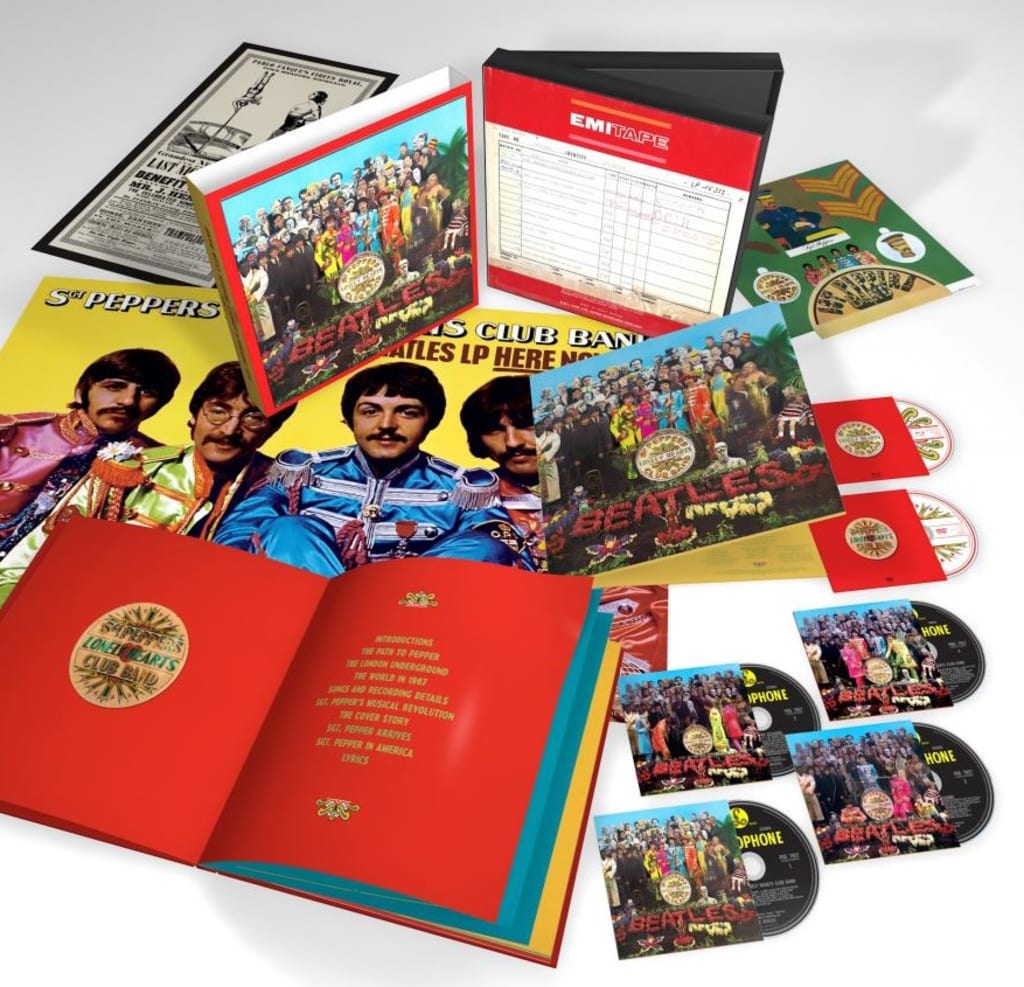 (© Apple Corps 2017)
It was 50 years ago today when the Beatles unleashed what would become the band's seminal masterpiece, Sgt. Pepper's Lonely Hearts Club Band. The album was a sonic work of art in 1967, forever changing the landscape of what could be achieved in the recording studio. It's hard to imagine now, but back then, no one had heard anything remotely close to the conceptual revelation that was encapsulated on the fab four's eighth studio effort.
Inspired by Freak Out! by the Mothers of Invention, as well as the Beach Boys' Pet Sounds, George Martin and the Beatles set out to supersede the possibilities of studio production and popular music. Fifty years on, Sgt. Pepper is still celebrated as a magnanimous recorded testament of greatness, which has and continues to inspire generations of recording artists.
Now, there's an entirely new reason to revisit and marvel at the historic wonders of Sgt. Pepper, as a new super deluxe edition box set has been released to coincide with its original release day (May 26th), to commemorate the album's 50th anniversary. Giles Martin (late producer George Martin's son) has created a new up-to-date remix, not just another remaster, but a completely remixed version from the original tape masters. The 1967 stereo mix has been entirely overhauled, eliminating the old stereo effects, which harshly separated the vocals and instrumentation into right and left channels.
Similar to 1999's Yellow Submarine Songtrack, the new Sgt. Pepper mix is well balanced, leaving plenty of headroom for the lead vocals to breathe, which are now appropriately up front and center. It's literally as if you're hearing this beloved masterwork in stereo for the very first time, highlighting a noticeable wealth of previously buried minute details. The box set also includes fascinating early takes of the album's tracks, but the real selling point here is the amazingly enveloping 5.1 surround mix, which brings the album to life in such a way that can only be compared to watching a classic movie after it's been converted to high definition. The 5.1 surround mix on the box set's Blu-ray literally brings the album to life in such a way, you literally feel as if you're standing inside the studio while the Beatles are recording. Giles Martin and Sam Okell most certainly deserve Grammy awards for this magnificent state-of-the-art mix.
While predictably some purists will probably disagree, this immaculate remix makes me readily optimistic the rest of the Beatles' catalog will receive the same treatment in the future, most particularly Abbey Road.
The super deluxe box set is housed within an eye-popping 3D cover and includes:
4 Compact Discs:CD1: Contains the new stereo mix of the complete album.CD2 and CD3: Contain over 100 minutes of mostly previously unreleased alternate takes and demos, including the complete early takes from the sessions, sequenced in chronological order of their original recording dates.CD4: 2017 direct transfer of Sgt. Pepper original mono mix, plus additional bonus tracks in mono.
Blu-ray/DVD: High resolution audio versions of 2017 Sgt. Pepper stereo mix and 2017 "Penny Lane" stereo mix, plus 2015 "Strawberry Fields Forever" high resolution stereo mix (Blu-ray: LPCM Stereo 96KHz/24bit / DVD: LPCM Stereo).New 5.1 Surround Audio mixes of the complete Sgt. Pepper album and "Penny Lane," plus 2015 5.1 Surround mix of "Strawberry Fields Forever" (Blu-ray: DTS HD Master Audio 5.1, Dolby True HD 5.1 / DVD: DTS Dolby Digital 5.1).Fully restored version of the previously unreleased 1992 documentary, The Making of Sgt. Pepper.4K restored versions of "A Day in the Life," "Strawberry Fields Forever" and "Penny Lane" promotional films.
A replica of the album's original card insert
Two bonus posters
An exclusive 144-page hardback book featuring an introduction by Sir Paul McCartney, track-by-track details, in-depth essays on the album's cover design, handwritten lyrics, photographs from the recording sessions, and Abbey Road studio documentation.
bands
product review
About the author
I'm a music journalist, blogger and crate digger. I began writing about music during college and again as a freelancer. Links to my published pieces can be found on my music blog at: popmartzoo.com and/or follow me on Twitter:@popmartzoo
Reader insights
Be the first to share your insights about this piece.
Add your insights