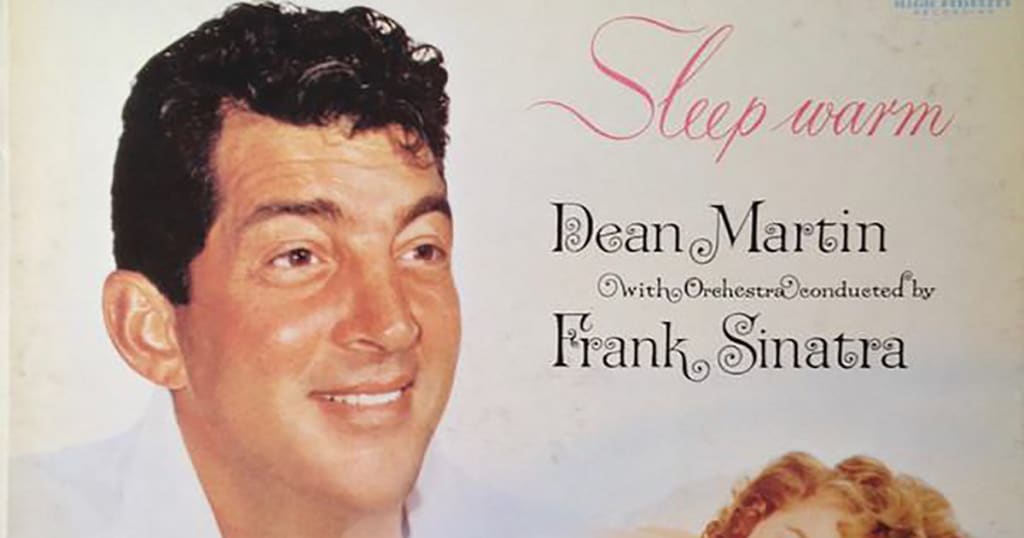 Today's entry takes us back in time. There are still those living who were there when it released, but most of who lives today will have likely had little experience with someone like Dean Martin. The year was 1959 when Sleep Warm was hitting the radio waves, and it features Martin in somewhat of a subdued and reflective mood. The track list is fashioned something like a set of soft lullabies, a great choice for anyone who is feeling drowsy (or wants, to feel drowsy).
The title track is a dreamy ballad. As is per usual for those that already know, Martin's voice is warm and inviting as he sings about the comfort and security of sleep. This followed by "Hit the Road to Dreamland," which is a classic Harold Arlen and Johnny Mercer song that Martin takes on with a charming ease. As the record drags on Martin takes to singing slower, more sentimental songs. He delivers "Dream" with a tender and wistful voice, whilst "Cuddle Up a Little Closer" offers a more romantic vibe. "Sleepy Time Gal" is a more upbeat number, but Martin still manages to infuse it with a sense of intimacy.
Sleep Warm ends with "Good Night Sweetheart," a timeless tune that Martin nails with perfect musicianship. Throughout the album, the string arrangements provide an atmospheric backdrop for Martin's vocals. The music production is never too overpowering, but it does serve to enhance the mood the album is going for.
One of the things that makes Sleep Warm such an enjoying listen is Martin's overall vocal performance. He sings with a newfound sensitivity and vulnerability that was rarely heard on some of his other recordings back then. He conveys a sense of genuine emotion in each performance. The songs are also well-chosen and perfectly suited to the album's themes and the tone is fairly consistent as well.
There are definitely a couple of honourable mentions worthy of praise. "Dream a Little Dream of Me" is one such track. A classic that has been covered by many over the years, Martin's version is undoubtedly one of the best. Along with the same familiar arrangement of the original, it features Martin's own unique signature style of drawing out notes whilst choosing when to take beats that can sometimes sound a bit improvised on his part. "Let's Put Out the Lights (And Go to Sleep)" is another song that fits in perfectly with the rest of the record. Martin sings with a gentle presence that can be felt throughout the whole run time.
Overall, Sleep Warm is a beautifully crafted collection, sure to please current fans of Dean Martin along with any potential newcomers who may find themselves swayed by this column. It is indeed my hope that some of today's younger generation could hear and appreciate some of yesterday's culture. Young listeners are encouraged to listen to Sleep Warm because it offers something for everyone. Sleep Warm (or any music featuring Dean Martin for that matter) is also a great way to introduce today's youth to classic standards they would otherwise overlook because it's not a part of the latest trend of music.
In addition, the album can serve as a lesson to those young and old about the importance of relaxation and self-care. In today's fast-paced world, it is more important than ever to take some time for ourselves to unwind when the opportunity strikes. Finally, Sleep Warm is a reminder of the power of music and its uncanny ability to transport us to another place and period. Until time machines are invented, this is the best hope we have to transcend the present day.
About the Creator
Whether old or new, rap or country, pop or classic...
Music has been the subject of my obsession for as long as I can remember. I'm merely hoping to share my thoughts on some of my favorite music in the hopes of putting it on your radar
Reader insights
Be the first to share your insights about this piece.
Add your insights