SEX! WHITE LOTUS S2! SEX! CLICKBAIT! SEX! SPOILERS! SOMEONE DIES! I'LL TELL YOU WHO.
I fell asleep often and had to watch S2E3 4 times but please comment.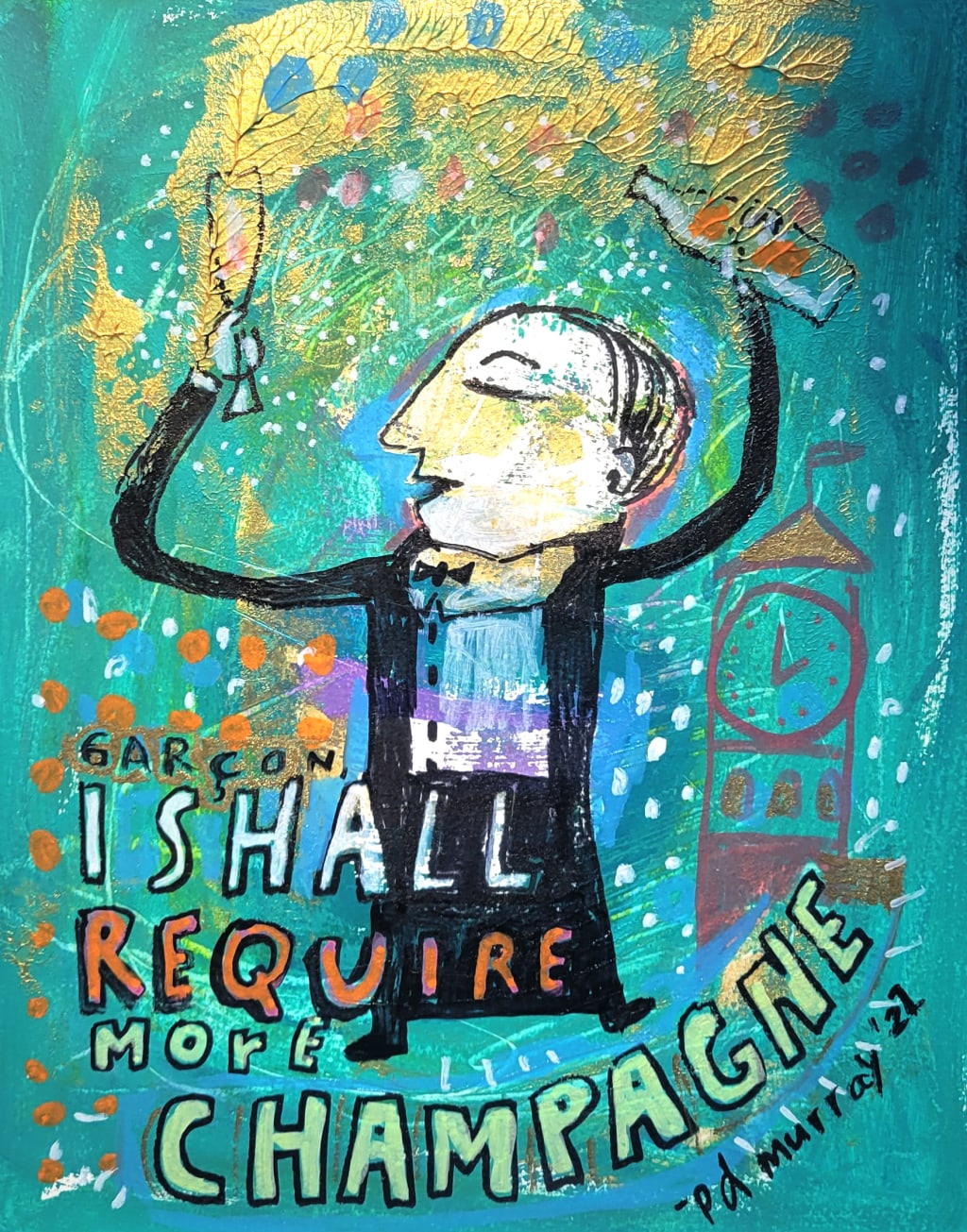 "Garçon" Mixed media 2022 P.D. Murray
Ok, we'll start with the sound of a head thunking against a boat. I'm wondering what the foley artists used. A pumpkin dropped on an anvil? An anvil dropped on a pumpkin? A canteloupe slung at a wall?
How would you, as an average person, at home, in your pajamas or sweats, reading this, and maybe day drinking, attempt to make that sound?
Discuss.
I'm talking, of course, about the sound of the actress Jennifer Coolidge, playing heiress Tanya McQuoid-Hunt, hitting her head on a dinghy, and then being dead in the finale and then being washed ashore as a corpse in S2E1 as a foreshadowing device.
Let's discuss!
I think we can agree toxic masculinity is either bad, or perhaps not really so good. Even in Sicily. So why is F. Murray Abraham so charming?
As a privileged white man of a certain age, if I hit my head and wore a scalp bandage like a yamulke, could I, too, enjoy more inappropriate flirting/comments/handjobs?
Your comments?
Here's to more representation of sociologically-minimized communities in tv and cinema!!!! Not just heroes, for fuck sake, but villains too! I, for one, embrace the depiction of filthy-rich, aging gays as a cabal of murderous villains. That one crazed Italian dude in the purple suit? With the hair? Delish.
(I'm really trying hard to be polarizing so you'll have to respond.) Please respond in the comments below!
Ok. Let's address the elephant in the room: Sex.
Lesbian sex with broaches. Pianissimo.
Hetero-cheater sex. Fortissimo.
No sex. Bored sex. Apathetic sex. Thwarted sex. Lazy afternoon sex.
Sex with an Aussie who isn't really your nephew up your ass sex.
Soft-porn-but-it's-HBO sex.
Sex! Sex! Sexxx! Discuss.
I wish that I, too, could lose my luggage and then just spontaneously buy a paisley silk jacket in Taormina or some fucking place that fit just right and then eat squid with exquisite presentation and then take molly and have sex. Although, I would more be careful not to leave condom wrappers around.
Sex is just basically leaching out of every nature shot in White Lotus S2. Or is that just me? Even the ocean seems like a metaphor for sex and even the title credits feature the rape of Leda by a swan. And why is there a monkey? In the credits? I mean, wtf, sex!?
What's your point of view on sex, or on beach sand in your crotch, or on rapist birds, or the oh-too-real (but veiled) American caste system?
I await your opinion.
Comment! Subscribe! Tip! Monetize me! Click below.
Enough about sex. Did any of y'all catch the bit about the evil gay cabal's yacht captain's hat? Here's a loose end that I hope will be resolved in S3. Did he or did he not knit his own cap? I mean, he never answered the question. If he did (knit it), is there a pattern for that hat on Pinterest? It was kinda cute. If not, where could I find such a cap? I have psoriasis, so I hope it's made from natural fiber.
Feel free to discuss on Reddit subthreads or on Discord.
Now: back to sex. No ex-lover or casual acquaintance of mine has ever said: "Do you want to suck on my tits? Or come on my face?" I mean, even ironically. What about you? Is there a subtle social commentary herein about porn versus genuine human contact?
Talk about your ex-lovers in the comments below.
Extra credit: which episode of S2 features the screech of a peacock? You will need to rewatch S2 carefully. A fun game. Post your answers.
Are all Italian prosties so plucky? So musically accomplished? So engaging? Have I been living under a rock? What's the airfare to Palermo? Do I dare to wear my trousers rolled and eat a peach? Do you have a top ten tip for life-hacking winter when you're stuck in Pennsylvania and binge-watching HBO? I mean, like carrying rock salt and kitty litter in your trunk? Keeping a Cliff energy bar in your glove compartment in case you are ever stranded on the way to Scranton during blinding white-out snow squalls? Surfing Air BNB rentals in Venice?
Discuss.
About the Creator
Murray is an accomplished painter and writer.
Through 2010, he was shown exclusively by Treehouse Studio Galleries. His work hangs in private collections around the world. He's also published 5 books. You can see more at www.pdmurray.art
Reader insights
Be the first to share your insights about this piece.
Add your insights