Racecars is a true blue collar heavy rock band.
Their latest single "We Don't Have to Talk About My Truck" now released on Spotify.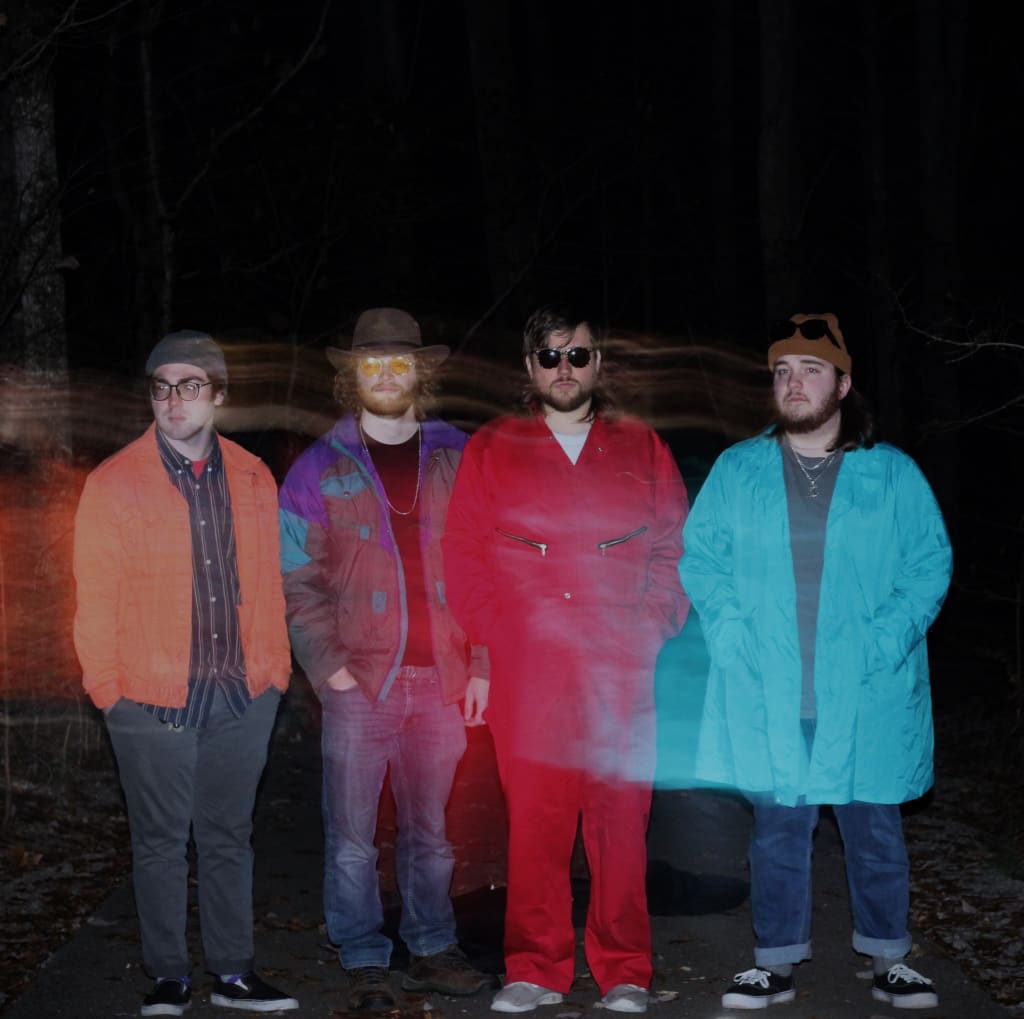 Racecars is a true blue collar heavy rock band, influenced by the emo and alt rock of the 90s and the hardcore of today. We got somethin for everybody.

Racecars is Tanner Hearren on vocals/guitar/lyrics. Jake Martino on drums. Andrew Pinson on guitar. Jonny Lumsden on bass.

Racecars has been a band since April of 2022 and playing their first show ever this past May (2022)!
May I ask how you arrived at your band's name? Give us the scoop.
Tanner's longtime friend Kyle came up with the name when Tanner expressed frustrations in trying to find a cool band name.
Do you have a preferred genre?
We like to refer to ourselves as "Y'allternative emo" as a play off of "alternative emo," but either of those would describe us.
We have new stuff coming out that's a bit heavier and shoegazier, and in many cases poppier. We don't like to paint ourselves into a corner, we want to try everything we can.
Tell us about your latest song, "We Don't Have to Talk About My Truck".
Our latest single "We Don't Have to Talk About My Truck" just released on Spotify.
This song is a no-holds-bar catchy emo rock song with lyrics about a guy who just doesn't want to do what needs to be done to make a solid relationship happen. Go check this song out.
How has the reaction to your latest release been?
So far the response has been very positive, many people have been saying this is our best song.
Do you have any other plans relating to this release? A video?
No plans for a video yet we are releasing our first EP "Always Wanted to Be" on January 13th, 2023!
It looks like 2022 was a creative year. Does this have anything to do with the pandemic or just feeling creative?
Not very much honestly. However, two of the songs on the EP, "nascar dad" and "newts" were written during the pandemic.
The lyrics of "nascar dad" in many ways came from that mindset of hopelessness. I'm not typically that hopeless, haha!
Do you write your own music?
Yes, we write all our own music.
What was your creative process like? Where did the ideas come from?
The majority of the songs are written by Tanner and the other guys throw their own heat into the mix. We do have some new ones that were written by all of us as a group or the main ideas came from one of the other members. Our releases in 2023 may just be a bit more varied in that regard.
What is the best song you ever released and why?
"We Don't Have to Talk About My Truck" is the best song we've released as of yet because I think it is a full culmination of our style, and the lyrics and vocals are really fun to sing along to.
Do you create music for yourself or for fans?
I think creating music for a blend of both is critical. If I (Tanner) was creating music just for myself, every song would be too long and a little too gratuitous. When I think more about the person listening to the song, I am able to control the chaos and reign it in and make something much more worthwhile.
What song do fans seem to favor?
I think our fans' favorite song right now is probably "Aesthetic I Like." Though we played a show recently and a whole lot of people were singing "nascar dad."
Do you, or would you like to, perform live?
We love performing live! We played 10 shows in 2022 and already have four shows lined up for January of 2023!
Tanner: my favorite song to perform live is one of our new ones that'll hopefully be out sometime next year called "Deseo." It's just a super heavy song with some very fun vocals to sing, and the lyrics get me really emotional every time.
Jonny: One of our new songs "Deseo" is currently my favorite to play live. It's so heavy it just makes me lose my mind for the three minutes we're playing it.
Andrew: "Aesthetic I Like" is my current favorite song to play. It just feels really nice to play live and hearing people sing along feels great.
Jake: "Newts," the opening track to our upcoming EP, is dynamic and has unconventional beats. "You Drink Wine," another song from our upcoming EP, is also really fun to play the different patterns., especially in the first bridge. There is a pattern where every limb is playing something totally different. "Garden of Donkeys" is one of our new ones that should come out in 2023. I like that one because I get to go feral.
Share a funny moment or positive experience that has happened through music.
Jake: Showing Andrew memes so dumb he almost throws up laughing.
Jonny: Love of music has made me great friends and helped me have great experiences just in general.
Tanner: I like making the other guys in the band uncomfortable and on edge. It does a lot for me.
Are there any musicians who inspire you? What qualities do you admire about them?
Tanner: For me, I kind of have "template" bands and then I pull a million different influences from everything else. When I say "template" band I mean a band that has had such a profound effect on my music writing throughout life that I feel in my veins. These bands for me are Third Eye Blind and Guided by Voices. I like everything to be catchy and heavy. To me that's the base form of music. "...is A Real Boy" by Say Anything was huge for me as well. Pixies are a huge influence for me, and I'm heavily influenced by post-grunge like Nickelback, 3 Doors Down, and Puddle of Mudd. I always came up on emo revival so that type of stuff is just in my veins in the way I write. I love country and pop too. I love just about everything.
Andrew: Billy Corgan, J Mascis, Pixies, all these amazing names have keen ears for stacking guitars and dabbling in noise.
Jake: I manifest the energy of Taylor Hawkins and Neil Peart. I try to have the groove of morphine.
Jonny: My bass influences have a huge range in genre. Some of my favorite bassists of all time are DeeDee Ramone, Kim Deal, James Jamerson who was on most of the Motown Hits, Geezer Butler from Black Sabbath, and Cliff Burton of Metallica (R.I.P.).
What is your favorite/best outlet to connect with your followers Instagram, Spotify, FB, Twitter, iTunes? How would you want them to follow?
We mostly use Instagram but we've been trying to use Twitter more. We also have general plans to start doing TikTok.
Life comes at you fast! For now, follow us on Instagram or Twitter, handle is racecarsband. We're also on all the streaming platforms, please do us a favor and follow us there. It helps us out a lot too!
Are you currently working on any projects we should look out for?
On January 13th, 2023 we are releasing our first EP "Always Wanted to Be." Go follow us on social media or on Spotify to know about it as soon as it drops! It will have a mix of singles we've already released as well as new songs!
Reader insights
Be the first to share your insights about this piece.
Add your insights