Queer Sound Artist: Apollo Kisses
Apollo Kisses (AK) Introduction, Sound Expression, & Identity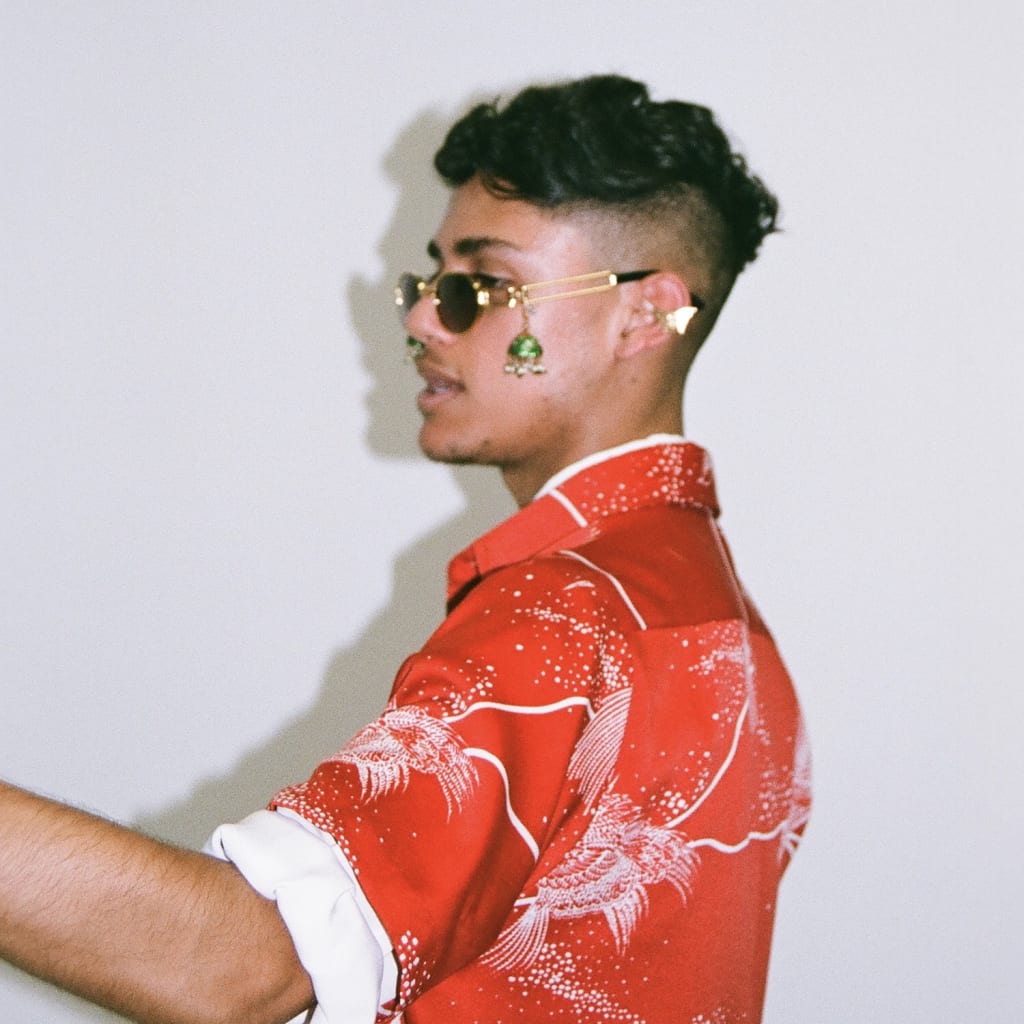 Hi, I'm so happy and excited to share this space with you. Thank you for being here. OK! Before I start crying, let me tell you about my self.
My stage name is Apollo Kisses. AK for short. I'm invested in engineering sounds and capturing visuals that express my emotions, imagination, and style.
I have pretty much been saved by the Queer movement. Queer is a term that I use to encompass people with varying and amorphous sexual, romantic, and gender identities and/or expressions. There is this amazing space that the Queer community has opened up and now I feel free to share my ideas and thoughts with the world. This space includes but is not limited to underground raves, drag performances, gay clubs, QTPOC (Queer & Trans People of Color) meetings, and social media sites. In exploring this community in depth I have witnessed some of the most magical performances, recreated my self over and over, and encountered countless angelic spirits. I am forever grateful for the Queer pioneers that have paved and are paving the way for people like me to freely be.
Most of what I am currently expressing derives from my Queer experiences and thoughts, so expect to see a lot of that on here. I am also a person of color (POC) so I tend to touch on the intersection between those two marginalized identities. I do not intend for my work to come across as provocative or political. What you hear me speak about are my honest thoughts and feelings. The listener's awareness is the only thing I intend to affect.
The name Apollo Kisses comes from my connection to the Greek God, Apollo, and from my intention to heal (those that have harbored similar pain as me) though unconditional love and attention. Apollo is the God of light, music, art, medicine, knowledge, and more. At first, I had the name Sun-kissed Apollo in mind since my highest self resonates with these aspects and glows like one of those Gods on Mount Olympus from Hercules. However, my friend Julia (AKA Space) helped me come up with Apollo Kisses. This works better since Apollo heals my audience with kisses through me. I started this project with the intention to heal my self and others on the way. Artists like SOPHIE, Arca, James Blake, Anenon, Janelle Monáe, Baths, and FKA Twigs have done this for me so I found it fitting to do the same for others. These artists moved me in unspeakable ways. My friends and family have always complimented my music taste and dance style so I believe the universe has been pushing me to do this for a minute.
"S'il vous plaît" (translated from French to English "If you please") is the first song I ever created that I felt truly resembled who I was. At the time I was in the process of reprogramming my mind to focus on positivity which comes through in the pink sound and the lyrics, "Sit up, sick. I just wanna." The idea is to stay positive even when you're sick or down or going through it. I tell myself to sit up since slouching isn't helping anyone. I remember when I got my wisdom teeth pulled I was in bed for a week. The pain medication I was taking made me nauseous, so if I ate I would throw up. I was malnourished and felt like I was on my deathbed. Looking back, I could have made a better effort to get up and try to feel better. The power of positive thinking is stronger than anyone gives it credit. Reprogramming my mind has changed my life for the better in countless ways.
I do want to clarify that even though my music is made from the perspective of a Queer POC, I tackle issues that all people can relate to. This first song is just a general overview of my feelings. I truly hope what I express resonates with you.
Well! I think this is all I want to share for now. Thank you again for being here. I love you.
Smooch —AK
Lyrics:
This is some free sound that radiated from the future. Don't think too much or the colors might confuse you. Bouncing all around, they tell a story of my glory! A rise to the peak! But do they even know me? A quick preface to this mumble, before we go on, forget about the fame. I'm doing this for Metatron. So, watch me perform. Be respectful and say, "I'll take in this dream, eat it up, hold it down," s'il vous plaît.
Sit up, sick. I just wanna. Sit up, I just wanna. Sit up, sick. Do you wanna? Sit up? Just once?
Pack up, let's dip in my Tesla S. Would you bounce? Swirl? Pop? Dip? With the windows down? Could you stay away from my seas, please? This is ugly. Angel, baby, pull! Elevate me. Watch me go high. Watch my gentle glow. Right on my knees, I put on a show. Cause I wanna shake my hips! Cause I wanna do the Mamba! Watch that Cardinal in the sky! Be here now and remember!
Sit up, sick. I just wanna. Sit up. I just wanna. Sit up, sick. Do you wanna? Sit up? Just once?
Sit up, sick. I just wanna. Sit up, sick. Do you wanna? Sit up, sick. I just wanna. Sit up, sick. Just once.
Sit up, sick. I just wanna. Sit up, sick. Do you wanna? Sit up, sick. I just wanna. Sit up, sick. Just once.