Nat Shapiro & Nat Hentoff's 'The Jazz Makers'
A set of critics capture in prose the most precise verbal pictures of The Jazz Makers of the 20th century.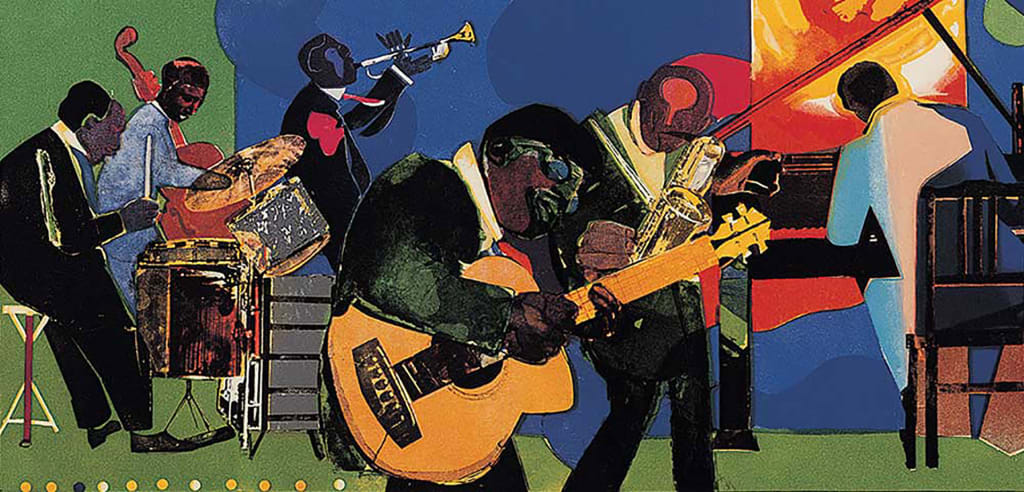 Jammin at the Savoy by Romare Bearden
Louis Armstrong, Charlie Parker, Billie Holliday, Fats Waller, Roy Eldridge, and Charlie Christian are a few of the jazz masters whose diverse and several talents, blossoming intensely over half a century like the dramatists of Elizabeth, Charles, and James, meet in The Jazz Makers a set of critics whose gift and moment it is to capture in prose, in virtually every essay herein, some of the most precise verbal pictures of the music these writers have heard.
To achieve this is to attain the highest summit of music writing. Evocations here of hard-to-define masters like Eldridge and Art Tatum, wrung from the cramped ears of doyens like Edward Bennett Smith and Leonard Feathers, are experiences that make the original compositions, for all their glory, seem incomplete without the commentary upon them. Everyone will quibble with the editors' choice of subjects: personally I feel Bix Beiderbecke is greatly overrated, largely on the basis of his relatively early prominence as a white master in a African American domain; and one feels that Cecil Taylor continues to receive here the numinous neglect he has so long unjustly enjoyed.
The point, however, is that The Jazz Makers supplies intellectual re-experiencing of the works of sufficient grandmasters to stand as one of the two or three books, such as Andre Hodeir's Toward Jazz, and Whitney Balliet's The Sound of Surprise, that really do make it, after all.
Admittedly, jazz to some may be a distant second to rock as a musical idiom in terms of simple pleasure, but the mentalities and personalities, private and musical, of the jazz masters so far exceed their opposite numbers in 99 out of 100 rock bands in humanity, integrity, and sheer, crisp, crunchy hipness that they speak far better for today's musicians than the creators of punk, pop, and heavy metal do for themselves. To anyone interested in music therefore, The Jazz Makers is indispensable; and it is a perfect partner to Partch's Genesis of a Music genre that this country became, and remained intertwined with through the 20th century.