Who is Harry Partch?
One may yawn, one may shun performances of Harry Partch's musical works, but to read 'Genesis of a Music' is to bask in the finest words themselves have to offer.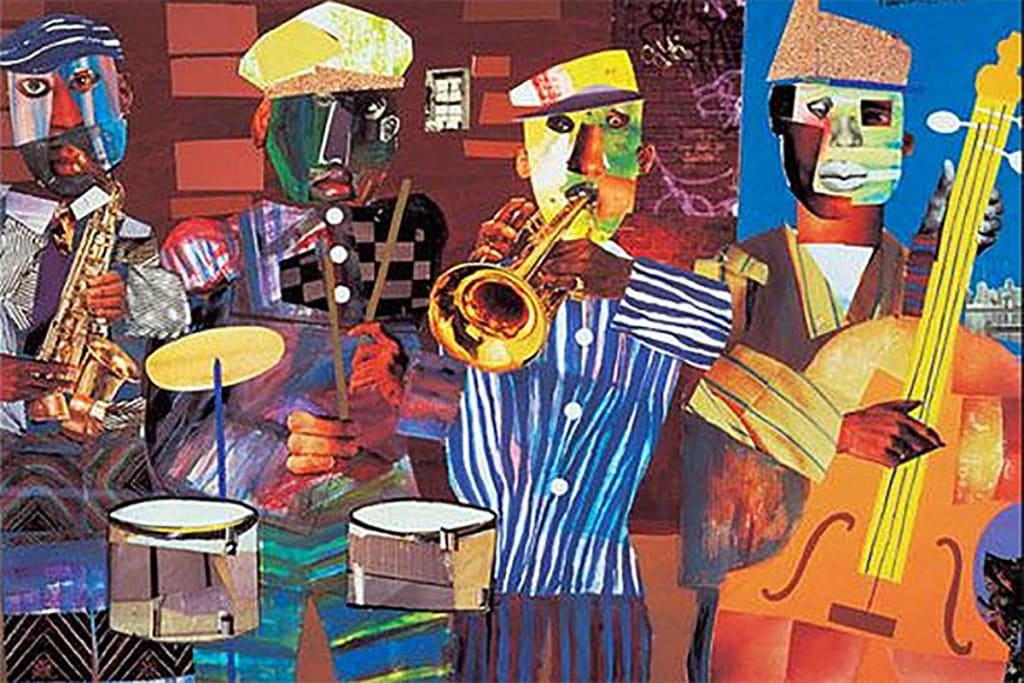 Art by Romare Bearden
The Adapted Viola. Chromelodeon I. The Ptolemy. Kithara I. Surrogate Kithara. Harmonic Canon III. Bloboy. Koto. Crychord. Diamond Marimba. Quadrangularis Reversum. Marimba Eroica. Boo I. Boo II. Mbira Bass Dyad. Eucal Blossom. Gourd Tree. Cone Gongs. Cloud-chamber Bowls. Spoils of War. Zymo-Xyl. Mazda Marimba. Ugumbo. Waving Drum. Mbira. Ektara. Eucalyptus Claves. Fiji Rhythm Boat.
They are many of the bold musical instruments invented by one of America's truly great avant-garde composers, who, in his quest for a sound of his own that would eventually become the living classics "Delusion of the Furty," "And on the Seventh Day Petals Fell on Petaluma," "The Bewitched," "Oedipus," and classic dances including "Exercises in Harmony and Counterpoint Are Tried in a Court of Ancient Ritual," "Visions Fill the Eyes of a Defeated Basketball Team in the Shower Room," and "A Lost Political Soul Finds Himself Among the Voteless Women of Paradise," created an entire new aural aesthetic of tonality, microtonality, and the 43-tone scale.
To fulfill his meditations on the soul of sound, Harry Partch invented an entire new orchestra whose members were unique in their conception, design, and construction. To read of their conceiving and occurrence will stir even the most unmusical reader with its imagination and intellect. And to read the philosophy of Partch's aesthetic, his contrast between abstract and corporeal music in his essay "From Emperor Chun to the Vacant Lot," is to experience for oneself the cold joy of the most abstract of artists, creating entirely within himself a music of solipsistic perfection to be performed in a world that finds its truths the realer, the more powerful, as its form grows more alien.
America's jazz masters have imposed the intense individuality—personal as a monogrammed dirigible—that Partch made his musical signature in a sonic no-man's-land of cerebral abstraction, with equal force on a whole folk musical idiom as traditional as shoo fly pie and apple pandowdy, and as physically sensual as Partch's malharmony is intellectually ravishing.
One may yawn, one may shun performances of Partch's musical works, but to read Genesis of a Music is to bask in the finest words themselves have to offer. Partch's best work is recorded on The World of Harry Partch.