Multi-Talented Music Veteran, John McDonough, gives us Aerodance 2020
With a music career spanning well over three decades, John McDonough continues to release new music.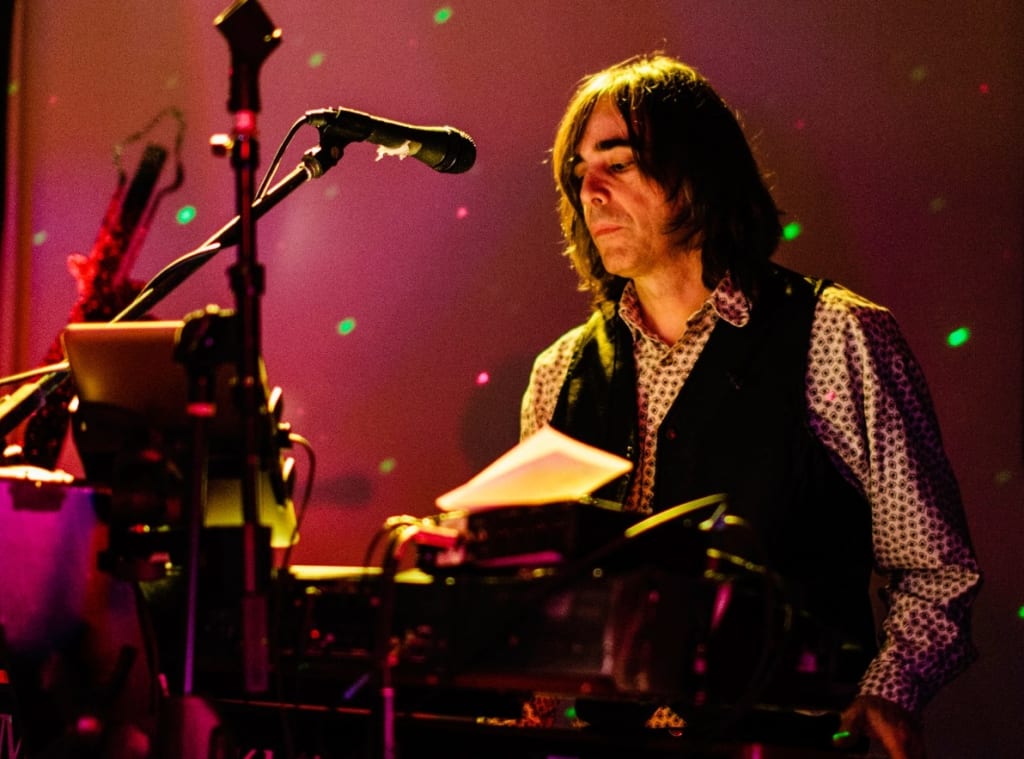 A music career spanning well over three decades has afforded John McDonough the ability to perform, write and produce music in many genres. New wave, rock, pop, dance/edm, jazz, and recently americana, country-gospel and modern country are some of the styles that make up his current musical landscape. Working as a keyboard/guitar player in many successful bands as well as emerging as a vocalist has prepared him for music director duties from r&b/jazz to modern country. He has performed on MTV Unplugged for two Spoken Word specials in 1994 with the Huge Voodoo group and other cable TV shows over the years. Played live backing up groups such as The Beach Boys, Chuck Berry, Don Felder (the Eagles) and country artists Josh Turner, James Otto, Jeff Bates among others. He has written and produced music for himself and various clients that has found it's way to radio and television and cable outlets. Some cuts from his 1995 CD "The Music Maker" enjoyed network TV airplay. His recent 2013 release "Score Excerpts and Soundtrack from the feature film Treasure in Heaven" is a mixture of special songs for the film and instrumental tracks. John and his partner Brian Clayton are currently scoring a streaming tv series in production to be released later this year.
With an impressive music resume spanning 3 decades, what 1st drew you to music?
My family was very musical as they supported and fueled my interest. My father loved jazz and wanted to be a musician but life got in the way so I think he projected his passion on to me as a child. When I was very young I would hum myself to sleep creating melodies from inside my head and I believe that's where I got my love of improvising and composing from.
Do you have a preferred or chosen genre?
To me the genres that have risen from R&B/Blues/Rock speak to me heavily.
Do you mostly write your own music, or do you collaborate?
Both, even though lately I am writing/producing more on my own I do enjoy the collaborative process. In the end it's whatever serves the song the best.
What is your creative process like?
I usually start off with either a cool melodic strumming pattern/riff on guitar or a piano melody with harmony to make it unique. Sometimes lyrics happen at the same time and I just go with it and make it better in the consequent rewrites. My instruments inspire me and I never run out of ideas. However the hard work is usually in the rewrite phase and development of the recording.
What is the best song you ever released and why?
I guess that would be my latest release even though it's instrumental. I have many songs written that are yet to be released more in the singer/songwriter realm. The reason behind my releasing the many instrumentals first was to have music out there for music supervisors to pour over to get music syncs. That's the way it turned out so far.
What is your favorite song(s) to perform?
That's a tough one. I'm a fan of '70s and '80s pop like bands like America, Doobie Bros, the Clash and so many more. If I'm doing a single act songs like "Tinman", "Shambala" and early Billy Joel. I like to perform his instrumentals such as "Mexican Connection" and the "Root Beer Rag". It's just fun. Of course I love playing my own stuff such as "I Wanna Be Your Man", "Smalltown Blues", "I Need You You Tonight" and other as yet unreleased tunes.
What song do fans seem to favor?
The audience always responds to authenticity in my performance, so if I'm getting into it and really engaged they are too. The afore mentioned songs seem to do it for me lately. I also borrow from other genres when I perform to mix it up and try to keep the fans interested such as a jazz tune called "Going Away" I wrote for a movie a few years ago.
Is there a hidden meaning in your music?
I don't think so, at least at the conscience level. It's good to get good imagery in your lyrics to stimulate the emotional response in the listener. I try to stay on point when writing but you still have to serve the song in the end and that can take you anywhere.
Have you ever dealt with performance anxiety?
Not too often. Once in a while it rears its ugly head and it's usually before a solo show when I have to do a lot of singing.
What do you enjoy most about being a musician? What do you hate most?'
Of course I enjoy creating new music from scratch, it makes me feel like I've got something special to share. Playing gigs that go well and meeting and collaborating with other players. Making real money to support me and my family through playing music! Getting to play venues in other places that I would otherwise never see with the comradery of other band members and support teams have been the highlights of my playing career. The perks of being a professional musician are many and varied over time and always surprise me with something new. However the negative aspects are there too and sometimes present challenges that at times seem insurmountable. Not getting paid properly or not at all - gigs where no one shows up - battling egos and various forms of mental illness, alcoholism, drug addiction, these are some of the not so glittering aspects I have experienced within the business.
Other than fame & fortune, is there something you hope to achieve through music?
The main drive as a musician I have is to touch the lives of others through my music to make their lives just a little better. It always gives me great pleasure to see that happen. As far as money goes, the music business is a constant rollercoaster in the income department. You need to diversify your efforts (live, streaming. merch etc.) to make it all come together.
Tell about a magical moment or positive experience that has happened during your music career.
When the band I was in opened for the Beach Boys in the '80's, the applause after the first song made my hair blow back. That was my first large concert gig.
What music do you listen to 'for fun'?
The Cars and music from my New Wave days.. The Who, Joe Walsh, Harry Nilsson.
Who inspires you musically?
There are so many... but Billy Joel changed the landscape for piano player/songwriters - I'm still inspired by his early releases the most. Keith Emerson for his technical excellence. Harry Nilsson for his innovative songwriting. As for more modern times we have quite a few that have raised the bar and keep me on my toes especially in the country and pop markets.
If one artist were to perform at your party, who would get the call?
Paul McCartney
What advice would you have for someone wanting to follow in your footsteps?
Work hard, master your craft and learn from people who have come before you. Try not to complain too much and don't compare your career to others as each of us has their own path. One thing I wish I had realized when I was younger is that I was already "living the dream" - I was too focused on what I hadn't accomplished as not to fully enjoy the journey. Try to remember that failure is our friend if we are able to learn from our bad decisions and poor choices. We need to keep picking ourselves up each time so we can move forward.
How do you feel the Internet has impacted sharing your music?
As an independent artist the internet has really leveled the field for me. You still have to work hard but at least there are new outlets and means to gain an audience.
What is your favorite/best outlet to connect with your followers Instagram, Spotify, FB, Twitter, iTunes? How would you want them to follow?
Right now it seems that the lion share of my social reach is on Facebook. I utilize my Facebook Band page to run Facebook ads to reach new followers. I am very committed to increase my followers and saves on Spotify. I use Reverbnation as well to reach out to the music community that is already there and the tools they have such as Fan reach. I have a small presence on Twitter that I maintain and to reach out to music supervisors and others that use that means of contact. I advertise my iTunes connection as well. The end game would be to get all of my fans to my website that I control.
What is one message you would give to your followers?
It would be awesome to have followers follow my artist profile on Spotify and save my songs that they like on their profile/playlists. Please feel free to reach out to me if you like what you hear or you'd like me to do a cover of a tune that you would like to hear me do. A big thanks in advance!
What does the future hold for you?
Most of my musical career has heavily leaned on local and regional touring. Almost non-stop for years at a time. I'm concentrating lately on releasing and promoting a large backlog of music already written. Even though my music career has taken quite a few twists and turns it looks like the best is yet to come. I think that attitude is necessary to survive in the music biz...
Did I forget to ask something? Something you would like to say, that I did not address.
It's been an incredible ride so far and I have every intention to keep climbing the ladder of growth and doing what I can to realize the best I can be. It's the long game that counts.
Reader insights
Be the first to share your insights about this piece.
Add your insights