Meet Rising Singer-Songwriter Amaia Nicole
Amaia Nicole's "Madness" music video is out now!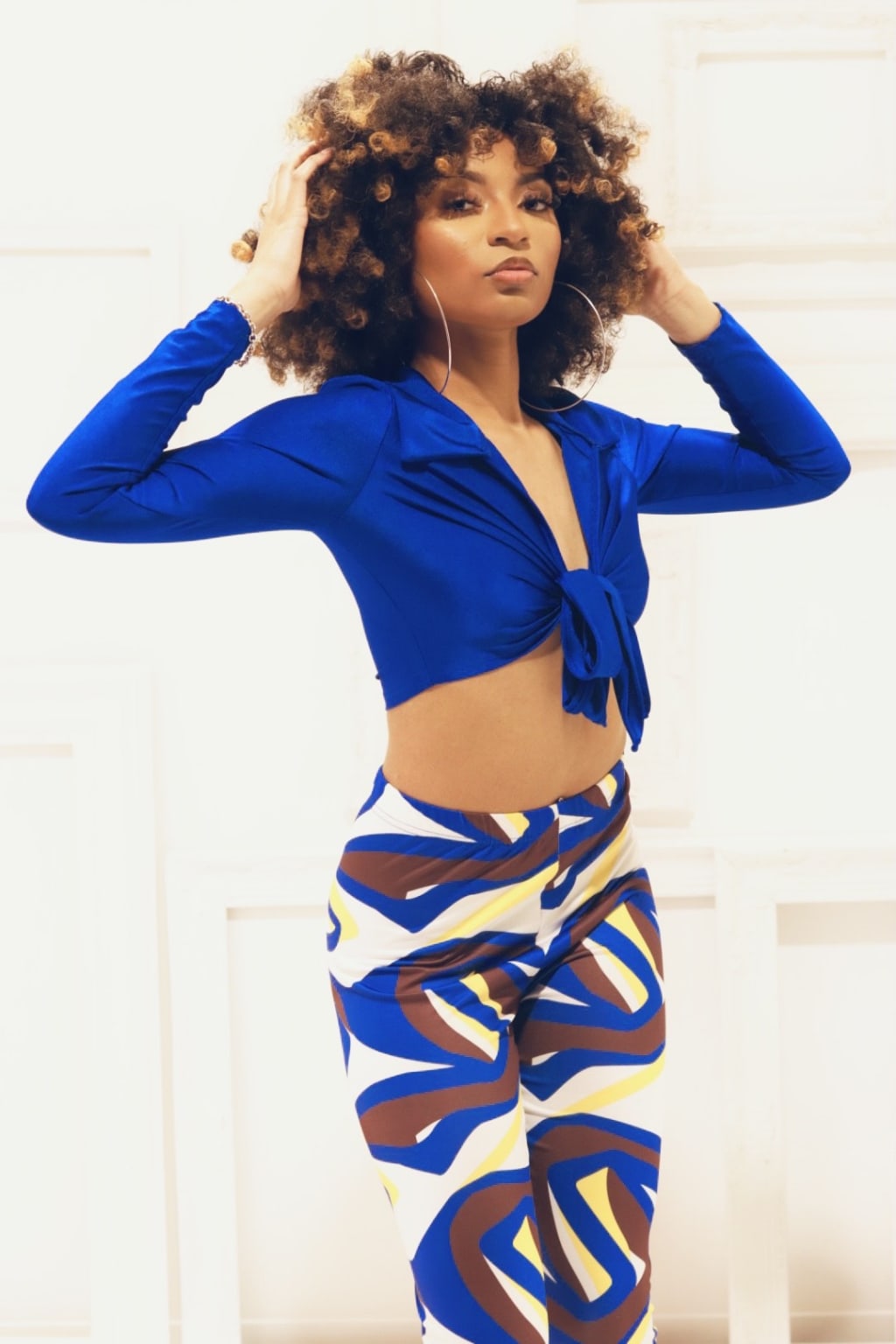 Amaia Nicole (born May 4th, 2003) is a rising singer-songwriter based in the Metro Atlanta Area. Her love for music began as a child and became stronger as she grew into a young woman. She aspires to continue making music that women and little girls can relate to all across the world while perfecting her craft and working to create a respected name for herself in the music industry with longevity.
With her single and music video, "Madness," out now, we took some time to hear more from Amaia Nicole. Read below to learn more about Amaia Nicole, the story behind her single, and what's to come.
Hi Amaia Nicole! Let's start with how did you get your artist name?
So, I never wanted to change my artist name to anything crazy. It's just my first and middle government name. The spelling of my first name, "Amaia," was chosen by a close friend of my mother, and my mom fell in love with it. My middle name, "Nicole," was passed to me after my great-aunt who has always played a big role in my mom's life as well as mine since the day that I was born. So, "Amaia Nicole" wasn't anything that had to stick or anything like that. I have always went by that name, and I believe it fits me as a person and an artist in the entertainment industry.
What city are you from and where are you based now?
I grew up in the metro-Atlanta area and am currently based there.
At what point in your life did you decide to pursue a career in music? How did you get started?
I've been singing for as long as I can remember, from singing in the youth choir in church and joining the fifth grade chorus. I began songwriting around the seventh grade, but I never really took it seriously until high school began.
Has your upbringing played a role in shaping who you are and defining your sound today? If so, how?
I think being in church added a soulful touch to my style as a vocalist and as well as the way that I interpret music. I love adding riffs and runs throughout my music where I see fit, and there's usually always room for it when I'm working on songs. When I don't sing using my head voice, and I can't feel the vibration in my voice. . .then, I'm not really giving it my all. I always want my audience to feel me feeling my music every time that I step on a stage and perform.
How would you describe your sound to readers who may not be familiar with you?
My sound has a unique 2000s contemporary Rnb/Soul influence. I write music that everybody can relate to and feel.
Do you have any hobbies outside of music? What do you do to stay creative?
I've always enjoyed drawing and any type of painting since I was a kid, so that would be one of my main hobbies outside of music. I also love shopping and putting together different pieces to create different looks that really shows off my high fashion sense.
Who are some of your main musical influences?
Janet Jackson, Whitney Houston, Mariah Carey, Beyonce, and Rihanna are my top musical influences. These music moguls are all well respected in the industry for their hard work and dedication to their craft which is something that I am so inspired by more than ever. Each of them stand out individually as performers, which is exactly what I plan to do going forward in my career...being authentic and doing what works for you as an artist goes a long way in the music industry, so all I will ever be is myself, no matter what.
Who would be a dream to collaborate with?
My dream collaboration would be with Darkchild and Scott Storch. They are both very talented producers who have worked with many of the greats. I believe that together we would be able to create music that would go down in history and would be known as classics over time.
What are some of your future music career goals?
My future music career goals are to always give my best in anything that I do and always work on my music until I'm satisfied with the end production. I also plan to continue improving my songwriting and exploring different writing techniques that will allow me to grow and perfect my craft. My goal is to have longevity in this industry and make a positive impact on the world while doing what I love.
Now onto your release, "Madness." What inspired this song?
This song gives people listening an inside look of just how hard women love even when things may not be going so perfectly in a situation with someone you care about. Dealing with guys as a teenager is a learning curve, but we always grow from things. I am grateful for every experience that I go through in life because, in the end, they inspire me to create beautiful things and that's what music is about.
What is "Madness" about in your own words?
"Madness" is just about expressing how possessive a girl can be when she's really into someone, and it may get to a point where she snaps and the guy thinks she's gone mad.
How did the music video for "Madness" come about? What was your vision for the video?
I really wanted the focus to be on my face, so you could really see how intense the emotions are in situations like these. The different pops of color throughout the video just help set the scene and catch your attention while complimenting different high points of the song. To me, the scene where I was wearing the red dress really shows off my edgy side, and highlights the point where you've reached a breaking point and just can't hold it all in and sit quiet anymore.
What message do you hope fans take away from your music and from "Madness?
That you are not wrong for feeling this way, and we all have been there. But, girl, you gotta keep it moving and let go eventually.
What's one of your proudest moments of your music career so far?
My proudest moment, so far, has simply been the release of the song. It was my debut single, and I invested a lot of time into this project. So, just presenting my song to the world finally and watching my first ever music video vision come to life was so surreal for me.
What would you say are the greatest lessons you've learned so far?
So far, I've learned that you have to keep going if you want real results and success in this industry because nothing happens overnight. If you really love something, stick to it, keep learning, improving, and everything else will come to you.
What's next for you? Are you working on any upcoming projects that we should be on the lookout for?
I am currently working on a few new singles now that will be releasing really soon this year, so if you want to hear more from me, stay on the lookout for those.
Where can we follow you on social media?
https://www.instagram.com/theamaianicole/
https://youtube.com/channel/UC54GgKJgB0C-JOQkRjmeMkA
https://www.tiktok.com/@theamaianicole
https://twitter.com/theamaianicole
Before you go, let's ask you something random. What's your favorite food?
It would honestly be easier for me to tell you what my least favorite food is because I love most foods, and going out and trying new foods, so I'll do that instead, haha. I don't like coleslaw at all - never have, never will.
Thank you for the great interview; wish you much continued success!