Life's for Living... The Best Songs to Show Us the Way
You Only Live Once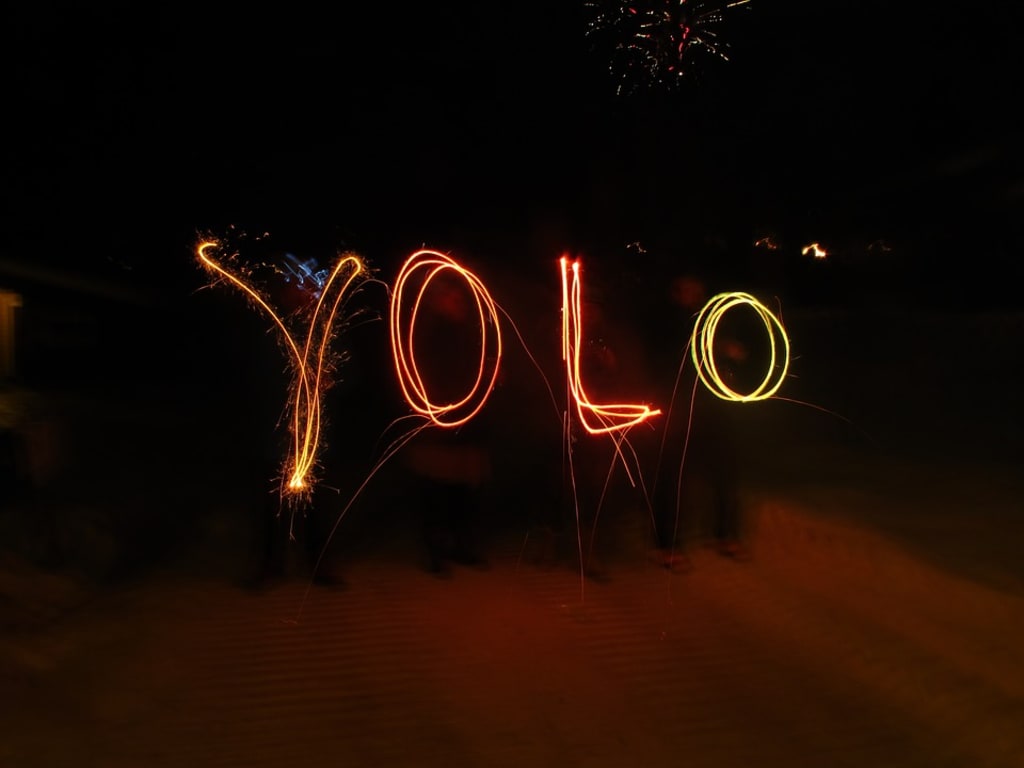 You Only Live Once
There are many songs that remind us that life is for living and that we only get one chance to walk this Earth and we need to make the most of that time. How we do that is different for everyone and what makes one person's soul dance will make another's blood boil. We have to figure out our own path and find what makes us tick as individuals. These are my favourite songs to remind me that what's important is that we always strive to make the most of the lives we are given, and the time we have.
As a Bon Jovi fan, this classic track has to be first on the list. This song reminds me that time is not endless and we have to make the most of the time we are given. Bon Jovi have many, many motivational songs that I could have chosen including "Welcome to Wherever You Are," "Born Again Tomorrow," "Rich Man Living in a Poor Man's House" and "The Fire Inside" to name a few.
It's my life
It's now or never
I ain't gonna live forever
I just want to live while I'm alive
This song asks if you're happy with the world that you're living in—if not, you need to change something. We only have one life and we need to strive towards happiness. The Script also has other motivational songs such as "Hall of Fame."
It's hard enough trying to live your life
But not following your dreams made you dead inside
If you don't love what you do
It's not right, it's not right for you
Perspective and the way that we look at things can have a huge impact on the way that we react to situations and the way that we feel about certain events. Changing our outlook to a more positive one and learning to be thankful for the little things can make a difference to our mental wellbeing.
Have you ever danced in the rain
Or thanked the sun
Just for shining, just for shining
Or the sea?
Oh no, take it all in
The world's a show
And yeah, you look much better,
Look much better when you glow
We can have days when we have the best of everything and days when the opposite is true. How we react to these changes and how we get along with the other people around us will determine how we feel about them. If we can appreciate that not everything can be good and that not everything is bad, we can find a happy middle ground.
It ain't what happens to you, it's what you do about it
'Cause we're here today (hey!), and gone tomorrow
If you want to make the world a better place, you have to start with yourself. What can you do that will benefit other living beings on the planet? What can you do to make someone else's day a little brighter?
I'm starting with the man in the mirror
I'm asking him to change his ways
And no message could have been any clearer
If you want to make the world a better place
Take a look at yourself, and then make a change
The way that we treat other people lets them know how we feel about them. Words are great, but actions are better. If you don't say the right words, but you have shown how you feel through your behaviour, people should be left in no doubt how you feel about them. Always be kind. Always be giving. Always be loyal.
If tomorrow never comes
Will she know how much I loved her
Did I try in every way to show her every day
That she's my only one
You have to live for today because tomorrow could be too late. Simple message! Are you happy with the way you've lived your life? If it ended tonight, could you say you've lived the best life you possibly could?
If today was your last day
And tomorrow was too late
Could you say goodbye to yesterday?
Would you live each moment like your last?
Leave old pictures in the past
Donate every dime you have?
If today was your last day
This song is all about living for the moment and taking the chances that life throws at us. Bryans' new song called "All or Nothing" from his latest album Shine A Light speaks of the same message—gotta live your life!
I don't wanna live forever
I just wanna go for broke
Gonna ride through any kind of weather
Go out in a cloud of smoke
I don't wanna live - don't wanna live forever
A song about the regret of not taking chances and not letting someone know how you feel about them before it's too late. Reminds me that we have to do what feels right at the time. This way, we won't have regrets like this later on. Take risks and accept the challenges as they are presented to you. The saddest feeling is that of what could have been.
It could've been me
Standing there with you
It could've been me
And my dreams coming true
But those dreams move on
If you wait too long
Like the song I learned as a child when starting to play the recorder, "if at first you don't succeed, try, try, and try again." Not everything is easy, but dedication and hard work will be rewarded, eventually. Have the courage to dream and work towards something you believe in.
You can get it if you really want
But you must try, try and try, try and try
You'll succeed at last
Staying true to yourself is important. Have the courage to forge your own path and do the things that your heart desires. Don't let others discourage you.
I got just one life
In a world that keeps on pushin' me around
But I'll stand my ground
And I won't back down
This song reminds me that things will work out in the end, even if it doesn't seem like it now. We have no control over our future so live it, accept it, and understand that whatever will be, will be.
My father said
Don't you worry, don't you worry child
See heaven's got a plan for you
Don't you worry, don't you worry now
playlist
I am half of StRuth Adventures (Steve and Ruth). As a couple, we have been exploring the world together for nearly 2 decades. We have been to 30+ countries so far.
Follow our adventure using #struthadventures
Instagram - @struth_adventures