Kendrick Lamar and These 'DAMN' Visuals
Here are all the music videos from Kendrick Lamar's double platinum album, 'DAMN.'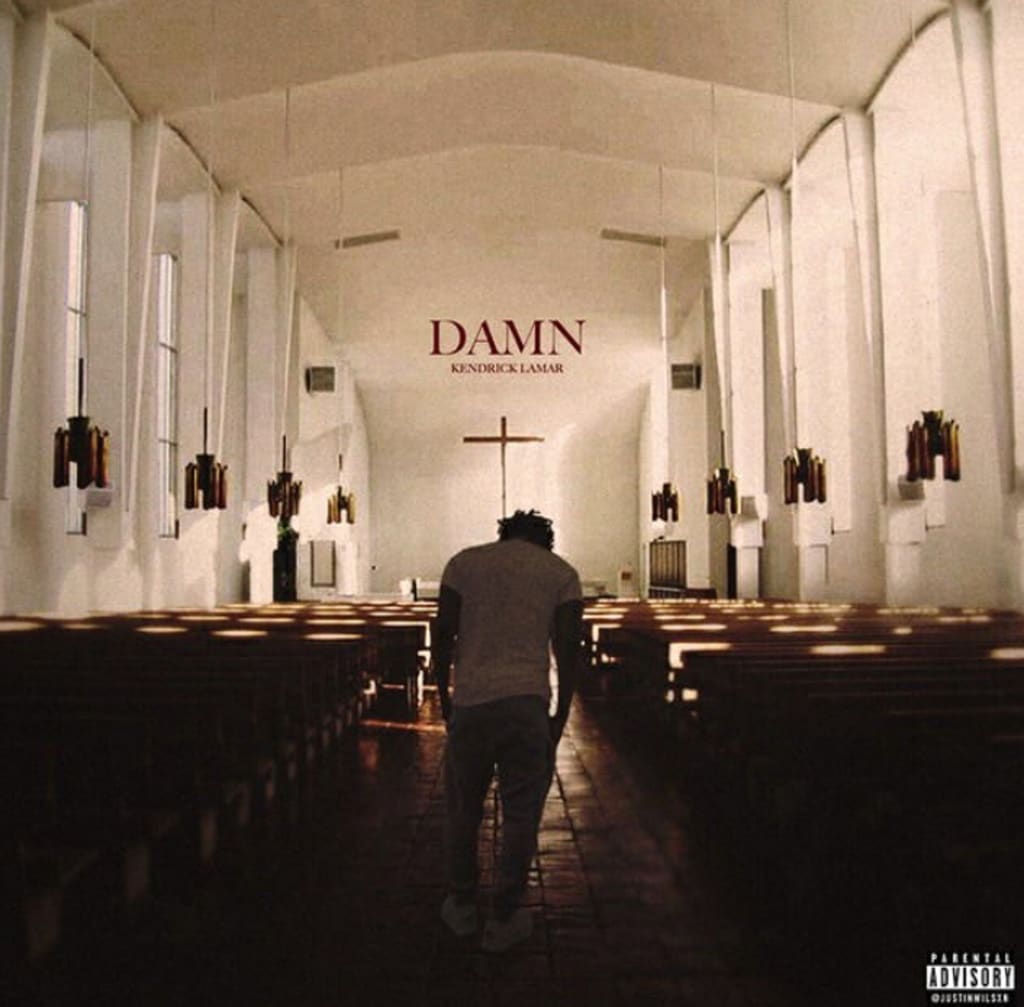 Kung Fu Kenny never seems to disappoint his fans. He recently dropped the fourth offering from DAMN, an epic mind-fuck of a visual for "Loyalty." But before we talk about "Loyalty," let's rewind.
The visuals are brought to you by The Little Homies (Kendrick Lamar and Dave Free), with the help from a different director for each video.
In his first offering, Kendrick shows us how to be "HUMBLE." Okay, well not really.
Released a week after his fourth installment to "The Heart" series and his announcement of an album on April 7th, Kendrick gifted us with this Mike WiLL Made It-produced single. Directed by Dave Meyers & The Little Homies, the visual is awe-inspiring and anything but modest.
From images of Kendrick in priest's robes, a re-enactment of Leonard Da Vinci's The Last Supper, these are prideful—get it, "Pride." No? Listen to the DAMN. album already, will ya?
I digress.
These religious images hold a sense of respect, fulfillment, and honor. However, when a person places themselves into these visuals, then it becomes an image of egotism, narcissism, and a bit hubris. When an artist, especially of Kendrick's caliber does so, then we simply of magic. Even with Deebo's character theme music from Friday as Kendrick riding his bike through the neighborhood—it's a choice that contradicts the surrounding visuals. Deebo is a bully, the big man in the neighborhood who only cares about himself. He has pride, but only in himself. As they say, hubris is the greatest downfall for man.
The juxtaposition in the video for "Humble." are brilliantly pieced together and speak to a much larger issue which Kendrick confronts in his album.
Back in April, Kendrick followed up the release of the album with the Nail & The Little Homies-directed visual for "DNA." The track is a standout track on DAMN. and still in heavy rotation on the airwaves. And who does Kendrick get to star in the video? None other than Don Cheadle, the original Kung Fu Kenny.
The visual opens up with Kendrick in an interrogation room with Cheadle questioning, well more like antagonizing, Kendrick: "Two first names, huh? What the fuck is up with that?" Then suddenly Cheadle becomes possessed and the two do this intricate back and forth as if they're a woke spirit jumping back and forth. Cheadle matches Kendrick's level of passion and angst, but there's no beating Kendrick. Cheadle sets him free and he goes back out to live life.
Cheadle sat down with Pitchfork and discussed his role in the music video, and Kendrick as an artist. He talks about how Kendrick is a pretty straight forward guy in person, but his lyrics are constructed in a way that they are not understandable at first—Amen.
Like I said, to me, he is real. He's just real and straight-up and honest and truthful and generous to the degree that he lets you in. He lets you see the cracks in the armor. He lets you see his insecurities and all that stuff. It's just rare to have any kind of artist do that—especially a hip-hop artist. He's kind of the anti-hip-hop artist in that way.
The structure of the video is amazing. It shows they pieced the scenes together of the rap battle, home videos, clips of him and the boys throwing dice, the girls having fun, and Kung Fu Kenny alone with the black backdrop.
This is just another dope piece of the GOAT puzzle.
Last month, Kendrick released his another visual for the track "Element." This third offering was directed by Jonas Linstroem and, yeah you guessed it, The Little Homies. To great expectation, Kendrick provides some powerful images.
The song, with help from its visual, speaks to being in your element and being an unstoppable force. Kendrick is indeed in his element and is indeed an unstoppable force. As he stands alone, Kendrick's shirt has splatters of blood. A raw, truthful choice along with the various images of fighting from grown men to a father teaching his son how to throw a right hook. This is life. This is our life.
Amongst those images, Kendrick references cops, being handcuffed, and just the overall violence we've been dealing with. The album very much confronts the current climate of our country, and he extends that message into his videos.
Interesting tidbit I discovered via The Fader:Throughout the video, Kendrick makes reference to photojournalist, writer, director, and musician Gordon Parks. There are multiple scenes that were meticulously constructed to mirror several of Parks' images. Why? Kendrick is emulating these photographs from the 50s and 60s to further prove that what is going on in today's society is still happening. Besides confronting society, I also think it's Kendrick simply paying homage to another great talented artist.
Man, this guy is good.
Now to the main event.
I expected a visual for this track when I first heard the album. Then again, you learn as a Kendrick fan to never expect anything, just to be patient.
He spoke in admiration of Rihanna in his interview with Zane Lowe on why he chose to feature her on the album.
I love everything about her. Her artistry, how she represents women to not only be themselves but to express themselves the way she expresses herself through music, and how she carries herself. I love everything about her so I always wanted to work with her…Great vibes. She's a vibe itself.
Yes, Ms. Bad Gyal Riri is a force to be reckoned with. Having her feature was definitely a great choice, as their voices mesh and flow effortlessly.
The track questions one's loyalty: What do you choose to honor and be faithful to? "Is it money? Is it fame? Is it weed? Is it drink?" Or are you loyal to people rather than the material things in life: "Do it start with your woman or your man? Do it end with your family and friends? Or you're loyal to yourself in advance?" Are you a ride or die for the people in your life, or would you rather have all the material things? What you're loyal to, and if its "comin from the heart" determines your character.
These questions are aided with the visuals of—no, check it out. It's too new for me to spoil it. Just keep in mind: The song is about the testing of relationships, as well as the tests on ourselves we deal with. Directed by Dave Meyers and the Little Homies, check out the video above.
So, What's Next?
I've been wanting to dissect Kendrick's entire visual catalogue but well time will come. For now, let's focus in on these DAMN. visuals.
Just... DAMN.
It's undeniable—Kendrick Lamar is a certified genius. All the visuals for this album are just epic. Epic mind-fucks, that is. Like Don Cheadle says, Kendrick's lyrics are very complex. They are constructed in such a way it takes several rotations to find the hidden gems and jewels, Once they are discovered, they just completely blow your mind. There is such great detail that truly speaks to the song's theme. It's that attention to detail that he's able to fit in so much in such a short amount of time. His visuals speak volumes, furthering his point to which he makes in his lyrics.
In a perfect world, artist drop visuals for every track on their album—well, the GOAT's anyway. So yes, in a perfect world, what video would you like to see next? I would very much like to see a visual for the track "Pride." As the precursor to "Humble," "Pride" plays to this sense juxtaposition. There's this mellow and pensive track that's followed up by this robust, braggadocios track—plot twist, they are titled incorrectly. Another plot twist—it was on purpose. Everything Kendrick does is on purpose. I think "Pride" and "Humble" received their names because of course, he speaks to the pride of others against his own, and to others who need to kneel and humble themselves when in his presence. I would love to see how he plays off of that duality.
I would also like to see "Duckworth" come to fruition. Oh wait, "Fear" would be pretty dope as well. Okay, those are my top three choices of the next visuals I would love to see from Kung Fu Kenny.
So, what's yours?
Stream DAMN. via Spotify, Apple Music—or just cop it via iTunes. Shit, Urban Outfitters has it on vinyl.
song reviews
celebrities
About the author
I'm a 20-something year old who's obsessed with music, and sometimes I write about it. I hope you enjoy my ramblings.
IG: @writtenbysade
@thelyricalfixpod
@checkit.openmic
Reader insights
Be the first to share your insights about this piece.
Add your insights