Unpacking Jay Z's '4:44'
Here is the final result of my three-week long process of unpacking Jay-Z's highly anticipated '4:44.' Luggage has never been so heavy.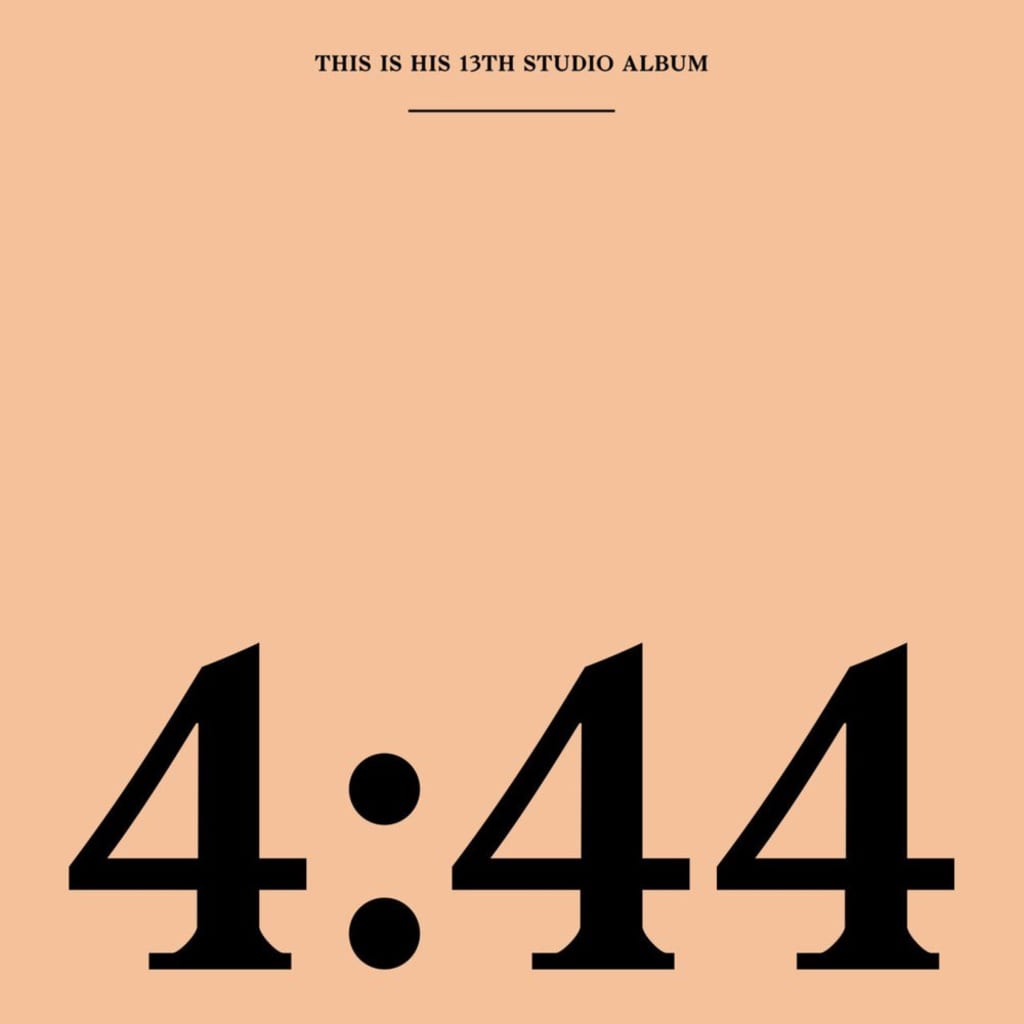 TIDAL | Apple
I'll admit I was both excited and nervous to write this review. I've given quick verbal reviews for people who've asked but it's been hard for me to sit down and write. For me, it's overwhelming. Not only is this Jay-Z's 13th album, but there's just so much to unpack. The album covers literally (yeah, I'm from Jersey) everything. I can't mess this up, but I put my nerves to the side and decided to do it. I had to formally review the album, how can I not? So I lived with the album, more so than any other project.
All or nothing, here it goes.
This album is amazing. It's beyond amazing—4:44 is intelligent, riveting, hypnotic, honest, raw, conscious and well... pretty fucking brilliant. With the help of No I.D., the album is concise and intricately constructed. Jay-Z puts it all out for the world, from answering any and all questions to spitting gems for this generation of rappers.
4:44 is exactly what this game has been missing.
"And you know better nigga, I know you do" - "Kill Jay-Z"
In true Carter fashion, 4:44 starts off beautifully. From the beat to the lyrics, to the jabs—oh, the jabs! He throws some shots throughout the album but to start it off from the rip… well damn, okay. The one that stands out the most is his jab to Kanye West.
You walkin' around like you invincibleYou dropped outta school, you lost your principlesI know people backstab you, I felt bad tooBut this 'fuck everybody' attitude ain't naturalBut you ain't a saint, this ain't kumbayeBut you got hurt because you did cool by 'YeYou gave him 20 million without blinkin'He gave you 20 minutes on stage, fuck was he thinkin'?"Fuck wrong with everybody?" is what you sayin'But if everybody's crazy, you're the one that's insane
Everybody questioned if he would ever take his shot at Kanye West after Kanye had some choice words for the Carters at one of his shows. Within the bars, Jay weaves in and out of talking to himself and to Kanye. He gave Kanye "20 million," and Kanye paid him back with "20 minutes on stage," referring to his rant. What brought this on, who knows? A lot went down behind the scenes and should have stayed behind the scenes. The two go way back to when Kanye produced some major hits for Jay. He wasn't only Kanye's boss, but his "Big Brother," his mentor.
Nah, Jay-Z / Bye, Jay-Z.
Jay throws a few more jabs, but the overall song is a shot at himself. It's a shot at his ego, walls are about to come down. He's letting his listeners know that what they're about to listen to isn't typical Hov. Yes, he's been personal in his past albums, but not as of late. He's spilled some secrets of his life like shooting his brother before, but this right here man—just be prepared.
Be prepared and take notes.
One of my favorite tracks on the album, "The Story of OJ," speaks on the culture of Hip Hop of just over accepting who you are. OJ's famous quote, "I'm not black, I'm OJ," shows that need he had to separate himself. Well, whether you're in the house, in the field, or on the corner… you "still nigga."
Light nigga, dark nigga, faux nigga, real niggaRich nigga, poor nigga, house nigga, field niggaStill nigga, still nigga
This track, the whole album, in fact, is dripping with Black Excellence. The sample Jay chose for this track is by Nina Simone, "Four Women." I knew this sounded familiar, Nina Simone is inspiring to say the least. The sampled song follows four women of different shades but who are all black women of the same family. Aunt Sarah, Saffronia, Sweet Thing, and Peaches introduce themselves with the public perception of themselves. They have different characteristics but all treated the same by society. This is key to Jay's overall message of the song and its visual above, a message about today's culture.
Y'all out here still takin' advances, huh?Me and my niggas takin' real chances, uhY'all on the 'Gram holdin' money to your earThere's a disconnect, we don't call that money over here
From playing the corners, to having financial freedom, it's all about maturing and wanting more. Being smart about doing business, and who knows more about being smart with business than Jay-Z. Okay, there's Diddy, but you get my point. The above quote highlights the problems with today's generation of rappers. Jay goes to question how could today's artists still strive to get a record deal. We live in a time where the tools to make it are more readily available than ever. There's social media, Soundcloud, YouTube—you name it. We're slowly seeing the death of record labels, and yet artists are still depending on them. For Jay, he has many toes dipped into many businesses and ventures that he uses that money to "take chances" with. How's that for real money? Real wealth can't be measured on social media. Jay is letting this generation know they need to stop showing off their money and do something with it besides chase deals with record labels who only steal from them. Until they do something smart with their money, they'll be feeling "Dumbo."
"Respect the Elohim, it's a whole new regime" - "Smile"
Continuing on, here Hov describes that no matter the ups and downs, the "winners and losers," just "Smile" and push through it. He's had his tribulations but survived. Jay has continued to just be better as the years go by. He mastered his aesthetics and now is a billionaire… literally. All he had to do was just keep on pushing through and keep his head up.
"Smile" is also the public coming out of his mother, Gloria Carter. Jay describes how she acted for the majority of her life, hiding the fact that she was gay. In doing so, she "self-medicated," because it hurt her so much to hide her true self. The track closes out with a beautiful message from his mother.
"Living in the shadow feels like the safe place to beNo harm for them, no harm for meBut life is short, and it's time to be freeLove who you love, because life isn't guaranteedSmile" - Gloria Carter
"I'm surprised y'all think you can disguise y'all truths" - "Caught Their Eyes"
What better way to follow up "Smile" than with a track featuring Frank Ocean, who came out publicly on his last album Channel Orange.
The fourth track's main message is about really knowing your surroundings and being aware of the people around you. You never know who will turn on you and you need to learn how to trust the right people. The haters you know have already revealed themselves, it's the people in disguise you should worry about.
In the second verse, he spits a couple truths about Prince. Before he died, Prince went to Jay to have all his music exclusively on TIDAL. After his death, Prince's former lawyer and now head of his estate, Londell McMillan, sued Jay for copyright infringement for all of Prince's music. From the law suit to the tours of his home, clearly, all McMillan and Prince's family saw was green with "them purple eyes." Jay then goes on to say how he's seen "pure admiration become rivals," followed by a couple bars about Paris. "Niggas in Paris"? Another possible shot at Kanye? Maybe. Most likely.
Now, where the hell do I begin?
"'4:44' is a song that I wrote, and it's the crux of the album, just right in the middle of the album. And I woke up, literally, at 4:44 in the morning, 4:44 AM, to write this song. So it became the title of the album and everything. It's the title track because it's such a powerful song, and I just believe one of the best songs I've ever written." - Jay-Z via iHeart Radio
And yes, it is his best written and my favorite of all his songs. Everything about the title track is powerful: From its poignant bars to the daunting pauses in between; from the sample of Hannah Williams and the Affirmations' "Late Nights and Heart Breaks," to its artistic visual above. There's no Hov or Jigga on the track. This is his heart. This is Shawn Carter. Here he publicly apologizes to Beyoncé, after she had made it public that he cheated on her on her visual album, Lemonade. So many elevator questions answered, so many Becky questions not answered.
But I digress.
"I would probably die with all the shame"
Shawn Carter speaks on how his cheating has affected his marriage, and being ashamed of his actions. He apologizes for not being there and how his absence may have caused Beyoncé to miscarry. He continues to stew over if his kids ever discover his indiscretions. We're in the age of the internet where kids, specifically Blue Ivy and the twins, have access to find out that truths such as Santa Claus and the Tooth Fairy aren't real, oh and that their father cheated on her mother.
Damn, Shawn.
"Y'all stop me when I stop tellin' the truth" - "Family Feud"
Beyoncé's vocals weaving in and out with Jay's bars is a perfect follow up. He does touch on his own family, but just for a moment: "Yeah, I'll fuck up a good thing if you let me / Let me alone Becky." However, "Family Feud" majorly confronts the current state of Hip Hop because "nobody wins when the family feuds."
What's better than one billionaire? Two'Specially if they're from the same hue as you
Jay speaks on supporting each other, supporting black-owned businesses, as well as supporting each other as artists. There's this divide from the veterans, the "old heads" in Hip Hop and the new rappers arriving on the scene. The divide is more so apparent than any other generation. There's definitely a line drawn in the sand. Jay is taking it on himself to bridge that gap. As a veteran, he addresses both generations to pretty much say "Snap out of it! You're wrong and you're wrong too, so stop the shit."
Jay drops some serious gems in this track, there's so much take away from it. He talks about his own struggle with being accepted by the rappers before him, and his issues with accepting the new generation. But now, he's stepping forward to point out that this divide is killing the culture, this is killing the community. Put away your differences, because "nobody wins" until so.
"Now let me reintroduce myself / My name is—" Oops, sorry I couldn't help myself.
If you didn't know the difference between Hov and Shawn Carter... well now I hope you do. "Bam" is where braggadocios Hov emerges in the album to talk his shit. While the hit song alone is great, the visual for this track speaks on so many levels of truth.
"The prophets in the beginning were musicians. They were the poets, the writers, and that's what we've been tasked with in this life. Shit is…it's actually kind of humbling, you know."
Using the sample from Sister Nancy, and even featuring her in the video, "Bam" speaks to the sole purpose of artists: to make everlasting good music. The video brings us to Jamaica, the birthplace of Reggae. In college, I've studied Marcus Garvey and then went onto study the beginnings of Ska, Rocksteady, and Reggae. There is a tradition that is kept, specifically with Reggae, that the artists were socially conscious and spoke about issues through their voice, their lyrics. The lyrics were liberating because now the world can know. Of course, not all the music was as so, but does it sound familiar? Hip Hop was derived from Reggae, and even before that. It's about the tradition of storytelling, of vocalizing your surroundings, and just making people feel good at the same time. The video highlights that music is essential to a community that's full of hardships. Music is hope. Music is life.
And here is Hov, just making some "good music" that will last behind his years because of the impact of his lyrics.
"Even when we win, we gon' lose" - "Moonlight"
Inspired by the infamous moment when the movie La La Land won Best Picture but then there was an error and Moonlight was actually the winner. Awkward or nah. In the interview via iHeart Radio, Jay states the La La Land mention is "really a commentary on the culture and where we're going."
Jay then dives deeper and comments on this new generation of rappers who pretty much sound all the same. At first, you sense a bit of hypocrisy after "Family Feud," but Jay is actually just giving solid advice. First, he addresses their incessant need to be so open on social media. Like their "money phones," they wave around their guns and more. No, baby no. He then goes on to comment on their need to chase record label deals. A postlude of his comment in "Kill Jay-Z," the bar goes:
Y'all niggas still signin' deals? Still?After all they done stole, for real?After what they done to our Lauryn Hill?And y'all niggas is 'posed to be trill?
Cleverly sampling The Fugees' "Fu-Gee-La," he's making note that these new rappers are trying to redefine themselves and yet they making the mistake of signing deals. Lauryn Hill was sued by her own label, so what does that tell you? If you're going to redefine yourself and redefine the game, then learn from the old heads' mistakes. Learn from those who made the wrong choices, and avoid being "behind in your taxes."
If you knew better, you'd do better. Moving along.
"Streets is my artery, the vein of my existence / I'm the Gotham City heartbeat" - "Marcy Me"
I just have to say that that's one, well two, of the sickest bars I have ever heard. Just let me ramble a bit: Artery, vein (bane) of my existence, then there's Bane of Gotham but Jay's not the enemy, he's Brooklyn's heartbeat… sheesh. It might just be that I like Batman but good Lord. This is what legends are made of.
But, I digress.
Previously spoken about throughout his catalogue, "Marcy Me" alludes to the Marcy Houses in Brooklyn where Jay grew up. As 4:44 winds down, here he takes us back "when Jam Master Jay was alive," and "Lisa Bonet was Beyoncé." Jay is speaking of the realities he grew up on, a bit of nostalgia on an album that focuses on correcting the present and thusly the future. I feel like the overall song is a comment on how life comes full circle. He's taking this walk through his old neighborhood, thinking back to when he didn't even think he could make it out the hood. Look at him now.
Although I don't have much to say about this track, this is one of my favorites. It reminds me of old Jigga. Jigga, who? As he went back to a time when he "gave birth to [his] verbal imagination," I reminisced to when my brother used to play Hov all the time. When I say that, I mean all the time. The oldest kid and the youngest kid bonded over music, yes we did. My brother was really my introduction to Hip Hop. I have albums from before I was born memorized because of him. And to thank him, I put my brother on once that link became available for free download via TIDAL. Thank you, Jay.
Huh, funny how life comes full circle.
"Black excellence, baby let 'em see" - "Legacy"
A perfect ending to a beautifully constructed album, Jay ends us with "Legacy." Following the nostalgic "Marcy Me," here he looks completely towards the future. The track opens with Blue Ivy asking Jay "What's a will?" Hov then explains to her how the legacy of the Carters will live on after him with his legacies passing onto his family and to her and her twin siblings.
"See how the universe works?It takes my hurt and help me find more of myselfIt's a gift and a curse"
But what is a future without a past? In the second verse, he goes back and speaks about a painful memory from his childhood. Jay's grandfather was a preacher who molested his own daughter, Jay's aunt. Something so heinous can have an affect on a child, on the family as a whole: "That charge of energy set all the Caters back." That event affected Jay in his upbringing. He couldn't accept the religion that was pushed onto him while his grandfather could preach on Sunday and well "versus how he was livin' Monday." While a dark topic, it forced him to look elsewhere into other religions. It opened his eyes to other worlds. Without able to forgive his grandfather, he takes what he has learned and moves forward. To bring it back full circle, Jay then teaches his daughter that she's going to have to keep running the Red Queen's Race to keep up the pace with the rest of the world.
It's a wrap!
I only stuck to the original album and not its bonuses for this review. Yes, I know - "bad Sade." However, the original ten tracks tell a story on their own. 4:44 is exactly what this game's been missing. Not to sound redundant, but the album is overflowing with gems and insights that this generation needs to hear and learn from. 4:44 plays on a duality of introspection and extrospection. From the highly pensive tracks on his feelings of shame and regret, to speaking on his wife, his mother, Prince, and the Hip Hop culture as a whole. This is Jay-Z, HOV, and Shawn Carter's perspective on the culture, and he did it…for the culture.
Praise.
About the Creator
I'm a 20-something year old who's obsessed with music, and sometimes I write about it. I hope you enjoy my ramblings.
IG: @writtenbysade
@thelyricalfixpod
@checkit.openmic
Reader insights
Be the first to share your insights about this piece.
Add your insights