iKON—The Guide to 2018's Hottest Group (Part Two)
Become acquainted with the tracks that have helped the group go from strength to strength.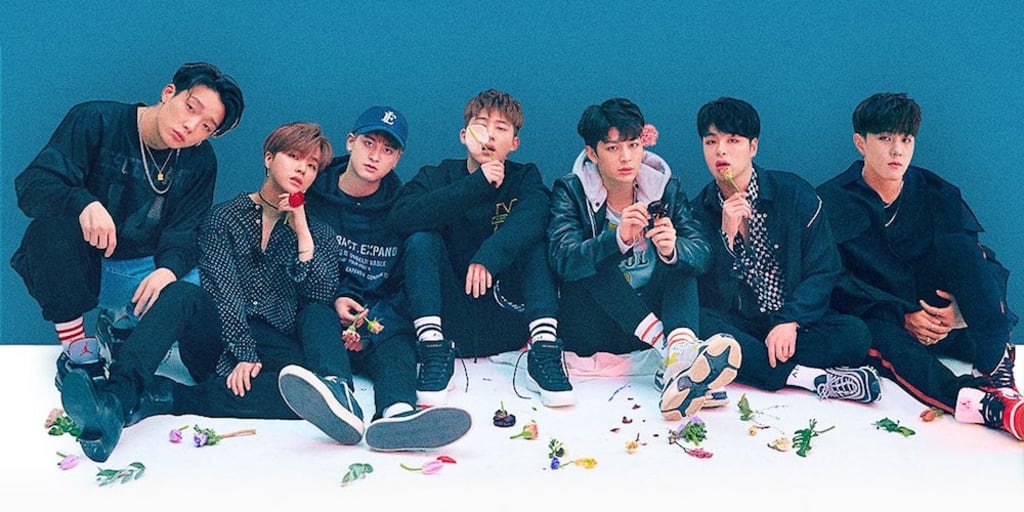 You've read the first part (presumably), you're familiar with the members, and providing you didn't just decide to look them up for yourselves, you're now back ready to see some of my carefully selected tracks that will give you more than just an appetiser into the talent this group possesses.
Signed to YG Entertainment (a predominantly hip-hop centred label), iKON manage to break the traditional mould, releasing songs that fuse genres together successfully, forcing themselves to avoid being pigeon-holed to one particular category of music.
As both a huge fan and admirer of the group, I anticipate every release of theirs with high expectations, and they always ensure I am never let down, with their supremely high-standards apparent in all of their singles, albums, and extended plays. Instead of taking their foot off the gas after releasing arguably the song of the year in K-Pop with "Love Scenario," they decided to push the envelope further with "NEW KIDS: Continue," a phenomenally well-received mini-album that features excellent track after excellent track. They have gained millions of fans and plaudits alike this year and show no signs of slowing down, with the group set to embark on a huge world tour, and successfully managing to expand into new markets around the globe.
So what are some of the songs that got them to this stage, and some of my personal favourites? Don't worry, you're about to find out.
It would feel like a disservice to not feature this track on any sort of introduction due to its sheer power in the charts this year. Described as a "breezy breakup song," the catchy hook and subtle energy provided by the track make it fun to listen to. The vibrant instrumentation helps add an extra layer of quality to this offering, making "Love Scenario" more than deserving of the endless compliments that it receives.
Continuing the list with their latest title-track, "Killing Me" blends EDM with iKON's typical charm, creating a harshly brilliant drop in the chorus that meshes fantastically with the refined, vocally excellent verses. Full of gusto and fire, this emphatic track gives off a unique sort of energy and retains structurally tight despite its numerous different components. Well worth a listen, this is one of the underrated songs of the year.
With crunchy guitar a constant presence, "Freedom" is a catchy song that shows the rock influence iKON have embraced over their career, and shows Junhoe off as the perfect vocalist to carry such a song. With a loud, buoyant chorus, it is bold in its complexity but will not fail in having you chanting along in no time.
A bonus single released due to the overwhelming success of "Love Scenario,"this particular track is laid-back and melodically soothing. A youthful and satisfying song ditty, despite going under many of the public's radar, the bubbly atmosphere of "Rubber Band" is well worth its fair share of plaudits.
A care-free dance track, "Dumb and Dumber" wrapped up the group's debut promotions. Despite being met with mixed reactions, I feel it is a quintessential track to listen to when first getting into iKON. It shows versatility and the willingness to experiment, and whilst the song mightn't be perfect, it's certainly enough to get people moving, and one that could easily be the perfect opener to any concert.
The bittersweet melody makes this an emotional release, and the simplicity of the instrumentals allow the lyrical genius to be powered into the forefront, expressed perfectly by each member. Whilst I may sometimes view K-Pop music videos as distractions from the song in hand, I feel the music video to this offering is a perfect visualiser, so I do recommend watching that on your initial listen.
Sticking to the emotional side of their tracks, the powerful chorus and heart-wrenching bridge make this particular song powerful and poignant. With the dull piano and restrained instrumentals, the energy in "Apology" comes purely from the vocals, allowing each member to show their power and versatility. It's a fantastic song, and something that will take more than just one listen to appreciate its true magic.
Full of swagger and attitude, "Bling Bling" has a lot of hip-hop bravado with the instrumentals to match. The title may appear outdated and cringe-worthy, but it's a rough around the edges effort that builds to a huge climax. It certainly isn't everyone's cup of tea but shows iKON are willing to risk mainstream appeal to do music the way they want to.
Composed by members Hanbin and Bobby, "B-Day" shows energy and a different side to its counterpart "Bling Bling." It has high tempo, swagger and fantastic production that catapults the track into a different league. The strong mix between the vocalist's strengths and the buoyant rap shows the strength in unity iKON have, and their ability to match different styles in a way that showcases everyone.
Whilst there are many other tracks that I could recommend, want to recommend and in the minds of some people probably should recommend, I've decided that I'll stick to the classic "top ten" format, and end my list with a B-side.
"Love Me" was one of the first iKON songs I completely fell in love with, from its palpable energy to its fantastic lyrics that are almost comedic in nature. It's a fascinating track that I will never get tired of, and its high energy makes it perfect to listen to in any mood.
I hope you enjoyed this introduction to iKON, and give them a keen listen in the near-future.