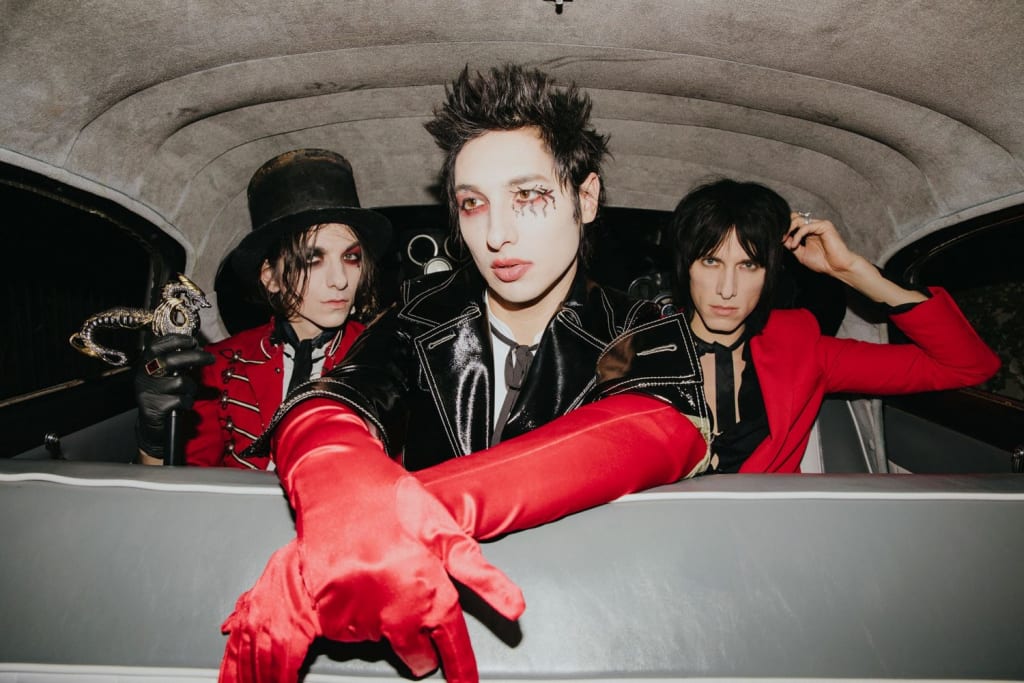 So I'm starting 2021 feeling like a fool. A damn diddly fool! Because I just discovered Palaye Royale, and I am sad to say I never heard of them before until like a week ago. It's ok though. Now I am fully awakened and better late than never I guess!
Now I was just on Apple Music and listening to Yungblud. Underneath his little Apple Music profile thing, I saw the name Palaye Royale under the similar artists section. I clicked on their album, "The Bastards" and the first song is Little Bastards and y'all...when I say I ascended, I fucking ascended!
The first 20 seconds of build up to the 1st part of the chorus just hits hard. Then the verses, and hearing Remmington voice very clearly for the first time gave me whiplash in a very good way. His voice is laced with something because I'm addicted to it. Then when the chorus comes back it becomes a double chorus, and then the end with the song going crazy made me go crazy. Like this song is so beautiful and crazy, and I said to myself, "Shit here we go."
So with that insane opening of Little Bastards, I listened to the whole album because I had nothing else to do, and it is one of the best albums of 2020. Probably in top 4 albums of the year. Which makes me more mad because I made a list of my favorite albums of 2020, and "The Bastards" deserves a place in there.
But yeah "The Bastards" is one of the best albums of 2020, and a phenomenal rock album. Every song is so fucking good, it's hard to wrap my head around how good this album is. Plus, I would say there is a lot of sad or darker subject matters in this album, and I don't know why but a lot of dark or sad songs brings me serotonin in a strange way. So I was filled up with serotonin when I listened to this album. Maybe it's because I'm a bit fucked up and it's nice to hear someone else who is also a bit fucked up having similar feelings to me, but hey... this album is great.
I'm also pretty sure this album is laced with something because I am truly addicted to this album. I have been listening to this album every night before I go to sleep for the past week, and I guess it's now my nightly ritual. I don't mind though. I like having the last thing I hear is Remmington singing and the guitar going crazy.
"The Bastards" is a great album, I know I keep repeating myself, but it's great and it really makes me a lost of words on how to describe how great this album is. The best songs on "The Bastards" is Little Bastards, Massaccre The New American Dream, Tonight Is The Night I Die, Lonely, Nervous Breakdown, Masochist, Doom, Stay, and Redeemer. Now I cannot choose which is my favorite song because it's hard to compare diamonds to diamonds, ya know?
After listening to "The Bastards" of course I had to check out more of Palaye Royale music, but I was a little scared. I was afraid my expectations would be too high. I thought they would just be a one hit album artist for me, but nope!
They reached my expectations, exceeded my expectations with their other music. First I listened to their latest single as of writing this, Mad World, and it's one of the best songs from 2020. Then I listened to "Boom Boom Room (Side B)" and it's marvelous. There's only 8 songs, but each song is full of quality so it's ok. My favorite songs are probably You'll Be Fine, Dying in a Hot Tub, and Mrs Infamous.
Now I still have to listen to "Boom Boom Room (Side A)" in it's entirety, but Mr. Doctor Man and Ma Chérie is impeccable. Also I find it interesting how they have two Albums called the "Boom Boom Room". I just like that for some reason haha.
So yeah Payale Royale, I am fully awaken, my third eye is opened, and my ears are blessed. Blessed! And if you haven't heard of them, go check them out. Listen to "The Bastards" and trascend with me...wow that sounded cult-y huh?
Reader insights
Be the first to share your insights about this piece.
Add your insights