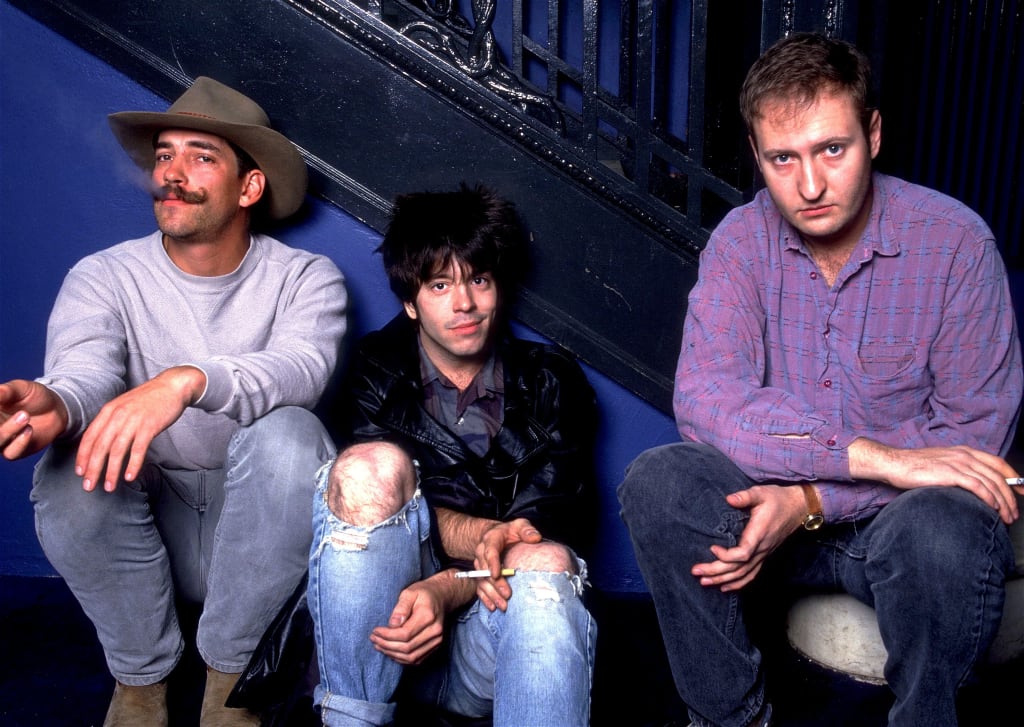 Hüsker Dü: (L to R) Greg Norton, Grant Hart, Bob Mould. Circa late 1980s.
Searching, ever searching...
Melodies soar, the guitars fuzz and buzz, and staccato drumbeats fire like miniature truth grenades onto the top of the listener's skull. Bob Mould holds forth with a middling plaintive growl, somewhere between a reasoned, cultured singer and someone pleading for the return of his soul from a very, very dark place, with enough harsh, abrasive tinge to his snotboy vocalizations to offset the bitterness and grief. But all of that is what you'd expect from a rock review, right?
Words, English vocal utterances used to convey mere information, cannot possibly express how incredible this one mere live rock n' roll album is, and what an impact it has had on my life. Every time I listen to it, and I have done so many, many, many times in my life, it takes me back through almost thirty years, to a place where I was on a rainy day in 1994 or thereabouts, when I first turned on this album and heard "Standing in the Rain," and the rain pattered dismally against the window pane, as I, was alone as ever (and as lonely as I would remain, although I didn't know it at the time); and I realized that Hüsker Dü was something more incredible, more real than anything I had heard before: that their sugar-coated punk pop explosions and fuzzy, discordant, growling yet emotive melodies spoke to a place deeper and more shadowed inside myself than nearly any other mere music ever had--a place perched between the joys and exuberance of youth, and the bittersweet realization that all dreams die, and die hard, in the fading light of what Ian McKaye called the "adult crash."
"I can see the billboards in the distance, writing is on every wall, and I don't wanna know about your business, Sooner or later friend, you've got to fall..."
Fair use, "...for the purposes of educational or social commentary ", I invoke thee.
Hüsker Dü--Greg Norton, Bob Mould, and the late Grant Hart--took hardcore punk and redefined it for a generation, giving a heart and a soul to a musical expression that most only ever associate with violence, anger, and angst. Oh, there was still plenty of angst in scorching, searing, beautiful rock meditations such as "The Girl Who Lives on Heaven's Hill," and "She Floated Away"; the sad poetry of a youth searching, dangling on the precipice over an existential abyss, for a sense of meaning, self-mastery, belonging. To escape, to find that within which eluded them, somehow, in the promise of bourgeois contentment; in little, well-clipped lawns, backyard barbecues, football games, and the prefabricated sluice directing them, like turgid, muddy water, toward the eventual mire of middle-aged despair and death. Hüsker Dü was about those few dreamers who longed for transcendence or escape,
"...Well, never penetrating, always contemplating, we sit and count the blessings, but we're blessed by icons, no one else could trust in ice cold ice, cold ice, cold ice..."
The old cold structures of a society that birthed them but doesn't WANT them, not as they are; this plaintive wail of existential despair, of bittersweet rumination, frustration, a kind of churning, pointed examination of the self-defeating ignorance we live shadowed by, and how some seek to escape, can be heard on tracks such as "Ice Cold Ice," "Terms of Psychic Warfare," "Divide and Conquer," and "In a Free Land." The Hüskers, much like Bad Religion or The Clash, took punk rock to a whole new level, proving it doesn't have to remain a stagnant entity, but can be used to convey a full range of emotional sensitivity and warmth. Here, their awesome live presence, truly is, "the Living End."
Ice Cold Ice
There's so much more I could say. This album, much like Murder Ballads by Nick Cave or Doolittle by The Pixies, will always call to mind the troubled days of youth, that remain troubled, despite the advance of years. So much confusion and energy. If I could swim back through those years, what would the sound of the rain pattering against the glass call to mind now? This album? I'll always associate it with the darkness within.
The final track on the album is a cover of "Sheena is a Punk Rocker" by the Ramones. Hüsker Dü never betrayed their roots. Despite what naysayers, backbiters, and self-appointed arbiters of "punk orthodoxy" maintain, Hüsker Dü never sold out. NEVER. They just got better and better, until they imploded under the weight of their genius.
Their philosophy can best be summed up by these final lines from "She Floated Away," a song about the struggles of a young woman to come to terms with who she is, finally, and her family finally accepting that reality.
"And all understandings must come by this way, she lifted her arms and she floated away..."
And, finally, that's all anyone is asking for in this mad, pointless game called life.
HUSKER DU - The Living End [full]
About the Creator
Author of Haunted Indianapolis, Indiana Ghost Folklore, Midwest Maniacs, Midwest UFOs and Beyond, Scary Urban Legends, 50 Famous Fables and Folk Tales, and Notorious Crimes of the Upper Midwest.: http://tombakerbooks.weebly.com
Reader insights
Be the first to share your insights about this piece.
Add your insights