How Truth Hurts by Lizzo Redefines Success and Talent
What the track Truth hurts teaches us about what quality music is and how to quantify success.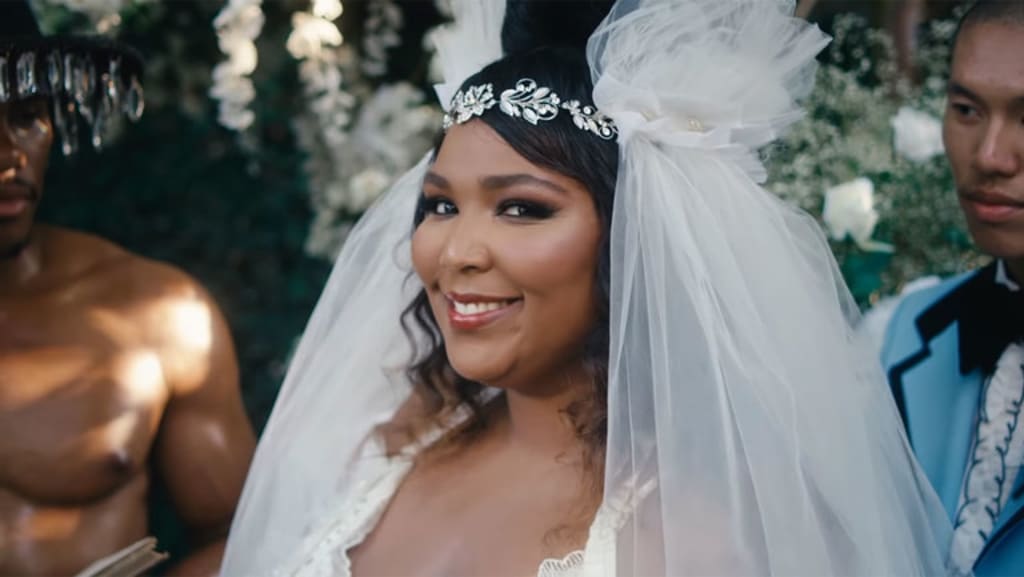 Truth Hurts is a humorous track that is carried by a beat that makes you want to dance and scream the lyrics with your girlfriends. I remember being excited that a song came out that empowered women and put an emphasis on knowing your self worth and accepting nothing less. There were a few other Lizzo songs in rotation at the time (around July 2019), so I just assumed her album had been recently released and these were her singles. I carried that line of thinking until recently when I was watching the music video and noticed that the song was released in 2017.
I checked the screen a couple times to ensure I was not going crazy and then I had a realization. If this song that so perfectly complemented the climate of society was released before its time and went unnoticed, what else is out there? How can artists of all fields quantify their success if it may come two years down the line? Truth Hurts surge to popularity was a mixture of a Tik Tok challenge, a Netflix Original Film, and Lizzo's infectious fun personality.
The DNA Test Tik Tok Challenge:
There were multiple elements to the perfect storm that propelled Truth Hurts into the public eye. The popular social media site Tik Tok played one of the most important roles, now this platform is a little before my time, so I did not realize the influence it held over the music industry. To my surprise, the site has had a hand in other songs popularity. It is coined for making Ole Town Road into a smash hit and boosted Truth Hurts to an audience of millions.
After an appearance on The Ellen Show, Lizzo got a pop of popularity that attracted new fans to explore her catalog and spurred a Tik Tok challenge. As early as February 2019 a challenge emerged titled "DNA Test." Where the subject plays the lyrics, " I just took a DNA test turns out I'm a.." they then insert another piece of audio that matches what they want to portray. Some of the videos skyrocketed and garnered millions of views, bringing more and more eyes and ears to appreciate Lizzo's soon to be hit track.
Below is a compilation of videos created during the challenge's popularity. Watch at your own risk, Tik Toks are addictive.
What can we take away from the role Tik Tok plays in Truth Hurts success? Well, the quality of a song is not the only thing that makes it popular. It has to be relevant to the world it is released into.
Truth Hurts is a solid body of work that is easy for all age groups to latch onto and put their own creative spin on. Perhaps, when looking to create a piece of music it can be helpful to take into account the age you are living in, and also how the future will receive it. I say this not to make creators obsess over their music but to appreciate luck and trust that if you put out music meaningful to you, things have a way of working themselves out. Even if society takes a few years, and the world has to catch up to notice.
A Little Help From Someone Great
"There is no better song in my opinion when you just want to put your middle fingers out to the world — especially to men — and just dance in the kitchen without pants on," the film's writer/director Jennifer Kaytin Robinson tells EW.
While Lizzo was finding her footing, she received another boost from being featured in the Netflix hit movie, Someone Great. The movie stars Gina Rodriguez who plays a successful woman finding her way in the city that never sleeps. She is accompanied by her two best friends who help her work through a bitter breakup. Truth hurts is not only a background track to aid the plot of the movie but the characters themselves are pictured singing the lyrics and cultivating some of the confidence Lizzo exhumes.
Netflix and the director agreed to also use the song in the trailer but there was a licensing issue that jeopardized the ability to use the song in the commercial. Marcus Jones, a writer for Entertainment Weekly, obtained a quote from the director Jennifer Robinson where she states,
"There was an issue with the splits and licensing, so what we were able to license for the movie actually didn't translate over to the trailer," says Robinson. "[So] we had to re-license it and we almost didn't get the song [for the commercial]."
(It was able to be sorted out and Truth Hurts went on to gain traction on Spotify.)
Once it gained the attention of Spotify the song catapulted to a new level. Lizzo was performing bigger and bigger shows where she was able to showcase her star personality and various talents. (including playing the flute). Lizzo has a special ability to send her confidence through her music and empower others to find their own.
What Can We Take Away From Someone Great and its Role in Truth Hurts Popularity?
Everyone looks to an artist for something more than just the music, and that message of being comfortable in my own skin is number one for me. - Lizzo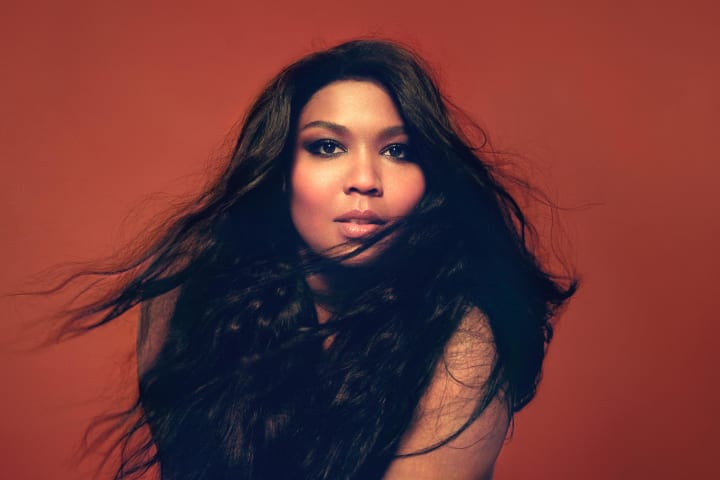 From what I observed Lizzo had been delivering quality music and was gaining her share of success before Truth Hurts exploded. But we can see that the right person noticing, realizing its ability to highlight their own art, as Robinson did, that it can benefit society as a whole. Without Truth Hurts the movie would still be a success but the song fits the narrative and layers the film with a liberated feel and even made me want to dump my non-existent boyfriend.
Breakups are hard for everyone and Lizzo has transformed the process into one that portrays freedom, self- love, and confidence. Suddenly the experience is not a grim one, but a one of transformation and strength.
Simply taking over the internet with the Tik Tok challenge is an accomplishment on its own, one that should not be ignored or overlooked. However, it was a combination of Tik Tok and Someone Great; joined by Lizzo's ability to captivate a crowd and represent for the quieter sectors of society.
After releasing Truth Hurts it laid relatively dormant for two years until it was picked up and broadcasted by the right people. Sometimes, time is not a measure of popularity. Giving creations time to be discovered and promoted is necessary and being your authentic self does yield results.
Propelling a song to number 1 does not solely rely on talent or the quality of the product, but also with who listens, and who shares. It takes a small army to elevate a song above just being good, cementing it into the history of the music industry. it takes several moving parts to maintain the machine.
Lizzo's Star Quality
I am not concerned that I am not known, I seek to be worthy to be known. - Confucius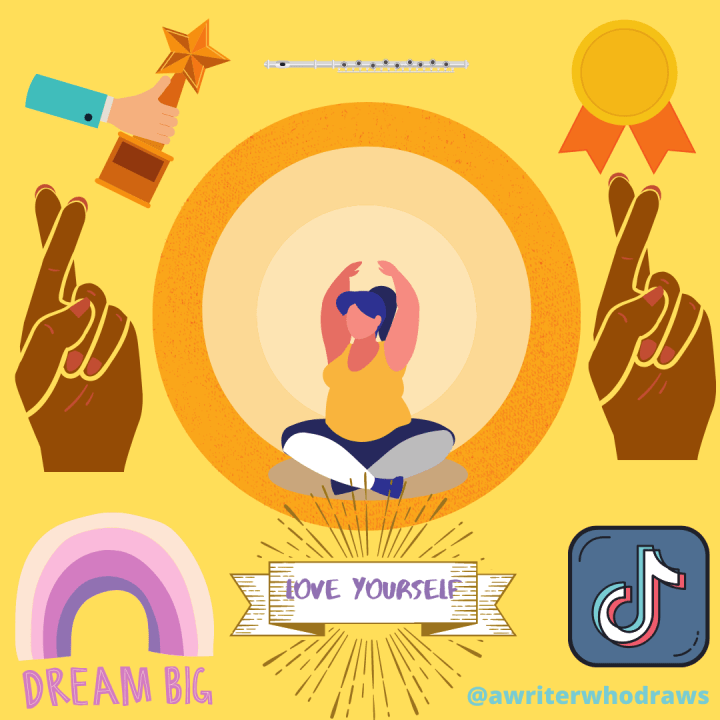 Lizzo is a jack of all trades, she raps, she sings, she plays the flute, she acts as an activist, and she is paving the way for others like her. She embraces her qualities that society has deemed unacceptable for stars. She consistently promotes body positivity and also actively works towards creating body confidence for everyone. She does it in a way that does not sound preachy but instead, her confidence is infectious and it's hard not to be influenced by how she lives and the lyrics in her music.
She does not come in the typical package that we see celebrities portray but people with the bravery to live openly in the face of criticism and hatred are naturally appealing. They are strong and resilient. This paired with her ability to sing and entertain a crowd is a match for success. Lizzo changed the landscape of fame and success in 2019 by having a song released two years prior climb to the top. She was able to leverage her emerging success and use it solidify and grow her audience and status. All the promotion in the world will not make people like you. Her personality and talent made the difference.
Deserved Praise at the Grammys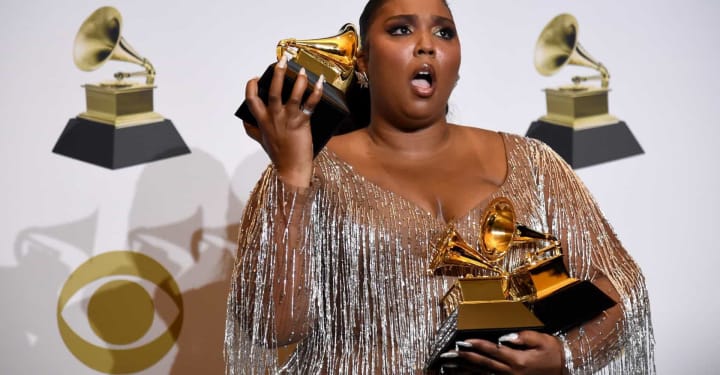 Lizzo took home three Grammys in 2020, including the first of her career; Best Urban Contemporary Album for Cuz I Love You, along with Best Traditional R&B Performance for "Jerome", and Best Pop Solo Performance for "Truth Hurts." I was happy to see her success and believe it is well deserved. She is showing that fame does not come in one size or one style. She is changing the fashion, music, and mental health industries. Living as herself and representing her unwavering confidence while also showing the darker more vulnerable aspects of herself.
Truth Hurts rise to popularity shows us that success can come slowly or quickly and there is no limit to who can be famous, and when they will get there. It takes several elements to attract society at large to what we create. It is a delicate balance that sometimes never comes together in the exact right way. There is no formula and there is no indicator of what will be successful and what will be average. As we see from this example, even creations that do not surge immediately have the chance to change the landscape of music, and the life of its creator.
If you're still curious about success in society and how to find it and achieve it for yourself you can find more here.