Driving Around With Angst
"It's an art to live with pain...mix the light into gray." - Eddie Vedder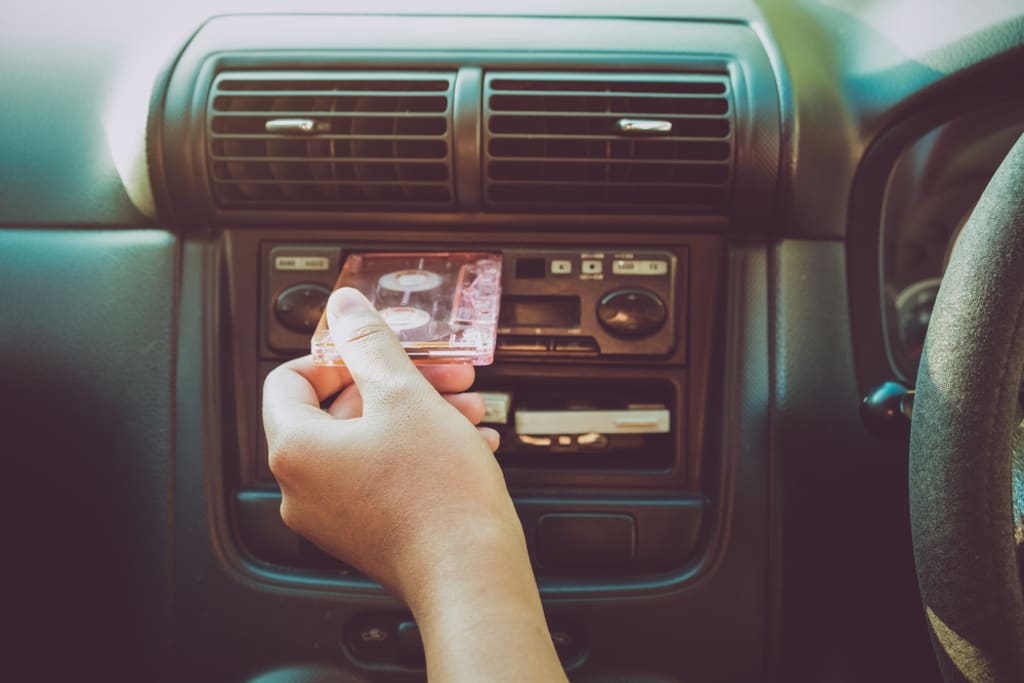 Nothing beat a mixtape in the 90s
Picture it... suburban Chicago 1995. I had my driver's license, a fresh breakup, life was rough at home, and enough angst to fill Lake Michigan. My saving grace was a 90 minute carefully curated Memorex mixtape, and enough gas money to drive around aimlessly for hours.
So let's take that drive (ha! See what I did there?) down memory lane and listen to that mixtape as it was exactly curated back then:
Black - Pearl Jam - MTV Unplugged
Ok, so I am about to cop to some piracy, but the statute of limitations has run out, so we're good. This song was not available when Pearl Jam's MTV Unplugged special was released. Me, being the daughter of a musician and an AV genius myself, I recorded it off my Betamax onto my tape deck. This song had every bit of the gut wrenching feelings I was swimming in at the time. To this day, I have never gotten tired of this song. I will literally stop everything and stare into the middle distance whenever it comes on.
What's The Frequency, Kenneth? - R.E.M
Full disclosure, I thought R.E.M was for overwrought college nerds, and I didn't get it. Now while the 'Monster' album was universally panned by loyalists, I thought this song was a total banger, and I apologize to my neighbors for the amount of times they heard it blaring out of my bedroom and car windows.
Perfect - Alanis Morissette
Every woman my age probably has the 'Jagged Little Pill' on their list of defining albums of our youth. She was Gen X's Billie Eilish. The first time I heard 'Perfect' I was floored that someone had put into words the crippling exhaustion I was feeling trying to measure up to expectations laid before me. For the first time, I didn't feel alone in that struggle.
Always Be My Baby - Mariah Carey
This song will always be girlfriends, summer, and McDonald's drive-thrus while we planned which boy's house we were going to drive by next. Just a hint of pure joy and terrible singing.
Take A Bow - Madonna
Another angsty ballad, that paired with its video, was just absolute perfection. Babyface produced this song, and gave Madonna a refresh that made her relatable again. We were all in love with someone who didn't see us, and this song made us feel seen.
Always - Bon Jovi
80's icons got with the program in the early 90's and Bon Jovi was another group that got a glow up. 'Always' was from the movie 'Romeo is Bleeding' which was just iconic, and gave us that tearing at our clothes and screaming at the sky ballad of unrequited love we didn't know we needed.
The Man Who Sold The World - Nirvana MTV Unplugged
Very rarely does a cover sound better than the original, and Nirvana did it by taking this Bowie classic and making it grungy, angsty, and reminded us to never sell out to The Man. It also turned a whole new generation on to the genius of David Bowie.
You Can Do It - No Doubt
I am not ashamed to admit that I was a card carrying 'Gwennabe' back in the day. When I needed a song that would make me push through something, this was it. "You've got to catch up and win the race, and straighten yourself out. You're gonna do it." If Gwen is telling me this, I'm listening. It's also just a great song.
Aeroplane - Red Hot Chili Peppers
Like my R.E.M appreciation of what their die hard fans would regard as their worst album, I also think 'One Hot Minute' was one of RHCP's best. I loved the addition of Dave Navarro's funky guitar with Flea's bass licks, and Aeroplane was a song about pleasure and pain disguised as a pop song your parent's even liked.
Bad Girl - Madonna
Another song to flop yourself onto the bed and stare at the ceiling while you worked out every single worst case scenario in your head about your first breakup. The video was also epic with Christopher Walken cast as the angel of death.
Kiss from a Rose - Seal
The George Clooney Batman era didn't give us much, but it gave us this filmy love song from Seal that had all of us swaying on the dancefloor at Prom, and became the be all and end all of love songs for the rest of our lives. Again, we're sticking to the theme of pleasure and pain because it would be wrong to feel joy without hurting yourself just a little.
Round Here - Counting Crows
Angst with a capital A, people. Like Pearl Jam's 'Black' this is just one of those songs that has you staring into the horizon wondering what it all even means. Adam Duritz's vocals just have that magical way of hitting you right in the feeler space you couldn't find yourself because your frontal cortex hadn't become fully developed, yet.
Wild Night - John Mellencamp
Wait, John Mellencamp can be cool? My parents' Jack and Diane guy? Yep, thanks to Me'Shell Ndeggeocello's sick bassline and vocals. You could get psyched about getting ready for a night out, but keep it grungy and cool. Again, we aren't here to be too happy; just enough happy.
Oh! Darling - The Beatles
Many of us became acquainted with John, Paul, Ringo, and George with all of their 30th anniversary re-releases. This song jabbed you right in the solar plexus with Paul's gritty blues vocals. We all thought we were on the verge of emotional death back then, and Paul let us know he was there first.
Back In The U.S.S.R
Oppression, but make it jazzy! It was dripping with such irony, that it was hard not to compare it to a snazzy take on life with your Boomer parents.
Pope - Prince
Prince was having his issues with his label during this time we wouldn't clearly understand until years later, but we all understood what he was saying with this song. Adults could be the President, we would rather be the Pope.
Hell - Squirrel Nut Zippers
Those of us lacking some serotonin couldn't get behind the burgeoning big band craze of the time led by Brian Setzer and Cherry Poppin' Daddies. However, Squirrel Nut Zippers gave us this gem about the underworld our black hearts could tap our toes to.
Hold On - Sarah McLachlan
She gave us Lilith Fair and a voice for our deepest despair. Nothing personified looking out a rainy window and deep thoughts like this song.
Because The Night - 10,000 Maniacs MTV Unplugged
Another cover better than the original, Natalie Merchant's delivery of this classic Patti Smith song had our chests heaving with the anticipation of young love in a rocking, yet haunting just a tad goth way.
The Sign - Ace of Base
Ok, I'm going to cheat a little and insert some Swedish pop into the mix, because Ace of Base was that weird middle ground of dance hall bubble gum with a bit of an edge you couldn't quite place. Yes, I'm bopping to a canned reggaeton beat, but I'm also unapologetically kicking the trash in my life to the curb. Again, we never want to feel too much joy, just enough.
Why - Annie Lennox
This song is probably the one we blasted the most when we dreamed of moving out of our parent's house and striking out on our own. Maybe I sang this song a lot while I looked at myself in the mirror trying to make the most brooding and pensive face I could.
Damn, I Wish I Was Your Lover - Sophie B. Hawkins
We have a crush on you, but we're going to be aggro about it.
Yellow Ledbetter - Pearl Jam
Almost thirty years since its release, no one has a clue what in the holy hell Eddie Vedder is singing, but we're feeling it, okay. We mumbled our way through it, and when it came to the ending refrain of "I don't want to stay!" we gave it all our hearts because we knew what that felt like in any language.
Ordinary World - Duran Duran
Duran Duran got angsty alongside us in the 90's with the release of 'The Wedding Album,' and this opening single. When you're a teenager, you don't even know what an ordinary world is, but somehow you've got to find it.
Well, I hope you've liked taking this trip through the 90's and the landscape of my overwrought teenage brain. If you'd like to have your playlist for yourself, I posted it below. As Eddie Vedder said, "I think music is the greatest art form that exists…"