BTS achieved these 7 massively impressive milestones in 2020
From breaking YouTube records to their first ever Grammy nomination, BTS' star only continues to rise.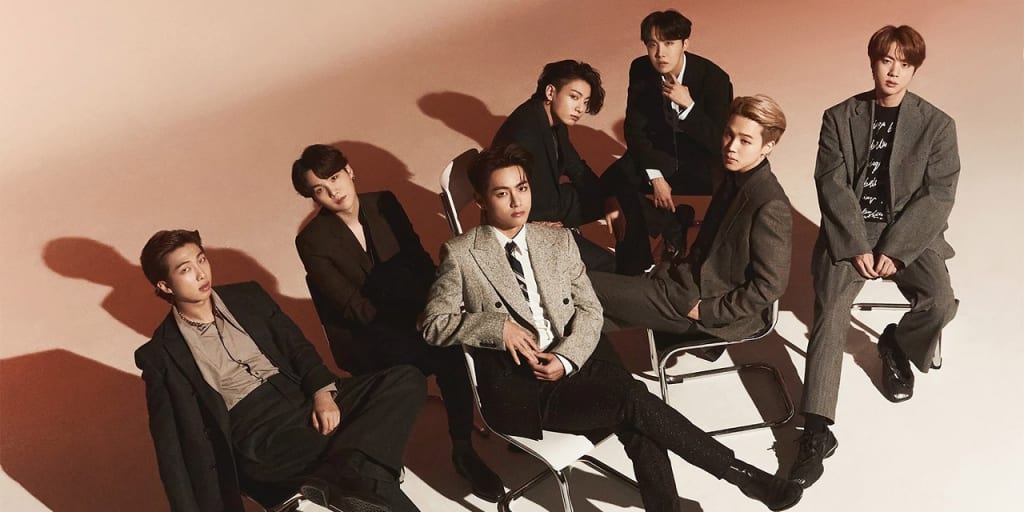 BTS for TIME's Entertainer of the Year
It's a bit wild to think it has been a full calendar year since countries went into strict lockdowns and our respective "new normal" of social distancing began.
With all the tragedy that plagued this past year, striving to find whatever outlets you could turn to became increasingly vital for one's mental stability. Whether it be having a You Day that lasts the week or hosting a Zoom movie night with your closet friends, discovering self-care methods that simply work to make you happy is an undertaking I have been grateful to implement in my daily life.
One of these outlets for me has been following the journey of South Korean musical septet, BTS.
After the release of their widely anticipated album Map of The Soul: 7 and subsequent cancelation of their world tour, the group took the notion of "slowing down" and pulled a Missy Elliot by putting that thing down, flipping it and reversing it to make 2020 the most successful year of their career.
BTS seemed to be everywhere during 2020 and if you were too distracted by watching any one (out of 30+!) of their uniquely choregraphed performances of "Dynamite", there were a number of incredible milestones they secured which further cements their legendary status.
Here are just a few of the remarkable feats these seven men achieved in a year which certainly tested the capabilities of any artist.
1. "Dynamite" is the most viewed YouTube video in 24 hours
Fans of BTS, better known as ARMY, set a number of goals for the group's all-English track "Dynamite" with one of them being achieving 100 million views on YouTube within 24 hours of release.
The music video premiered on August 20th and with the dedication of ARMY behind them, "Dynamite" became the most viewed YouTube video in 24 hours beating out previous holder BLACKPINK's "How You Like That." When all was said and done, Variety reported "the official view count for the video's first 24 hours was... 101.1 million."
2. "Dynamite" surpasses "Cardigan" to become the biggest Spotify debut of 2020
The world was simply not ready for the hold "Dynamite" would have on the industry during the latter weeks of the summer. Taylor Swift's touching ballad "Cardigan" previously held the record for Spotify's biggest global debut of 2020 until "Dynamite" achieved 7,778,950 streams within a single day. BTS went on to become "the most streamed group of 2020" on Spotify Wrapped with a wildly impressive 4.7 billion streams along with being the most streamed K-pop artist of the year.
3. Map of the Soul: 7 is their fourth album to reach No. 1 on Billboard in less than two years
Two months following the release of Map of The Soul: 7, their seventh overall album charted at No. 1 on the Billboard Hot 200 becoming the fourth BTS album to do so in under two years.
Their previous albums, Love Yourself: Tear, Love Yourself: Answer, Map of the Soul: Persona, and now Map of the Soul: 7 all reached No. 1 in a little over one year and nine months.
The Beatles are the only group to achieve this feat faster than BTS; they had four albums reach No. 1 within one year and five months back in 1968.
4. "Black Swan" beats Adele's five-year iTunes record by reaching No. 1 in 103 countries
For five years, the extraordinary Adele held the iTunes record for having the most No. 1s in 102 countries with "Hello."
Six months following the release of their hauntingly reflective track "Black Swan", the song "topped the iTunes chart in Cape Verde, the 103rd country in which it had accomplished such a feat." With this achievement, BTS surpassed Adele's previous record... until a few days later.
BTS member V subsequently broke this record with his soothing solo track "Sweet Night." He officially became the artist with the most No. 1s in iTunes history when "Sweet Night" reached No. 1 on iTunes in 105 countries. The song continues to hold its streak when it hit No. 1 in 116 countries in August 2020.
5. "Life Goes On" becomes the first non-English song to debut at No. 1 on the Hot 100
While it remains a phenomenal achievement for BTS when "Dynamite" became their first No. 1 on the Billboard Hot 100, I chose to highlight "Life Goes On" because of its overwhelming importance within the myriad of the group's accomplishments.
Throughout the years, BTS has made it known how crucial their Korean identity is to them and the immense pride they feel for their country. With the growing isolation felt within legions of their ARMYs due to COVID, BTS released the enjoyably pop romp "Dynamite" sung entirely in English to uplift those needing a joyous hit to get through their day.
Charting at the top on Billboard (twice) demonstrates the significance that "Life Goes On" is not only the first non-English song to debut at No. 1, but that it was sung primarily in their native Korean. A slower, emotive track reflecting on the pandemic's hunger for isolation soared to No. 1 becoming their third track to hit the top of the Billboard Charts that year.
6. TIME Magazine's Entertainer of the Year
As 2020 came to an end, TIME bestowed BTS with the honor of Entertainer of the Year. Raisa Bruner's succinct write-up explores the septet's rise from their anti-establishment debut to global superstardom while also illustrating how the band managed to stay connected with their millions of fans during this unprecedented time:
"BTS isn't just the biggest K-pop act on the charts. They've become the biggest band in the world—full stop. Between releasing multiple albums, breaking every type of record and appearing in these extemporaneous livestreams in 2020, BTS ascended to the zenith of pop stardom. And they did it in a year defined by setbacks, one in which the world hit pause and everyone struggled to maintain their connections."
BTS previously appeared on the cover of TIME in 2018 as part of the magazine's list of "Next Generation Leaders."
7. "Dynamite" earns BTS their very first Grammy nomination
"Ohmmmmmmyyyyyyyyggghghhhhhhhgggggggggdhdhsjsixudbslsogbdsisgshdbxidjdbdidhdifjfiri"
If you were to send the above seemingly incomprehensible message to any ARMY, rest assured they will know exactly what you're referring to. It is from the tweet that shows the moment four of the seven members found out they were nominated for a Grammy:
Earning a Grammy nomination was a feat BTS worked tirelessly toward and in November, their hit track "Dynamite" was nominated for Best Pop Duo/Group Performance Award. They previously appeared at the Awards show in February 2019 as presenters and briefly performed a remix of "Old Town Road" with Lil Nas X at the January 2020 ceremony.
Although the Lady Gaga-Ariana Grande collaboration "Rain On Me" ultimately won (amidst a flee of controversy surrounding their rather unjust treatment by the Recording Academy), the first K-pop group to ever receive a Grammy Award nomination remained humble in defeat.
They also tore the virtual roof off with their impressively elaborate performance of "Dynamite" complete with a recreation of the Grammys red carpet.
I knew BTS experienced some immense highs this year but I am just unbelievably proud by how much success they rightfully attained during a time nobody could possibly predict the outcome of. I continue to eagerly await any new Bangtan endeavours and cannot wait to see what they accomplish next.
... Hopefully we can anticipate a possible return to a live stage? With other humans in the room? If we're able to reach that level of safety? Hopefully please?!
***
Thank you for reading! I would love to know your thoughts on these achievements and whether any of them took you by surprise.
If you like anything found in this piece, please click that little heart on the screen and follow me over on Twitter! Borahae!