Playlists
8EEZ Playlist: Bryan Adams
Raspy-voiced Canadian rocker took us all to heaven and back.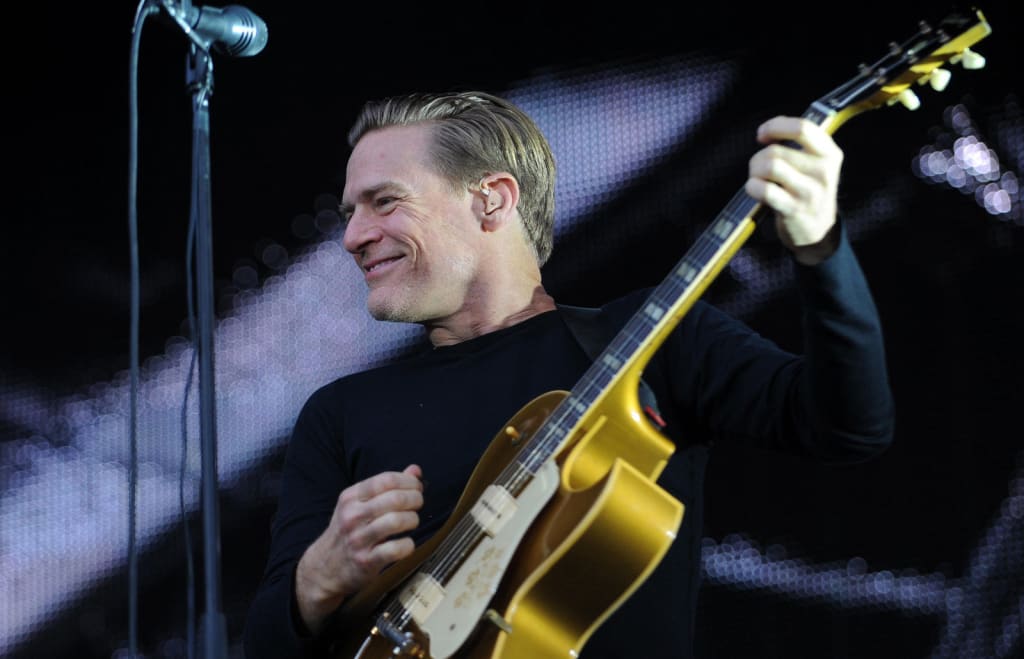 Photo unknown.
"I got my first real six-string
Bought it at the five-and-dime
Played it 'til my fingers bled
Was the summer of '69."
Hello, one and all.
So, me and my buddy, Calvin "Oates" Cherry are a couple of working stiffs who have 9-to-5 jobs in the day. As much as these 'lists are fun to make, they take time and energy to map out and we, of course, despite our small, but growing audience, always want to keep our audience riveted. We figured we were due for a small breather, and now...we're back!
So, Oates helped me showcase his favorite Canadian artist from the 80s: Corey Hart. Now it's my turn. My love affair with Canada, our country north above our great nation — apparently with an even greater prime minister, has been since the 1970s. Artists as diverse as Paul Anka, Joni Mitchell, Neil Young, and my absolute favorite, Gordon Lightfoot (won't tell you how many times I've sung, "The Wreck of The Edmund Fitzgerald" aloud while listening to it on my iPod), all made names for themselves here in the states. So, it's not surprising that I chose our most successful 1980's export from the land of mounties and maple syrup: Bryan Guy Adams.
Adams was born in Kingston, Ontario in 1959. His music training began in his late-teens learning guitar and backing other seasoned artists in his native homeland. Pretty soon, he began fronting a band called Sweeney Todd who had a few modest hits in the mid-to-late 70s, but went solo right after in 1978. He would score a small hit with a disco record called, "Let Me Take You Dancing." Even I can't picture Canada's answer to Rod Stewart doing a disco record — but, even Stewart himself recorded one, "Da Ya Think I'm Sexy," and took it all the way to Number 1 here in the US.
Two unsuccessful albums here in the US may have been just the warm-up. Cuts Like a Knife, released in 1983, would be the jackpot. A song written in 1978 would be recorded for this album: "Straight From the Heart," and would go Top-10 on the Billboard pop charts as well as gain a following on the adult contemporary stations. His followup; the title track, did moderately well also . Then, a song he recorded for a movie called A Night in Heaven in 1983, entitled "Heaven" would then be included in his followup album Reckless in 1984. The movie failed at the box-office; but, the song...well, we'll get to that in a second.
Two major hits: "Run to You" and "Somebody" generated massive airplay and gave Adams instant fame, but, the aforementioned "Heaven" was the crowning victory, hitting Number 1 here (his first, but not last) and went gold in his native Canada. Two more hits cemented his stardom: "Summer of '69" and a rock duet with Tina Turner (whom we've profiled) called, "It's Only Love."
It took three years for his next album Into the Night to be released. Despite continued success with his hit "Heat of the Night", it seemed the late-80's wasn't too kind to Adams, with possibility of being the end of his chart reign here in the US. Then, in 1991 — Jackpot #2, with another movie song, "(Everything I Do) I Do It For You," from the Kevin Costner romantic adventure Robin Hood: Prince of Thieves, would be his second Number 1 smash, staying atop for seven weeks (his most successful hit to date here). Hits followed with his 1991 album Waking Up the Neighbours that would continue his 1990s hot streak.
It wasn't over in the 1990s either. Two more movie hits would go all the way to Number 1. His tri-et with Sting and Rod Stewart, "All For Love" from The Three Musketeers and his Latin-flavored ballad "Have You Ever Really Loved a Woman" from the 1995 Johnny Depp film Don Juan DeMarco reached the pole position as well.
Despite not much success chart-wise in the late 1990s to 2000s, Adams continued to write, compose, record music, tour, and give to charity. He's also a seasoned photographer. His smash hit "Heaven" got another shot at success when DJ Sammy and DJ Yanou with a Dutch singer named Do took their cover version into the Top-10 in 2002. Two notable versions, a dancey, eurodisco version and an acoustic piano version both made waves that year.
So, here's my buddy Oates' 'list to put you on Cloud 9!
Cherry's Picks:
Romantic power ballad from the Robin Hood: Prince of Thieves soundtrack, co-composed the late Michael Kamen. While it's a heavy favorite of mine also, it didn't make my top-5 'list here, but still, it's in my top-10 and (hint, hint) teeters near my top-5.
A much sweeter romantic rock ballad than Bryan's usual rock fare. Made the cut on my 'list also — read on. This is from the MTV Unplugged series.
A thrashing pop/rocker with a nice reminiscence theme about "rocking out in your youth." Oddest thing, though. If the song truly were about Adams, he would've been 10 years old.
Rock ballad with a killer guitar solo by Adams and a Jennifer Beals-esque model in the cheapie music video. Did better on the Rock charts than on the pop.
Kind of a more-of-the-same rock fare that Adams was known for. Much like his country man Gordon Lightfoot sang about in "Sundown", it deals with infidelity. Just with a more jauntier tone.
My Picks:
The Kingdom was still on Adams' brain with this rock ballad produced by Robert John "Mutt" Lange. Killer harmonies and a sexy, thumping beat made this one a winner for me. Not just for heart attack victims.
I added this one to my 'list in place of "I Do It For You" only for the great chorus — and it makes me think of the popular movie and TV series. Not related in any way to either of them. Just because. Simply because.
I love this track! From the opening chords to the synth chorus. Makes you long for an actual time machine when you hear it. "The Age of Aquarius" year got a nice little boost from this little gem! Same exact pique as my buddy's!
A sweet Journey-esque rock/pop ballad that has a nice tear-jerking quality. Are all Canadian men this sensitive?
No surprise...
The answer would be a definitive YES! It has the near same feel as my number two pick, but has a far stronger chorus and bridge, which has a much sexier feel to it. Hmmmm — that might the "heaven" he was referring to!
...and as a bonus...
I absolutely love the 'Candlelight' remix as opposed to the popular radio Eurodance version. Just my preference, folks.
And...we're done! Until next time, folks.
Next Up: a drummer with a Biblical solo career!