25 Greatest Songs of Carpenters
The Best of Carpenters - Karen Carpenter & Richard Carpenter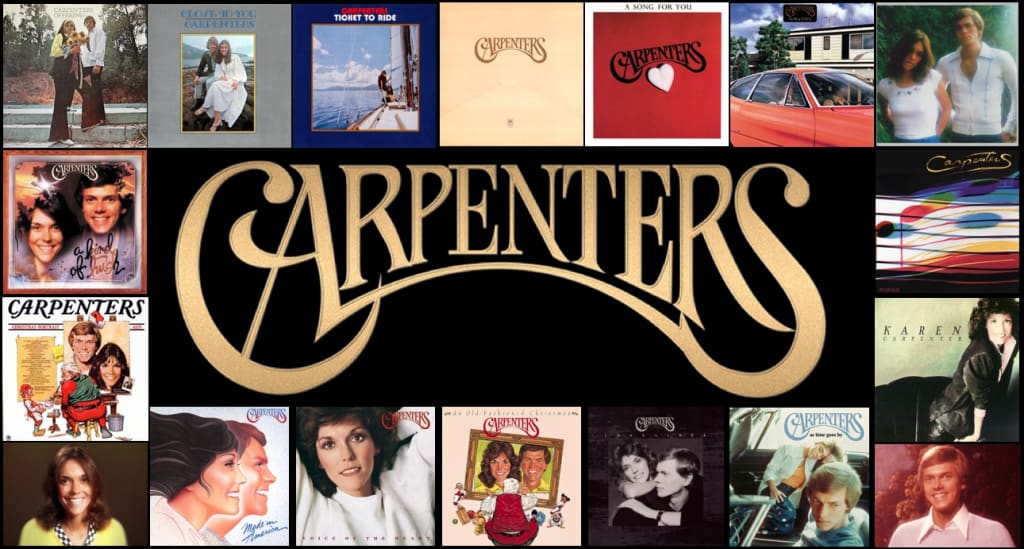 Carpenters Album Covers
Carpenters are the world-famous brother and sister duo - Richard and Karen Carpenter. They were born in New Haven, Connecticut and the family moved to Downey, California, when they were in their early teens.
In 1965 they started out as a jazz trio; Richard on keyboards, 15 year old Karen on drums and friend Wes Jacobs on tuba. Over the next few years they formed a few bands but nothing really panned out. Finally, in 1969 their demo made it to Herb Alpert's desk, they were signed to A&M Records, and the rest is history. They went on to have a consecutive string of Top 40 hits from 1970 through 1977. They were considered to be a sure thing whenever they released an album. Sadly, Carpenters' venture in music was cut short when on February 4, 1983, Karen Carpenter died, at the age of 32, from heart failure brought on by her struggle with Anorexia Nervosa. To date they have sold more than 100 million records and still manage to sell about a million units every year.
I took a different angle in constructing this list than I have the others. Instead of their most popular songs I did a combination of popular songs and musical quality. Therefore, this list is heavy on lesser-known tracks which are musically exceptional with arrangements that are more intricate and complex than most of their hits.
As with any best of list this is all subjective and I am certain this will cause debates among the diehard fans. Therefore, without further ado... I present my list "25 Greatest Songs of Carpenters."
Just as an FYI... this list is actually 27 Greatest Songs due to the fact that after I made the list and started working on it, I realized I overlooked two songs which deserved to be on the list.
Before we get to the 27 Greatest here is a short list of the songs that just missed the list.
40. Hurting Each Other / 39. Help / 38. Maybe It's You / 37. Jambalaya / 36. Love Me For What I Am / 35. Home For the Holidays / 34. Boat To Sail / 33. All You Get From Love Is A Love Song / 32. Crescent Noon / 31. I Can't Make Music / 30. Let Me Be The One / 29. Remember When Lovin' Took All Night / 28. It's Going To Take Some Time
27. Mr. Guder (1970)
Parent Album: Close To You
This song was written in 1967 by Richard Carpenter and lyricist John Bettis while they were employed at Disneyland in Anaheim, California. They were hired as musicians playing at Disney's Coke Corner. They were required to play American tunes from the early 1900's. But being the young rebels they were they would sneak in contemporary songs such as The Doors' "Light My Fire" and The Beatles' "Yesterday." Their boss, Vic Guder was not pleased with their behavior and terminated their employment. This in turned resulted in the fashionably anti-establishment song, "Mr. Guder."
Through a very unreliable source, rumor has it that Vic Guder never knew about the song - I find this one hard to believe. From a slightly more reliable source Vic Guder had considered suing Richard Carpenter because of the song. But the top brass at Disneyland suggested that he just let it go. After all how would it look if one of Disney's best known employees were to sue the #1 pop duo in the United States - but once again this is from the rumor mill.
"Mr. Guder" is one of the most captivatingly creative songs in their catalog. It's a jazz song with a strong leaning toward early 1970s pop.
One of the most remarkable parts of the song is the vocal arrangement. Karen sings the song with a cool sort of edge to her voice. The overdubbed vocal trade-off near the end of the song showcases a jazz type vocal that one may hear on a Manhattan Transfer album. To boot all the voices heard in the vocal trade-off belong solely to Karen and Richard.
A slightly shortened edited version of "Mr. Guder" was used for the B-side of the November 1970 release of "Merry Christmas Darling."
* Sidenote: This is one of a handful of songs in which Karen plays the drums. She proficiently displays her jazz timing and intricate fills.
26. Top of the World (1973)
Parent Album: A Song For You
"Top of the World" was the second of three #1 hits in the United States. "Top of the World" was the first and only song written by the Carpenter/Bettis team to reach #1.
From the opening pedal steel guitar chords to Karen's sweet and lilting voice, "Top of the World" is an instant classic. It has an easygoing rhythm that can bring sunshine to even the gloomiest rainy day.
Initially Richard Carpenter viewed the song as a pleasant album track and had not considered it for single release. But as time went on this little country-pop tune seemed to gain momentum.
The first sign of hit potential was the overwhelming response Carpenters would get when they performed the song in concert. In Japan the song had already been released as a single where it rose to #21 and it was certified gold. Popular country music singer Lynn Anderson (I beg your pardon I never promised you a rose garden) recorded the song and took it to #2 on the US country music chart. But the biggest indicator "Top of the World" had hit potential was when the song began climbing the US charts due solely to radio airplay. Even though "Top of the World" had not been released as a single, radio disc jockeys were getting heavy requests for the song. Finally, due to huge demand, the song was released as a single in the US and worldwide. The single was hugely successful reaching #1 in the US, Canada, and Australia, as well as #3 in Ireland and #5 in the UK. It also charted in Germany, Japan, and the Netherlands.
Before releasing "Top of the World" as a single, Carpenters took it back to the studio and rerecorded it. Karen felt she had evolved quite a bit as a singer and thought she could do a better job with the song, so she recorded a new lead vocal. Richard was never happy with the steel guitar part, so Buddy Emmons was brought into the studio and replaced Red Rhodes' steel guitar part. The awesome Tony Peluso, who seemed to have a great chemistry with Karen, added in his own inimitable electric guitar parts. This recording of the song was released on Carpenters' first official greatest hits compilation, "The Singles 1969-1973."
25. Two Sides (1977)
Parent Album: Passage
Many Carpenters fans hold this song close to their heart. They cite the clever lyric as meaningful and full of irony. Fans and critics have categorized "Two Sides" as a "missed opportunity" which could have followed "Sweet, Sweet Smile" into the country music top ten.
A guitar lover's treat! With a mild country flavor this song showcases an array of very well placed and performed guitars. Included are two acoustic guitars (one played by Lee Ritenour), a magnificent pedal steel guitar (expertly performed by Jay Dee Maness) and, Tony Peluso's ever captivating electric guitar.
There are several qualities which set The Carpenters in a category above many of their contemporaries. Richard Carpenter's creative use of all types of guitars is one such attribute which adds depth and energy to their music.
Equally as strong as the music is the lyric. "Two Sides" speaks of coming to terms with a relationship which just is not working out and having the strength to say "Goodbye." It touches on the many emotions one feels in such a situation.
Above all is Karen's triumphant vocal. In her understated manner she gives a tempered and soulful performance and displays an aura of self-confidence. You get the feeling she's lived every word she's saying.
There's a slight mystery as to the identity of the songwriter. The credits list Scott E. Davis, which is a name sometimes used by popular singer-songwriter Mac Davis. Mac Davis had worked with Carpenters in the past. He opened for them on part of their 1971 tour and appeared in their 1971 summer series, " Make Your Own Kind of Music." Although it is highly doubtful that Mac Davis is the Scott E. Davis who wrote "Two Sides." It most likely was underground disco producer Scott Davis (aka Scott E. Davis). He had a group called Scott Davis & The Movements, they released a few disco-funk records in the late 1970s. Funk/Soul singer-songwriter Lalomie Washburn recorded "Two Sides" in 1977 and released it as a single. Washburn is best known as a songwriter for Rufus featuring Chaka Khan and co-wrote their #1 hit, "At Midnight (My Love Will Lift You Up)." "Two Sides" was also recorded by New Zealand country singer, Jimmy Murphy, who took the song to #74 on the US country music charts in 1986. He had a second minor country hit in 1987 with "Keep The Faith."
24. Yesterday Once More (1973)
Parent Album: Now & Then
"When I was young, I'd listen to the radio..."
On the original vinyl release of "Now & Then," "Yesterday Once More" opened side two and segued into the "Oldies Medley." Side two of the album was considered the "Then" side. "Yesterday Once More" is a song which pays homage to the warm feeling you get from hearing the oldies from the previous decade. The song is followed by a medley of songs from the early 1960s. Karen's mournful and sweet honey-toned voice lent itself perfectly to the nostalgic feel of the song.
During this time (1973) the US was experiencing a big resurgence of oldies from the 1950s and early 1960s. It wasn't just the music but also clothing fads and television shows such as "Happy Days."
Originally, "Yesterday Once More" was going to include a few titles of songs from the 1960s, but it was Karen Carpenter that said she hated the idea. This idea was quickly abandoned as trite and unworkable.
The chorus, "Every sha la la la la" and "Every woah-ho-oh-woah" were dummy lyrics used during the songwriting process. It was assumed that real lyrics would replace the dummy lines. As the song progressed Richard Carpenter and songwriting partner, John Bettis, decided the dummy verses sounded good and kept them in.
"Yesterday Once More" was the first Richard Carpenter/John Bettis penned song to make it into the Top Three in the US. The song was released as a single on May 16, 1973, just two weeks after the release of "Now & Then." The song became Carpenters' second biggest hit worldwide reaching #1 in Canada and #2 in both the US and UK.
23. Superstar (1971)
Parent Album: Carpenters
Several fans consider Karen's vocal performance on this song to be her best. She was still just 20 years old when she recorded this song which she sang with a depth and yearnful soul that was beyond her youthful age. Karen Carpenter was a step ahead of many of her contemporaries. Karen was a quick study. She recorded this song in one take reading the lyrics from a napkin. Richard Carpenter felt this take, which was intended to be a work lead, was good enough to be used for the final mix. Just as an FYI, a work lead is a vocal intended to be used as a guide for the musicians when they record their parts. Once all the music is completed the lead vocal is re-recorded.
"Superstar" is the first of several Leon Russell songs recorded by Carpenters. Co-writer Bonnie Bramlett was part of the husband-and-wife team Delaney & Bonnie and Friends. They were best known for their 1971 hit, "Never Ending Song of Love."
"Superstar" was first recorded by Delaney & Bonnie in 1969 and was used as the B-side of their single, "Coming Home." At that time the song was called "Groupie (Superstar)." In 1970, Rita Coolidge recorded the song for Joe Cocker's A&M album, "Mad Dogs and Englishmen."
Despite these two fairly well-known recordings of the song, Richard Carpenter first heard it performed by Bette Midler on the Tonight Show. He was immediately taken with the song and decided to record it.
The lyric, about a rock star groupie, was originally written as, "And I can hardly wait to sleep with you again." Richard Carpenter felt the line was a bit too risque for a Carpenters record and changed it to: "And I can hardly wait to be with you again."
The song is highly celebrated and has been featured on several "best of" polls. The song appears in the Chris Farley and David Spader film, "Tommy Boy," and Nicholas Cage's, "Ghost Rider." Luther Vandross and second season American Idol winner, Ruben Studdard, did soulful renditions of the song. Disco Queen, Donna Summer sang the song live in concert with Richard Carpenter joining her on the piano. The performance was at the Hollywood Bowl on June 18, 2010. The alt-rock band, Sonic Youth, covered the song for the Carpenters tribute album, "If I Were A Carpenter."
Singer/Songwriter/Pianist/Producer Leon Russell also wrote the songs, "This Masquerade" and "A Song For You," both recorded by Carpenters. Other Russell tunes include, "Delta Lady" (Rita Coolidge), "Hummingbird" (B.B. King), "Bluebird (Helen Reddy), "Back to the Island" (Captain & Tennille) and his own Top 10 hits, "Tightrope" (1972) and "Lady Blue" (1975).
22. Bless the Beasts and Children (1971/1972)
Parent Album: Bless The Beasts and Children (soundtrack) and A Song For You
"Bless The Beasts and Children" was the first peek into the upcoming album, "A Song For You."
The song was first heard in June 1971, when the film, of the same name, was released in Germany. The film was released universally in August 1971. Also, in August 1971, Carpenters released "Bless the Beasts and Children" as the B-side of their mega-hit "Superstar."
Stanley Kramer contacted Richard Carpenter in early 1971 to discuss the possibility of recording the title song for his upcoming film. Richard liked the demo and agreed to record the song.
The soundtrack version differs slightly from the version which appears on "A Song For You" and the B-side of "Superstar." The soundtrack version opens with a vibraphone while the album and single version opens with an oboe.
As a B-side "Bless the Beasts and Children" received a fair amount of airplay and ended up charting at #67 on the US single chart and remained on the chart for 12 weeks. The song achieved further success when it was nominated an Academy in 1972 for Best Song. However, it did not win. That year Isaac Hayes' "Theme From Shaft" took home the award. Carpenters performed the song on the show. Songwriters Barry DeVorzon and Perry Botkins, Jr. also wrote the song "Cotton's Dream" for the soundtrack. A few years later the song was used as the theme song for the daytime drama "The Young and The Restless." In 1976 "Cotton's Dream" was used during gymnast, Nadia Comaneci's summer Olympics performances. The song was then renamed "Nadia's Theme" and released as a single which reached the US Top 10.
21. If We Try (1980/1996)
Parent Album: Karen Carpenter
"If We Try" is one of several songs from Karen's solo album that could have been a hit single.
This smooth groove jazz ballad was written by the masterful Rod Temperton. Temperton was skillful at writing soulful jazz infused ballads. Some of the ballads he's written include: "The Lady In My Life" by Michael Jackson, "All About Heaven" by The Brother's Johnson, "Mystery" by The Manhattan Transfer, and the classics "Baby Come To Me" by Patti Austin & James Ingram and "Always and Forever" by Temperton's own band Heatwave.
Rod Temperton also composed the vocal and rhythm arrangements. Rob Mounsey, writer of "Guess I Just Lost My Head," composed the orchestration for "If We Try."
Karen's vocal is right on target. She sings this one mostly in her comfortable silky mid-range, occasionally dipping into her rich lower range and sometimes peaking in her higher voice - but never too high and always within her range of comfort and control.
Louis Johnson, from A&M Records other popular sibling duo, The Brother's Johnson, played the smooth jazz bass line in the song. Johnson compared Karen Carpenter to Bjork stating they both had the same inner sadness.
20. Happy (1975)
Parent Album: Horizon
"Happy" opens with Tony Peluso's electric guitar and remains a constant throughout. Peluso wrote the melody and music for the song which does keep an emphasis on the guitar.
Richard Carpenter reached another technological triumph with this song. He experimented with using an ARP Odyssey synthesizer which comes alive with a stunning solo and brings the song to a remarkable close.
Karen's voice is as always dazzling. She reaches down into her lower ranges yet remains upbeat and spirited throughout the entire song.
Several fans feel this would have been a fine selection as a single and would have fit well alongside the hits of the time.
"Happy," was however used as the B-side of "Only Yesterday."
19. One More Time (1976)
Parent Album: A Kind Of Hush
This song employs the less is more approach to great success.
Richard Carpenter's arrangement is simple and uncluttered yet subtly dramatic. Karen Carpenter's voice front-and-center and her reading of the song is nothing short of brilliant as she coveys the emotions of despair and loneliness while maintaining a feel of warmth and familiarity. Recording the song without any vocal overdubs gave Karen the opportunity to sing this delicate song with her own unique bold style.
I have two words for this song: hauntingly beautiful.
Songwriter Lewis Anderson had a successful career spanning several decades and genres. Most of his songs have been recorded by country musicians such as Steve Wariner, Toby Keith, T.G. Sheppard, Alabama, Conway Twitty and others. Lewis Anderson's most successful song is "Whatever Happened to Old Fashioned Love" as recorded by B.J. Thomas. The song reached #1 on both the US and Canadian Country music charts.
18. I Won't Last A Day Without You (1972/1974)
Parent Album: A Song For You
Like "Top of the World," "I Won't Last A Day Without You" was released, by popular demand, as a single on March 25, 1974. This was nearly two years after the release of the album "A Song For You" was released. It was the fifth single and sixth song to chart from the album.
Before releasing the song as a single Richard Carpenter took the song back to the studio to re-record and remix the song. The addition of Tony Peluso's guitar parts gave the song a contemporary sound.
Several other popular musicians have recorded this song including Barbra Streisand, Diana Ross, Maureen McGovern, and Al Wilson (as part of a medley).
17. Sweet, Sweet Smile (1977)
Parent Album: Passage
The song opens with a funky and rhythmic bass line which was played by Joe Osborn. It was Joe that gave Carpenters one of their first breaks when he signed Karen to his indie record label Magic Lamp in 1966.
Within seconds the band joins in with Ron Tutt (from Elvis Presley's band) on drums, Tony Peluso playing his searing guitar parts, Tom Hensley on a groovin' honky tonk tack piano, Larry McNealy adding some great country & western banjo pickin', and Bobby Bruce bringing in the heat with his fiddle.
"Sweet, Sweet Smile" is absolutely a special treat within the Carpenters catalog. The song is spirited, lively, and upbeat. Every aspect of the song from the lyrics, the musicianship, to Karen's vocal performance evokes joy and delight. There's a lot to be said for a song that lifts the spirit and this is one of them.
It was Karen Carpenter who initially heard this song, on a pre-release of a then upcoming Juice Newton album. Karen loved the song and felt it was good for Carpenters. She made the suggestion and Richard Carpenter, who usually chooses the songs they record, agreed.
The song was the third single release from the 1977 album "Passage." Quite a few fans felt certain this song would bring Carpenters back into the Top 10. The fans were right, "Sweet, Sweet Smile," did make it into the Top 10, just not the Top 10 everybody thought it would make. The song received a good amount of radio airplay on country music radio stations and peaked at #8 on the US country music charts.
As time has gone on "Sweet, Sweet Smile" has proven to be one of Carpenters most enduring and popular songs. To this very day (2021) "Sweet, Sweet Smile" has long been used in line dance classes and is played in country music clubs across the US and the world, including Korea.
Juice Newton and her music partner, Otha Young, wrote "Sweet, Sweet Smile." Newton went on to have her own string of hits including: "Angel of the Morning," "Queen of Hearts," "The Sweetest Thing (I've Ever Known)," " Love's Been A Little Bit Hard On Me," and "Break It To Me Gently."
16. Only Yesterday (1975)
Parent Album: Horizon
Many Carpenters fans consider "Only Yesterday" to be the strongest song from "Horizon." Among fan polls "Only Yesterday" generally places high on the list. Richard Carpenter wrote the song with lyricist John Bettis. They were certain the song would not be a hit and lost a $1,000 bet to their recording engineer, Roger Young, when the song became a hit not only in the US but also around the world.
Since the melody was upbeat Richard Carpenter asked John Bettis to make sure the lyric was not completely sad. The outlook of the song changes from dark and mournful in the opening verses to bright and propulsive in the choruses. Bettis described "Only Yesterday" as a manipulated positive song.
The musical arrangement is built with an impressive "wall of sound" in which each instrument is strategically placed and clearly recognizable. The arrangement is built upon 1960s sounding castanets and chiming instruments with a 1970s electric guitar and soulful saxophone progressions.
Richard Carpenter described the song as being a complex arrangement. They used a multitude of separate mics. Each individual instrument had its own microphone. This helped create a broad and full sound in which the character of each instrument can be heard clearly. The vocals were recorded in the same manner with each individual voice miked individually which lends to the clarity of pitch and range of each voice. The opening kick drum and snare (which is now considered a classic song opening by Carpenters fans) was performed by Jim Gordon and gives the song a dramatic and modern edged opening. Tony Peluso's guitar work figured in prominently on this sing and most of the songs on "Horizon." Richard Carpenter's arrangement included an array of diverse guitar chords and riffs expertly performed by Tony Peluso. Some of the guitar parts are precise and understated and can easily be missed by the casual listener - these minute parts are the real treat when you hear and understand how they relate and blend with the other instruments.
"Only Yesterday" was released, as a single, in the US on March 14, 1975. It was Carpenters last song to make into the Top 10 in the US reaching #4. It was also a sizable hit throughout the world reaching #2 in Canada, #5 in Ireland, #7 in the UK, #10 in New Zealand, #12 in Japan.
15. Please Mr. Postman (1974/1975)
Parent Album: Horizon
"Please Mr. Postman" was a case of the right song at the right time. The song became a huge hit reaching #1 in the US. "Please Mr. Postman" ended up becoming Carpenters' biggest hit worldwide and also made it to #1 in South Africa, Australia, and Canada. The song also made it into the Top 5 in New Zealand, Switzerland, and Germany.
What made this song so irresistible to the general public in 1974/1975? Was it Karen Carpenter's 'put a smile on your face' enthusiastic lead vocal? Or maybe it was Karen's spirited well timed drum work? Could it have been Tony Peluso's slick and stylish electric guitar - especially that solo at the end. Whatever it was "Please Mr. Postman" did not let up on the upbeat fun. To be honest it would have served Carpenters well to record more upbeat electric guitar laden numbers like this one.
The single was released in November 1974 a full seven months before the album "Horizon." For the album Richard Carpenter remixed the song to give it a fuller more polished sound.
The music video for this song was filmed at Disneyland in Anaheim, CA. Karen and Richard are treated like VIPs in the park as they as they are escorted by such Disney dignitaries as Goofy, Donald Duck, and the one and only Mickey Mouse. The video captures perfectly the feel-good feel of the song and Karen Carpenter looked stunning and energetic.
Richard Carpenter had always loved "Please Mr. Postman" and wanted to record it for a longtime. When they finally recorded it some of the engineers and musicians thought they were nuts. But the duo had the last laugh when the song became a worldwide #1 hit.
"Please Mr. Postman" is one of a handful of songs to reach #1 in the US more than once. The song was first recorded by the Motown girl group The Marvelettes, who took the song to #1 in 1961. The song received further recognition when the Beatles included the song on their 1963 album, "With The Beatles."
14. All I Can Do (1969)
Parent Album: Offering / Ticket To Ride
The catchy and melodic "All I Can Do" is a lesser known Carpenters song released on their 1969 debut album "Offering." Why would a lesser known song be included on this Greatest Songs list? This obviously is not here because it is a career defining song or because it was a huge hit. Instead this one is here because of its originality and musicianship.
"All I Can Do" is not your typical Carpenters song. I could say that I would have liked to see Carpenters do more along the lines of this quirky odd-timed jazz number, but had they done so they may not have enjoyed the major success they achieved.
"All I Can Do" is set to a complex 5/4 time signature, similar to what is heard on Dave Brubeck's 1961 hit, "Take Five."
Despite the complex time signature Karen Carpenter, at the young age of 18, tackled this timing on the drums effortlessly, incorporating a lively and youthful style.
Joe Osborn delivers a heavy bass line which has to be the grooviest bass line ever in a Carpenters song.
Then there's Richard Carpenter's electric keyboard solo coming in at about one minute. He keeps the pace and rhythm going with a modern (for the day) cool cat jazz jaunt.
We always come back to Karen Carpenter's voice. This song was recorded in Joe Osborn's garage studio in 1968, before signing with A&M. Karen was 18. Karen is singing with an aggressiveness which is not prevalent in subsequent recordings. Don't get me wrong, I am not in any way downplaying the finesse or beauty that emerged in her vocals in 1970 with the song "Close To You," that is classic Karen Carpenter. This earlier vocal style also has its merit. Karen is singing with more amplification; she's projecting her voice outward. She's singing with an extroverted youthful verve. Frankly, I like this very upbeat, seemingly more approachable, Karen Carpenter.
13. Guess I Just Lost My Head (1980)
Parent Album: Karen Carpenter
The bulk of Karen Carpenter's solo album was jazz influenced. Six of the twelve tracks have an underlying jazz influence.
"Guess I Just Lost My Head" is a dazzling pop-jazz tune which would have been equally at home on both pop and jazz radio stations.
The song opens with a nice smooth groovin' horn which sets a calming soulful mood. There's a phat bass line mixed among the instruments which when it surfaces to the top is really "funkilicious."
Rob Mounsey, who is famous for all kinds of stuff, wrote the song, composed the orchestration, the vocal and musical arrangements, the keyboards, and best of all, the sonic electric keyboard solo.
When producer Phil Ramone invited Rob Mounsey to work on Karen's album, he was very young and new on the scene. He said, "Karen was very smart, very gifted and accomplished, and very nice."
Mounsey originally wrote "Guess I Just Lost My Head" from a man's perspective. The second line was, "I was only watching the flower in your hair." It was Karen who came up with the new line, "Only trying to memorize you there."
This is one of Karen's best vocals on her album. She sings it completely in her comfortable mid-range which gives her voice a nice optimistic feel. Much of her vocal is double-tracked and she gives us a bit of a flirtatious attitude.
12. Rainy Days and Mondays (1971)
Parent Album: Carpenters (aka the Tan Album)
"Rainy Days and Mondays" is one of Carpenters' most iconic songs. Some of you reading this list might say this song should be much higher than #12 and maybe you're right. But that is a testament to the quality of Carpenters' music.
After having had a mega-hit with the Paul Williams and Roger Nichols written, "We've Only Just Begun," the Williams/Nichols team catapulted to the top of Richard Carpenter's list of songwriters to cover.
The album Carpenters contains two Williams/Nichols songs - "Rainy Days and Mondays" and "Let Me Be The One," both songs with equal potential of hit single status.
"Rainy Days and Mondays" was Carpenters' fourth consecutive to reach the US Top 3 and be certified Gold.
All the classic Carpenters trademarks are present including Tommy Morgan's harmonica and Bob Messenger's soulful saxophone. Karen Carpenter sings in her deep rich soulful voice, many fans consider this to be one of her finest vocal performances.
The Fifth Dimension was offered the song first but turned it down.
11. Goodbye To Love (1972)
Parent Album: A Song For You
Richard Carpenter wrote most of the melody while visiting London in the fall of 1971. The use of contrasting tones and long phrases makes it a very difficult song to sing. Karen Carpenter sang the song effortlessly with amazing breath control.
Initially the idea for this song came to Richard Carpenter as he was watching an old 1940 Bing Crosby film called "Rhythm on the River." The film was about a struggling songwriter who often mentioned his greatest composition, "Goodbye To Love." The song is never heard in the movie just mentioned several times. Richard immediately wrote the opening lyrics and melody and then took it to John Bettis to complete the lyric.
"Goodbye To Love" is unique in the Carpenters' catalog of music. It was their first song to contain an all out electric guitar solo. Guitarist Tony Peluso first crossed paths with Carpenters in 1971, when Mark Lindsay (Lead singer of the band Paul Revere & The Raiders) was opening for Carpenters in concert. Peluso played guitar in the band Instant Joy, which was Lindsay's backing band. While working on "Goodbye To Love," Richard Carpenter recalled Peluso's guitar work and decided there should be a fuzz guitar solo in the song. Karen Carpenter was given the duty of calling Tony. At first, Tony didn't believe it was actually Karen Carpenter on the phone. Tony accepted the offer to record the song. In the studio, Tony played a soft and tender guitar part, thinking that's what Richard would want for a Carpenters song. But, Richard told Tony to 'burn it up and let it soar into the stratosphere.' The result was a huge success and Tony was asked join Carpenters' touring and recording band. Tony of course accepted the offer and he remained with Carpenters until the very end.
Some Carpenters fans fiercely opposed the song and felt that Carpenters had made a big mistake recording a song that some described as being loud and harsh. Carpenters received some 'hate mail' claiming they had sold out and gone hard rock. There were some Adult Contemporary radio stations that refused to play the song because of the guitar solo. In the end the song went on to receive massive airplay and was a Top 10 hit.
10. Desperado (1975)
Parent Album: Horizon
When the album "Horizon" was released the critics choice for potential hit single was "Desperado." Some saying this and "Solitaire" were among her finest vocal performances of her career.
A&M Records decided against releasing "Desperado" as a single due to the fact that both The Eagles' and Linda Ronstadt's recordings had been receiving radio airplay. Many fans felt this was a missed opportunity.
"Desperado" was written by The Eagles' Don Henley and Glen Frey and was the centerpiece of their 1973 classic cowboy themed concept album "Desperado."
Several others have recorded this song including; Linda Ronstadt, Bonnie Raitt, Kenny Rogers, Clint Black, Johnny Cash, Neil Diamond, and Diana Krall.
* Note: Diana Krall took "Desperado" to #3 on Billboard's Jazz Digital chart.
Tommy Morgan's harmonica accents the overall aura of the song. His haunting performance establishes the song's melancholy mood. Morgan has played harmonica on Carpenters' "Rainy Days and Mondays."
9. This Masquerade (1973)
Parent Album: Now and Then
This was the third of three Leon Russell tunes recorded by Carpenters. The song originally appeared on Leon Russell's famed 1972 album "Carney," which also includes his Top 10 hit "Tight Rope."
Although Carpenters never released "This Masquerade" as an A-side single, it is widely known as a Carpenters classic. The song was used as the B-side to Carpenters' #1 mega-hit "Please Mr. Postman."
Richard Carpenter radically changed the opening giving it a contemporary polish. He kept the bulk of the musical arrangement similar to that of Leon Russell's recording. Carpenter enhanced the percussion, wind instruments and keyboard parts and added a few other instruments giving the song an overall glossier sheen. But the biggest difference is in the vocals, not some much the vocal arrangement but the quality of vocal - going from the at time gruff and nasally Leon Russell to the pristine soulful Karen Carpenter. Karen sings with a graceful maturity and depth far beyond her youthful age. Karen also plays the drums on this song, did her specialty in playing understated yet complex jazz patterns. Another song highlight is Bob Messenger's hot and steamy saxophone solo.
R&B/Jazz singer/guitarist George Benson recorded an equally compelling rendition of the song and took it all the way into the Top 10 of the U.S. singles charts in 1976.
8. Another Song (1970)
Parent Album: Close To You
This song is on this list purely for it's originality and musicianship. As described on Wikipedia this dramatic number is constructed in three movements: A pop section (0.00 - 1:45), a medieval-influenced section (1:45 - 2:28), a jazz section (2:28 - 4:23). The song opens with a short with a short prelude based on "And, lo! The angel of the Lord came upon them" from Part One if Handel's "Messiah."
The song, which dates back to Carpenters' earlier bad Spectrum, start out with Karen's crystal clear vocal delivery as she sings the perils of a lost love. Karen's vocal begins tender and delicate but works into a dramatic cry of yearning intensity. Slowly the song works gracefully into a finely crafted thunderstorm of music where each instrument carefully portrays the emotions of emptiness and forlorn love. The songs ends in a jazz fusion master jam at times sounding like something you might hear from The Mahavishnu Orchestra.
Karen not only performs lead vocals on this Richard Capenter/John Bettis penned masterpiece, but also displays passion as a drummer and her skills of keeping track of and measuring time. Karen is a natural with tricky jazz-timed drum patterns.
7. B'wana She No Home (1977)
Parent Album: Passage
"B'wana She No Home" marked a major shift in perspective concerning the future of Carpenters' music. "B'wana She No Home" opened their 1977 album "Passage" and immediately you knew this was not going to be your typical Carpenters album. From the first percussive thud, followed by a spirited keyboard, and finally the entrance of electrifying guitar chord the hunch is confirmed that "Passage" was not going to be an album filled with sad love songs.
Carpenters have dabbled with jazz-fusion in the past with 'All I Can Do," (1969), "Another Song" (1970), but never to this degree of intricacy or authenticity. This song would fit well being played alongside Grover Washington Jr.'s "Mister Magic."
"B'wana She No Home" was recorded live in the studio, which gives the song a jam-band sort of sound. This gave the musicians the opportunity to play off each other. Pete Jolly and Tom Scott respectively gave us a great piano and saxophone duet in this format.
"B'wana She No Home" is the first Carpenters song in which someone other than Richard composed the vocal arrangement for Karen. The arrangement was scored by Gene Puerling who previously led the jazz vocal groups The Hi-Lo's and The Singer's Unlimited.
In my humble opinion Carpenters should have taken the gamble and followed this musical path. I feel the dividends would have paid off.
Mellow jazz singer/songwriter Michael Franks wrote "B'wana She No Home" and has had several jazz chart hits including "Popsicle Toes" (1975), "The Lady Wants To Know (1977), and "Your Secret's Safe With Me" (1985).
So, what does "B'wana" mean? It is a term of respect much like the terms "sir" or "ma'am."
6. If I Had You (1980/1996)
Parent Album: Karen Carpenter
This song, I always felt was Grammy worthy or at least worthy of a nomination - had it been released in 1990 instead of its delayed release in 1989 and then again in 1996.
"If I Had You" is the most popular track from Karen's solo album. In 1989 the song was released as a CD single and cassette single. With no promotion whatsoever the song began to receive a moderate amount of airplay and rose to #18 on the adult contemporary chart - a nice feat considering no promotion from the record company.
Jazz legend Michael Brecker opened the song with a sultry brassy saxophone part. Louis Johnson, from the funk band The Brother's Johnson, added his Thunder-Thumbs to the mix with a smooth jazz bass line. Bob James and Rob Mounsey trade-off on keyboards with Mounsey's delightful electric keyboard adding a nice sparkle to the song. Three members of Billy Joel's backing band add their expertise; Liberty Devitto on drums and David Brown and Russell Javors on guitar.
"If I Had You" was written piece by piece by three songwriters. The song began with lyricist Gary Harju who brought the song to Larry Herbstritt and Steve Dorff. Herbstritt composed the music for the chorus while Dorff took the verses. Herbstritt and Dorff wrote "If I Had You" as a heavy metal tune. But were more than pleased when they heard Karen Carpenter's jazz arrangement.
The highlight of the song is Rod Temperton's very creative vocal arrangement at the end which is in many ways a predecessor to his arrangement of Michael Jackson's thriller. The electrifying vocal mix features Karen's recorded vocal parts overlapping each other. Some of her vocals in the mix are blended and treated with electronics, similar to what was heard on Cher's 1999 hit "Believe." This type of vocal mix went on to become a signature sound for Rod Temperton.
5. A Song For You (1972)
Parent Album: A Song For You
Leon Russell wrote and recorded this song for his first solo album, "Leon Russell released in 1970.
This dramatic track opens the album and sets the mood for the listener. Richard Carpenter's arrangement perfectly adorns Karen's vocal. Accenting her strengths with precision highlighting the clarity of her tone and pitch. Karen uses the whole scope of her voice deep into the dark lower portion of her voice then displays the perfection of her crystal clear higher register. Karen sings with a maturity well beyond her youthful 21 years (age at the time of this recording). I like to describe her vocal in this song as sunlight and moonshadow.
Bob Messenger delivered a steamy sax solo which gave the song that extra dimension of emotion.
"A Song For You" is a very strong album track and would have been a natural on Top 40 radio. But as far as I know the song was never considered for single release.
4. Solitaire (1975)
Parent Album: Horizon
Many Carpenters fans consider this to be it - Karen Carpenter's finest ever vocal performance. The exuberance of the strings, Richard's subtle keyboard parts, and Karen's deep full-bodied vocal give this song that chill factor Richard Carpenter looked for in a song. Carpenter commented, "The song was difficult to sing, and Karen nailed it perfectly."
Richard Carpenter stated that Karen never liked "Solitaire." Some fans speculate this may be due to their falling out with Sedaka when he was opening for Carpenters on tour.
Neil Sedaka wrote and recorded this song for his 1972 album titled "Solitaire." As a sidenote Sedaka's version included members from the British band 10cc, who are known for their mid-70s hits "I'm Not In Love," "The Things We Do For Love," and "Dreadlock Holiday."
1975 was a banner year for Neil Sedaka. Not only was "Solitaire" a hit around the world for Carpenters but also the Captain & Tennille topped the charts with the Sedaka penned, "Love Will Keep Us Together." Also in 1975 Sedaka had two #1 hits of his own with "Laughter in the Rain," "Bad Blood," a duet with Elton John.
3. Road Ode (1972)
Parent Album: A Song For You
"I've been on this lonely road so long / Does anybody know where it goes"
The opening line to "Road Ode" sums up Karen Carpenter's life from 1971 through 1974. Living her life on the road from one town to the next town doing concerts, magazine and radio interviews, television appearances, signing autographs, and on and on and on.
The song's authors; Gary Sims (bassist) and Danny Woodhams (guitar), were longtime members of Carpenters' road band. They both knew and understood the hardships of living life on the road, moving from one city to another day after day. Both being members of the Carpenters' road band gave them an insight into Karen Carpenter which helped them to write a song that she was able to take and convincingly bring to life. Gary Sims and Karen Carpenter dated for a while which gave him an inside track on writing the perfect song for Karen Carpenter.
"Road Ode," although strong enough to be a single, it was never considered.
Karen Carpenter's voice is filled with longing and passion and enveloped in rich and dark soulful tones. As she sings this song she maintains an authority on the subject of living life on the road. During this time period Carpenters were performing over 200 concerts per year.
2. (They Long To Be) Close To You (1970)
Parent Album: Close To You
Burt Bacharach was very impressed when he heard Carpenters' recording of The Beatles' "Ticket To Ride" that he invited them to perform at a benefit concert for the Reiss-Davis Clinic. The concert was happening on February 26, 1970 and Bacharach had asked Carpenters to perform a medley of his tunes. Immediately Richard got to work in arranging an early version of the Bacharach/David Medley. During this process Herb Alpert brought the song, "They Long To Be Close To You" and asked Richard to include it in the medley. Ultimately, Richard decided the song did not fit in with the flow of the medley. With continued encouragement from Herb Alpert, Richard decided to record the song as a stand-alone track. The group worked hard at getting the right sound for the song. They recorded several takes before everyone was satisfied (Will any of these early takes see the light of day on an expanded edition of the Close To You album?).
This was the first Carpenters recording to feature Hal Blaine on drums. It's been said he was brought in to put more muscle into the sound of the drums and to give Karen the opportunity to focus on her vocals more.
"(They Long To Be) Close To You" was Carpenters' second single and was released on May 15, 1970. It reached #1 on the US Billboard's Hot 100 Singles chart on July 25, 1970 and stayed there for four weeks. The single sold nearly 2 million copies and was certified GOLD by the RIAA ( in 1970, platinum records were not awarded, if so it would have been certified Platinum).
1. We've Only Just Begun (1970)
Parent Album: Close To You
"White lace and promises / A kiss for luck and we're on our way"... Released in August 21, 1970, "We've Only Just Begun," Carpenters' third single, became an instant classic with it's optimistic outlook. The song made it to #2 (for four weeks) in the US, #1 in Canada, #6 in Australia, #28 in the UK, and #71 in Japan. The song was certified GOLD for selling more than one million copies.
"We've Only Just Begun" began its life as a television commercial for Crocker bank. The commercial showed a young couple getting married and then driving off into the sunset while "We've Only Just Begun" played over it. Paul Williams sang the song in the commercial. When Paul Williams and Roger Nichols were hired for the job the advertising agency made it clear they didn't want a jingle, they wanted their commercial to be a mini-movie. Williams and Nichols wrote the first two verses of the song and a bridge. They also wrote a third verse (which was not used in the commercial) just in case somebody would want to record the song. One late (and sleepless) night Richard Carpenter had the television on and the song caught his attention as it played through the commercial. The next day he phoned Paul Williams and asked if there was a complete song. Fortunately they did have a complete song and the deal was made in the following days.
"We've Only Just Begun" has gone on to become one of modern music's most popular wedding songs, being used in wedding ceremonies and receptions to this day. The song was also used as the class song by many graduating classes of 1971. The sheet music itself has sold near 4 million copies.
Thank you for stopping by and reading this post... I hope you enjoyed it... :)
About the Creator
Writing is a distraction for me. It takes me to places unknown that fulfill my need for intellectual stimulus, emotional release, and a soothing of the breaks and bruises of the day.
https://www.facebook.com/groups/vocalplusassist
Reader insights
Be the first to share your insights about this piece.
Add your insights