25 Greatest Songs of David Bowie
The Best of David Bowie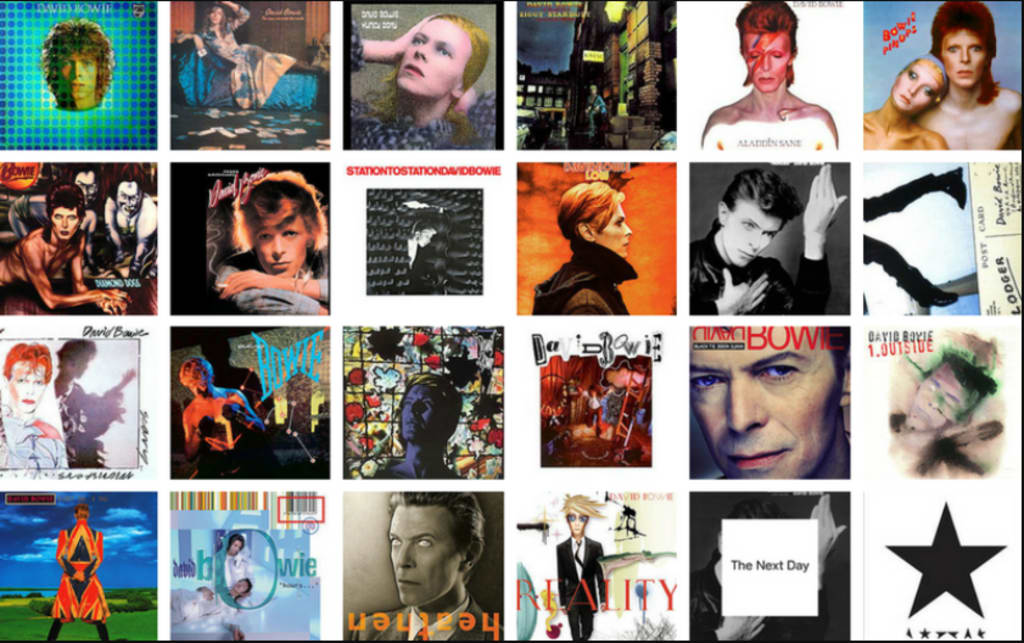 25. Starman (1972)
Parent Album: The Rise and Fall of Ziggy Stardust and the Spiders from Mars
Leave it to David Bowie to come up with the 12 word album title "The Rise and Fall of Ziggy Stardust and the Spiders from Mars." But here's the deal when you come up with an album as great as "Ziggy Stardust..." you can be as elaborate as you want with the title. For that matter you can do almost anything you want... wear bright red patent leather platform boots and adorn your face with extravagant makeup so that you look like you're a visitor from another planet... hmmm maybe Mars. Ziggy Stardust was the Starman who's look was somewhat androgynous with a tilt to the masculine.
"Starman" was the first single release from "The Rise and Fall of Ziggy Stardust and the Spiders from Mars" and has gone on to become one of Bowie's most iconic songs as well as one that is closely associated with his ever-changing persona.
"Starman" had an exciting appearance in the 2015 film The Martian. I say exciting because when the song first came on, in the film, it seemed to have a sonic rush like I'd never heard before and I felt a thrill the entire time the song was playing.
Starman (1972)
24. Suffragette City (1972)
Parent Album: The Rise and Fall of Ziggy Stardust and the Spiders from Mars
I remember listening to this song when I was 16 years old (1976). I had no clue what the word "suffragette" meant. I'm pretty sure I thought it was the name of a city or something like that. A few years later I finally decided to research the word. I'm not quite sure where I found the meaning of the word but somewhere somehow I figured it out. After knowing the meaning of the word I came back to the lyrics of this song thinking that there's something deeper meaning to it. But in reading the lyrics there was no grand message about a woman's right to vote. Instead it seems as if Bowie was talking about his "chick" who is outta sight and some guy named Henry who frankly needed to get out of the way. Well whatever the meaning of the words, I liked the song and especially the sax solo, which later I came to discover is an ARP synthesizer.
Suffragette City (1972)
23. Fantastic Voyage (1979)
Parent Album: Lodger
There's quite a bit for me personally to love in this song. Three of my favorite musicians appear in the song aside from the obvious David Bowie, there's Brian Eno adding an ambient drone sound in the background which gives the song a unique mood and Adrian Belew is one of three mandolin players. My dream has come true; Belew, Eno and Bowie in one song.
"Fantastic Voyage" is an odd pop song. A sort of baroque ballad with a dark and cynical lyric.
Fantastic Voyage (1979)
22. Something In The Air (1999)
Parent Album: ... hours
This is one of those songs that catches you off-gaurd. I listened to the song many times after buying the album and I liked it, but it wasn't anything special. But then one afternoon I was listening with my headphones on and the song came alive for me.
The song is infused with understated tufts of electronics all over the place. The musical arrangement is filled with little bits of surprises in every verse and chorus including unusual chord progressions and marching rhythms. The most interesting aspect of the song is strategically embedded electronics on Bowie's voice, this gives the song that WOW factor.
Something In The Air (1999)
21. Up The Hill Backwards (1980)
Parent Album: Scary Monsters (and Super Freaks)
During this period starting in 1977 with his Berlin trilogy to this album "Scary Monsters..." I felt Bowie was at his artistic peak. Along with that he employed many of my favorite musicians to record with him.
On "Up The Hill Backwards," King Crimson founder, Robert Fripp plays lead guitar. Fripp's performance is beyond stellar. Fripp's work is recognizable yet unique to the Bowie brand with a chamber of echoes and a slight sense of blues in his licks.
The lyrics have long intrigued me and I'm going to try my hand at an interpretation of some of the lines. Bowie opens the song with, "The vacuum created by the arrival of freedom," says to me that freedom brings emptiness. Maybe freedom isn't all it's cracked up to be. In another line he sings, "More idols then realities, ooh. I'm OK, you're so-so, ooh." Bowie seems to be saying that in this modern age (1980) our lives are driven by idols, celebrities, the bigger than life propaganda's that surround us. But it's alright because in this age of self help, I'm okay, You're okay," "I'm Okay - You're Okay," is the title of self help book which was popular in the 1970s.
Up The Hill Backwards (1980)
20. China Girl (1983)
Parent Album: Let's Dance
It's well-known that David Bowie was good friends with rocker Iggy Pop. "China Girl" is one more indicator of that friendship. The song was written by David Bowie and Iggy Pop in 1976 and first appeared on Pop's classic 1977 album "The Idiot." Bowie played several instruments on the song as well as performing backing vocals and producing. Later David Bowie recorded the song and included it on his 1983 blockbuster album "Let's Dance." The song was a worldwide Top 10 hit for Bowie.
The success of Bowie's recording led to Iggy Pop gaining financial stability via his co-writer residuals.
The song not only enjoyed heavy radio airplay but was also a huge favorite in dance clubs around the world.
China Girl (1983)
19. Days (2003)
Parent Album: Reality
I first heard this song on a muzak station while grocery shopping. I remember thinking, "Boy that sounds a lot like David Bowie," but for some reason I kept thinking it was Al Stewart. I even had this album at home, but hadn't made it past the first few songs. Needless to say after hearing "Days," I give closer inspection of the album.
If there was ever a David Bowie song that could reach #1 on the Adult Contemporary charts, it is "Days," though sadly the song was not released as a single. I feel this was a missed opportunity as the song has true commercial potential. The choruses are catchy with pleasant verses and slick yet understated musicianship.
Days (2003)
18. Ziggy Stardust (1972)
Parent Album: The Rise and Fall of Ziggy Stardust and the Spiders from Mars
This is one of David Bowie's most iconic songs. Post-Punk Goth band Bauhaus covered the song in 1982, which in itself became an iconic recording. That's the sign of a great song, when a cover of an iconic song becomes iconic itself.
Bowie commented that the Ziggy Stardust persona stuck in his psyche for many years even after he gave it up. It got to the point where he questioned his own sanity.
Ziggy Stardust (1972)
17. Sound and Vision (1977)
Parent Album: Low
"Low" was the first album in what is known as David Bowie's Berlin Trilogy. Producer, songwriter, musician extraordinaire Brian Eno worked with Bowie on all three albums which also includes; "Heroes" (1977), and "Lodger (1979).
Here's my unique take on "Sound and Vision." With it's minimal lyrics and Brian Eno's synthesizers and electronics I liken this song to Donna Summer's "I Feel Love." I know, I know, the songs sound nothing alike, but they do have minor similarities in structure. While recording "Low," Brian Eno played "I Feel Love" for David Bowie (and the gang) and said, "this is the future of music." Donna Summer's "I Feel Love" was definitely an influence on Eno and Bowie while recording "Low."
Another interesting tidbit on "Sound and Vision": The female backing vocal is Mary Hopkin who is best known for her 1968 #1 hit "Those Were The Days." Mary was listed as Mary Visconti on the credits for "Low," as she was married to David Bowie's producer, Tony Visconti, at the time.
Sound and Vision (1977)
16. Alabama Song (1980)
Parent Album: Non-Album Single
This is one of my personal favorites by David Bowie. I like the unconventional key changes. It's somewhat jarring but in a manner that I like. Than again I'm a big fan of avant-garde jazz so I'm used to quirky key changes and odd time signatures.
Especially enticing for me is Adrian Belew's masterful guitar work. Belew has long been one of my favorite musicians and I am always thrilled to see him listed in the credits on a song or album.
Alabama Song (1980)
14. Scary Monsters (and Super Creeps)(1980)
Parent Album: Scary Monsters (and Super Creeps)
There are a few aspects of this song that are amazing. Right at the start the song opens with a great drum line accompanied with outstanding sythesized percussion. The percussive sounds are still modern and cutting edge even in this modern digital age. Bowie's music was always way ahead of its time. Dennis Davis was at the top of his game on the drums. His execution and timing are spot on and muscular. Next up we have King Crimson leader, Robert Fripp on electric guitar. Fripp's performance is somewhat understated and somwhat in the background, but still an integral part of the song. About three minutes in Fripp lets loose with a career best guitar solo that shreds and adds an otherworldly sound that sends us into a fourth dimension of sound. Than there's David Bowie, the star of the show, in this song he uses a dark and deep voice that works really well with song's theme of descending into madness.
An interesting bit of trivia; In a 1980 interview with Tim Rice on Friday Night, Saturday Morning, Bowie revealed that the title of the album (and thus, the title of this song) had been inspired by a box of Kellogg's Corn Flakes.
On the back, it said, "Buy your packet of Kellogg's Corn Flakes and inside you will find scary monsters and super heroes."
Scary Monsters (1980)
13. TVC-15 (1976)
Parent Album: Station to Station
The album "Station to Station" represents Bowie's earliest transition from soul-funk, proto punk, glam rock to electronic experimental rock.
"TVC-15" is about a hollographic television in which the sujects girlfriend crawls into and soon after the subject himself crawls in, in an attempt to find his girlfriend. The song based on a drug induced hallucination Iggy Pop had while visiting David Bowie's home in L.A.
I like that David Bowie would write songs that were so unconventional in theme. He looked at life through a different lens. One that is/was often darkly artistic.
TVC-15 (1976)
12. Let's Dance (1983)
Parent Album: Let's Dance
While "Let's Dance" may not have been Bowie's artist peak, it was the pinnacle of his popularity and commercial ventures.
Before 1983 Bowie had several songs that were popular in dance clubs such as "Fame," "DJ," "Fashion," "Ashes to Ashes," and "Cat People (Putting Out Fire)." But none were as popular as 1984's "Let's Dance." The song shot to #1 around the world including the UK and US. The song was Bowie's first and only song to reach #1 on the disco/dance charts in the US.
Nile Rodgers, from the disco/funk band Chic, produced and arranged the song as well as played a funky rhythm guitar.
Let's Dance (1983)
11. Ashes To Ashes (1980)
Parent Album: Scary Monsters (and Super Creeps)
Eleven years after the initial release of "Space Oddity," David Bowie decided to revisit Major Tom, "Do you remember a guy that's been
In such an early song?" This time Major Tom is portrayed as a drug addict, "Ashes to ashes, funk to funky. We know Major Tom's a junkie."
This song was fairly popular in dance clubs and especially in Video Dannce Clubs where the music video was popular throygh the 80s and 90s.
The following text is from wikipedia:
For "Ashes to Ashes", Bowie referenced an experimental Guitarchitecture track from guitarist Chuck Hammer as the descending modulating chordal and rhythmic structure. The song is notable for its delicate guitar synth string sound, counterpointed by hard-edged funk bass, and its complex vocal layering. Its choir-like textures and theme were created by guitarist Chuck Hammer with four multi-tracked guitar synthesizers, each playing opposing chord inversions; this was underpinned by Bowie's dead-pan, chanted background voices. The rhythmic chordal theme originated from a guitar synth composition by Chuck Hammer. The resulting track has been described as "one of Bowie's greatest studio moments".
Ashes to Ashes (1980)
10. Young Americans (1975)
Parent Album: Young Americans
What's interesting about "Young Americans" only reached #28 in the US, although it received major airplay on pop and rock radio stations from the Atlantic to the Pacific.
"Young Americans" was Bowie's first venture into "blue-eyed" soul. The gamble was successful as the song opened him up to a new audience which lead to bigger hits with "Fame," and "Golden Years."
The song hits quite a bit on politics including oppression and racism in the US. In the line, "have you been the un-American," Bowie is making a light reference to McCarthyism. He mentions, "Do you remember, your President Nixon?" Bowie recorded "Young Americans" just two days after Nixon resigned from the presidency. Bowie makes mention of other events in history as well as brand names such as Ford Mustang, Chrysler, Cadi(llac), and Barbie doll.
The legendary Luther Vandross provided backing vocals. The backing vocal arrangement was inspired by ideas from Luther Vandross.
Young Americans (1975)
9. DJ (1979)
Parent Album: Lodger
Overall, I felt "Lodger" was an average album. But the songs I do like from the album (DJ, Boys Keep Swinging and Fantastic Voyage) are all favorites of mine.
I love the music video for this song. We get a dapper looking David Bowie (the DJ) spinning his favorite records. Than the scene cuts off to Bowie trashing the DJ station. My favorite part is when he's walking down the street. He attracts a crowd, makes friends, and is even kissed by a man and than a woman. But, of course the DJ, the one that brings the music, is loved by all, "I got believers, believe in me."
I'm going to play a little connect the dots here. It is said that "DJ" was David Bowie's attempt to sound like David Byrne, of The Talking Heads. At that moment in time Brian Eno, who was a major contributor to the album "Lodger" and co-wrote "DJ" with Bowie and Carlos Alomar as well did synthesizers on the song. Eno also produced two Talking Heads albums "Fear Of Music" (1979) and "Remain In Light" (1980). Talking Heads' "Remain In Light" brings us around to guitar master Adrian Belew. Adrian Belew played guitar on "Remain In Light" and gave us some fantastic guitar solos. Just before working on "Remain in Light," Adrian worked on Bowie's album "Lodger." Adrian performed on seven songs from the album, including "DJ" for which he gave a stellar guitar, one that I feel was one of his best of his entire career. Just as a sidenote: both Adrian Belew and Brian Eno rank with in my all-time favorite musicians, as does David Bowie.
DJ (1979)
8. Changes (1971)
Parent Album: Hunky Dory
This is the song that made a David Bowie fan. But it didn't happen in 1971 when it was originally released. I first became aware of David Bowie in 1973 while visiting my grandmother. One of my cousins and I were talking in the backyard. He loved rock magazines and the one on top had David Bowie on the cover as Ziggy Stardust. I asked my cousin, "Who is that?" He answered, "David Bowie." He took me inside and played "Space Oddity" for me on the record player and I loved it. But it wasn't until 1976 that I bought my first David Bowie album, which was the compilation "ChangesOneBowie." I loved this record - every song on it was outstanding. Of course at the start my favorites were the big hits; "Fame," "Golden Years," and "Space Oddity." It wasn't until two years later (1978) that "Changes" caught my attention. I heard the song different this time, maybe it was the catchy, "Ch-ch-ch-changes," that perked up my ears - but I really came to love the song and considered it my favorite David Bowie song from 1978 to 1982.
The line "Turn and face the strange" always got me thinking that David Bowie was calling for us to look directly at those people that are unusual, different, uncommon, unique and cherish the diversity. Bowie himself was one of those unique people with his red hair, facial makeup, and extravagant costumes. But it went much further than his looks and fashion style. His uniqueness was prevalent in his often dark lyrics and his unconventional musical arrangements.
"Changes" was just a little different Bowie's other songs in that it was piano driven and exhibited a softer sound which could have easily found a home on early 70s Adult Contemporary radio. Bowie played the saxophone on this track, giving another smooth groove dimension.
Changes (1971)
7. Fashion (1980)
Parent Album: Scary Monsters (And Super Creeps)
Musically, this is one of Bowie's most indepth full bodied arrangements. The music is layered and pieced together creating a wall of sound that rocks with an electronic dance vibe. George Murray's bassline grooves with a funk edge while Robert Fripp's guitar borderlines on industrial. The song has reggae undertone when blended together Dennis Davis' drums and Andy Clark's raving synthesizers which mocks echoing handclaps and thundering crashes of sound make for a groove that raves up the dance floor.
Fashion (1980)
6. Cat People (Putting Out Fire (1982)
Parent Album: Cat People Soundtrack
I went and watched the film "Cat People" solely because of the David Bowie song. Though, I was not so impressed with the movie and Bowie's song wasn't even in the movie, it was used during the closing credits. I somehow felt cheated by that. Nontheless I did love the music in the film Giorgio Moroder's instrumentals gave the movie a much needed depth.
When I first heard this song I was amazed. The song was so big and atmospheric with tribal percussion and David Bowie's voice was perfect. The line, "putting out fire with gasoline," always created a vivid visual in my mind everytime I heard the song.
I hoped that Bowie would go on to do an entire album with Giorgio Moroder as I felt the two were a perfect merger. That never came to be, but we do have this one song which leads us to imagine how much more Moroder-Bowie could have done.
"Cat People (Putting Out Fire)" became my favorite David Bowie song in 1982 and remained my favorite until 2010.
The song was a #1 hit in numerous countries including Finland, New Zealand, Norway, and Sweden. In the US it reached #14 on the Dance music charts. This song literally burned up the dancefloors across the US... Putting out fire with gasoline.
Cat People (1982)
5. Fame (1975)
Parent Album: Young Americans
"Fame" was one of the hottest songs in the summer and fall of 1975. It was played non-stop for a good six months or so on both AM and FM radio. The song topped the charts in the US for two weeks and was also #1 in Canada. The song came in at #7 on Billboard's Year End chart making it one of the years biggest hits.
John Lennon co-wrote the song with Bowie as well as backing vocals and acoustic guitar.
Fame (1975)
4. Golden Years (1975)
Parent Album: Station To Station
From 1975 to 1976 David Bowie was on a roll on the US charts. Starting with "Young Americans" reaching #28 next "Fame" topped the chart and finally the trifecta "Golden Years" making it to #10. With the major amount of radio airplay "Golden Years" received it seems that it should have been a #1 hit, as it is #10 is a more than respectable position.
Bowie appeared on Soul Train on November 5, 1975 (some sources say January 3, 1976) shortly after "Golden Years" was released as a single. Bowie was one of the first white performers to appear on Soul Train. Elton John, who was the first, appeared on the show six months before Bowie. Bowie was especially proud of this accomplishment as he had always been a fan of R&B and soul music.
Golden Years (1975)
3. Heroes (1977)
Parent Album: Heroes
"Heroes" is one of David Bowie's most iconic songs. This song has been used in films, television shows, television commercials, the song was played during the opening ceremonies of the 2012 Summer Olympics. "Heroes" is Bowie's second most covered song with covers by The Wallflowers, Depeche Mode, Oasis, and others. Only "Rebel, Rebel" has been covered by more musicians.
"Heroes" is the title track of the secong album in Bowie's Berlin trilogy. Bowie wrote the lyrics on the spot while he was recording his vocals. Inspired by the sight of Bowie's producer-engineer Tony Visconti embracing his lover by the Berlin Wall, the song tells the story of two lovers, one from East and one from West Berlin.
While recording Bowie's vocals Visconti used an interesting technique based on vocal gating. He used three microphones. One was placed nine inches away from Bowie, the second was 20 feet away and the third 50 feet away. As described on wikipedia; Each microphone was muted as the next one was triggered. As the music built, Bowie was forced to sing at increased volumes to overcome the gating effect, leading to an increasingly impassioned vocal performance as the song progresses.
Heroes (1977)
2. The Man Who Sold The World (1970)
Parent Album: "The Man Who Sold The World"
It wasn't until Lulu's recording of this song, which was produced by Bowie and Mick Ronson, made it to #3 on the UK charts that Bowie's recording garnered mainstream attention.
Bowie wrote the lyrics in the reception area of the studio while Visconti waited at the mixing console. Once he finished, he quickly recorded his vocal, Visconti added a "flange" effect and mixed the track in a few hours, sending the tapes to the label later that night. Bowie's last-minute writing of the lyrics frustrated Visconti, who recalled in 1977: "This was the beginning of (Bowie's) new style of writing – 'I can't be bothered until I have to.'
I love this song overall. But there are three aspects that really capture my imagination. David Bowie's acoustic guitar gives the song an ambiance which elicits a brooding darkness with an underlying uplifting power within Bowie's deep and rich strumming skill. Next there's the lyrics, they seem distant with a sense of mystery but with a flow that is oddly poetic. In the lyric Bowie is conversing with someone he passed upon the stairs. Bowie sings, "Although I wasn't there, he said I was his friend," this line leads me to believe that Bowie was having a conversation with himself - maybe his conscience. He is trying to conjur a sense of self love but seems unable as he says, "I thought you died alone." Implying loneliness and self doubt.
That leads me to Bowie's vocals. I love the very British sound in his voice in these early recordings. I love the way he hauntingly yet gently pronounces and sings the words. He sings with a natural and sincere manner which gives the song a warm and comfortable feel.
Since 2010 I have considered "The Man Who Sold The World" to be my favorite David Bowie song!!!
The Man Who Sold The World (1970)
1. Space Oddity (1969)
Parent Album: David Bowie
David Bowie has several classic songs that could easily be termed as his signature song such as "Fame," "Ziggy Stardust," "Heroes," "Let's Dance," but if we had to narrow it down to one, than it is "Space Oddity" that would have to be considered Bowie's signature tune. This song, I feel, more people identify with his overall persona than any others - I could be wrong - but that's what I feel.
"Space Oddity" is the song in which the character Major Tom is introduced. Major Tom also appears in the songs "Ashes to Ashes" (1980) and "Hallo Spaceboy" (1995).
Inspired by Stanley Kubrick's film "2001: A Space Odyssey" (1968), with a title that plays on the film's title, the song is about the launch into space of Major Tom, a fictional astronaut, and was released during a period of great interest in space flight. The United States' Apollo 11 mission would launch five days later and would become the first manned Moon landing another five days after that.
The song was produced by Gus Dudgeon, who produced most of Elton John's classic albums.
"Space Oddity" was the first David Bowie song I heard, it was in 1973 when my cousin Bobby played it for me. The song stuck with me from that moment and to this day remains one of my all-time favorites.
Space Oddity (1969)
Thank you for visiting!!! :)
About the Creator
Writing is a distraction for me. It takes me to places unknown that fulfill my need for intellectual stimulus, emotional release, and a soothing of the breaks and bruises of the day.
https://www.facebook.com/groups/vocalplusassist
Reader insights
Be the first to share your insights about this piece.
Add your insights