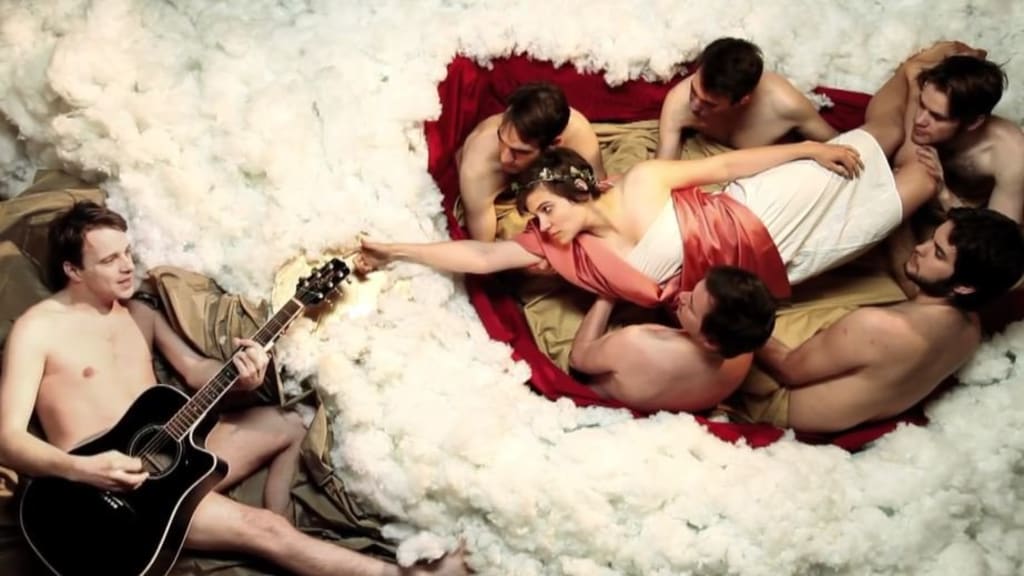 It goes without saying that music is one of the biggest and continuously growing industries in the world and with more music available than ever before and it's not just musicians that are in on the art form. Graphic artists make the cover art and band logos that define the way musicians are conveyed, cinematographers and animators have their time to shine too with music videos and the more memorable the better.
Here are some of the most creative music videos mainly relating to concept of design and animation but with a few exceptions and preferably videos that hold up to aesthetic expectations of today, so while video favourites like Michael Jackson's "Thriller" and Dire Straits "Money for Nothing" are inarguably huge influences on music videos culturally this list explores other qualities.
In no particular order:
Most of us will remember watching this at some point and rightly so, shot by French directors Jonas & François with animation by So Me, this pop art style video won at the MTV Europe Music Awards and continued to be played for its fun beat and even more entrancing mix of illustration, typography and animation.
Fun fact: The band were such fans of Michael Jackson this song was made in dedication to the man including several references such as "ABC" by Jackson 5, "P.Y.T. (Pretty Young Thing)", "Black or White", "Workin' Day and Night", and "Whatever Happens" from his solo career.
For a wonderful blend of live action and animation we have to look at A-ha's "Take on Me" though for a modern video Coldplay's Strawberry Swing is also a shining example of the craft. Originally A-ha's video was a simple background and the group singing however it was the second video directed by Steve Barron that made this one of the most influential music videos of all time with it's use of rotoscoping, pencil-sketch animation and smooth blending with live action.
Magne "Mags" Furuholmen, A-ha's keyboardist, is quoted with "I have no doubt that the video made the song a hit. The song has a super catchy riff, but it is a song that you have to hear a few times. And I don't think it would've been given the time of day without the enormous impact of the video."
Typography fans unite! French band Husbands' video was painstakingly created by Graphic Design firm Cauboyz. The video consisting of stunningly arranged typography mounted on a large backdrop, using a variety of fonts and styles brought to life through rhythmically timed lighting.
"After listening [to] the song, we understood quickly that it was very structured," one member of Cauboyz firm explained "We wanted to do something simple with a little bit of poetry."
Concept by Arash "Ash" Pournouri the simplicity and fine editing keep the audience highly entertained and curious to what must be building with no disappointments, the portrait making full use of the songs lyrics, negative space and typographic texture in a great piece by artist INO.
OK GO's music videos are consistently creative and usually favouring the single continuous shot, how could they not be on the list? The difficulty being which to choose: the energetic treadmill routine of "Here We Go Again", the concept and planning of "The One Moment", playing with placement and speed in "End Love" and so many more.
"I Won't Let You Down" never fails to impress however in its complex and diligent choreography including the band riding UNI-CUBs (created by Honda), played in double time, and 'army of dancers', 2328 umbrellas and all filmed with a drone in a single shot after tens of section run throughs and several full attempts.
his multi award winning music video wasn't Smashing Pumpkins' first choice for video concept but they are ever relieved they trusted Directors Jonathan Dayton and Valerie Faris in this Georges Méliès's silent film A Trip to the Moon inspired video.
Starring Tom Kenny and Jill Talley and with the majority of the backdrops and puppets created by Wayne White this theatre style piece. Fun fact: due to the filming of James Cameron's Titanic the production crew struggled to find period costumes and had to make due with what they could find and even hire designers for custom pieces.
Billy Corgan, Smashing Pumpkin's front man and writer "Tonight, Tonight", remarked that "I don't think we've ever had people react [like this]...it just seemed to touch a nerve."
The White Stripes' influential frame by frame music video directed by Michel Gondry used LEGO animation which audiences and critics felt enhanced the lyrics to great effect. Unable to have the LEGO company involved in their video the band had to purchase boxes and boxes of the product for use.
Rodger Cameron, Senior Designer at LEGO, was quoted with "Having worked in animation a bit, knowing what goes on, how many frames a second animation takes, I was blown away by the work they put into it…People come up to me and ask if I've seen 'the Lego video.' It's good to be part of the company when there is something out there that is such a great creation."
Similarly check out "Ankle Injuries" by Fujiya & Miyagi using dice and "In Your Arms" by Kina Grannis for a music video made largely in jelly beans!
When it comes to stop-motion animation it doesn't get more charming than Lavie's music video featuring himself and actress/model Shir Shomron which required a constant 48 hours to shoot. Lavie co-directed and produced the video and it was animated by Yuval and Merav Nathan which took approximately 2096 still photographs using a single camera and even features the artists own bedsheets which have since become collectable items.
For another contemporary piece of stop-motion Gotye's "Easy Way Out" makes stunning use of 390 degree shooting and it's cartoony aesthetic; not to mention he video took nine months to complete.
Speaking of stop-motion, "Sledgehammer" is easily one of the most revolutionary and influential music videos of all time. Directed by Stephen R. Johnson and created with the talents of Aardman Animations and the Brothers Quay the song was accompanied by not only stop-motion but pixilation, claymation and more.
So successful is Peter Gabriel's "Sledgehammer" that the song is still MTV's most-played music video of all time. An achievement well earned as the week-long shoot had Gabriel working hours on end, filming one frame at a time as he lay beneath a sheet of glass and even receiving electric shocks from a light suit in one of the scenes.
The Last Supper by Leonardo Da Vinci, Botticelli's Birth of Venus, David's Death of Marat and Andy Warhol's Marilyn Monroe are just a few of the many pieces recreated in the L'Ogre production to be proud of. Directed by David Freymond the video was a collaborative effort of the four creators of L'Ogre (David Freymond, Bruno Mendes, Olivier Tixier and Catherine Villeminot).
This artists' heaven took two weekends to film in while in a Paris parking garage, the detail next to the original paintings is captured mainly through costume, lighting and backdrop, and by using common items in some pieces such as chalk drawings and pillow stuffing.
About the Creator
Graphic Designer, Illustrator, Writer and Social Enterprise Assistant.
https://twitter.com/maryalexmayo
Reader insights
Be the first to share your insights about this piece.
Add your insights