My Own Website - Chapter Three
A Domain Name and Email Address for under $20.00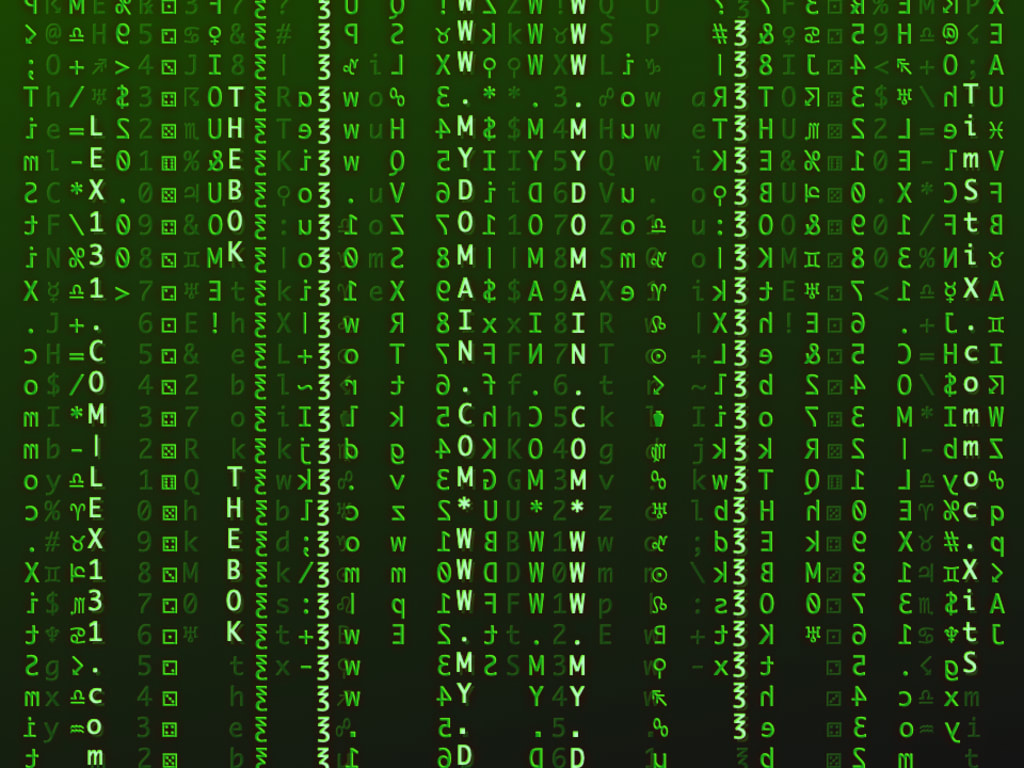 My Own Domain
Let's continue our My Own Website Series with Chapter Three: Purchasing a Domain name and Email Address for under $20.00.
That probably needs no explanation, but in a nut-shell; purchasing a Domain name with a corresponding, dedicated Email Address is probably not as expensive as you thought.
Having a matching Email Address on your Website, looks professional and gives Users a sense of re-assurance. If your contact information is [email protected], it doesn't instill a lot of confidence.
Whereas a suite of addresses, such as: [email protected], [email protected] and [email protected] are much more appealing.
Introduction
The first two Chapters have been a light-hearted look at the joys of creating Your Own Website.
We have included an exit-clause and humerous word-play, with pseudo-code and labels.
But now, as the Series is progressing, it is time to get more serious.
In Chapter Two we created a simple Website. The current episode, will guide you through the steps required to link a Domain to your Site and create matching Email addresses.
So, if you are ready, lets get started.
Step 1: Choosing a Domain Provider
This is definitely an important step in achieving a personal Domain that works for you at a reasonable price.
There are lots of Domain Providers out there that sometimes use nefarious tactics to hook you in and then up-sell you when your plan doesn't provide what you thought. Or what you were hoping.
Not only that, but when first starting-out, you don't always know what you really need. Or what functionality may be important to you in the future.
Fortunately, purchasing and implementing a Domain name is not a difficult thing. If you choose a known Provider, your Domain will work fine.
The real important issues are:
The initial cost
Ongoing costs
Free features
Don't be over-sold
Hidden costs
The Initial Cost:
You should be able to buy a Domain name for less than $20.00 AUD or $15.00 USD
Ongoing Costs:
Domains are normally charged at a yearly rate, e.g. $20.00 per year. Don't sign up to a monthly rate unless it works out cheaper (also be careful that the rate doesn't increase after the first month)
Free Features:
Make sure your plan includes Free Email Aliases (usually up to 100). If not, they will up-sell you later at horrific monthly rates.
Don't be over-sold:
Don't buy hosting or VPS (Virtual Private Server) when you don't need it. The aim of this Project is to publish a personal Website at minimal expense.
If at a later date, your Site is making you money or bringing in customers. That, is the time to think about upgrading your infrastructure.
Finally: BE CAREFUL OF HIDDEN COSTS
Watch out for costs that only turn up at the last minute during checkout. Such as: Privacy Protection, ICANN Registration Fees and Local Tax.
Before choosing a Provider, please read our Article on the pitfalls you may encounter: My Own Website: Choosing a Domain Provider.
As an example, one of our Website plans is 500% the cost of a comparable Website.
In other words, one Website and Email Solution is five times the cost of another, similar Site.
So it pays to do your homework.
Step 2: Choosing a Domain Name
How important is a Domain Name?
That is a question that all of you, will have different opinions about. With millions of Websites out there, is it even possible, to find the perfect name? How relevant, is the ideal Domain name in the 2020's?
Considering that most of your Website traffic will be referred, from other Sites and Searches. How often will someone actually type-in your Domain name?
Are the new suffixes, like .site and .biz the way to go? Or will .com always be King?
Whatever your opinion, it is nice to have a Domain name that is, in some way, related to You or Your Website.
You may just have to be creative and imaginative with your name.
Step 3: Puchasing a Domain
As we mentioned previously, please choose a reputable, well known, Domain Provider.
If you don't know any. Talk to friends and relatives. Read reviews. It is important that you have confidence in the Services that your Provider supplies, and that your Domain works for You. And, has the Services that You require.
My main domain, 1.01 World Net, was originally supplied by Google Domains. We have no affiliation with Google, and we do not receive anything from them (but it would be nice 😀).
We chose them, because they are a large, reputable company and we have confidence in their Servers, Services and Support.
Moving on ... let's choose a Domain ...
As an example, we are using the Google Domain Search.
First off, we'll try www.mybusiness.com, which has surely been registered by someone.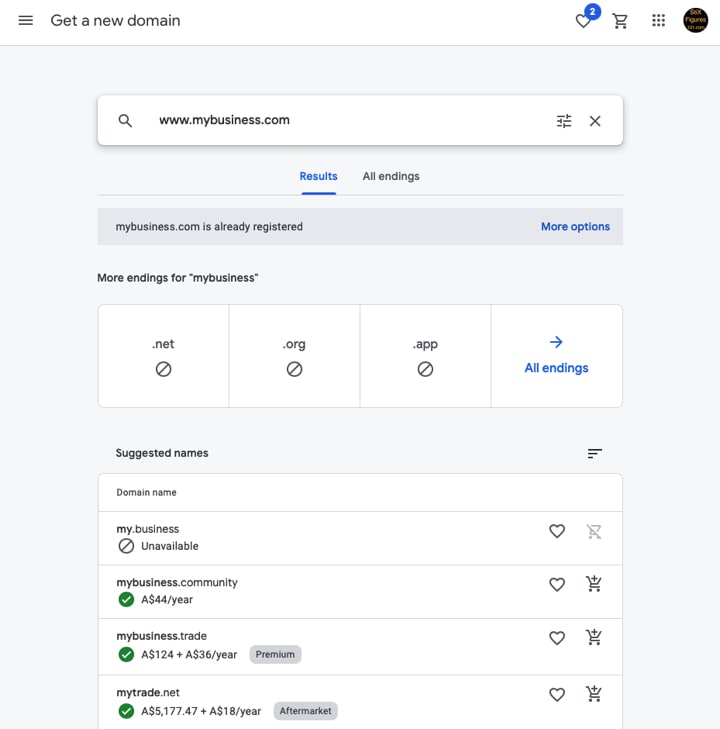 As expected, www.mybusiness.com has already been registered. And the .net, .org and .app versions, are also taken. But it does list, a few other related domain names.
Lets try, www.102world.com.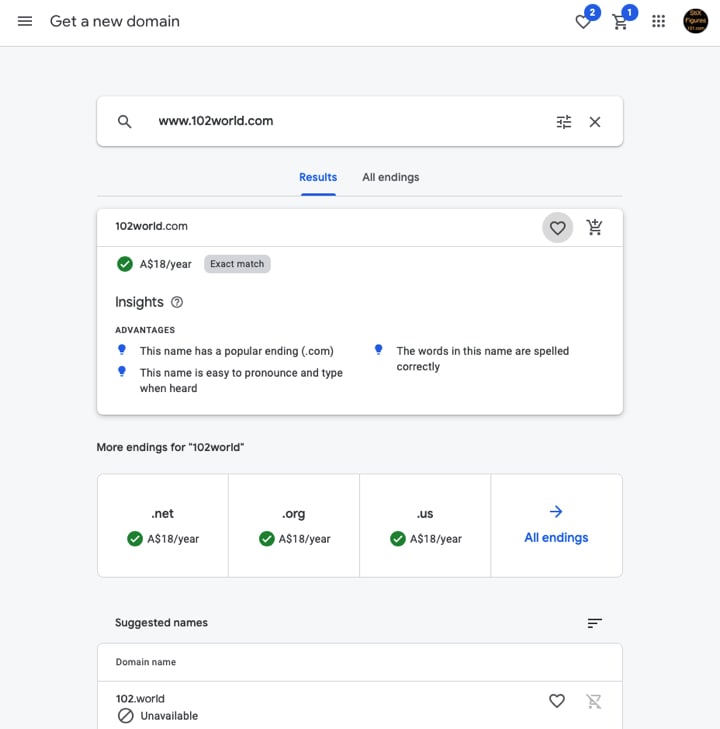 www.102world.com is available, so we'll use that as example.
I am conscious of the length of this Article. So in the interests of brevity, the next few sub-steps are combined, in pairs.
To purchase the Domain, add it to your cart then view your cart.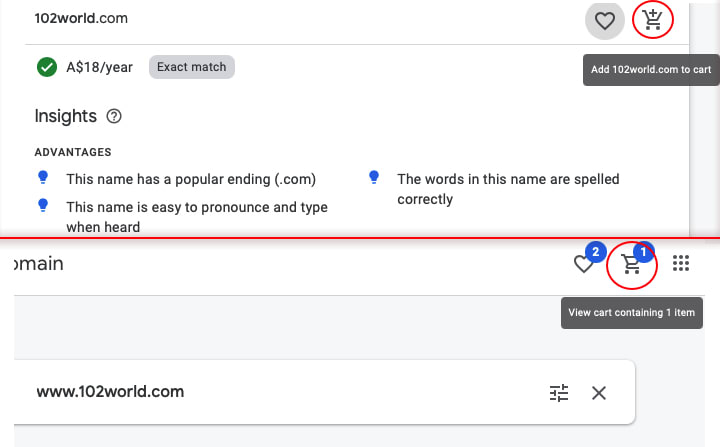 We can now see what we are getting for our money, and the actual final price.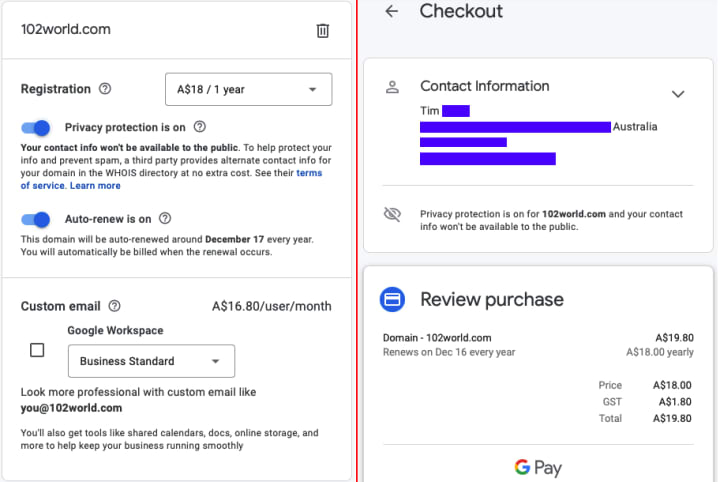 The View Cart page (on the left) shows our options:
Privacy protection is on by default and is free
Auto-renew is again, on by default
Custom email is off by default
Privacy Protection:
Keeps your personal details from being viewed publically by the World. As Google provides this free of charge, unlike some others, I suggest you leave it selected.
Auto Renew:
Do you want to auto renew next year? The choice is yours, but as it can be changed later, you may want to turn it off.
Custom Email:
As we are trying to keep the costs down, I suggest that you leave this un-selected. Google provides Aliases that we can use to give you a free Email solution.
The main difference between the available options, is the amount of storage space that you receive. But as we will be forwarding the Domain's Email to your personal Email addresses, you can save the expense.
The final price of $19.80 AUD is displayed, and that is exactly what you will be charged.
As of December 2020, this is approximately $15.00 USD.
Step 4: Linking a Domain to Your Own Website
The next step is to link our new Domain to Your Own Website. The Site that we created created in Chapter Two.
If you haven't created a Website you can create it now. But wherever you are on this journey, use the following Website Address to both, create a simple Site, and link your Domain name: https://sites.google.com
Modify Your Own Website with New Google Sites via the link above. Click on the gear icon to get to the Setting page, then choose Custom URLs. The following page is displayed for you to enter your Domain name.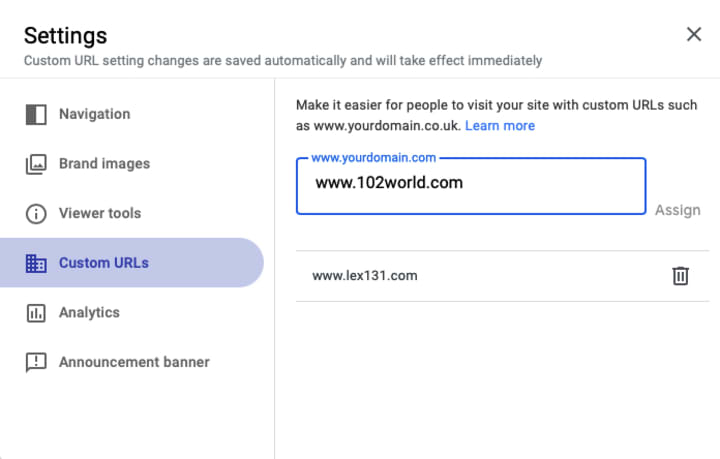 Enter in your Domain name in the blue-bordered input box and click Assign.
Step 5: Creating Email Addresses
Now we can create some free Email addresses with your new Domain name.
If you have purchased a Google Domain, you can view and maintain your settings via: https://domains.google.com.
While the example we are using to setup and maintain Email Aliases is Google Domains. The process is very similar for other Providers.
For example, while 1.01 World Net is hosted by HostPapa, who use the cPanel Manager, to setup and maintain Websites; the process of creating and maintaining Email Aliases, uses the same principles. In fact, it is almost identical.
You will see the Email forwarding interface below. Click Email on the left and scroll-down on the right to Email forwarding.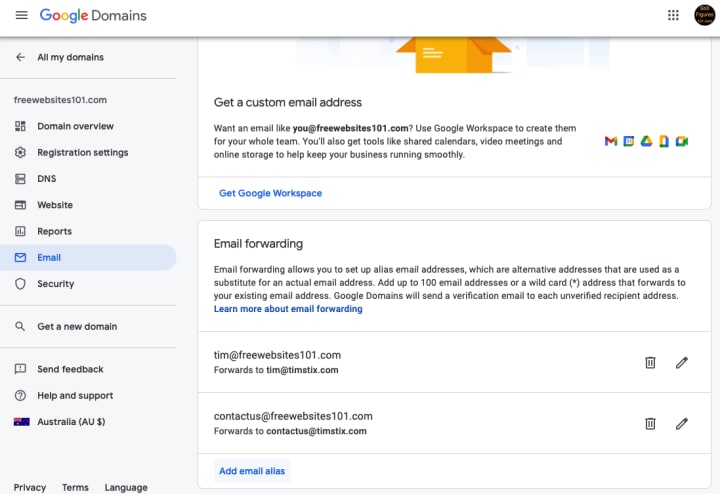 Use this page to, create, edit and delete Aliases. In our case. each alias is forwarded to an address at timstix.com.
By using Aliases and forwarding them to a personal or business address, you never have to setup and check another Inbox. You can forward each alias to a different address or just one or two addresses for everything.
Adding another Alias is straight-forward: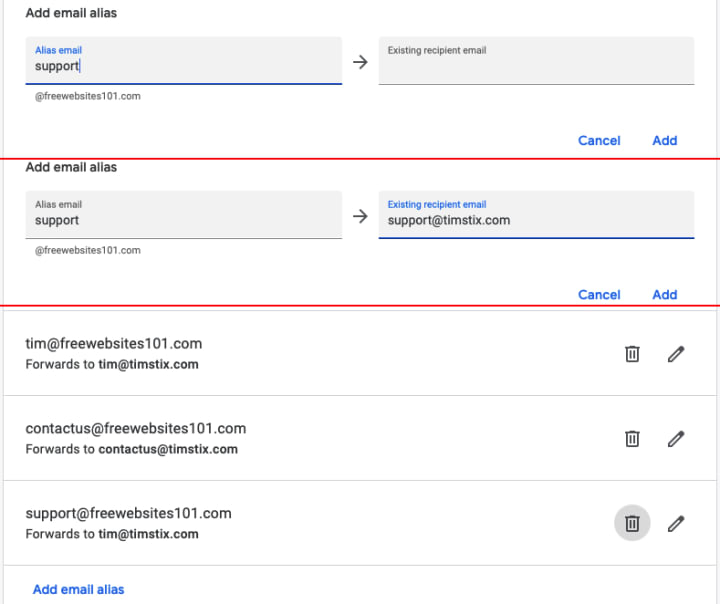 The three stages of adding a new Alias. As you may see, I decided to forward [email protected] to [email protected].
Finally, you will see a screen-shot of a actual email sent from [email protected] to [email protected]. It was automatically forwarded to [email protected].

So there it is. A free Email solution using Aliases and forwarding.
Step 6: Enjoying the Moment
Now we get to enjoy the fruits of our labour.
Impress your family and friends by Emailing them a link to Your Own Website.
Share your link on Social Media, such as: Facebook, Twitter, Pinterest and even Linkedin.
You have created something new and uniquely yours. It is something to celebrate.
Step 7: What's Next?
There is so much more you can achieve with Your Own Website. And our My Own Website Series will continue to give you tips, tricks and ideas, to truely make it your own.
So look out for Chapter Four.
My Own Website Series
Other Articles in the Series:
Fiction
Thought-provoking fiction:
Tim StiX December 2020
Tim StiX is a Software Engineer with over 20 years' experience designing, developing and maintaining Web Technologies and is the Developer and Site Administrator of www.101world.net and bok.101world.net.
Tim StiX is The Scrivener on Vocal.
See timstix.com for more information.