My Own Website - Chapter Two
Create a Website Page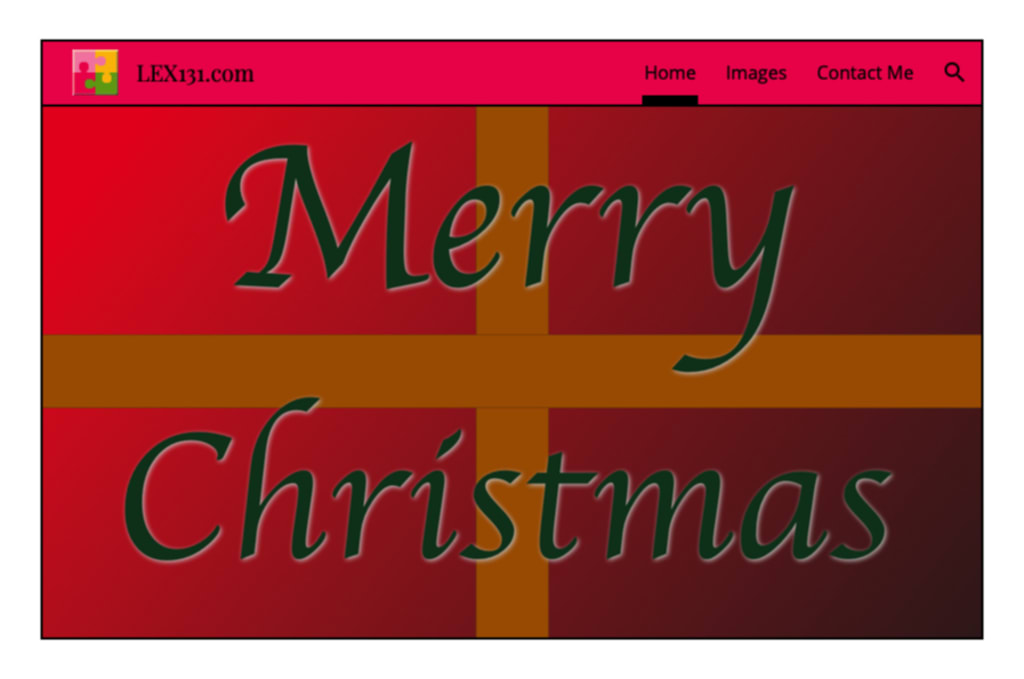 My Own Website for Christmas
Welcome to Chapter Two of our light-hearted look at the joys and simplicity of creating your own Website.
If you are new to this Series, see Chapter One.
Today we are actually going to create a real Website. I created a brand-new Site as an example, with the Compliments of the Season.
So, if you're ready to go, grab a parachute, we're about to press GO!
Compliments of the Season
As you may or may not have guessed, I created a Website for my Daughter. A Seasonal gift that will double as a model for today's How-to.
Let's stick to tradition with the normal exit-clause, this time: PULL_RIPCORD.
There are a number of Steps to complete. You're at the starting line, looking up a dark, dusty staircase ...
Are you ready for the Challenge?
IF CHOICE = "Yes" GOTO STEP_1
ELSE GOTO PULL_RIPCORD
STEP_1: Making the Commitment
The whistle has blown, and we are off and running! Well, climbing actually.
First of all, I must tell you that I have absolutely no affiliation with Google. If they want to pay me lot's money to recommend them, then I am definitely open for offers. But seriously, I am using their Site builder for this example, because it is a quick and easy way to create a simple Website.
New Google Sites will enable us to create our example Webpage in minutes rather than hours, days, weeks, months or forever.
Login to your Google Account, if you don't have one then create one. It will give you a free Google Mail (GMail) Email Address amongst a host of other useful tools.
Once logged in, Google will remember who you are as you navigate around the Internet, until you Sign out.
Navigate to New Google Sites: https://sites.google.com
The first time you login to Google Sites you will receive a welcome. 😃
Now is your opportunity to make a choice. Are you committed?
IF ANSWER = "I hate Google!" GOTO PULL_RIPCORD
ELSE IF ANSWER = "I am committed" GOTO STEP_2
ELSE GOTO PULL_RIPCORD
STEP_2: Creating a Home page
Well done, you climbed the first step! Only four to go.
Ok, so let's create a New Site.
There are lots of templates available, click on Template gallery to see the full list. But for the purposes of this example, I chose Blank and made up the styles as I went.
After choosing a Template, you should see your Initial Home page with the heading Your Page Title.
Let's start-off by giving the Home page a Title. Just click on the text Your Page Title and change it to whatever suits your Site.
Now enter your content. In my case, I just copied in my Images and a Resume, but the possibilities for you, are endless:
Headings
Plain text
Images
Links to YouTube videos
Whatever your heart desires
Just enter or copy in all your content by inserting Text boxes, Images or Layouts. I am not going to explain the whole editing journey, for a more thorough guide, see my Article on Creating Your First Website.
Have you created a simple page? Is it easier than you thought?
IF ANSWER = "Yes I'm smashing it!" GOTO STEP_3
ELSE GOTO PULL_RIPCORD
STEP_3: Publishing
That last step wasn't too bad and only three go. How hard can it be!
If you read my Article on Creating and Publishing Your First Website, then you may have already Published your site.
Have you already Published?
IF ANSWER = "Yes" GOTO STEP_4
ELSE CONTINUE
3.1 Publishing your Website
When you are ready to Publish your Site, click the blue Publish button in the top-right corner of the page.
The first time you Publish your Website, a dialog will appear allowing you to enter the Website Name.
Enter a Name and then take notice of the Search settings checkbox, "Request public search engines to not display my site". In most cases you will want your Site to be included in Searches, so you may want to leave it un-checked.
Click Publish.
3.2 Review the changes and Publish
A comparison view is displayed, with all changes listed on the left.
Click the blue Publish button in the top-right of the window and you are done!
So how are you progressing, are you eager to continue?
IF ANSWER = "Yes" GOTO STEP_4
ELSE GOTO PULL_RIPCORD
STEP_4: Add some Gloss
You've got up some momentum now, over halfway there and you should have a Published Website.
Now we are going to add a little gloss. Let's create a personal Logo for our new Website.
You don't need expensive Software to create a Logo. For Window's users, Paint is fine, and for Mac, Paint Pad Lite is free and easily up to the task.
I created a 48 * 48 pixel Logo for www.LEX131.com using Paint Pad Lite, and added a bevelled mask at 50% opacity, on top of the jigsaw image.
To see how I created the Logo with the bevelled mask, read my Create a Logo for Your Website Article.
My Logo doubles as the Favicon, the favourite Icon, for my Website.
Within New Google Sites, click on the gear to get to Settings. Click on Brand images and upload your logo for both the Logo and Favicon.
We should be progressing fairly well, I think. So, are you fresh and keen for the final step?
IF ANSWER = "Keen to go" GOTO STEP_5
ELSE GOTO PULL_RIPCORD
STEP_5: Additional Pages
If you have made it this far, let us assume that you are up to the challenge and have commitment in-spades. The final step!
In Chapter One, I mentioned the 90 / 90 Rule: "… the remaining 10% takes 90% of the time".
This is the time when that part of the Rule kicks in. Now that you have a Published Website, you probably want to add more pages, images, animations and a plethora of widgets.
I want to cover all of that, in future Articles. But, for the time-being, let's content ourselves with additional pages.
New Google Sites allows us to create as many pages as we like. It also looks after the Menu for us, creating a List (Menu) of all pages, either at the top or side of your Website.
To create a new page, click Pages on the right-hand side of the Window. Then click the + (New page) Icon in the bottom-right, and finally enter the Name of the Page in the New page window before clicking Done.
We now have a new page, as we did in STEP_2 and should proceed in the same manner.
Again, for more information, see my Article, Creating Multiple Pages in Google Sites.
With any luck, you should have a functioning, published Website. If not, you have the knowledge and commitment to do so. Are you going to pursue your dream of Your Own Website?
IF ANSWER = "No I don't have the stamina" GOTO PULL_RIPCORD
ELSE GOTO WEBSITE_CREATED
PULL_RIPCORD: Time and money saved
Your choices are simple here:
IF CHOICE = "Apathy" GOTO APATHY
ELSE IF CHOICE = "Go down the pub" GOTO PUB_AVAILABILITY
ELSE GOTO DONE
APATHY: Much simpler option
GOTO DONE
PUB_AVAILABILITY: Is my local Pub closed due to Covid-19?
IF ANSWER = "Yes" GOTO GET_SIXPACK
ELSE GOTO THE_PUB
THE_PUB: Drown your sorrows
GOTO DONE
GET_SIXPACK: Drown your sorrows at home
GOTO DONE
DONE: You remain Website-less!
The end for you, or maybe not …
WEBSITE_CREATED: Well-done! So, what's next
Congratulations, you should now have a Published Website with a bit of class. All achieved, without a single line of Programming Code.
So where to from here?
GOTO CHAPTER_THREE
CHAPTER_THREE: Is Chapter Three available?
BEGIN ...
Chapter Three: How to purchase your Own Domain and Email Address for under $20.00.
Tim StiX December 2020.
Tim StiX is a Software Engineer with over 20 years' experience designing, developing and maintaining Web Technologies and is the Developer and Site Administrator of www.101world.net and bok.101world.net.
Tim StiX is The Scrivener on Vocal.
See timstix.com for more information.