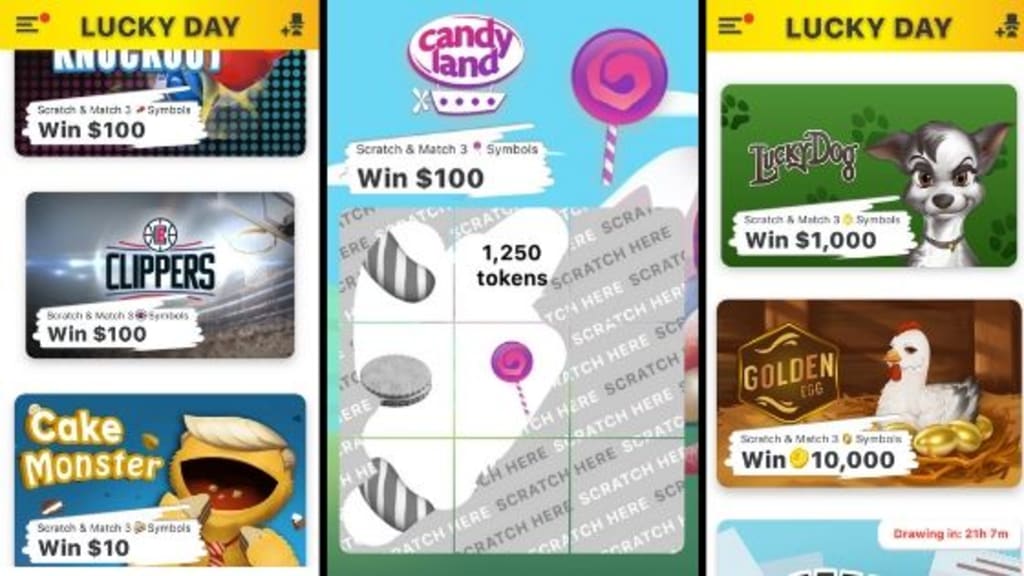 had to try it! At first, it was frustrating because I wasn't winning anything... however, I did eventually win some money. I have tried several other apps like this one, but this is the only one I really like. I like the pictures, the download speed, and I think this app has only crashed on me once, which is saying a lot, because I use it all the time and I have had this app for a while now. If you were ever going to try a 'free scratch' app, this is the one to try first!
It's completely free!
I use to spend a 'concerning amount of money' on scratch cards (according to my boyfriend), but I haven't bought a single scratch card since I discovered this app. Now I just watch a quick ten second ad, and I get to play virtual scratch cards for a chance to win real money.

I'll be honest, I have been using this app for over a month now and I have yet to win more than $10... however, what I do win, I get right away. They actually pay you, and it always makes my day.
Tokens vs Cash
When scratching all your free scratchers, you will find that you will be winning a lot of tokens, but not a lot of cash... (unless you are really lucky). However, these tokens are good too. You can save them up to trade them in for gift certificates like Amazon gift card codes, or you can use them to enter in more chances to win a draw for cash that goes straight into your paypal. Cash on the other hand... if you win $500, you will get that $500 right away. However, chances are you are going to win a bunch of 25 cents and 10 cents first. Unfortunately, you have to wait until you reach 10$ first before you can have it sent to you. You will also, definitely make enough tokens to get that $10 in Amazon credit before you get that $10 in cash. So, the tokens aren't a bad thing. You want to collect them!
It's Legit! - and I recommend it!
Unlike other reward based apps, this app gave me my 3$ Amazon gift card right away. Other apps take 'up to 10 days' to send me my amazon gift card code... just for something to go wrong, and make we wait another 10 days. It's so frustrating... but not Lucky Day! I received my e-mail just a few minutes later, and then I got my Amazon 3$ added to my account less than a minute after that.

If you do decide to give Lucky Day a try, please put in my reference code to let them know you heard about them from me. It would help me out, I would really appreciate it, and it would let me know that people like this article.
Warning to Canadian Users!
Since Canada has some new(ish) interesting laws on gambling... in the event that a Canadian wins a prize, they have to answer a 'skill testing' question in order to receive the reward. If the Canadian winner doesn't get the question right on the first try... then the award immediately gets re-drawn and goes to the nest person.

Hello. Nice to meet you! How are you? Hmm... this feels like a really one sided conversation... why don't you follow me on social media so I can get to know you too!
Like the story? Share it!
Thank you for reading my article. Would it be ok if I ask another favour though? Would it be okay if you share this on your Facebook page or Twitter? If you can't share, there is a tiny little donate box at the bottom too. No pressure though, just thought I would mention.
About the Author
I started blogging about two years ago and my collection of blogs and articles is getting pretty impressive. I've taken online classes for writing, and even some classes about the art of blogging itself. It would be really awesome if you join the adventure and maybe even help me think of what to write about next. If you would like to submit some feedback or ideas, you can always tweet me on twitter.

Any chance you could help out a poor student?

Er... ummm.... this is awkward. So it turns out writing doesn't bring in the cash. There is a donate option at the bottom of this page, and every dollar counts. No pressure... just thought I would mention. Thank you either way! If you can't donate, sharing one of my blogs on your facebook or twitter also helps too.