Witchy winners all
Congratulations to the winners in the final line-up for the prestigious write-a-witch awards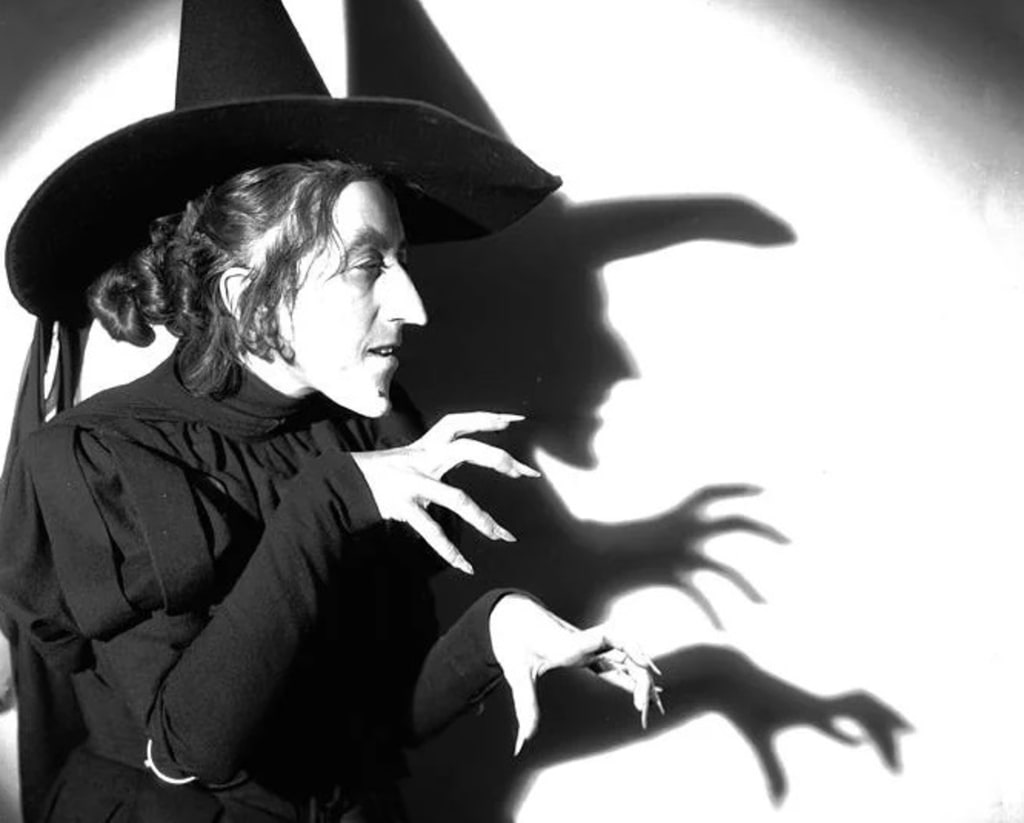 The Wicked Witch of the West, played by Margaret Hamilton in the Wizard of Oz
Without further ado, I am delighted to announce the award winners in the write-a-witch challenge. Each of the following six finalists has won a cash prize and an accolade for their brilliant efforts at creating an original new witch character and writing a story or poem around them. That's all there was to it.
Full details of the awards are available here: Write-a-witch awards
Needless to say the quality of these six entries was very high and the job of judging the winners was truly difficult.
Key criteria for judging the awards are listed here
A thousand thanks to all who entered and those who read and commented on the stories
First prize
The overall winner in these awards is Dana Stewart for her entry Hocus focus: a book of love spells for the novice witch. This story had everything. A catchy title matched by an irresistible set up. Strong, original, believable MC who we could all root for, well structured story, well paced, and plenty of emotional impact. Who wouldn't fall for the spell of a bumbling novice witch trying to enchant the love of her life. What could possible go wrong? Everything, apparently, from the moment that lock of hair was snatched from the barber shop. Fun, fantastic, fabulous are just three of the adjectives used to commend this short-story masterpiece.
Congratulations and well done on your prize, Dana, already a top story for October and let's hope you also pick up an award in the Vocal Under a Spell Challenge. Really well done!
O ~ 0 ~ o ~
Second prize
Spooky and scary were not requirements of this challenge but Stephanie Hoogstad's The Witch of the Thirteen Crows certainly had its fair share, which helped to establish a strong story and rivetting read. The 'empathy witch' was certainly an original approach and powerful enough to engage the reader in an emotional roller-coaster. Good witch, bad witch? It was hard to tell at first and readers were immediately drawn into the sometimes disturbing narrative with its punchy climax and conclusion. A must-read, if you haven't already done so.
Congratulations, Stephanie, on your well-deserved second place prize.
O ~ 0 ~ o ~
Third prize
No ordinary book club gathering, Kayleigh Fraser's The book club is a powerful, reality-based tale of spelling for wrath. No, not love or world peace, but revenge against an abusive husband. Must be read to be believed.
Congratulations, Kayleigh.
O ~ 0 ~ o ~
Runner up prizes
In no particular order, the three runner up prizes go to:
O ~ 0 ~ o ~
O ~ 0 ~ o ~
O ~ 0 ~ o ~
Congratulations to all the winners. Prize monies will be paid as 'tips' over the next few days.
O ~ 0 ~ o ~
To enter the challenge, a story had to be posted to any Vocal community and then linked to the write-a-witch awards page. It had to have a witch as the central character and existing entries to the "under a spell" or any other (or no) challenge were accepted. The rules were, in the spirit of the PotC Pirate Code, more guidelines than actual rules. Creativity trumped formality.
Criteria in brief

Strong (well-defined in the narrative) central character who is a witch or any kind, any gender, human or not
Originality of the main character / protagonist
Believability/coherence of the MC (however fantastical they may be)
Engaging MC, whether a 'good witch' or a 'bad witch'
Well-written, well-structured story (beginning, middle, end, etc.)
Literary merit, as such, was not a criterion other than the extent that it contributed to meeting the other criteria
Emotional impact was a key criterion as it should be in any artistic endeavour, perhaps the most important measure of artistic success.
I hope you enjoyed the challenge and good luck to all who also entered Under a Spell.
Ray
About the Creator
Author based in Kent, England. A writer of fictional short stories in a wide range of genres, he has been a non-fiction writer since the 1980s. Non-fiction subjects include art, history, technology, business, law, and the human condition.
Reader insights
Be the first to share your insights about this piece.
Add your insights