To Vocal or not to Vocal
For those who have not yet registered with Vocal (or Vocal+) and are wondering if they ought to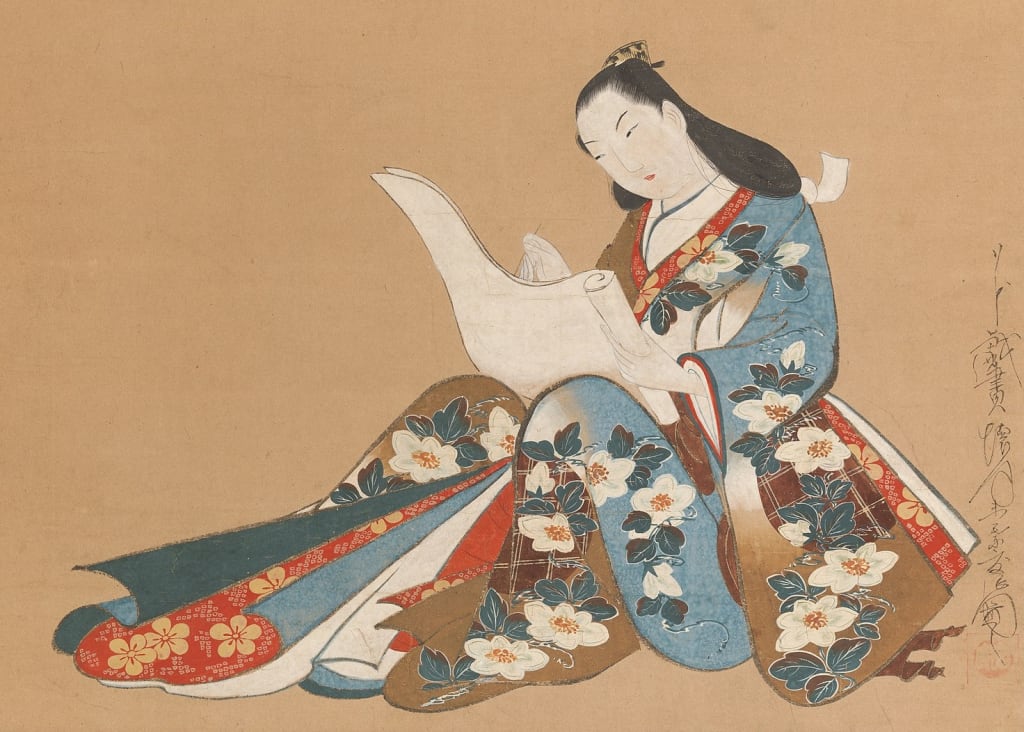 Courtesan Writing a Letter, Kaigetsudo Doshin, Wikimedia Commons
Recently, I was asked whether it is worth joining Vocal Media's community of creators. It's a question I asked myself just over a year ago, eventually answering in the affirmative. Having recently passed various minor milestones as a Vocal+ creator, I thought I would give my views here.
This article was written for Writers Unite! Facebook group members and I hope some will find it useful.
The specific question asked was: is it something I should join? What is the upside/downside? I have put together the following, which I hope answers these and other questions.
What is the upside to joining Vocal?
What about the downside?
Ten top tips for Vocal newbies
Can you create an income stream from Vocal?
As a Vocal creator (having registered and paid for Vocal+ in August 2022, and continued since then) I find the service very valuable. I have not tried similar platforms so have no comparison to offer. It suits me for a variety of reasons which I will try to summarise here. So far, I consider the registration fee to be worth it. I reserve the right to change my mind if the cost or the benefits change, or if the level of service declines.
I make full use of some of the features of the platform but may discover others and may have no need of some. The following are my personal views only. Please feel free to agree or disagree and comment at the end of the article. If you find this article useful, please let me know.
If you would like a more detailed account of features and benefits of registering with Vocal or paying for a Vocal+ subscription, there is a lot of information available on the Vocal website.
The upside
These are just some of the benefits I have discovered from being a Vocal+ subscriber:
Convenient platform to publish my stories and non-fiction articles
Easy to use and much easier to format than WordPress, for instance
Lots of great challenges to enter with valuable cash prizes
Opportunities to interact with other creators
Positive encouragement from other creators
Cash-generation opportunities from page rates and bonuses
Daily stats provided to track success
Good customer service
There is a wide range of creator communities to suit your interests from Art to Writers. Check out the list.
Most of the above are also available to those who register with the standard (no-fee) Vocal package, including a reduced payment for traffic generated. The main thing you don't get unless you pay for Vocal+ is access to most of the challenges and this is perhaps the best feature of the platform. Not only does the wide variety of challenges provide a real boost to a creator's ability to come up with new ideas, it also provides a nice little cash incentive. Prizes are typically around the $500, $250 mark and at least ten runner-up prizes of around $25. Everyone has a chance to win.
The downside
The annual subscription represents a substantial commitment.
An occasional or infrequent user might not get value for money and should perhaps stick to the free subscription.
The thing that I realized after registering (for V+) was that Vocal did not generate any traffic to my posted stories. If this is what you are expecting, you will be disappointed. I have given some suggestions below about how to promote a following for your work.
I have seen criticism that the judging of the challenges is not fair. This is not a view I share, and might just be sour grapes on the part of those who tried and didn't win. If you are concerned about this, you can always review the list of winners (don't need to register to do this) and read the feedback of the judges.
There seems to be a lot of AI generated material being produced as click bait in some communities that is not policed very effectively. This can be irritating.
Likewise there are too many irrelevant postings in some forums which ought to be redirected elsewhere.
Conversely, and frustratingly for some, I have been told by more than one creator that their work has been wrongly identified as AI generated and consequently blocked.
Some potential users have reported technical issues in using the platform. I have no idea what or why.
There may be others but, as you can see, my experience is mostly positive.
Ten top tips for Vocal newbies
Start by working to your strengths. Post your best work and make the most of the individual community that most matches your interests, whether fiction, or the wide range of non-fiction communities available.
Interact, interact, interact. Join in the spirit of the various Vocal communities available. Read other creators' work and like and comment as appropriate.
Be generous and supportive in your comments and you will find that you will benefit from those who reciprocate. Don't leave a comment simply asking someone to read your work. That is just plain rude and will get you nowhere.
Post something regularly. If you have nothing new to offer, no reason you can't post existing works, perhaps consider adapting them.
If you are getting only one or two reads (or even none, as several of my stories sill have) don't give up. It takes time to build a following. It took me best part of a year (and 100+ stories) to get things going beyond the one or two (or no) reads.
Make the best use of your existing social media to boost your traffic. For the first few months, this was my only real source of traffic and I still get more hits from non-Vocal readers. This is as it should be. Our aim as creators is surely to seek a wider audience for our work, not just to interact with our writer communities.
Try to work out why 'top stories' are awarded. See if you can emulate these. Reasons: (a) it will help your work improve and (b) getting a top story gives a huge boost to your following, including subscribers.
Share your how-to tips, whether writing fiction or whatever you are good at. Share the love!
Try something new. Push your boundaries. Enter every challenge if you can. Minimum word count in most communities (unless the challenge is for a flash/brief or poem) is 600 words so you don't have to write an opus each time.
Read the challenge guidance carefully before starting and always read the judges comments when the winners are announced. That way you are more likely to improve and have a better chance of winning.
I hope some of these tips help.
What are your top tips for making the most of Vocal and Vocal+ ?Please let us all know by commenting at the end of this article.
Don't be sad if you don't win anything straight away. Help the winners celebrate, read their entries and comment and try, try, try again.
Can you create an income stream from Vocal?
My aim for Vocal income was, from the start, to cover my subscription fee. Only in the last few months did I come anywhere close to recouping the introductory offer price of $50 and I am delighted to say that the final total on the anniversary of my joining was the princely sum of $55.95. I am very pleased with this. A $5.95 profit is a profit, and on top of everything else I have gained from being a Vocal+ member for a year, I have no complaints.
Most of this income came from 'top story' and the additional bonuses Vocal pays to new subscribers for reaching various milestones. These are nice surprises when you are notified so I won't spoil them by telling you more. I also earned a $2 tip from another creator and this, I think, was the nicest compliment I could have had.
I don't think you should join Vocal thinking you will make your fortune. If you work at it, and work out what it takes to generate a consistent income, you may be able to add something worth having to other cash generating streams. It won't come easy and it won't come quick.
I suspect most creators don't use Vocal because of any cash they might gain. I certainly don't. I imagine that most, like me, view the pennies generated as a nice little additional incentive. Certainly it would be great to win a few hundred dollars with a first or second place challenge win and I still hope to be able to do that one day. Even if I do, it will not generate a significant income unless I can do it many times a year.
You may well find that the other benefits of being a Vocal subscriber are more important. To me, it is mostly about getting my work out there in a quick, convenient and cost effective way. Certainly more cost effective than KDP or self-published print books. I still do these things but my print publishing is a costly exercise, whereas using Vocal as my online publishing platform operates on a small profit basis. Can't argue with that.
Thanks for reading and do let me know what you think and please share your top tips for making the most of Vocal by commenting below.
Ray
About the Creator
Author based in Kent, England. A writer of fictional short stories in a wide range of genres, he has been a non-fiction writer since the 1980s. Non-fiction subjects include art, history, technology, business, law, and the human condition.
Reader insights
Nice work
Very well written. Keep up the good work!
Top insights
Easy to read and follow

Well-structured & engaging content

On-point and relevant

Writing reflected the title & theme

Excellent storytelling

Original narrative & well developed characters
Expert insights and opinions

Arguments were carefully researched and presented

Eye opening

Niche topic & fresh perspectives

Masterful proofreading

Zero grammar & spelling mistakes
Add your insights