Weirdest Vintage Car Designs
Not every car is going to be a Mustang, but the weirdest vintage car designs really make you wonder what engineers were thinking.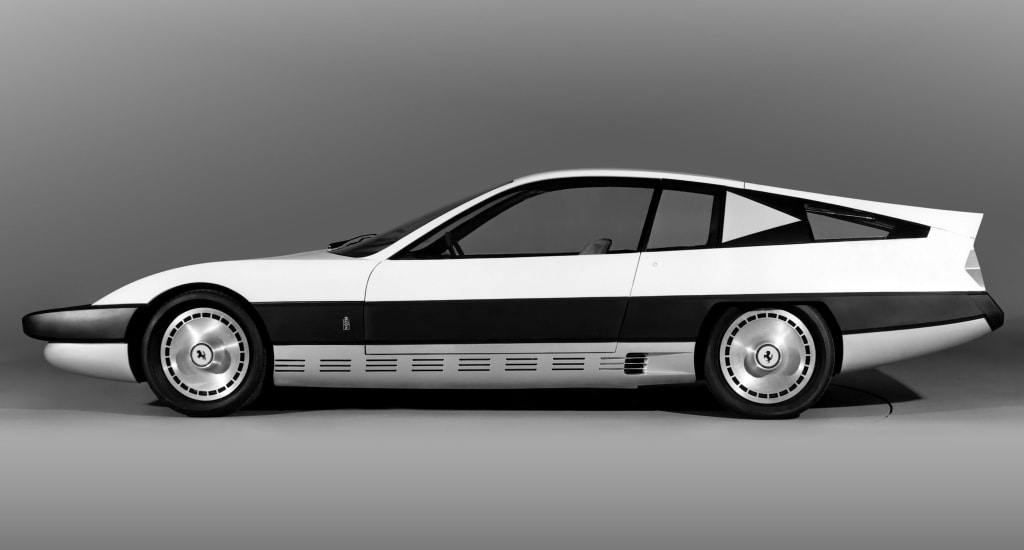 1970 Ferrari (Pininfarina) 512 S Modulo
Car designs have evolved in amazing ways over the years, with many of the industry's advancements making tons of sense. Through the decades, car designs have become more aerodynamic, more tech-friendly, more fuel-efficient, and even have become safer to ride in during collisions.
However, any car aficionado can tell you, coming up with great car models hasn't exactly been a smooth ride. There have definitely been some kludges, some bumps, and some designs that make you wonder what engineers were thinking.
Let's be real, there were some pretty darn bizarre car designs out there, too. Here are some of the weirdest vintage car designs throughout history, just in case you needed proof of the fact that engineers aren't always correct.
(Note: For the sake of this article, we're including both concept cars and mass-produced cars that were made prior to 2000.)
The 1938 Stout Scarab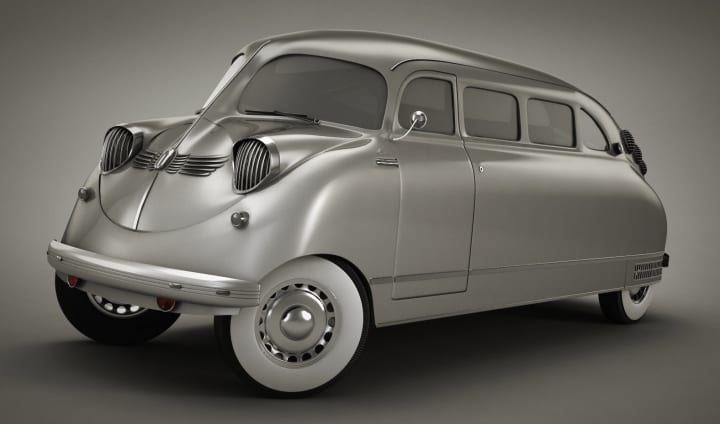 During the beginning phases of the motor industry, many people who used to design aircraft began to try their hands at designing cars. One such car was the Stout Scarab, which was designed by aircraft designer William Stout.
This gorgeous car happens to be one of the only cars that was designed to be a "road traveling dining car," and to a point, that makes sense. William Stout was the man who introduced the concept of airline food and airline stewardesses to the world.
However, we're not going to lie; it's one of the weirdest vintage car designs we've ever seen. It's literally built in the shape of a Scarab. Only 10 of these cars were ever sold, primarily because they cost the 1938 equivalent of $90,000 per car.
1942 Oeuf Electrique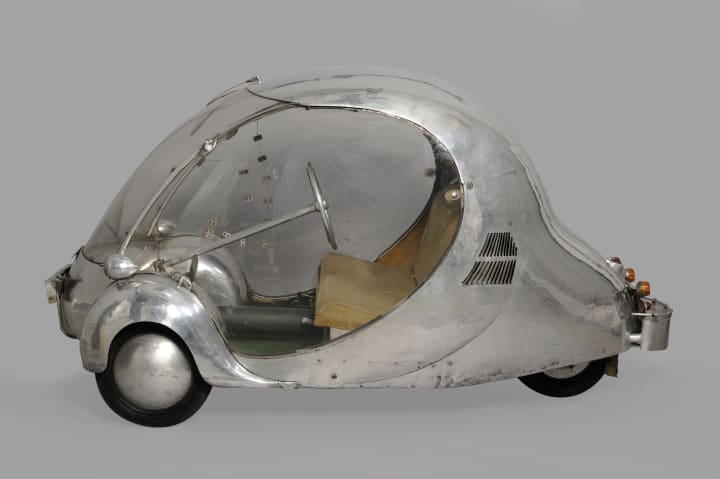 Perhaps the earliest vintage precursor to both Smartcars and the Tesla brand was the circular, battery-operated Oeuf Electrique. Designed by painter and locomotive designer Paul Arzens, the Oeuf Electrique was nothing short of an oddity for its time.
This is one of the weirdest car designs out there — but that's only because it was literally decades ahead of its time. It's undeniable that the Oeuf Electrique's influence can be seen in compact cars and electric cars of today.
The other major quirk that most don't notice is the fact that it only had three wheels. So, it's strange in more ways than just two. Honestly, though, it looks like a Smartcar with one too many customizations.
1953 General Motors Firebird 1 XP-21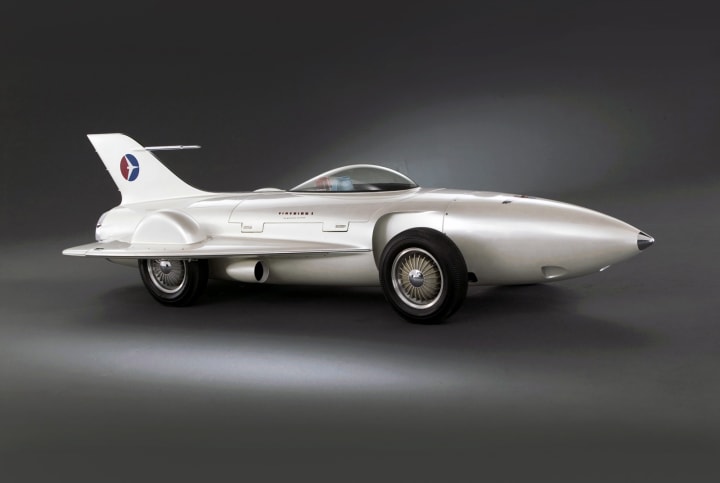 In 1953, General Motors set out to build a serious supercar. And, that they did, with the General Motors Firebird 1 XP-21. This impressively engineered car was an incredible mesh between a jet fighter and an actual car.
Jetfighter engines were used, as was a bubble interior. Real wings were also part of the bit — as were four regular car wheels. The strange plane-supercar hybrid definitely deserves a title as one of the weirdest vintage car designs in engineering history.
For the record, we're not sure whether this supercar can actually fly like a plane. That doesn't stop it from being a cool relic from the Space Race Age, though.
1960 Messerschmitt KR200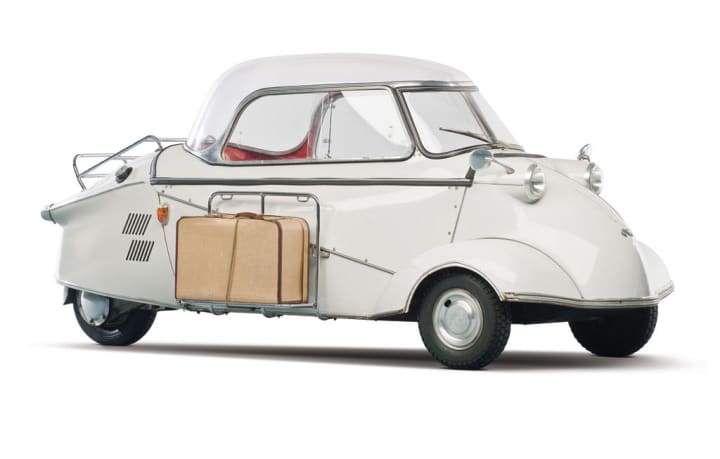 The Messerschmitt KR200 was a quirky German car that was sold throughout the mid-50s to early 60s. Despite being one of the weirdest vintage car designs we've seen, it was fairly popular.
This very warped-looking car was known for being reliable and insanely petite. A single strongman could probably lift a Messerschmitt KR200 in the air, since it only weighed only 500 pounds.
Cabin Rollers, as they're called among fans, had the odd design quirk of having a much wide front and a very narrow rear. The end result was a car that had a "pinched" look to it, and a total of only three wheels.
Strange? Yes. Popular? Surprisingly, yes.
1958 BMW Isetta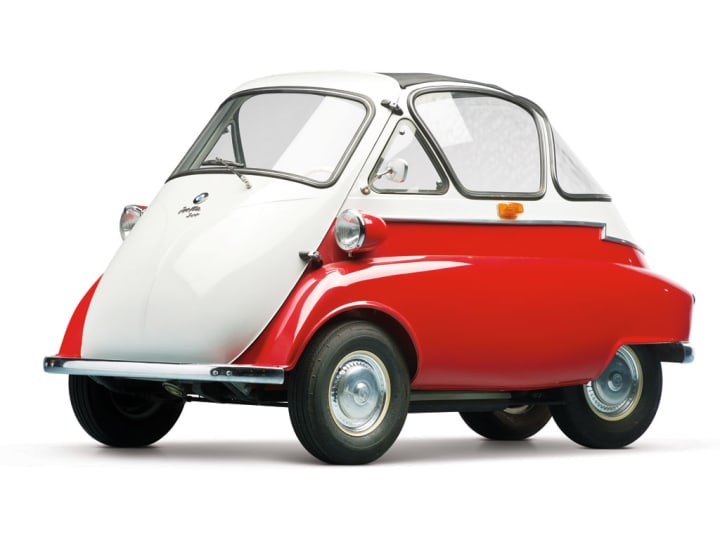 The BMW Isetta is definitely one of the weirdest vintage car designs to have been made by a major auto manufacturer. These bizarre little cars didn't have doors on the sides. Rather, the car doors opened up from the top — and also only had a single cylinder engine, too.
The Isetta also is one of the smallest cars ever made, with a very small two-person capacity. (It really could only seat one.)
Some also only had three wheels, adding to the sheer size reduction. And, with an impressive 78 MPG gas mileage, it also rivaled many electric cars today in terms of "green power."
The seemingly "doorless" car design definitely jarred both drivers and passengers alike. Even so, it's cute style and compact design was a major hit...and can easily be seen as one of the main inspirations for the 60s classic VW Beetle.
As long as you didn't end up in a car accident, these things were pretty safe. Nowadays, though, they would be considered a bit too light to be safe for road use.
1962 Peel P50
The Peel P50 began its life in the 1960s, and still is regularly sold in the UK today. At only 54 inches long, 47 inches tall, and 41 inches wide, the three-wheeled little microcar known as the Peel P50 currently holds the record as the smallest car in the world.
Many, many things make this car one of the weirdest vintage designs ever made. For one thing, it's insanely small and can only hold a single person inside. It only has a single headlight, and also has the oddity known as being a three wheeled vehicle.
Did we mention that it also looks like (literally) half a car? No? Well, that too then.
The ETV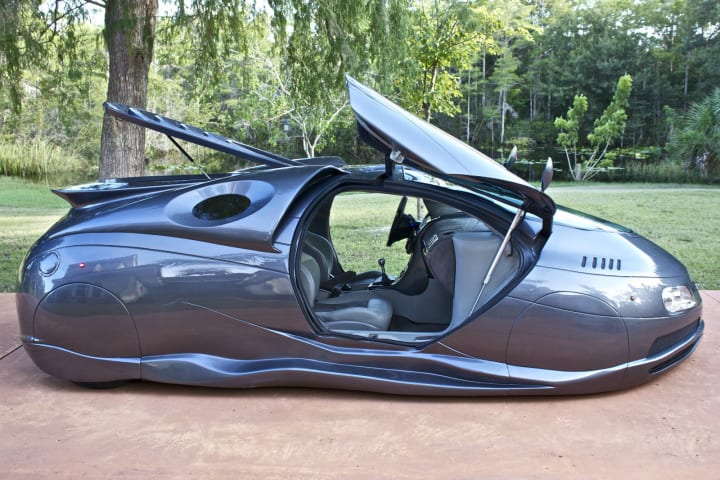 ETV stands for Extra-Terrestrial Vehicle, and it's a supercar designed by Mark Vetter of Micco-FI. Fully electric, the ETV doesn't really look like a car you'd expect a human to drive. It's so sci-fi, it just doesn't seem like it could be real.
But, it is. And it's one of the weirdest vintage car designs to date because of how organic its lines are. Did we mention it's a kit-car? It is. Even more unique, right?
1970 Ferrari (Pininfarina) 512 S Modulo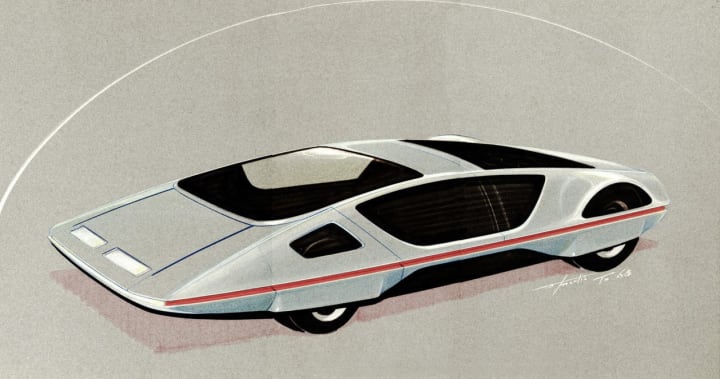 This spaceship-like Ferrari never really hit the market, primarily because it was a concept car designed for the 1970 Geneva Motor Show. Even so, its unusual "covered wheel" design, flat body, and impressive engine architecture makes it worthy of a spot on this list.
The 512 S Modulo is one of those cars that definitely ranks highly among the weirdest vintage car designs out there. However, that's not necessarily a bad thing. This car managed to drive to a maximum of 220 miles per hour, making it a race car that would make most vintage car aficionados drool.
About the Creator
Ossiana Tepfenhart is a writer based out of New Jersey. This is her work account. She loves gifts and tips, so if you like something, tip her!
Reader insights
Be the first to share your insights about this piece.
Add your insights