Most Popular Monster Trucks of All Time
In the monster truck world, every driver has serious fans. The most popular monster trucks of all time, though, are legendary.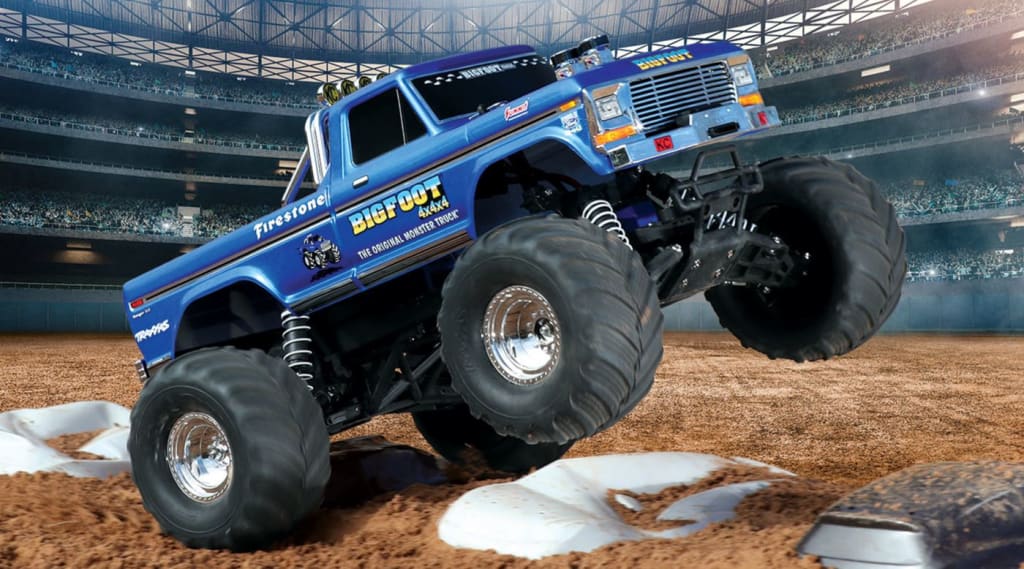 Monster truck fandom is something you really have to be a part of in order to understand. It's hard to explain to people why you get partial to a monster truck—though honestly, it's often a mix of the modification, the truck's stunts, and the driver behind them.
Let's talk about the business side of monster trucking for a moment, shall we?
In a lot of ways, becoming a monster truck driver is like becoming a NASCAR driver. There's a lot of money involved, a lot of networking to do, and a lot of risk in choosing this as a profession.
To be a monster truck driver on a professional level, you need to have a lot of fans. This is true, just if you want to make ends meet without thousands of dollars being lost.
That being said, the most popular monster trucks can yield huge paychecks. In many cases, the money you receive could rival some of the richest NASCAR drivers of all time—or at the very least, some of the top NASCAR drivers on the track.
Ever wonder which monster trucks ended up making the most money, or which had the most fans? Take a look at these monster reputations throughout the history of this sport.
Ever since 1981, Grave Digger has been making raceway crowds go ballistic with its massive wheels, killer paint job, and crazy stunts. It's not a stretch to say that Grave Digger remains one of the most popular monster trucks of all time.
What you might not realize is that Grave Digger isn't just one monster truck; multiple Grave Diggers are made so that the truck can compete in multiple tourneys at the same time.
The success that Grave Digger has led to a league being named after it, toys based on the truck, and ample amounts of money. Around 32 trucks have been called "Grave Digger." The most recent truck yields a 1700 horsepower engine.
Maximum Destruction's pedigree is part of the reason why it's become one of the most popular monster trucks of all time. Created by the WCW (World Championship Wrestling) and Clear Channel, Maximum Destruction had all the funding to become a major showstopper in tournaments.
This truck's strength is its aerial skills. Maximum Destruction was one of the first trucks to do a full backflip, which is insanely impressive no matter how you look at it. Though the WCW might not be involved in its driving anymore, it's still one of the most popular monster trucks in any rally.
Cute and cuddly as can be, the Monster Mutt has been working the US Hot Road Association's Monster Jam since 2003. This monster was based on a 1951 truck, but has since been outfitted with an adorable tongue and tail.
Over the years, Monster Mutt has been outfitted as a Doberman, a Dalmatian, and other breeds. Even if this truck's vicious on the track, there's something to be said about how cuddly it is.
A lot of truck aficionados consider Bigfoot to be the original monster truck—and they really wouldn't be wrong. Bigfoot was the first truck to drive over junk cars as part of the show, and helped coin the moniker "monster truck."
Ever since it hit the scene in 1975, Bigfoot stayed as one of the most popular monster trucks of all time. The fandom is a history-based one at times, but what else can you say? It's one of the oldest monster car lines out there.
This truck may be older, but it's super powerful. Bigfoot still puts most new trucks to shame. It even set a Guinness World Record for the longest ramp jump in monster truck history.
With a name like Batman, you know that this was destined to be one of the most popular monster trucks of all time. Modeled off the Batmobile, Batman's popularity deals just as much with the superhero fandom as it does with the machine's wickedly impressive stats.
Sharp turns, a license from DC comics, and the fact that it looks darned good doing what it does is what makes it a fan favorite. It's been around since 2006, and already won its first World Championship in 2008. Not bad.
Translated into "The Crazy Bull," it doesn't take a rocket scientist to see where El Toro Loco's attraction is. This is a monster car that's designed to buck and bump like a maddened bull.
The body kit was one of the first to involve 3D additions it it—which you can clearly see as the truck's beautifully painted horns. This monster also snorts exhaust through a bull nose and does crazy cool jumps.
Batman already has shown that the comic book geek world tends to have a lot people in the monster truck fandom, but what about gamers? If you're talking about retrogaming, guess what! You're in for a treat.
The old school Nintendo game character known as Donkey Kong has come to life as a monster truck. The truck has the classic gorilla tuft of hair, big ears, and color theme of the original video game super start. It remains one of the most popular monster trucks among gamers, young kids, and gorilla fans alike.
Cyborg is a really odd bird among trucks in the circuit, and not just because it has a very distinct "outrun" vibe to it. This remains one of the most popular monster trucks on the circuit, despite it being one of the only two-wheel drive players on the map.
Despite the obvious hindrances Cyborg has, it remains one of the best-performing trucks on the circuit. Whether it's up to mechanical innovation or just driver genius is hard to say. All we know is that we're really impressed.
Backwards Bob is one of the most bizarre trucks on the circuit, and it's easy to see why. The fiberglass frame is designed to give the truck a look as if it's been driving backwards—even though it's actually facing the right way.
Crazy stunts and backwards-looking driving is what makes this one a must-see in any rally. Monster Jam World Finals wouldn't be the same without this monster truck racing fave.
Sometimes calls "Spitfire," the mechanical badassery known as Dragon's Breath has been a major favorite among fans ever since its inception in 2008. Though the powerful truck has stopped competing, the amazing paint job and striking stage presence remains in the hearts of fans everywhere.
It's not a stretch to score it highly among the most popular monster trucks of all time. The video game appearances and toy line say it all, really.
design
About the author
Rowan Marley is a 20-year-old sports enthusiast who hails from Brooklyn. When he's not hitting up a local Zumba class, he's drinking organic smoothies. That's just how he rolls.
Reader insights
Be the first to share your insights about this piece.
Add your insights