Best Car Racing Scenes
Depicting man and machine as one in competition against one or more, the best car racing scenes both excite and entertain audiences.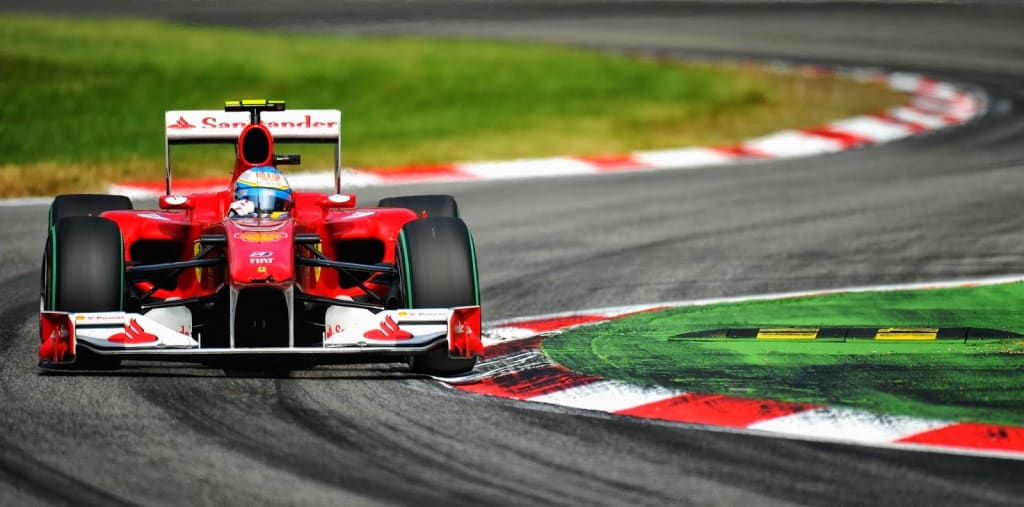 There are few things as good as a great car race. Countless films depict man and machine, unified as one, in a great competition against one or more people, all on the track or road or street, speeding off into the sunset at top speeds.
Nothing is more thrilling than watching tires leave smoldering tracks on asphalt, but there remain a few car chases that stand supreme over the rest. Which are they? The truth is that, while everyone has their favorite car chase, there are definitely a few that stand apart from the rest – the best car racing scenes in cinema.
Rush pits Thor and Baron Zemo in a road race rivalry for the ages –
Forgive me for being a little silly there, but it's hard not to joke about the premise of Rush and the fact that the central characters both starred in Marvel movies. All kidding aside, this modern classic by Ron Howard is no laughing matter. You watch two Formula 1 drivers develop an intense rivalry that drives them deeper into an almost obsessive conflict.
While the entire movie is full of awesome car races, the intense German Grand Prix is the real highlight of the film – easily ranking among the best car racing scenes. Despite taking place in the middle of the film, it really functions as a turning point to the rivalry that leaves you breathless.
Can you believe The Fast and the Furious used to be an almost subdued racing/crime movie?
The original film featured Paul Walker going undercover into Vin Diesel's "family" to catch the guy. Who would have thought this one film would have spawned a massive saga about cars flying out of planes and frozen oceans being ripped open by subs?
The big scene in this one? A drag race. One last scene between Paul Walker and Vin Diesel. Compared to later scenes in the saga, it's almost subdued, but... in some ways, that makes it all the more thrilling to watch.
Light on plot. Light on action. This Steve MacQueen film from 1971 features a depiction of a fictional race of the 24 Hours of Le Mans. The intense film incorporates footage from real versions of the Le Mans race, cutting back to then show Steve MacQueen in the midst of his intense run.
Because the car races in this film are real cars chasing after one another for the top place, the races on screen have an intensity that cannot be ignored nor neglected. This elevates them to be some of the best car racing scenes in any movie, mainly because they actually happened. It remains a unique film, albeit one that failed at the box office upon release. Light on plot. Heavy on visuals.
This live-action anime depicts some of the most ridiculous, silly, and over-the-top races ever put on screen. At no point in this film do you ever see a single visual resembling anything grounded in reality... and it is glorious.
The highlight to this film is the insane race in the middle, where cars are chasing each other, the Mach 5 unleashes every sort of goofy tool at its arsenal, and then ninjas show up. Why? Who cares. This film is so completely insane and ridiculous you really ought to stop questioning any of the mad things that happen in it. The best car racing scenes sometimes defy logic, but only Speed Racer takes wacky races to their logical extreme.
Tom Cruise stars in this epic car racing film. Here, Cruise is a race car driver taking a chance at the Daytona 500. The film is a masterful film depicting a driver pursuing his dreams, failing, before rising up from the ashes to do it all again.
While the explosive race in the middle that culminates in a massive car wreck is thrilling and intense, it is the grand finale, where we see Cruise overcome all external and internal obstacles around him, learning from everything leading up to that final lap... it is incredible.
While the original Death Race 2000 is a better film, the remake starring Jason Statham is the more thrilling film with some of the best car racing scenes around. Gone are the clever satirical elements – gutted out with gears, wrecks, and an immature sense of humor. It's the perfect wish fulfillment for your inner twelve-year-old boy looking for car violence.
The whole film is a car chase, often culminating in brutal displays of over-the-top violence. Guns. Wrecks. Napalm. Fire. Explosions. Nothing makes a race more intense than over-acted, silly action. And, much like Speed Racer, this is a great car chase for those who are really good at suspending their disbelief.
This film isn't really a film so much as a documentary on the racing career of Hollywood actor Paul Newman. The film chronicles 35 years of the actor's life behind the wheel of various races, presenting real footage of the man's races.
Watching real cars chase each other around a race track may not be as thrilling to some as watching an over-blown race take place, but, for those interested in seeing a real race, this film is something of a work of art. It depicts the highlights of a massive career, and leaves you feeling in awe of a man you probably didn't even realize raced cars.
Tokyo Drift may be the least fondly remembered of this long running series. No Paul Walker. No Vin Diesel. No craziness. It stands as the weird middle-stage. Almost like cinematic puberty: not as subdued and realistic as its prior films, and not as over-the-top as what followed.
Still, it has a few very stylistic races. Some of the best car racing scenes in the whole series. When you think of this film, you think of the rule of cool. Sleek cars, drifting down the roads. While not as awesome as later films, the chases just radiate coolness in this one. The highlight? The yakuza chase scene that kicks it into gear – getting lethal.
Another breath-taking documentary, this time on the life of racer Ayrton Senna, this film depicts some of the most thrilling races ever televised, depicted and framed in context of this great driver's career.
Perhaps the most heart-pounding moment, however, is the end of the documentary, depicting Senna's ultimate death in a racing accident in 1994. The crash is presented in context of the greater race, and knowing that this great race results in the death of such a great man – his real death – is nothing short of heart breaking.
Burt Reynolds reigned supreme back in the 70s and 80s, even if now his star power has seriously dimmed. But do you know what's more fun than just Burt Reynolds? Dom DeLuise, Roger Moore (you know, James Bond), and Jackie Chan himself all in one racing movie.
The whole film is a great car chase, with different, colorful characters all racing after one another for the top prize! Hilarity ensues. For a Smokey and the Bandit-esque film, this movie managed to be something of a show stopper for its time, and still has the power to thrill those in search of a good time.
Reader insights
Be the first to share your insights about this piece.
Add your insights