Queenstown: A Travel Guide
One of the highlights of the South Island of New Zealand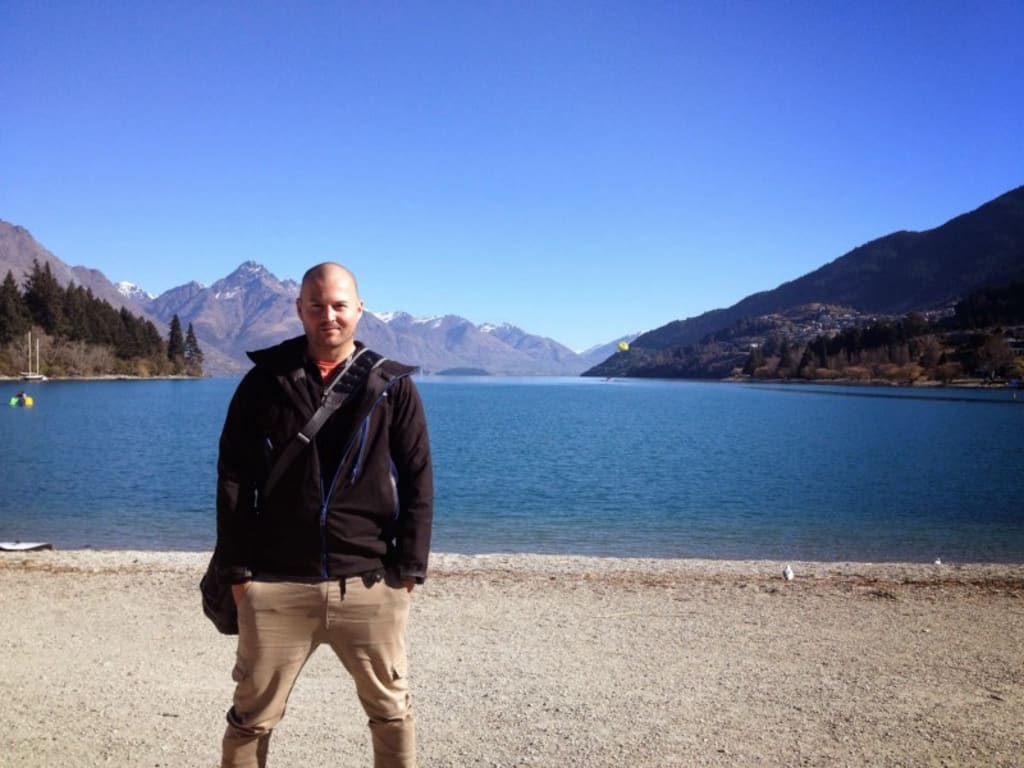 Gareth Johnson at Queenstown, New Zealand
Winter isn't a lot of fun unless you are properly equipped with some skis and a hip flask. It was only a short flight to Queenstown on the South Island of New Zealand but it felt like a world away from the dreariness of Sydney. Fresh deep snow, blue skies, and the streets teeming with attractive men in expensive winter wear.
Gay Ski Week — such a genius concept.
I'm not a great skier, by any stretch of the imagination, but I like it — it's good fun, and it's the kind of thing that you need to do on a regular basis (at least once a year is my rule) in order to maintain your confidence on the slopes and also to progressively add to your wardrobe of jackets, hats, scarves, trousers, boots, sunglasses and all the other accoutrements required to look good in the snow.
My favourite skiing holidays have always been with big groups of friends, you head out on to the mountain to test yourself on various runs and then reconvene over dinner and drinks to swap stories about your near misses, close calls, and spectacular falls.
I always love anywhere that comes equipped with a pool, or a hot tub, or a sauna or steam room, or all of those things. The best are those places where you can sit in a hot-tub outside, surrounded by snow and stunning views.
While it would be unusual these days to find a ski resort that isn't gay friendly, generally the ski slopes aren't awash with other gays. Gay ski weeks are a sensible way to try and coordinate the skiing holidays of the world's gays and have been a firm fixture on the calendar in Europe and North America for a number of years now — they always look like a lot of fun. The New Zealand equivalent was going to be my first opportunity to combine two of my favourite things.
Queenstown is a stunning part of the world. It's kind of obvious to talk about The Hobbit and how it showcases the breathtaking scenery of the South Island's mountains, but New Zealand really is a little world of its own. Remote in every sense, the archipelago of islands that we now know as New Zealand broke away from the larger land masses very early in it's development, so there is an incredible array of fauna and flora that is unique to these islands.
The approach into Queenstown airport takes you through the rugged mountain ranges — our pilot proudly explained that it was one of the top ten airport approaches in the world. I'm not sure who compiles that list, but it's easy to understand that Queenstown would be right up there, it is an exciting glimpse of the landscape that awaits down below.
Gay Ski Week is a big deal on the Queenstown calendar. The streets were festooned with gay ski week rainbow barriers and the local shops were all involved in a competition as to who could create the best Gay Ski Week window display.
"The business association here in Queenstown has always been incredibly supportive…" explained Gay Ski Week organiser Sally Whitewoods. "It brings visitors in at the end of the winter season so it's a big boost for everyone."
Queenstown's Gay Ski Week attracts around 1,300 gay and lesbian visitors each year, so it clearly is a significant shot in the arm for the local economy.
Originally from Bournemouth in the United Kingdom, Whitewoods has lived in New Zealand for over ten years now — following her wife to the land of the long white cloud.
The format of Gay Ski Week is that everyone is left to their own devices during the day to go skiing or explore any of the other activities that Queenstown offers, and then there are ticketed events held each night which brings everyone together.
Whitewoods is a small woman packed with energy and with a raucous laugh. She is clearly a natural networker, greeting everyone like long lost friends even if she was just meeting them for the first time. Events like Gay Ski Week must be exhausting to try and organise, hosting a different event every night of the week is hard enough, but trying to promote the event and to get people to commit to come to something is never easy. But Gay Ski Week seems to be flying, tickets for all events were sold out and Queenstown was full of enthusiastic gay men and lesbians excited about the perfect conditions for skiing and boarding as well as having a good time.
Whitewoods has been running Gay Ski Week since 2011, but her first year got off to a rocky start as she was called in three days before the event was due to begin as the original promoter had gone into liquidation.
"I don't know how we did it to be honest!" she laughed, "I just knew that we had to make it a positive for Queenstown. A lot of the people that were here for that drama in 2011 have been coming every year since."
From the opening event it was clear that this was an upbeat and friendly crowd all up for a good time — quite a few groups of friends had travelled in for the event and a lot of people seemed to be regular attendees, catching up with each other over a few beers. There were quite a few lesbian couples there which made a nice change. In Europe there seems to be little cross over between gay men and lesbians, but I guess in smaller populations like New Zealand it makes sense to combine forces and it gave the party a nice relaxed feel — New Zealand lesbians are super friendly. In terms of where everyone came from, most people I spoke to were either from New Zealand or Australia, but I also spoke to a couple of guys from the UK who had deliberately planned their time in Queenstown to coincide with Gay Ski Week, plus there was a strong contingent of Americans. In terms of ages it seemed to be mainly mid-30s to mid-40s.
The events that were held offered plenty of variety, from Gay Bingo, to performances by local artists, and a massive dance party to close out the week. One of my favourite events was the Strip Night that was held at Vinyl Underground on Church Street. There is something about strippers that appeals to the straight guy in all gay men. The strippers in action were guys and the event was billed as a night for the boys, but there was a surprising amount of women there (given that there was a women's party on that night also) but that just seems to be how Gay Ski Week in Queenstown rolls.
There is a lot more to Queenstown than just skiing or boarding — this would have to be the adventure sports capital of the world, with everything from white water rafting, to river jet boats, river surfing, and of course bungee jumping to get the adrenalin pumping.
From an accommodation perspective there is a mixture of everything from budget backpacker accommodation, through to self-contained apartments, and luxury hotels. I stayed at 'The Rees Hotel' and it really was stunning — stylish but relaxed and comfortable. Everything was incredibly modern and functional, with great service, and the views out across Lake Wakatipu and up to the mountains beyond was simply breathtaking.
I would happily visit Queenstown at any time of the year, but there is no better time to visit this beautiful part of the world than during Gay Ski Week.