Let's Prepare You for the Chadar Trek!
Do you consider yourself to be an adventure enthusiast? Having struck all the exhilarating excursions off your thrill-list, it is a time to triumph over your valor and will.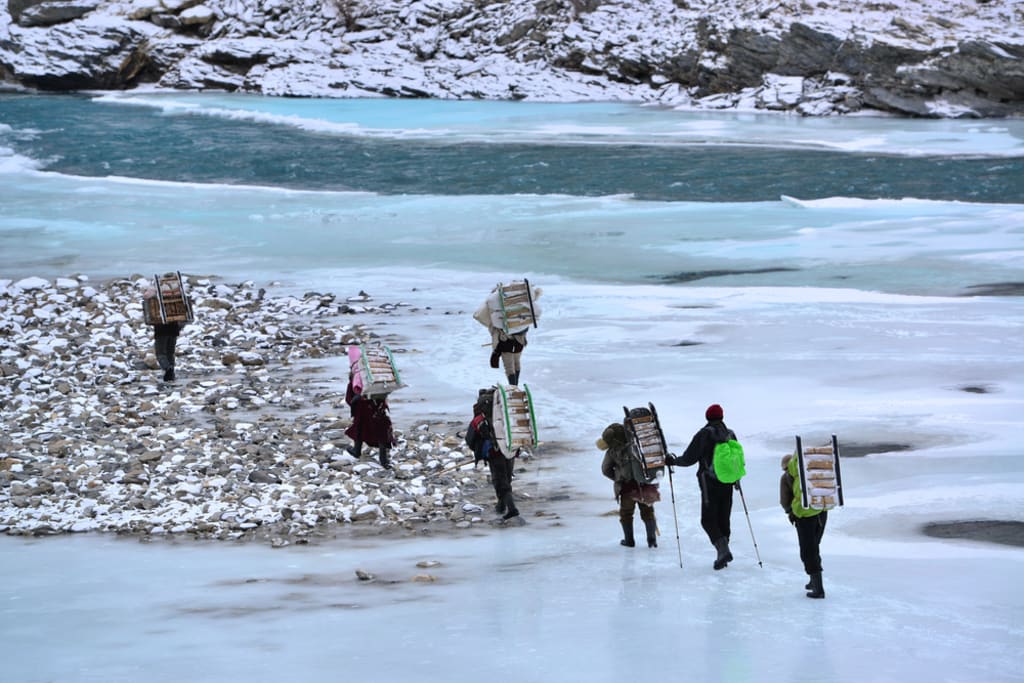 Do you consider yourself to be an adventure enthusiast? Having struck all the exhilarating excursions off your thrill-list, it is a time to triumph over your valor and will.
Wait!
Not that soon, as we have yet another quest that will entice you to indulge in—the Chadar Trek. A 105 km trek on the frozen sheet of the river, taming the wild Zanskar River marks up as the most challenging trek you will ever embark on. Gawk at the resplendent beauty of the enormous brown mountains encircling the frozen waterfalls, turning heads at this blissfully eye-feasting cold desert. Unlikely for the feeble-minded and petrified mortals, this trek needs courageous souls who can win over their fears.
Challenges You Will Face
Challenging every cell of your body, this trek brings numerous hurdles that you need to cross to get to the end of this enthralling extravaganza. Rated as a difficult adventure, these are some of the daunting challenges you will face during the flabbergasting encounter:
Temperature Fluctuations
AMS
Hypothermia
Unpredictable weather conditions
Chadar breaks (sheet break due to temperature changes)
What do for Physical Fitness?
The Chadar Trek is not considered difficult because of the high altitude, but for the extreme temperature it experiences. This thrilling yet spellbinding expedition tests your stamina and survival instincts, making it essential for you to work in accordance to meet up to the required fitness level for this expedition. Listed below are a few points will help you come up on track:
Develop a habit of jogging (or running) every day for a month prior to the trek. It will help you get good control over your breath.
Emphasize exercises that would help your thigh muscles to get stronger. You can start off with cardio or cycling. It is advisable to take stairs and avoid elevators completely.
Focus on building strength and endurance.
Try arriving a week before to Ladakh if you can. Also, try sleeping without quilts and covers in your city, so as to enhance cold endurance.
Take regular walks with weight equivalent to your backpack over your shoulders, so that you can train your body for the trek.
Pack Your Bag (Things to carry for trek)
It is advisable to pack as little as you can, only bringing things that will be your best ally during this stupendous walk in the inhabitable conditions.
An insulated thermos bottle
Trekking shoes and gumboots
Warmers
Two sleeping bags—one as the inner line and the other as main.
An extra pair of clothes and socks
Medicine and first-aid kit
Be Mentally Prepared
Nothing is impossible if you make up your mind and coat your will with adamantium. It is rightly said that the fear of failure is in your mind. Keep in account your strength and weakness and unfold the striking opportunities against the underlying threats. Make sure you pre-plan your trek as much as you can, but do not lose balance in case of any deviations. Trust your instincts and do not let your common sense freeze in the cold wind of panic. Stay focused and alert, breathe and triumph!
Which Organizer Should You Choose for this Trek?
Though there is an array of organizers, you must choose wisely as you plan the ultimate walk of your life. Amongst all the others, these three—Thrillophilia (See Thrillophilia Review), Hey Himalayas, and Liveladakh—are the ones that go the extra mile to ensure that this rewarding experience adds up to the most memorable one. These organizers primarily focus on the adventure, keeping in mind the necessary safety hazards for the brave-hearted trekkers.
Do's and Don'ts for Chadar Trek
Do's
Listen carefully to your guide and make sure you do as they advice.
Carry all the essentials listed in the must-pack items.
Make sure you check the necessary equipment before you start the actual trek.
Though it is too cold, make sure you stay hydrated enough.
Do carry necessary gadgets including power banks, chargers, and an extra pair of torch batteries.
Do let your guides and team leaders know if you get any injury so that it can be taken care of immediately.
Don'ts
Do not panic in case of any emergency. Try to adhere your calmness in order to get out the situation.
Do not carry any plastic bags as they are strictly prohibited in the area.
Do not carry unnecessary loads of clothes. You won't get much time to change.
Do not carry denim, as it is advisable not to wear denim in this extreme weather conditions.
Conclusion
After unveiling the ifs and buts, you must have got a rough idea how to plan your trip. Opt for the organizers wisely so that you can experience the larger than life trekking excursions. Make sure to plan along your trek well and keep in mind all the do's and don'ts. Also, if you want, you can also opt for the sightseeing of this amazing place; the above tour operators also provide some great Ladakh Packages. What more? Pack your bags and get going!