Kickin' it in Korea
South Korea, that is.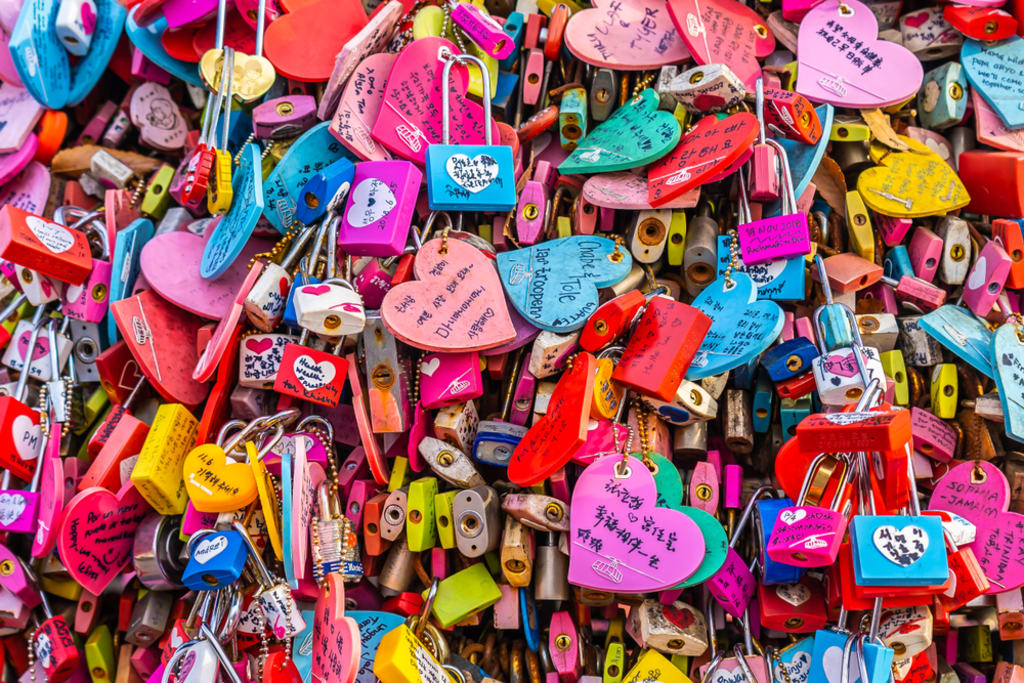 Credit: Shutterstock
I don't remember the moment I became obsessed with South Korea. Maybe it was the first time I went to Korean BBQ, in my hometown and had the most delicious plate of sticky rice and tender seasoned pork.
It could have been the numerous Korean flicks I loved, like Old Boy, Train to Busan, and The Wailing. Or maybe it was during my Master's program, studying Foreign Language Education when I met Jinsil.
Jinsil was my closest friend in the TESOL Master's program I attended. She was one of the many Korean students in the program, and we hit it off instantly. We were both an invaluable source to each other, she would ask me questions about living in America, and I would question her endlessly about life in South Korea. I ended up doing my dissertation on South Korean culture, further fueling my desire to visit.
After graduation, we parted ways. Her off to Ohio for a Ph.D. program, and me to Paris, France to teach English. She promised I'd always have a handful of places to stay in South Korea. So that's where I'm going on my fictional solo trip, hoping one day it will be a reality! (If I can get over my fear of a fifteen-hour plane ride.)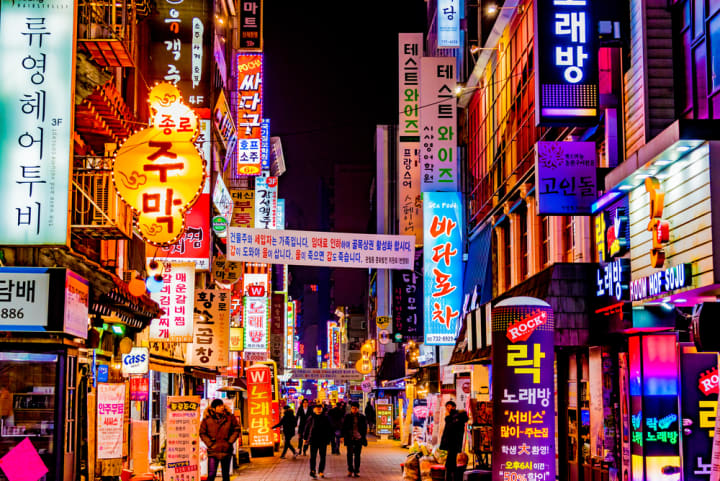 Luckily South Korea is smaller than New York state, so I'll be able to visit three amazing cities in just a few days. I'll fly into Seoul from JFK, next I'll take the train to Gangneung, and my final stop will be in Busan.
Pros and Cons of Traveling Solo
I worked in Paris for a year, teaching English, so I understand the very real cons of being alone in a foreign country. But there are many upsides to flying solo, that I believe outweigh the cons.
Cons
1. More Expensive
No one to split room rates or meals with can make traveling alone more difficult. But if you know how to find a good deal, and book well in advance, it's shouldn't be too much more expensive to go by yourself.
2. Personal Saftey
Having buddies with you to watch your back can make a foreign country feel safer. But if you research the areas, and pay attention to your surroundings, it'll be just fine. Hot tip: Don't look like a clueless tourist.
3. Loneliness and Isolation
When I lived in Paris, I quickly understood the meaning of being surrounded by people but feeling completely isolated. It can be difficult exploring a foreign country with little grasp of the language, and no one to spend time with. But I'm not worried. My trip to South Korea will be short, and I'll be so excited to visit, I'm sure I won't feel lonely for a second.
Pros
1. Choose Your Own Adventure
Traveling with other people can get messy. Arguments can erupt over basic activities like where to eat. You might want to go visit a cool art museum, but your friend wants to go to the beach, and they refuse to go alone. Traveling solo makes it easy to customize your trip based on EXACTLY what you want to do.
2. Get Out of Your Comfort Zone
Adventuring by yourself can show you what you're made of. When you're with friends or family, you're less likely to meet new people and less likely to take risks. By yourself, you will have to communicate, figure out directions, and hopefully meet some friends along the way. It can be difficult, but you can do it, and the experience will empower you!
3. Know Thyself
Traveling by yourself is great for self-reflection. Without the distraction of companions, you can write, think, take photos, and just be. It can be scary, but I promise it will be worth it. You'll come away stronger with a deeper understanding of self. Going home will be all the more exciting, you get to share your personal journey with those closest to you.
Bags are Packed, Let's Go!
I've curated a playlist of Kpop classics from the 60s,70s, & 80s, to help ease my mind on the whopping fifteen-hour plane ride. Feel free to listen along!
First Stop, Seoul :)
Seoul is the largest city in South Korea with a population of 9 million, think of it like the Los Angeles of Korea. This bustling metropolis is where things happen. So while I'm in Seoul, I'm going to be partying. I've been cooped up in the house for nine months because of COVID, and now I'm ready to get out there and mingle.
Where I'm Staying.
While I'm in Seoul I'll be staying at a hostel. It's cheaper than a hotel, and you have a better chance of meeting fellow travelers, as hostels are usually communal. I'll be staying at a fun hostel in the heart of Seoul.
The Time Traveler's Party Hostel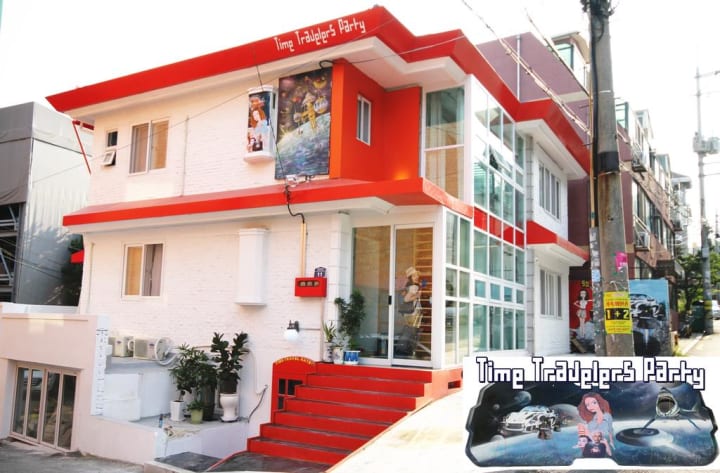 This hostel has everything I'm looking for. It's reasonably priced, has a bar in the basement, WiFi, a game room, and it's adults only. I may have to bunk with a few others, but I don't mind. I'm not planning on spending much time in my room, and maybe I'll meet some cool friends along the way.
What I'm Eating & Drinking.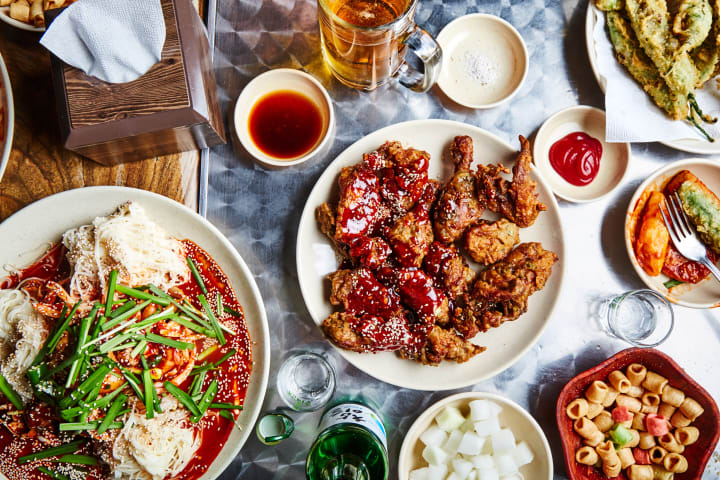 Seoul is a BIG city, and I'm only going to be here a couple days. So I have to be picky when it comes to choosing where to eat. I'm Southern at heart, so my first choice is going to a top rated Korean fried chicken joint, also known as a Chimaek, the Korean word for chicken & beer.
I've decided on Kyochon Chicken. The reviews rave about this place, saying the chicken is crispy, tender, flavorful, and not greasy at all! I'm ordering the Kyochon original, a whole chicken, fried and coated in their signature garlic & soy sauce.
Next, I'm checking out the Noryangjin Fish Market. Think of it like a farmer's market, except it's lively, chaotic, and there's fish, everywhere. Not to mention it's open 24/7, but if you want to see the real action, go around 3 am to witness the fish auctions.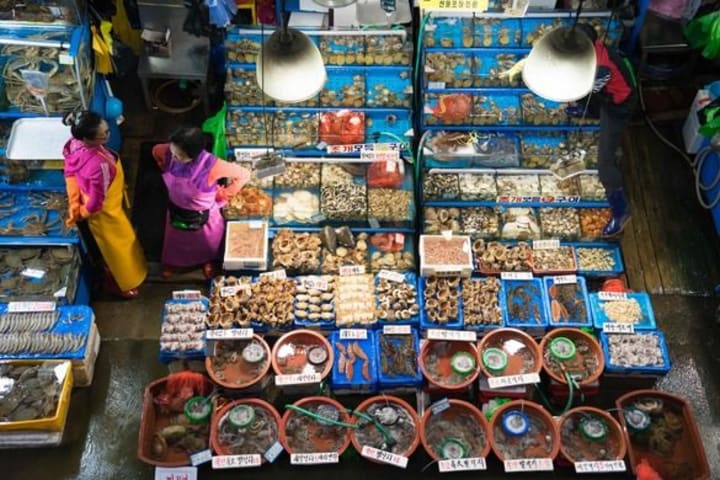 I want to visit the fish market, not just for the fresh seafood, but for the culture. It would exciting to witness the hustle of local Koreans buying and selling fresh catches. The most exciting part is being able to eat the food right there, no need to take it home and prepare, which is pretty impossible when staying at a hostel.
If you want sashimi style, they will thinly slice the fish right in front of you, and provide lettuce leaves to wrap the fish in, and fermented bean paste, wasabi, and green chili for dipping.
If you want crab, ask for bokkeumbap, some tasty fried rice they'll give you served in a crab shell. If you want shrimp, they'll grill it right in the shell, right in front of you. You can also pick out seafood to be prepared in one of the many restaurants on the top floor.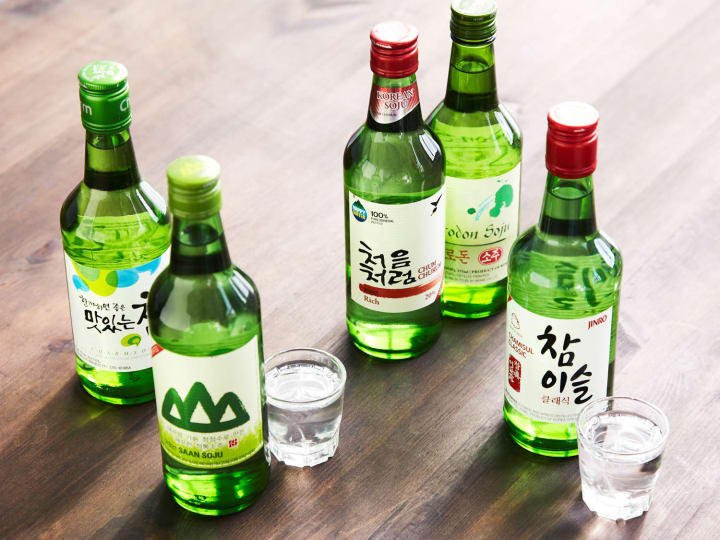 I'm going to check out one of the fried shrimp stands, and pair it with a couple shots of soju, an alcoholic rice drink extremely popular in Korea.
Street Food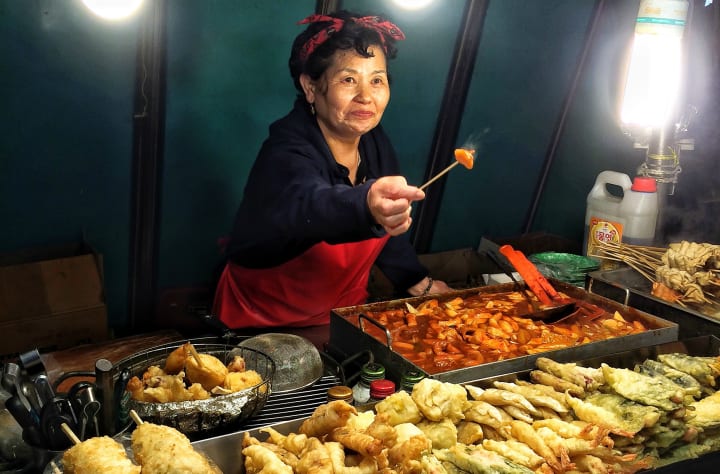 It wouldn't be Seoul, if I didn't eat some yummy, and maybe sometimes questionable street food. There's too many good things to choose from. I want to try pajeon, a savory pancake with scallions, I'd add some kimchi, fermented cabbage on top. There's gimbap, Korean sushi, and mandu, huge delicious dumplings fried or steamed. I've been dying to try tteokbokki, a stir-fried rice cakes, and fish cakes in a spicy-sweet chili sauce red sauce.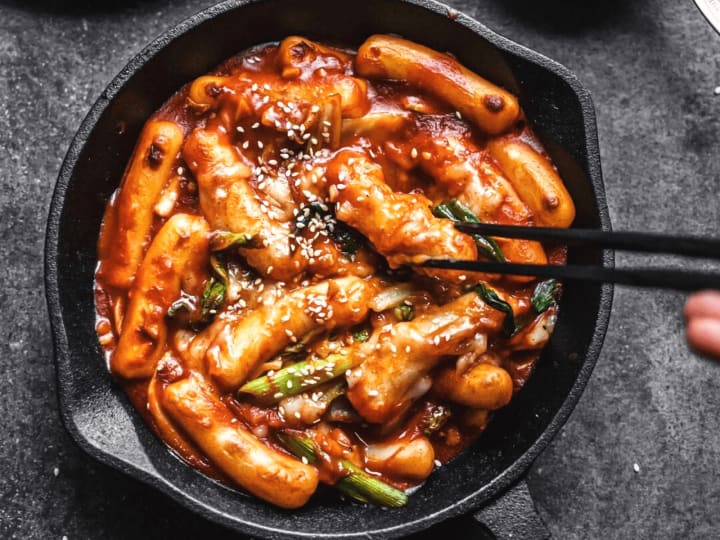 Also, these fish shaped pastries are too cute to pass up. Bungeoppang, are filled with sweet red bean paste.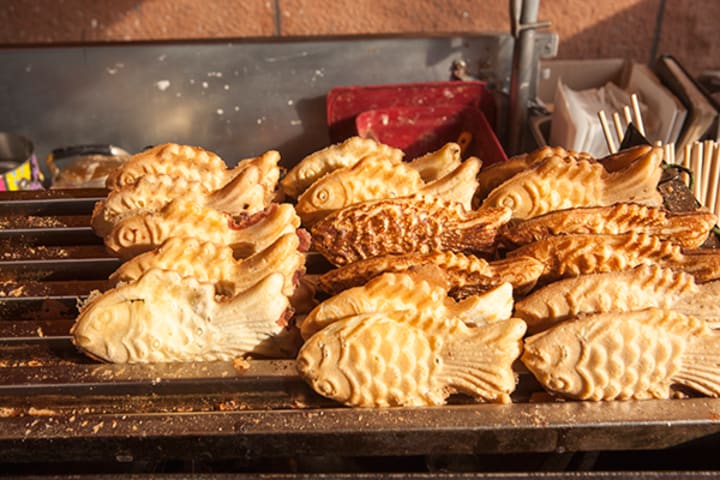 What I'm Doing.
As I said earlier, Seoul is a bustling night-life city, so when I fly in from JFK I'm spend the morning resting. Then after some sight-seeing, I'm hitting the town as soon as the sun goes down. Besides taking soju shots from street vendors, and dancing at night clubs, I'm most excited about noraebang. Korean karaoke.
Karaoke had been a favorite pasttime of Koreans for decades. And it happens to be one of my favorite things to do. In South Korea, you rent private rooms to sing karaoke, since I'm flying solo, I'll have to find some strangers to seranade, I'm not shy. Heart & Seoul Karaoke looks like a fun place to check out!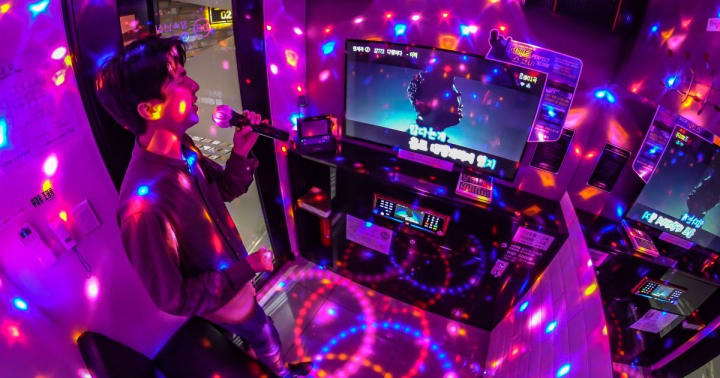 Next Stop, Gangneung!
Gangneung is a seaside town, on the east coast of South Korea. Far more lowkey than Seoul, with a population of only around 200,000 people. This is a great place to regroup after a couple crazy nights in Seoul. Gangneung will be perfect for relaxing and self-reflection, I plan to focus on nature here. I'll be staying with some of Jinsil's family.
What I'm Doing.
Of course I'll be visiting one of the many beaches. An ideal setting for reading, writing, thinking, and just relaxing. I'm excited to see the beaches in another country. I'm from Florida, so those are the beaches I'm used to. I'm most interested in checking out Anmock Beach. This beach is famous for the row of casual coffee shops that line street in front of the beach. One of my favorite things to do is hang out at coffee shops, people watch, and swim. So this will be an awesome place to hang out.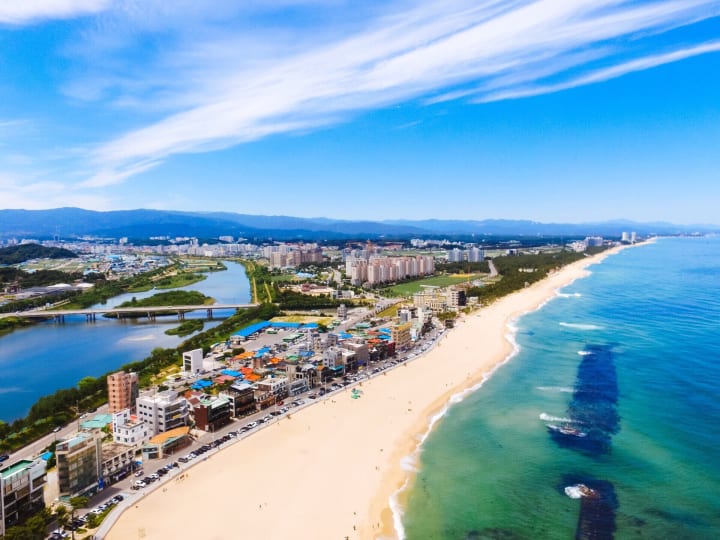 Next, I'll be enjoying the beautiful cherry blossoms, wetlands, water lily park, and traditional pavilion at Gyeongpodae lake. If I happen to come during the Cherry Blossom festival, I can enjoy live music, street vendors, and the blossoms in their prime.
What I'm Eating & Drinking
So much yummy Korean food, so little time. First I'll be hitting the streets again, for more delicious street food. Seriously, street vendors can't be beat: good price, convenience, and quick.
Dakgalbi Street
This is a famous alley in Gangneung, lined with restaurants. It's named Dakgalbi after a tasty Korean dish of the same name. This is a spicy, stir-fried chicken dish that has cabbage, sweet potato, and rice cakes.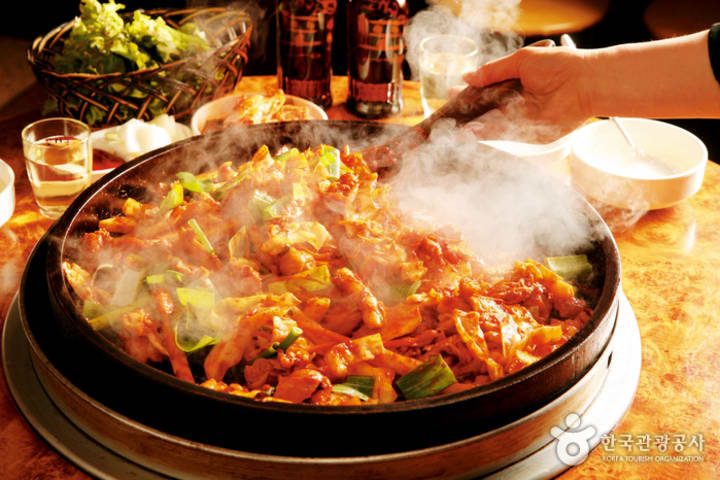 After I fill up on street food, I'm checking out one of the most popular bars in the area.
Bumpin' Bar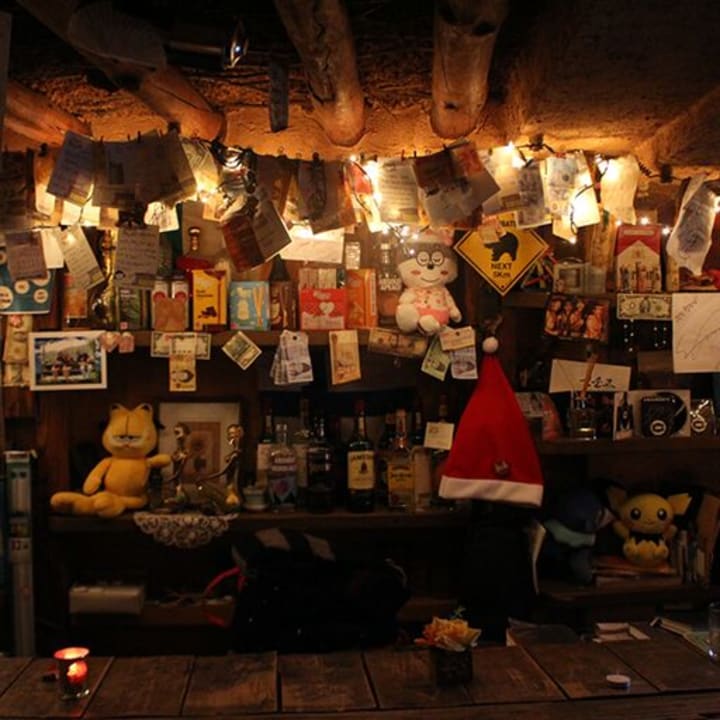 The equivalent of a dive bar, this gem is a ramshackle bar that was actually built from pine planks from a Buddhist temple that burnt down. I read the bar has an impressive vinyl collection, which is right up my alley. Seems like a cozy place to grab a beer, and chat with locals and fellow travelers, or just reflect on my trip.
Last Stop: Train to Busan
Don't worry, there's no zombies, at least I hope not. I'm most excited to visit Busan, it's a beautiful city on the coast with numerous beaches and mountains. It's more affordable than Seoul, but just as poppin'.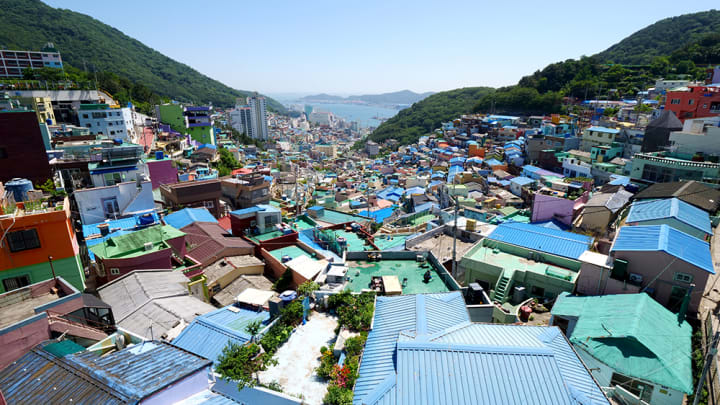 Where I'm Staying.
One night, I plan to experience a Templestay, at the Beomeosa Temple. I love learning about different cultures and religions, so this is a very exciting opportunity.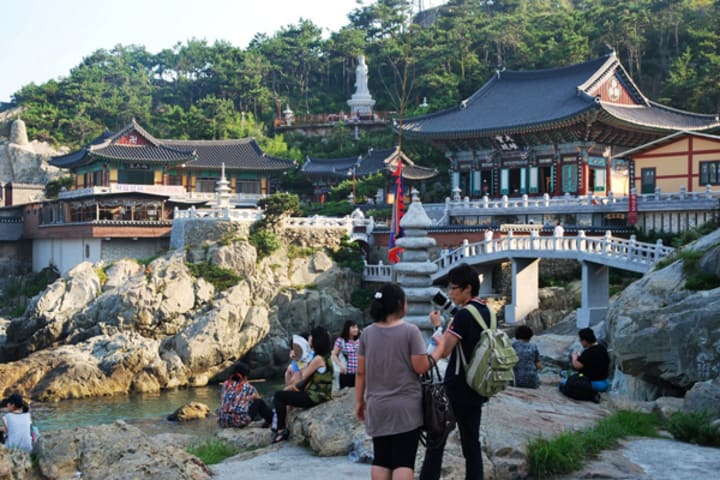 When you stay at the temple, you get to experience the authentic daily schedule of a Buddhist monk. When you first arrive, they give you a uniform to where during your stay, and you must keep the noble silence, and adhere to the same rules as the other monks. You'll have vegetarian meals, and traditional tea time during your time at the temple.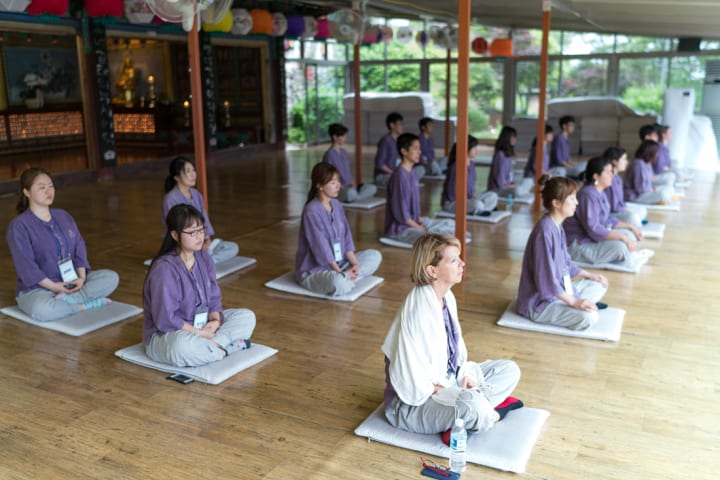 I'm so thrilled to have this opportunity, it will be a great way to regroup from the first half of my trip.
I'll want some more freedom to explore Busan, so after staying at the temple, I'll move over to the Guesthouse Dear Moon. This hostel is super cute and affordable, close to Songdu Beach. The Guesthouse Dear Moon has wonderful views of the city, that you can see from the garden and terrace. They also provide breakfast.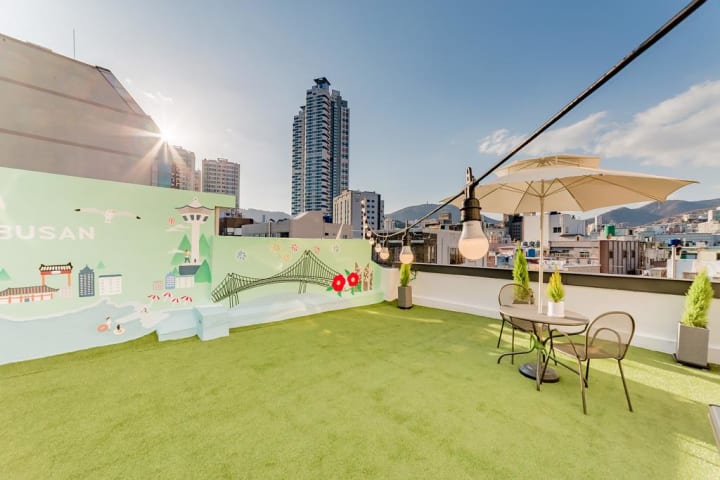 What I'm Eating & Drinking.
I've been in South Korea for almost a week, and I still haven't had authentic Korean BBQ, what is wrong with me? Luckily Busan has some of the BBQ, and I plan to do it up legitimately at a sit-down restaurant. I've decided on Anga, one of the top-rated BBQ joints in Busan.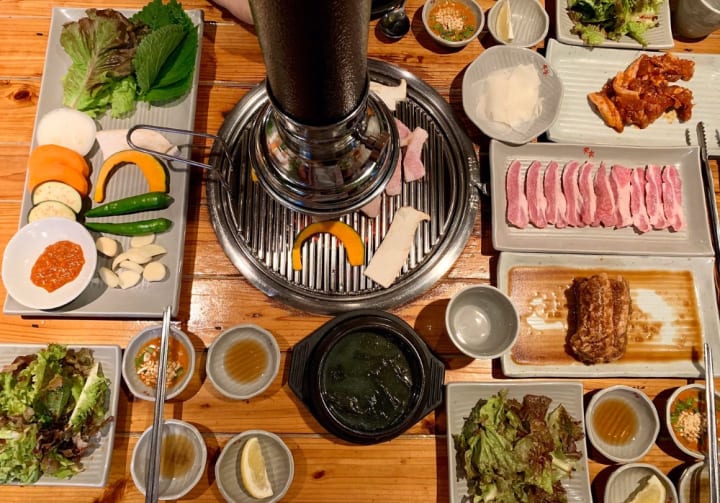 At Anga, and many Korean BBQ places, you choose your meat, the amount of food you want. They bring platters of meat and veggies to your table, and you cook them right in front of you. I love the interactive experience, and the food is hot and fresh!
Banchan
One thing I love about Korea, is banchan. You can expect banchan at any sit-down restaurant. These are complimentary side dishes included with your meal. Some examples of banchan,
Kimchi: Fermented vegetables, usually containing cabbage
Namul: Steamed, stir-fried, or marinated veggies, usually seasoned with sesame oil, salt, vinegar, soy sauce, green onion, & dried chilis.
Jeon: Variety of pan-fried pancake style dishes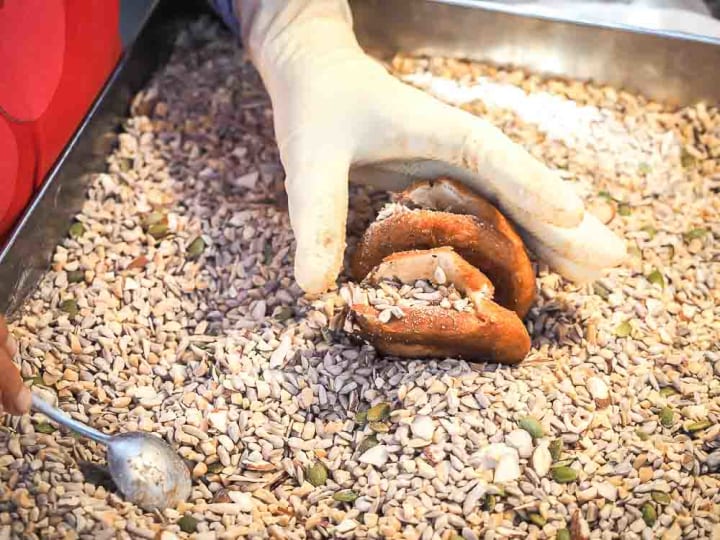 For dessert, I have to go back to the streets of Busan, there's some more excellent junk food I didn't get a chance to try in Seoul. Ssiat Hotteok: Pancakes stuffed with seeds, nuts, cinnamon, & brown sugar syrup.
Also I have to pop into a grocery store to try some awesome looking Korean snacks, like banana or strawberry milk. Honestly strolling through the aisles of a foreign supermarket, is one of my favorite parts of traveling.
Strawberry and Banana Milk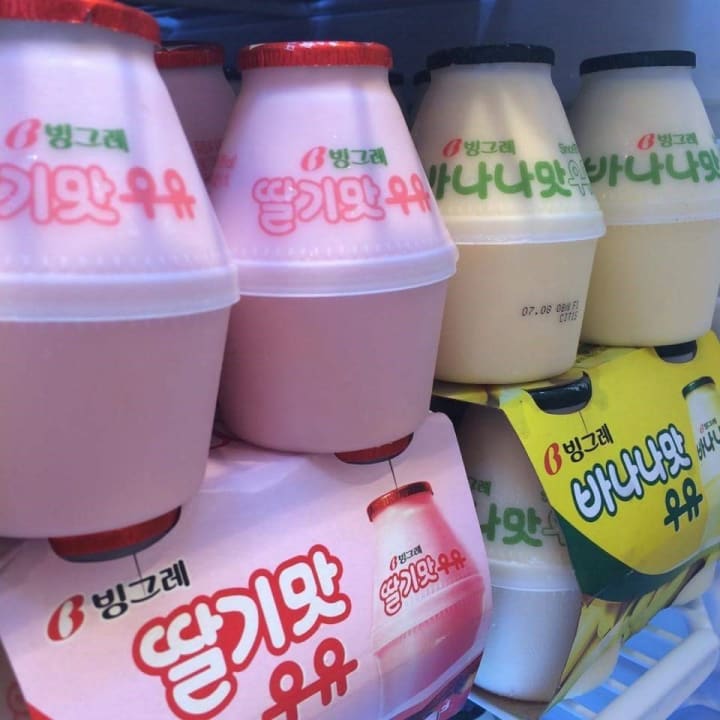 Korean Honey Butter Chips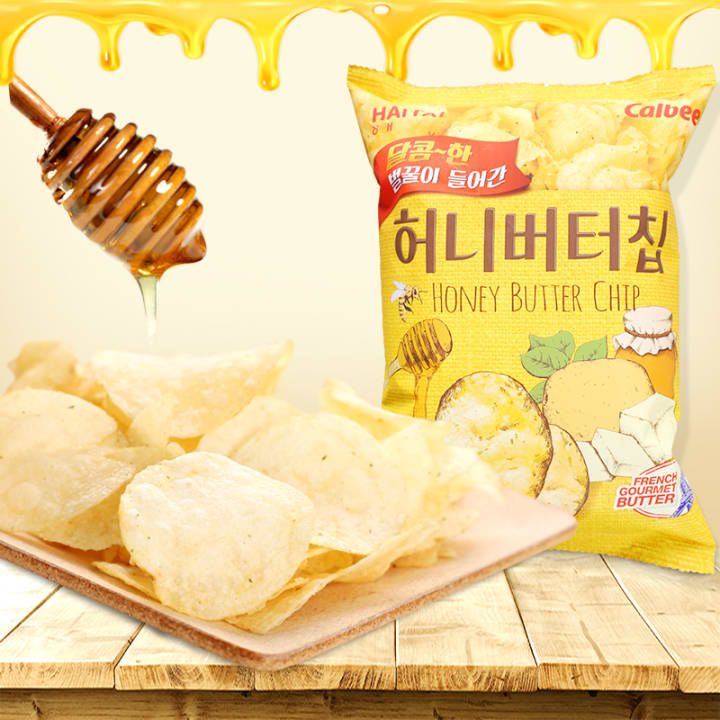 More Yummy Snacks!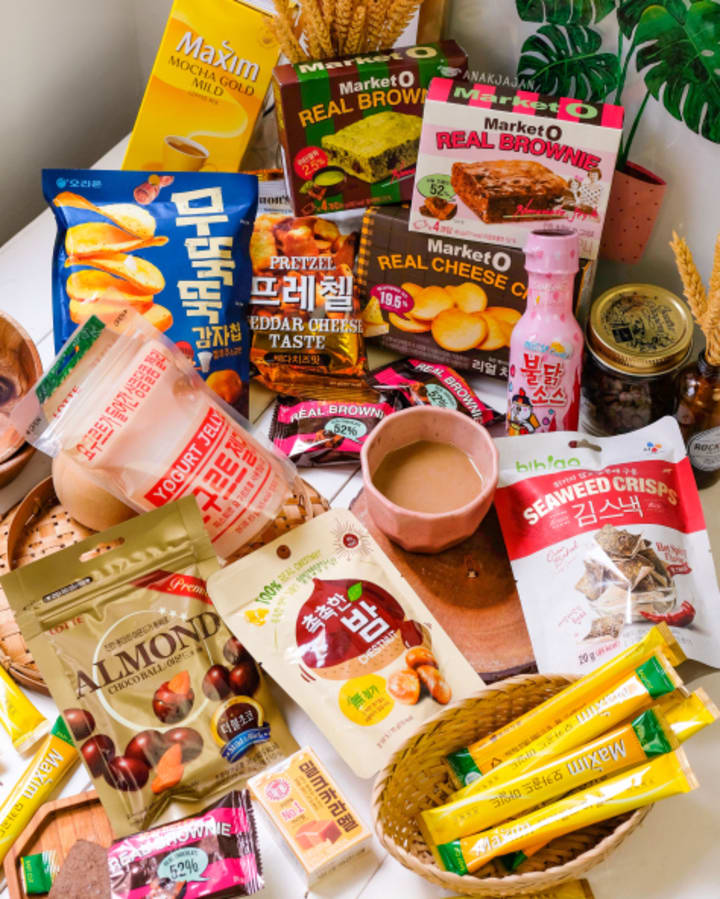 What I'm Doing.
While I'm in Busan, I plan to do a lot of walking around. There's a ton of cool sights to see, like Gamcheon Culture Village. This is a great place to get lost, the streets are cluttered, steep, and there's tons of quirky shops to step inside of.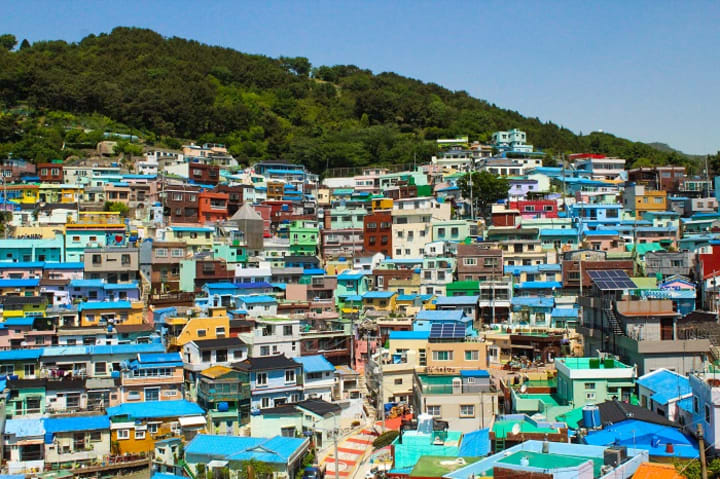 I definitely want to stop by the beach again. And Busan is home to one of the most famous South Korean beaches, Haeundae Beach. If I'm lucky I'll catch one of the numerous festivals that happens on this shore.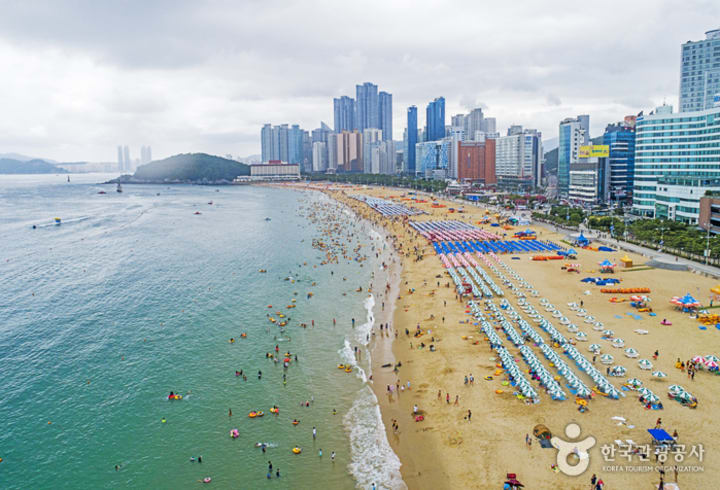 That's about all I have time for in South Korea, my flight back home leaves in a few hours, I better get to the airport!
Bye Bye South Korea :(
I've had such an amazing trip, and although I'm sad to leave, I'm equally excited to share my experience with everyone. Also, I AM EXHAUSTED, and I've never been so full in my life.
I hope one day my dream trip comes true!