Doe Bay, Orcas Island
Anchoring in the San Juans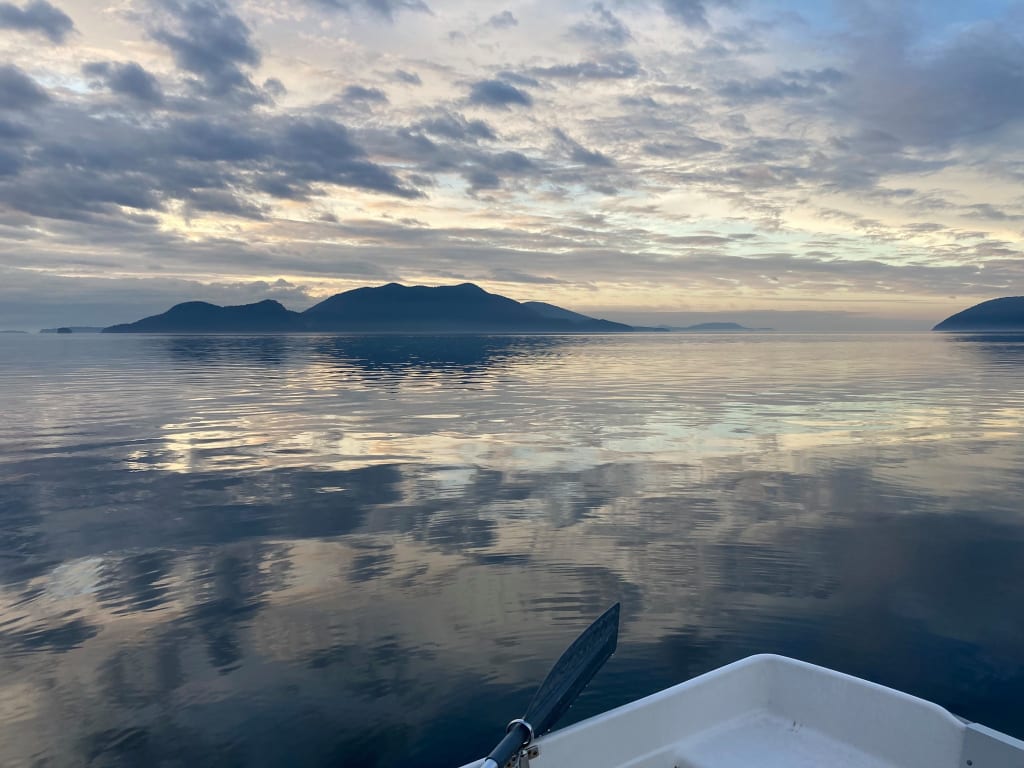 September 5, 2021 - The view looking eastward from Doe Bay across Rosario Strait.
Junaid and I hadn't planned to anchor in Doe Bay that evening. Roche Harbor was our intended goal at 10:00 AM that Saturday morning. However, as usual, we left Cap Sante Marina later than I planned. MUCH LATER.
But every sailor knows that human nature and Mother Nature constantly conspire to choose one's itinerary for you.
Whenever one is sailing in the San Juans, it's important to check tides and currents, especially if one's maximum cruising speed is 5 knots. It's especially important when one's home harbor is Anacortes' Cap Sante Marina, because the incoming current in Guemes Channel can get up to 2.5 knots in the center of the channel. And if the wind is blowing eastward, as it usually is, it is not uncommon to see dedicated sailors (not motoring, such as during a race) going BACKWARDS in Guemes Channel as they try to tack upwind against the current while dodging tankers and the Guemes ferry.
This precise timing was always my dilemma when I first got my sailboat -- leaving at the right time in order to not fight this current. That is, until my dock neighbor (another Cal 29) informed me he NEVER goes down Guemes Channel.
"Just go behind Guemes. That's what *I* do."
And he's right. If you're the type of person whose passengers never show up to the dock on time, going behind Guemes is the way to do it.
So that Saturday in September, we left Cap Sante at 3:00 PM (instead of 10:00 AM), and went behind Guemes. As we rounded the eastern end of Guemes, we were hit with the full force of the westerly coming across the top of the island, and were forced to tack back and forth with my small jib, which meant we were pointing like dog feces. Finally, I ended up just starting the engine, and we booked it for Cypress.
(My sailing partner had thought we might make it to Matia or even Sucia. Not a chance!)
But it was Labor Day Weekend, and I already knew before I peeked at the horizon with my binoculars, that Eagle Harbor, Elephant's Cove, and Pelican Beach were already full of the weekend sailors. There was no place to anchor, even.
"Let's try Doe Bay," Junaid said.
The rain was pouring down in sheets at that point, and the sky looked almost green, like it does before a Texas tornado. "Yeah! Okay!" I yelled over the sound of my engine and the wind screaming through my rigging. It's true what they say: "Any port in a storm."
I'd never anchored there before, but it seemed (from Google maps anyway) like it would be protected from westerlies, and would maybe be shielded from the rain by Mount Constitution.
So we motorsailed (I can get up to 9 knots under both sail and power, if the wind is with me.) to Doe Bay, being extra careful to skirt Towhead Island and the reef just west of it. In the driving rain, I was thankful for my binoculars because I was able to make a direct course for Doe Bay while still avoiding the Peapod Rocks just outside of it.
However, as we came closer, we saw that the bay is quite full of mooring balls. Granted, those balls are in a shallower part of the bay than my 5-foot draft would probably allow, but it was still annoying to know we couldn't park ourselves closer to shore, because another annoying thing I discovered is that Mount Constitution DOESN'T protect Doe Bay from westerlies, because westerlies wrap AROUND the tip of the island and blow directly from the east INTO the bay. So as we neared the bay, the wind whipped around and instead of having driving rain blown into our faces, we had driving rain pelting our backsides.
And in this weather, we dropped anchor on an underwater hillock about fifteen feet deep, right in the center of the bay.
We were still getting dumped on by Mother Nature's deluge, but at least we were anchored for the night.
The other thing about Doe Bay as an anchorage is the current from Rosario Strait. I was worried that it would be similar to what happens when I anchor on the east side of Cypress Island -- current would push us around and around, spinning on our anchor, and pulling it up. But no. We held all night. And by morning, the rain had stopped. There was virtually NO WIND. And the most beautiful sunrise peeked up over neighboring Cypress Island.
In summary, Doe Bay wasn't my favorite place to anchor, but it did the job for the night. My anchor alarm didn't go off at all. Plus, pulling anchor was easy the next morning. It came up with a lot of mud and very little eelgrass. A good night's rest.
Later on, someone told me there's a nudist colony on Doe Bay. I wouldn't know, as we never went ashore. And now I know I probably won't make landfall there in the future either.
nature
I used to sail in a nuclear power plant reservoir. Sometimes I still glow in the dark.