Comfort Suites Edinboro Pennsylvania Review (Two Queen Bed Jacuzzi Suite)
An Average Hotel Experience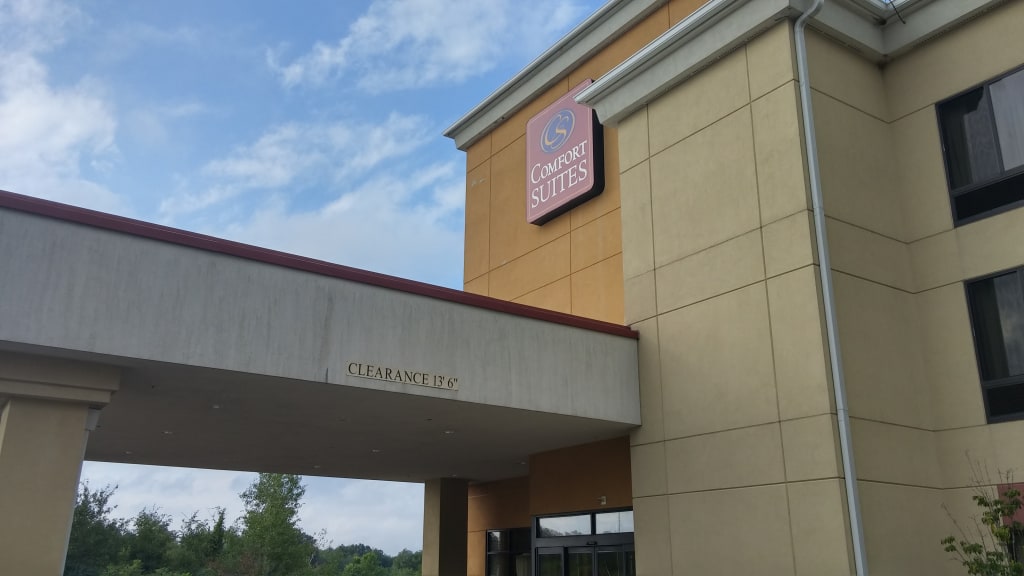 The room was medium size with an average layout but this was probably one of the smaller suites I've stayed in. The overall appearance is rather dated. I felt like I was stepping into the late 70s or early 80s.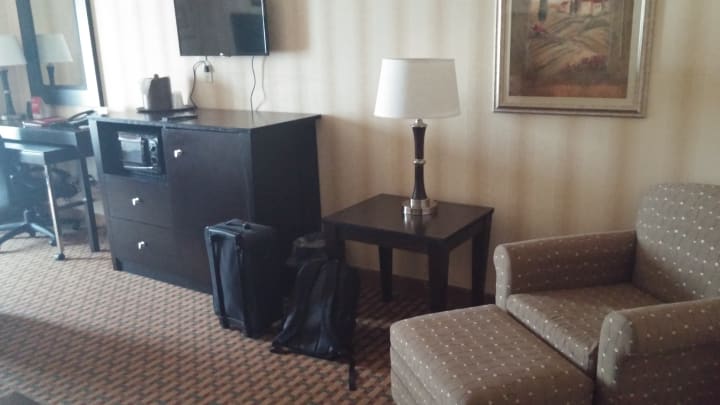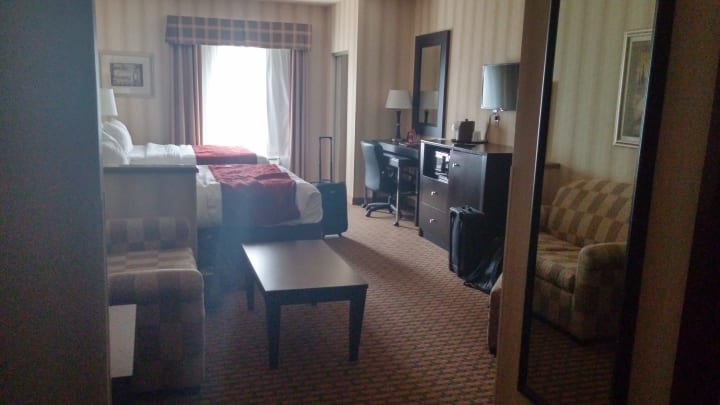 The Jacuzzi was attached to the shower as opposed to being separate with a stand up shower. In my travels this is probably the first time I've seen that. The jets in the Jacuzzi were on the bottom as opposed to on the sides which gave it a slightly older feel.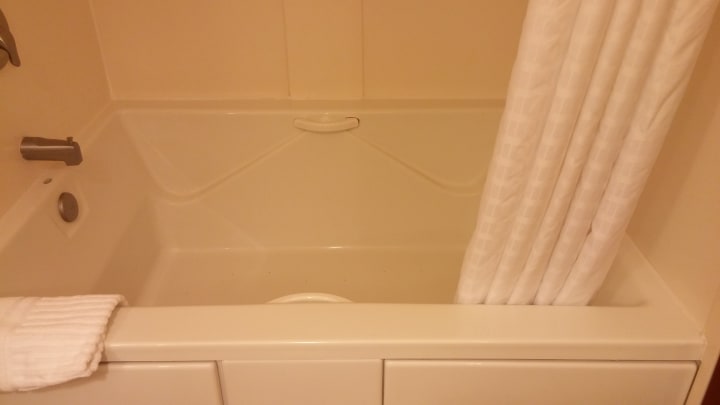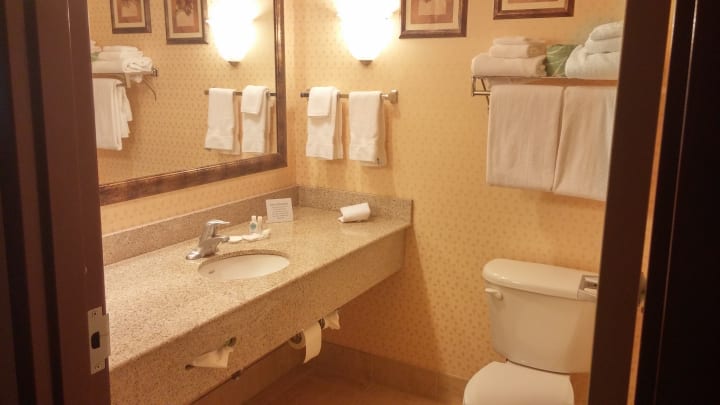 The view from the window pictured below is nothing to write home about. The furniture was fairly comfortable and the couch opened into a bed making it a convenient room for larger families. The beds were cozy and allowed for a good nights sleep. The sheets provided were a little scratchy and gave the feeling that they might have been washed with a bit too much starch.
Stars: ★★★☆☆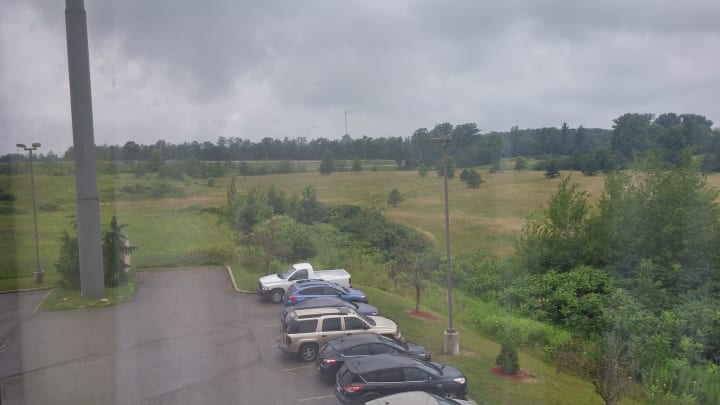 Livability
The room contained a mini fridge of a good size and a fairly powerful microwave making late night snacks, leftovers or small grocery runs a possibility. There was also a coffee maker with plenty of complimentary tea and coffee for the late night worker or the early riser.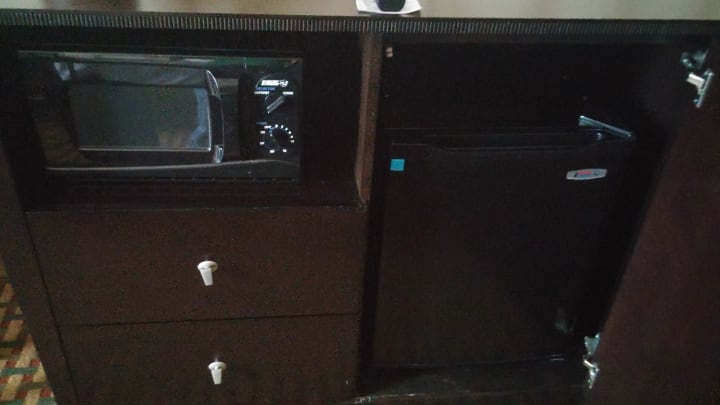 The hotel also had a downstairs market place which sold mostly microwavable foods such as hot pockets. It also sold sodas, chips and energy drinks. Prices were fair for a hotel although not quick as cheap as a grocery store. For those who prefer vended foods at the time of this post, the hotel had no vending machines. For extended stays, there was a guest laundry room on the second floor. The washing machines and dryers took quarters so this is not a complimentary service but one that is necessary for vacations lasting a week or more.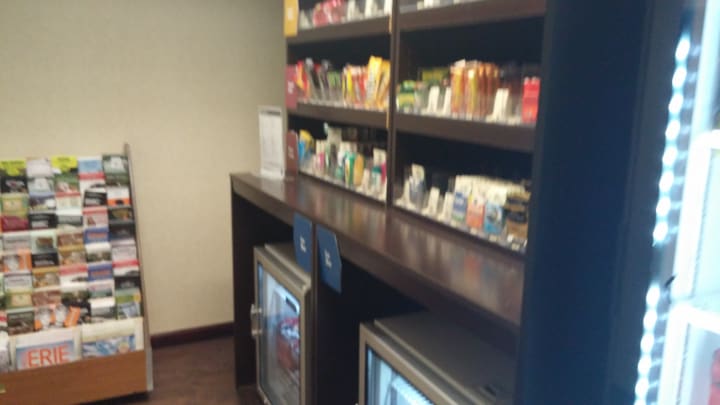 Stars: ★★★★☆
Cleanliness\Decoration
The entire look and feel of the hallways and bedrooms are dated. In my room, the wallpaper was split and the furniture was hurting for an update. The elevator made a very uncomfortable creaking sound which made me strongly question its max occupancy. I opted for the stairs the rest of my stay but was treated to a strong musty, almost moldy, smell that indicated at some point the carpet was wet and had not been given time to air out. The staircases also contained no windows. The tap water in the hotel also had a strong sulfur like smell making me question how drinkable it was. To be fair, this may have been due to the area. The downstairs lobby and dining area seemed to be the most up to date part of the hotel.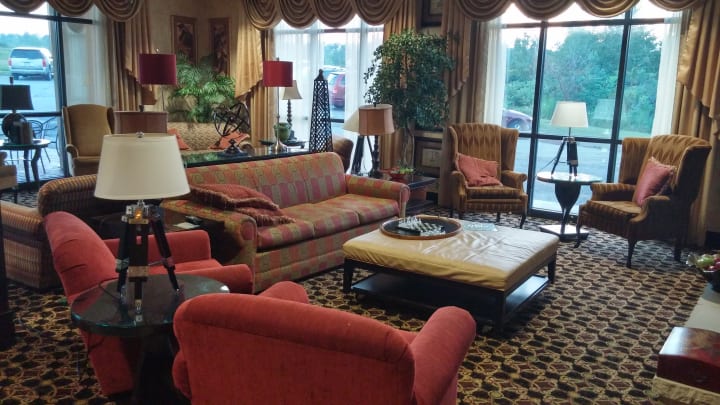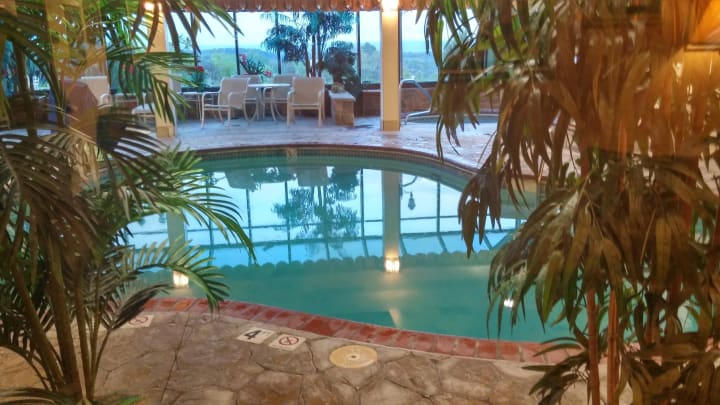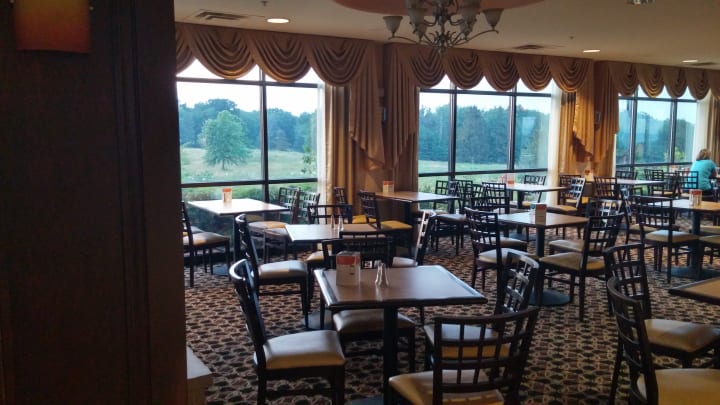 Stars: ★★☆☆☆
Proximity to Attractions\Restaurants:
For more extended stays, there was a Wal-mart across the road I found myself frequenting for snacks and other food\drinkable items. I am one who prefers to eat at local restaurants rather than chains but I had a difficult time finding anywhere to eat at all in the town of Edinboro. In the immediate vicinity of the hotel there was a Wendys; traveling up the road I was able to find a little Caesars, a McDonalds, and a Tim Horton's but little else. I found myself traveling to the nearby town of Erie for a more diverse food selection something I dislike strongly when I am on vacation.
The Comfort Suites benefits by being in close proximity to Edinboro Lake which appears to have had a small beach. At the time of this post said beach was totally underwater. The strongest benefit is Erie Pennsylvania which includes attractions like Splash Lagoon, Erie Zoo, Bicentennial Tower and Presque Isle Downs and Casino is only a 15-minute drive away. This places them at just a far enough distance to not need to pay too high of a premium on the cost of the hotel.
Final Thoughts
I found my stay to be pleasant with only some minor grievances. The pricing on the room was a little bit higher than the quality that was offered. I found the Jacuzzi pleasant but the bottom jets very odd. The complimentary breakfast offered was among the better I've had. It included waffles, white or wheat toast, eggs, and sausage with a beverage selection that included orange, grape and cranberry juice. The hotel has enough to make it good for long business stays and one could easily visit for a week at this hotel but beyond that might be uncomfortable. There wasn't that made my stay at this hotel unenjoyable but it would not be my first choice.
Quick Points
Address: 1007 Marketplace Dr, Edinboro, PA, 16412 United States
Pool: Yes There is a pool.
Offers Wifi: Yes. It is public. There is no password. It is not a fast connection.
Complimentary Breakfast offered: Yes
In hotel restaurant: No
Price: $269 a night
Final Rating: ★★★☆☆