Chasing My Viking Past
Curiosity takes me to Bergen, Norway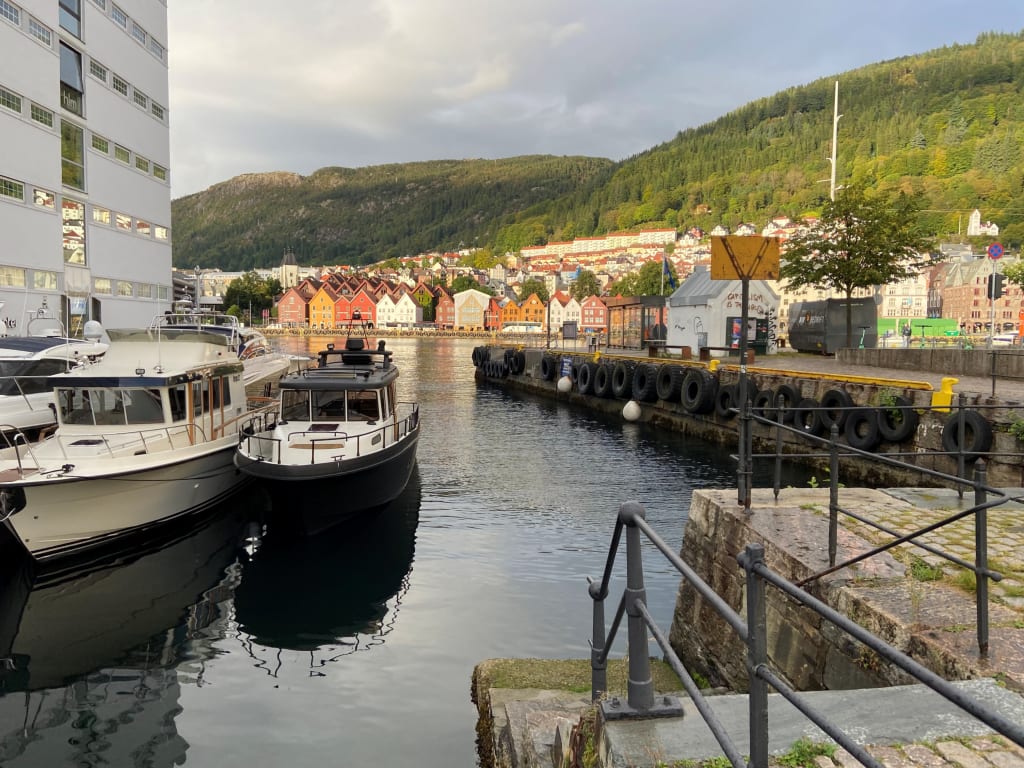 Bergen's picture-postcard waterfront. Photo by the author
As the high-speed train whizzed through the mountains enroute to the Norwegian city of Bergen, I reflected on my Viking past. A popular ancestry app said I was 14% Scandinavian, not much I admit, but who was I to question science?
I was well-aware of Bergen's illustrious past. I knew that King Olav Kyyre or Olaf the Quiet, founded the town in 1070 as a transit point for Viking raiders and their spoils. The Vikings were traders as well as explorers and I knew that trade with the rest of the world introduced Viking society to foreign manners and culture. Contrary to popular belief, not all Norsemen were unkempt, uncouth assassins. Successful raiders liked to show off their wealth. The Orkneyinga Saga, written in the late 12th century but referencing events two centuries earlier, tells of young Rognvald Kali Kolsson. a Viking and a future earl of Orkney who lands in Bergen after a trading expedition to England.
"Kali was a great dandy, and made a great display as he was newly arrived from England and thought a great deal of himself," the saga says.
Kali wasn't the only conceited, well-dressed Viking in town. Bergen was a complex, hierarchical society with a well-defined social order, a mix of karls and jarls and oh yes, slaves. Karls were farmers, craftsmen and merchants or what we would call the working class today. Jarls were a notch above, rich, powerful and trained in combat. They led the raiding parties. And the slaves, well, they weren't as fortunate.
I was anxious to see what was left of that early society.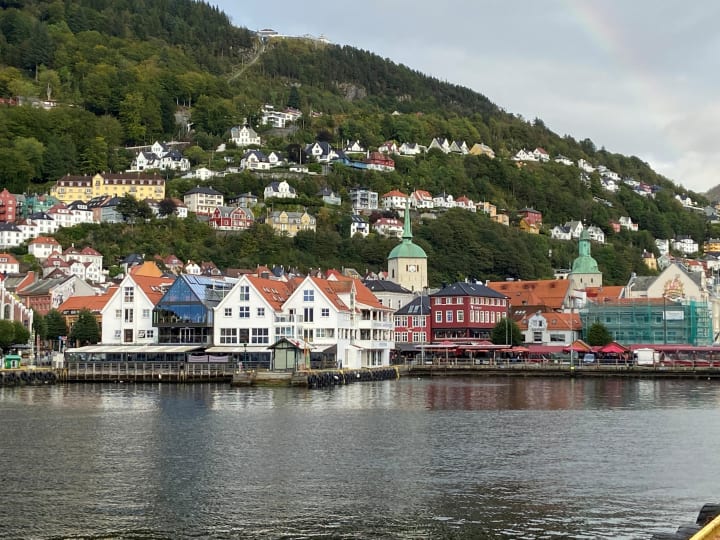 Sitting on the western edge of Norway, 462 kilometers north of Oslo, Bergen is sheltered from the North Sea by a series of islands and fiords. It used to be Norway's capital city until Oslo eclipsed it in the 1800's.
Bergen's present population of about a quarter of a million people live on or around the various mountainsides, the most prominent being Mount Floyen because of the hundred-year-old funicular that travels up and down the hillside. I rode the railway to the top for its spectacular view of the city and its harbor below. I imagined Viking longships unloading their cargo of silks, gems, and silver. Or furs, hides and whalebone if they were outgoing. Today, off shore oil drilling, aquaculture, and subsea technology drives the local economy and the harbor is choked with research vessels, service ships, tourist excursion boats and the occasional warship. Bergen is still Norway's busiest port.
Former warehouses, now rebuilt and brightly painted along the waterfront promenade, confirmed the city's maritime past. The date on one building said 1450. That's old but not Viking old. It's medieval old.
I learned that German traders, part of the Hanseatic League or Hansa, moved into Bergen in the 1200's to capitalize on the Viking trade routes and stayed for another 400 years. The League was a huge and influential trading block united in the pursuit of tariff-free or at least tariff-reduced prosperity. At its height it represented nearly 200 settlements across seven countries and dominated Baltic and North Sea commerce. As Bergen's Hanseatic village is the last surviving kontor (Hanseatic trading post) in the world, it is now a UNESCO World Heritage Site.
It felt weird yet exhilarating walking down narrow streets flanked by top heavy structures built to accommodate freight on the ground floor and living quarters upstairs. The buildings were remarkably well preserved and I truly felt a sense of mercantile life in medieval Bergen.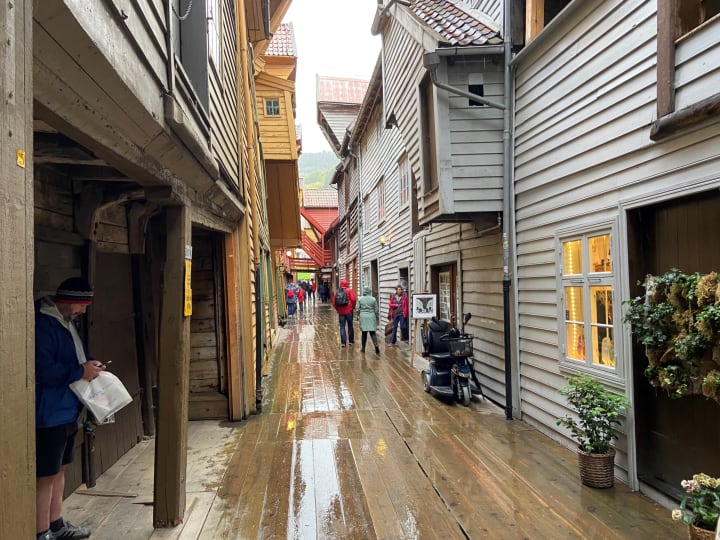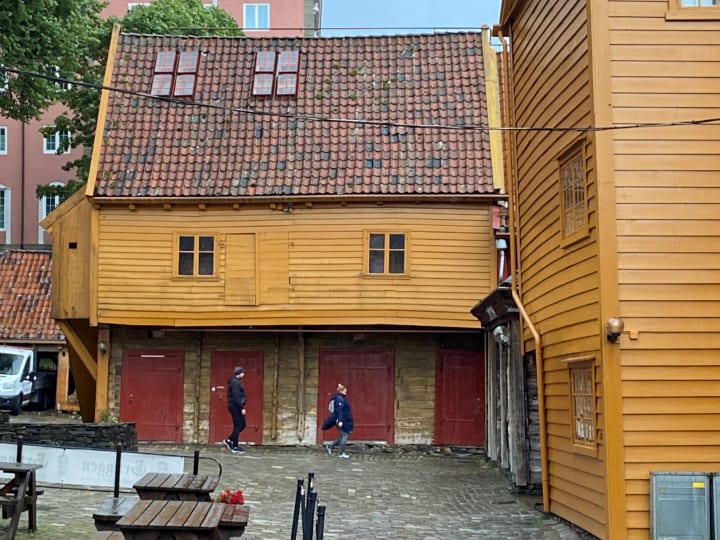 That medieval theme was continued in the nearby Bryggen Museum mere steps from the Hanseatic warehouses. I started my tour below grade where a glass floor allowed me to peer into a former archeological dig and see some original, charred timbers of medieval Bergen. The city is nothing if not resilient. Bergen endured 13 major fires between 1198 and 1771. The worst was in 1702 when 90% of the city was reduced to ashes. Yet every time Bergen caught fire, the residents rebuilt it and plowed the detritus into the harbour. Today, the infill has reduced the harbour to almost half its original width.
A display of medieval clothing was more telling. While ordinary citizens wore simple shoes made in the "turnshoe" method, hand-sewn inside out and then turned over, a woman's shoe, carefully constructed and covered in a delicate silk pattern told me Bergen's class structure was still alive and well.
After touring the museum, I stopped into a nearby bakery for a snack. It was packed cheek-to-jowl with English tourists. I struck up a conversation with a couple from Cornwall who told me their cruise ship was diverted to Bergen because of an oncoming storm and it had disgorged all its passengers on a 12-hour layover. They were in favor of Brexit; I thought it was a mistake.
I encountered more English tourists at the Bergenhaus Fortress, originally built to guard the entrance to Bergen harbor and expanded in the 13th century when King Hakon Hakonsson made it his royal residence and added Haakon's Hall. A watchtower was erected in the mid-1500's.
In fact I overheard many more regional English accents, from the cruise ship no doubt, while walking past other medieval structures on my way to Bergen's modern downtown.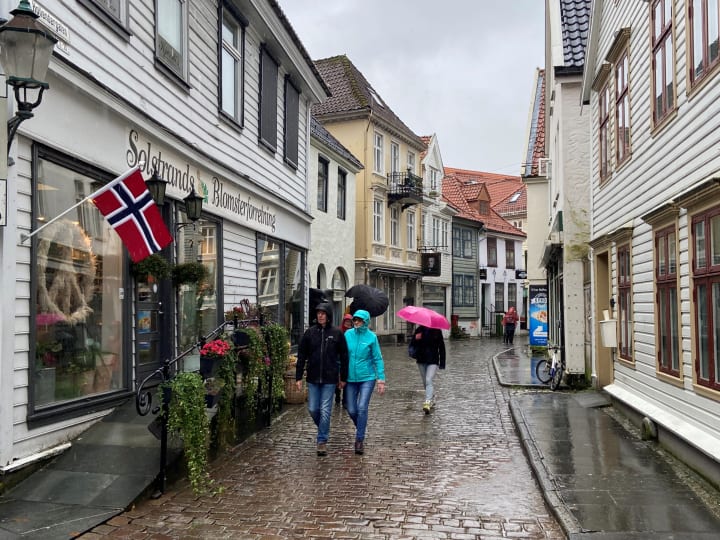 In truth, Bergen is more of a medieval town than a Viking one. The more meaningful sights like stave churches and an iron age farm are located elsewhere, farther up the coast and inland. Stave churches use a form of timber palisade construction favored by the Vikings and are very strong. The iron-age farm in Stavenger is a reconstruction built over the remains of an early settlement and showcases Viking Age utensils and artifacts.
Uncovering my Viking roots in Bergen was a bust but I sure learned a lot about medieval Bergen and thanks to mingling with those English cruise ship day-trippers, I learned a lot about Brexit, the upcoming World Cup and the British monarchy too. Illuminating but where, oh where, were the Vikings?
About the Creator
Former television news and current affairs producer now turned writer. Thanks Spell Check. Visit my web page at https://woodfall.journoportfolio.com
Reader insights
Be the first to share your insights about this piece.
Add your insights