A Day in Asheville:
The Land of the Sky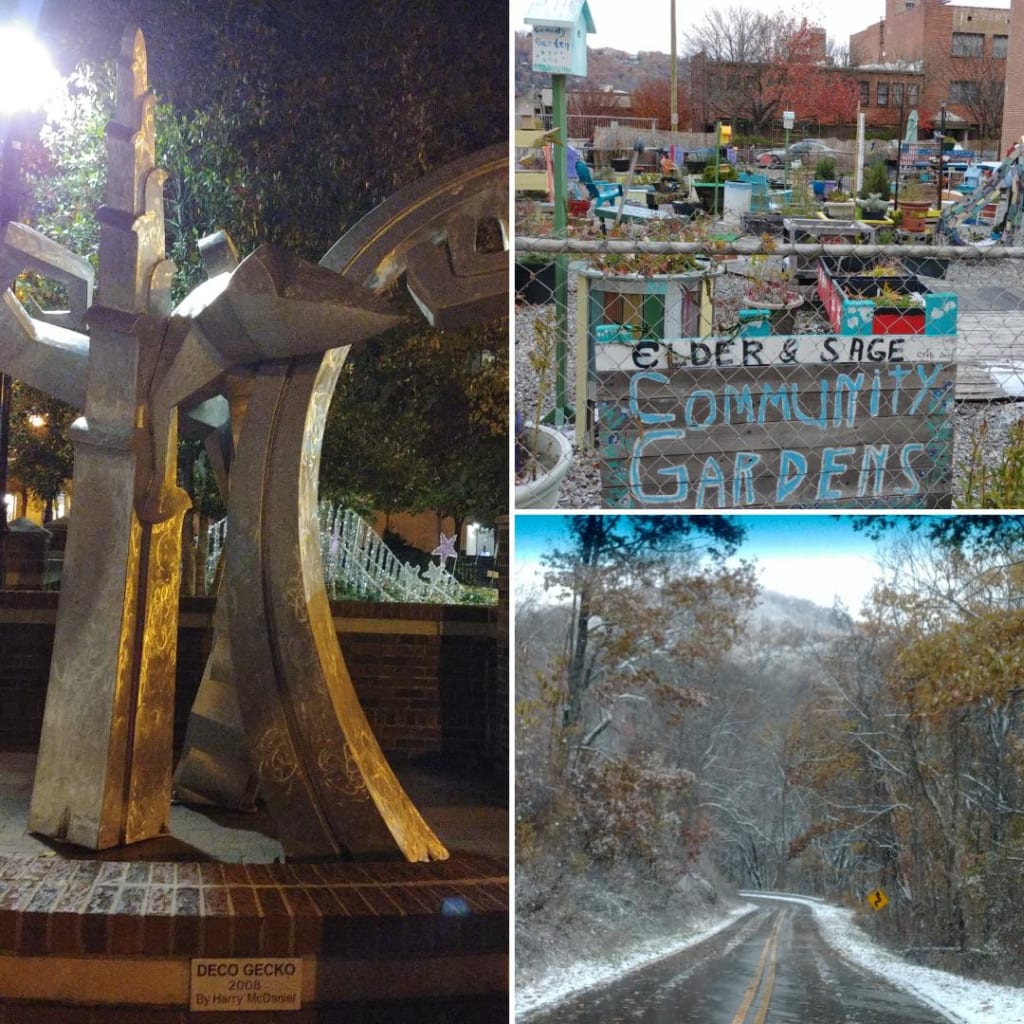 I had heard wonderful things about Asheville, North Carolina, but figured the hype couldn't match the reality. A trio of us took a day trip to the Land of the Sky and I could not have been more thrilled. Of course, we chose what was possibly one of the worst days, but that did not dampen our enjoyment. Last week, they got their first sprinkling of snow and we happily drove past plenty of snow crusted vehicles on our trip up. Nestled among the Blue Ridge mountains with two rivers, Asheville is vibrantly picturesque.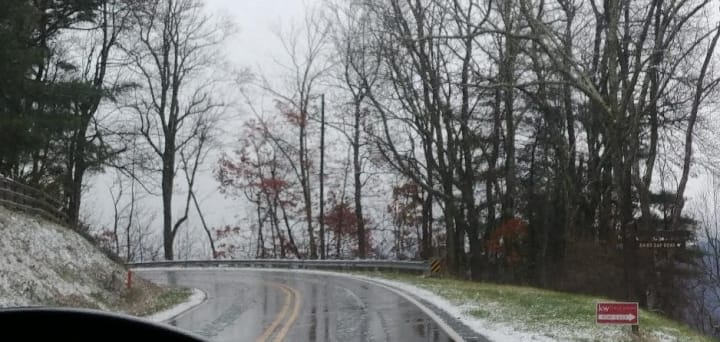 Winding roads lead up to tree covered mountains and the Blue Ridge Parkway. The Parkway is maintained by the National Park Service and much of the land on either side of it is as well. Unfortunately, the portion of the Parkway that we wanted to see was closed, which meant that the trail heads that lead to short trails and stunning vistas were also closed. I was glad we brought our truck since the steep roads were slippery with snow. We passed an accident as we wound our way back down the mountain. Missing out on some beautiful views was disappointing but they have been added to our list for our next visit.
Instead, we spent our time in the city itself. Windswept and chilled, we browsed the toasty shops, ate scrumptious food and saw the sights. Asheville has a high number of art deco buildings still in use, so it's a fantastic stop to view historic architecture. As I said before, we went on one of the worst days possible. That included the day of the week. There are multiple shops that choose Tuesday as their off day, but the ones that were open (and most of them still were) were wonderful. Below, find my top three stops.
Over Easy Cafe
Small and intimate, this cafe, located in downtown Asheville, checked every box. The only issue was that the hostess stand was located outside. Truly, that was really the only detractor since I felt bad for the hostess because it was intermittently flurrying. I completely understand the decision, though, as the stand would have eliminated two tables and there was already a wait: a good sign on a snowy Tuesday morning.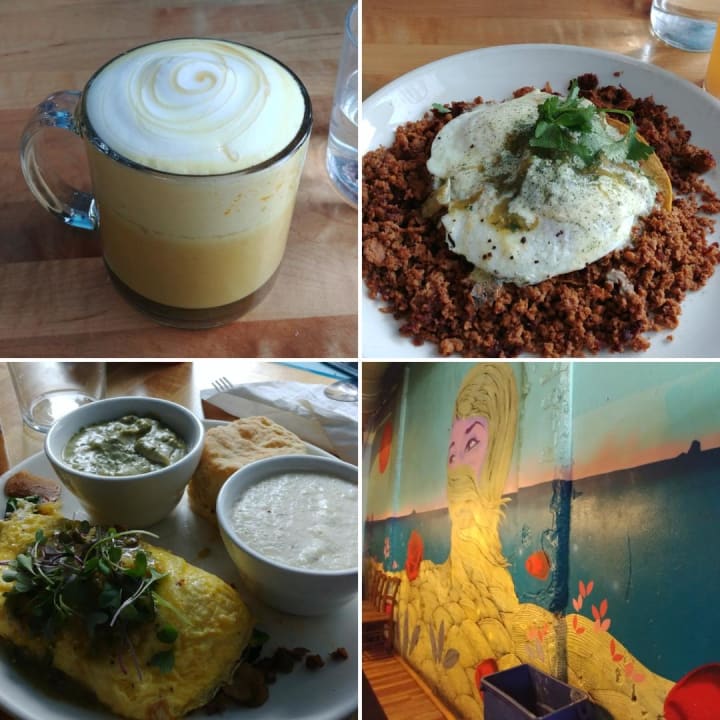 I started my meal with an apple cider mimosa, my boyfriend with a coffee, and our friend with a Golden Milk, a mild steamed milk drink that warmed him right up. The menu contains standard favorites, but also some unique options. I went with the Huevos Rancheros with chorizo. The tostata was crisp, the red peas cooked to perfection, and a fermented aji dulce pepper crema, a tasty delight. The chorizo was flavorful and the egg yolk blended beautifully into all parts of the dish. I could not have been more thrilled by my selection. We also got the Blue Ridge Omelet (chorizo, sunchokes, broccoli, arugula, drovers road cheese, and salsa verde) and the Sunburst Soft Scramble (hot smoked trout, scrambled eggs, shaved fennel, pickled mustard seed, fromage blanc, tetragonia, and sesame leaf furkake) and they were both exceedingly pleased by their choices. I tried the scrambled eggs: seasoned and cooked to perfection. The omelet was not my style, but my boyfriend was head over heels for it.
Art from local artists line the walls and the parts that don't have original artwork hanging, instead have been painted with various images. Everyone was friendly and on top of their game. I highly recommend this stop when you go to Asheville.
The Open Door
My favorite stand alone store that we found was The Open Door. It features unique clothing and accessories from Latin America, an ample selection of tye-dye, candles, incense, and other unique items. The ponchos and baja hoodies were warm, soft, and available in a variety of colors. They had many options for tye-dye too, including dark tye-dye (my favorite). They were equally soft and full of vibrant variety. There was a wide assortment of hats, belts, and jewelry as well as blankets, throws, and pillow covers. My boyfriend found some wonderful incense and I got myself a new tank top. The weather doesn't lend itself to it yet, but I fell in love. The woman behind the counter was very friendly and helpful. It's a beautiful shop and located directly next to a well stocked yarn and craft store.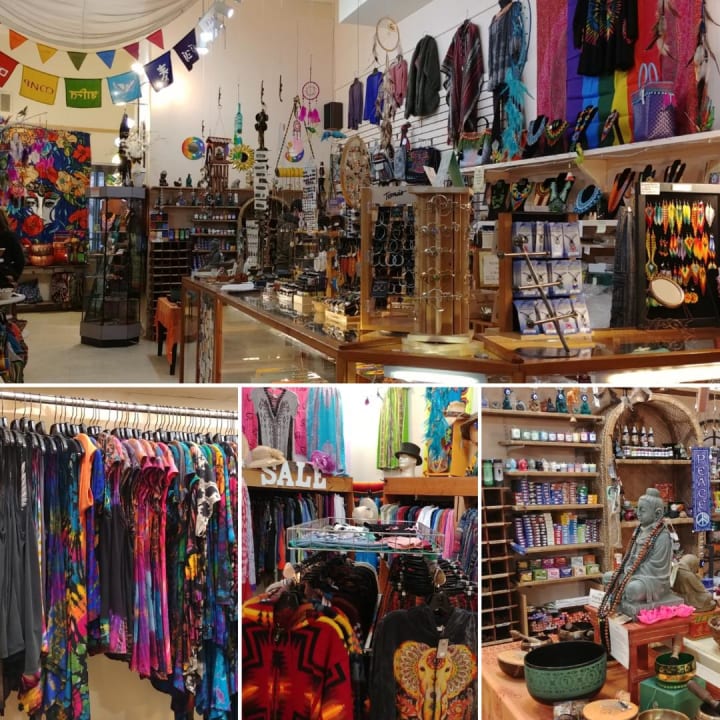 The Grove Arcade
This is a must stop for anyone interested in art and unique items. Plans began for the Grove in the early 1920s. It's creator envisioned it as a new kind of retail center in a truly elegant building. In an age where indoor malls are losing their vibrancy, it still serves its original purpose and is home to unique shops and restaurants in the heart of Asheville. While there are many beautiful shops to visit, there were two that particularly caught my eye: The Battery Park Book Exchange & Champagne Bar and Woodrow Instrument Co.
The Battery Park Book Exchange & Champagne Bar is exactly as it sounds. Tall bookshelves line the walls of the two story building, packed to the brim with an eclectic selection of titles. Wine and cheese boards are available for purchase. Mixed throughout are elegant seating options for enjoying your food and drink in a low key sumptuous environment.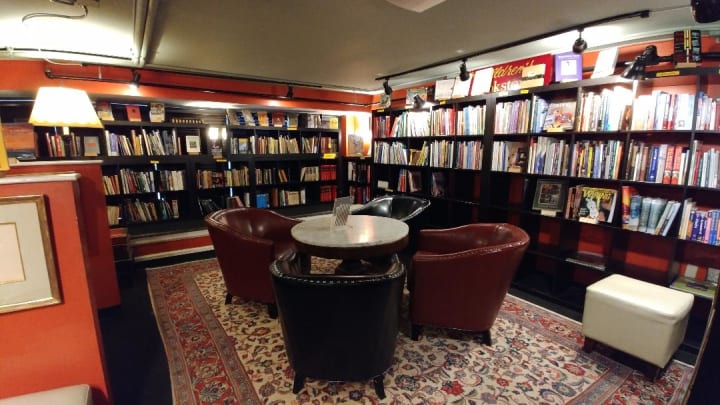 The Woodrow Instrument Co. create beautiful, handcrafted dulcimer hybrids in their Asheville and Winston-Salem workshops. They are string instruments that are easily learned because they have no wrong notes. The frets are based on a diatonic scale so everything sounds pleasing after you play around with it a bit, but can be re-tuned into different scales for a variety of sounds once you have mastered the basics. They are made from Appalachian hardwoods and built to last. The various woods give them different sounds and looks to each one. They are both beautiful to look at and listen to.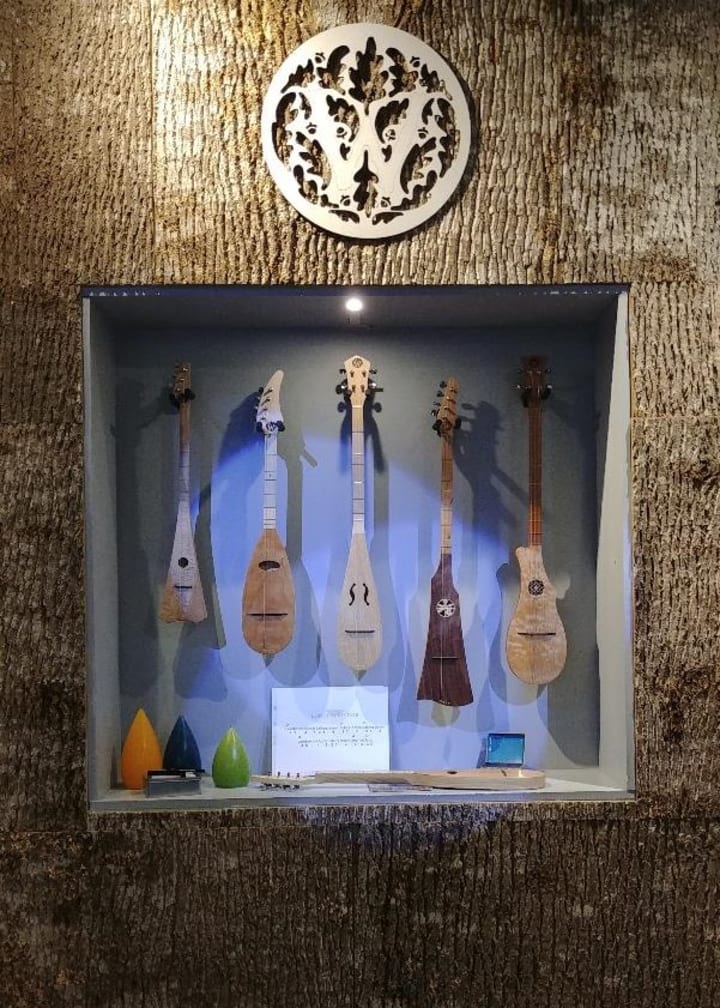 This shop made my list because even I, with my very serious lack of musical talent, managed to make some nice sounding noises, and because the gentleman manning the shop was just so nice. One of the founder's sons, he encouraged us to pick up any of the options from the shelves and to try. They were all light, conveniently small, and carried rich, beautiful tones. My two musician friends also enjoyed them, one of them making note of his favorite for a future purchase. I'm adding one to my to-buy list as well.
I saw our first trip to Asheville as an introduction to the area and I could not have been more pleased. We'll go on a less treacherous day next time, but even on the worst of days, Asheville has a lot of offer.
Don't forget to check out the chainmaille shop at www.InterestingIntricacies.com and pick up some unique, handmade gifts!