Natural Gems
Hiking in the Pocono Mountains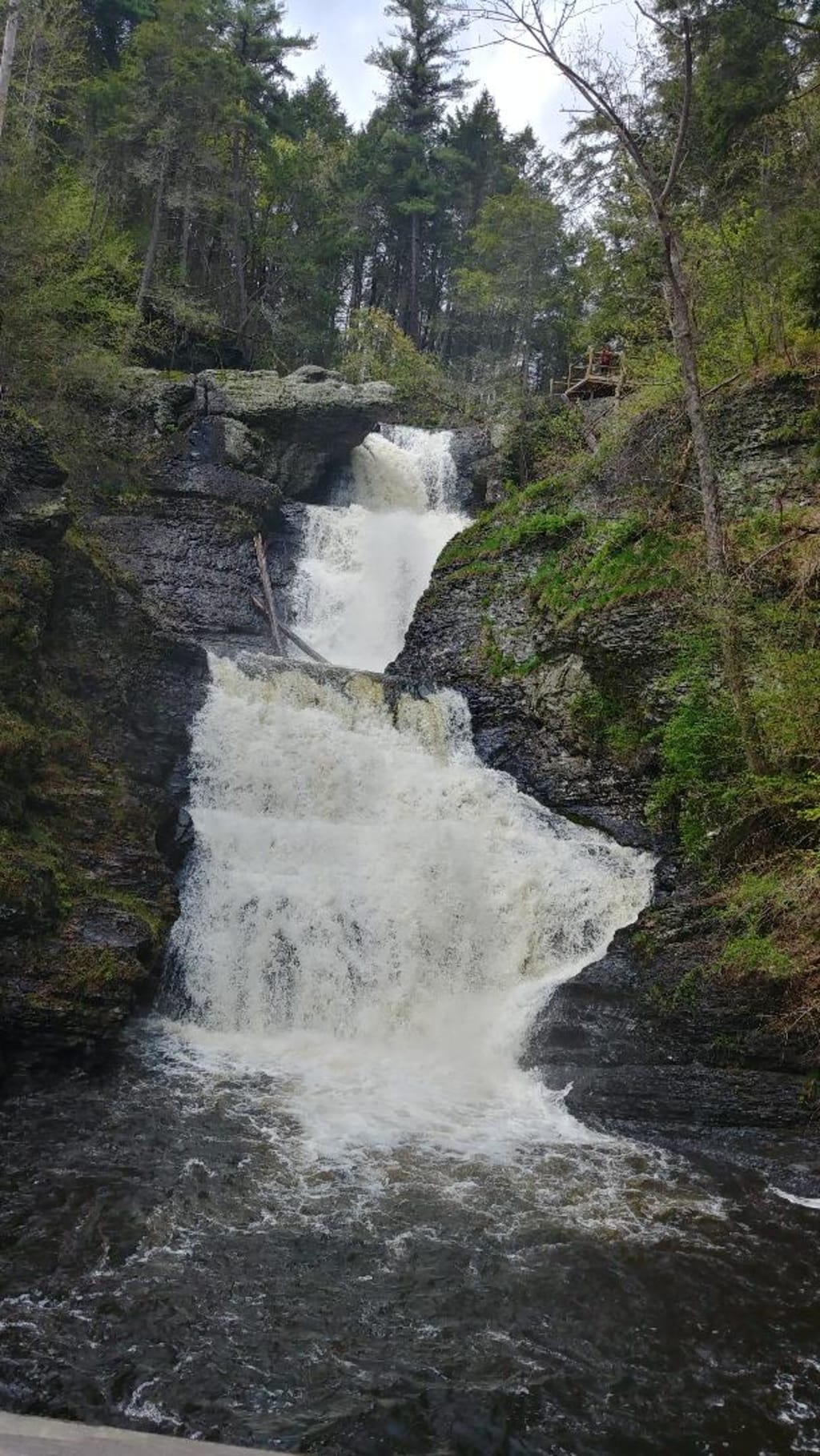 Raymond Skill Falls
From my earliest days, I have enjoyed spending time outdoors. Growing up in the Poconos allowed me to easily expose myself to the sunshine and greenery. In my youth, I played with the neighborhood kids, running through the woods and concocting interesting scenarios to act out. As a family we explored the various state and national parks in the area. I was lucky to grow up in an area full of gorgeous vistas and abundant wildlife and that love of nature transferred into adulthood.
My choices are a little scattered, but part of that is because the Poconos Mountains are fairly undetermined for me. Let's explore the term itself. Look on a map for the Pocono Mountains. Go ahead. I'll wait. Yep, that's right. It's a plateau. It's a fairly ambiguous term for the valleys, peaks, lakes, and river area of north eastern Pennsylvania.
Bushkill Falls (Very Easy)
I couldn't discuss hiking in the Poconos without covering Bushkill Falls, despite my chilly feelings towards it. It is pretty, but it's so crowded, and it's so manicured, and it's so easy. It is also the only pay to enter hiking locale on my list (unless you have photo ID to prove local residency).
Described as the Niagara of Pennsylvania, it boasts eight waterfalls, one of which is a hundred feet tall. Four different gravel lined trails weave through the falls with varying difficulty. The falls are beautiful and various wooden perches exist to get a better view.
I view Bushkill Falls as the place where the tourists go. I've been there multiple times, usually when bringing a relative to see the beauty of the Poconos. It is quite effective for that. It's perfect for inexperienced hikers and those with medical conditions because the difficulty of the trails is mainly just determined by the length. There are also ample benches to sit and rest. Personally, I just can't get over the commercialization and how excessively it is manicured (so much gravel…). They have plenty of other activities there as well, including gold panning. If that isn't commercialization, I don't know what is.
I also prefer less people and more nature. I enjoy hiking with friends, but I prefer to pass minimal people on the trail. I'm here for nature, not meeting new people. Also, I generally don't want benches. Give me a fallen tree or large rock to rest upon. They are generally just as comfortable but don't taint the ambiance.
If you want waterfalls and don't mind more of a drive, head on up to Rickett's Glen State Park. It's several hours (and well outside the Poconos), but there are campsites available and multiple days of potential hiking. The Falls trail is difficult and it's not a loop, but it's wonderfully stunning. It has twenty-two waterfalls, the largest of which is ninety-four feet. You can also get much closer to the falls, something that I enjoy much more than standing on a far away platform. There are more people than I care for, but far less than Bushkill. Be warned though, there have been deaths of people who have wandered off the trail and fallen from the waterfalls.
Now onto the good stuff...
Mount Tammany (Hard)
I have been climbing to the top of Mt Tammany for as long as I can remember. My first hiking memories are on the surrounding trails, and the view at the top is spectacular. Home to Sunfish Pond, Dunfield Nature Area, parts of the Appalachian Trail, and Mt Tammany, Worthington State Forest lies just across the Delaware River in New Jersey. I recommend all of these if you have the time, but my favorite part is Mt. Tammany.
Two trails lead to the top, blue and red dot. Both are accessible from Interstate 80, but I prefer to start on the blue trail. It starts with a trip through part of the Dunfield Nature and features a gentle slope up that follows a picturesque creek. There are multiple offshoots that allow you to sit and enjoy the ambiance. Some have boulders to sit on, others downed trees, but invariably, you can get a nice spot and enjoy the sights and sounds of the forest. These are great places to sit and draw or write. I've done both and enjoyed my experiences immensely, even if my creations were not the masterpieces I hoped they would be.
Just before the trail splits and starts its ascent, there's a bench that overlooks one of the larger waterfalls. While still small compared to falls on other trails, its beauty still captivates me. Alas, I have tried, and failed, many times to capture that scene with colored pencils.
Once the trail splits, say goodbye to water and hello to rocks. Surrounded by a thick forest, the rocky path steeply ascends to the top of Mt. Tammany. It's a beautiful trek, surrounded by the twitter of birds and the rustling of squirrels, however it is a trek, make no mistake. I've also seen deer, groundhogs, and bears. Oh my!
Yes, bears. It's okay. They're just black bears, not grizzly or polar. Simply give them a wide berth and don't mess with them. If they have cubs, give them an even wider berth. As long as you don't do anything stupid, you'll be fine.
There are small blueberry patches along both trails. If you go at the right time of year, you can get yourself a nice, fresh snack.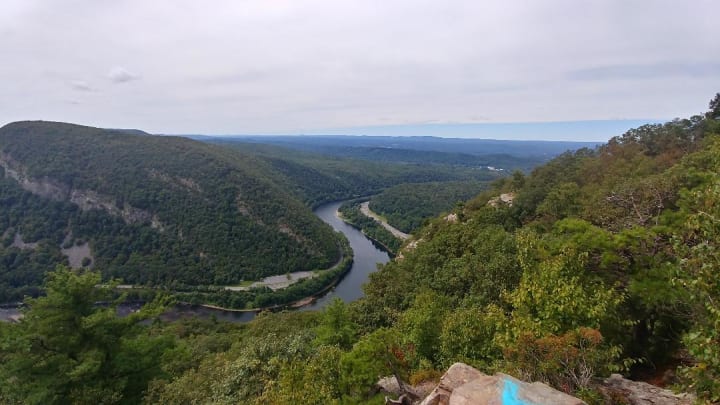 At the top is a long, slowly descending rock. The view can be captured at any point along the rock, but I prefer to go all the way to the edge. About one thousand five hundred feet up, the perch overlooks the Delaware River and the mountains of Pennsylvania. Unfortunately, Interstate 80 is included in the vista, but the sounds of the highway can be ignored fairly easily except for when massive tractor trailers tear by. This portion of the river is usually a beautiful dark blue and from that vantage point you can see the flows and sandbars.
When I go, this is where I prefer to spend most of my time. I bring snacks, a book, and creative activities. I draw the world around me, read in beautiful surroundings, and write to my heart's content. Other people come, but most don't venture to the edge (it is steep and devoid of a safety net). Especially on a weekday, I have my perch all to myself.
When I'm ready, I take the Tammany Trail (white with red dot) down. It's steeper and less well marked. Invariably, I wander a little off course and have to find my way back. The sounds of 80 follow you down, but it has some great views of the Delaware River and Pennsylvania. It's also the shorter of the two trails, so if you're ready to go, it is faster. Be careful though, this one is much steeper than the blue trail.
Gifford Pinchot State Park—Thornhurst Tract (easy)
For those of you who may not know, Gifford Pinchot was instrumental to conservation efforts across the country and worked with Theordore Roosevelt as a conservationist. While he didn't support preservation just for the sake of beauty, he strongly pushed for policies that worked with industry while still preserving the natural world.
My boyfriend and I visited this particular plot of land as our first experience backpacking. Unfortunately, we arrived too late in the day to make any meaningful distance on the Choke Creek Nature Trail, which is about six miles in length. We made a rough campsite and called it a night. We woke the next morning and walked for about half an hour until we found an incredibly picturesque site: A sturdy fire pit next to an old, thick pine on a short rock outcropping that overlooks a babbling brook. Of course, we had just woken up and had more hike in us, but we remembered. Along the path are more picturesque campsites, but that first one is the best.
The next time we came, we headed directly for the beautiful campsite. When we rounded the corner, we found the same beautiful landscape and someone had made some stone chairs in which to appreciate the fire. The last time that we went, someone had made the stone chairs into a log bench, which was much easier on the booty, but could have used some back support. Both times we brought new people and each time they commented on how perfect and awe inspiringly beautiful the spot is.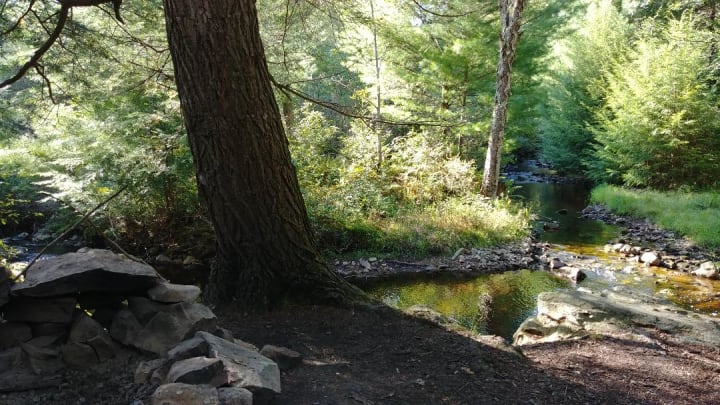 The Choke Creek Nature Trail is very narrow and fairly windy. Part of it roughly follows the creek, but there are other places as well. There's diversity in the trail, lots of beaver activity with dams, towering mountain laurel, and groves of trees.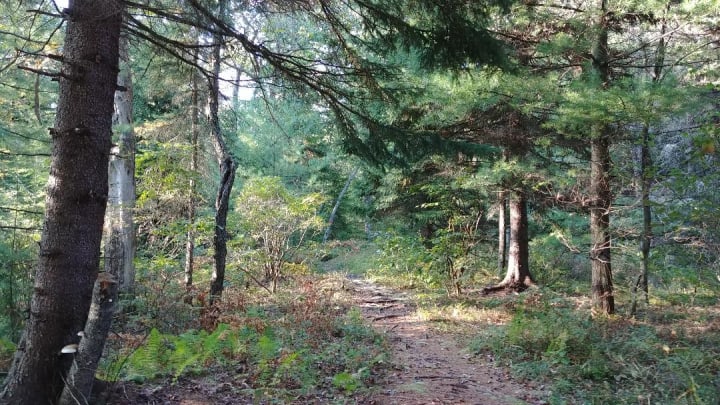 There are also some issues with the trail… First off, it doesn't seem to actually be marked on any maps. I just followed the signs once I got in (parking at the intersection of Tannery and Phelps, following the sign for the Howley Compass Course, and then taking a right at the Choke Creek Nature Trail sign) and it ends on Tannery Road. Also, I can see it being too muddy at parts during particularly wet seasons, but almost any trail near water will have similar issues.
Raymond Skill Falls and the nearby Cliff Trail (easy)
If you like waterfalls, and I do, Raymond Skill Falls is a nice stop. I would barely count it as a trail as it's only 0.3 miles long, but it leads to a beautiful stop, which happens to be the largest waterfall in Pennsylvania if each of the drops are added together. At the base of the falls is a wooden deck that allows viewers to take pictures and get a little wet.
But...the Cliff Trail is why I come here. Across the street is a long network of trails that weave through Raymond Skill Ridge. My personal favorite is the Cliff Trail. It's a 2.8 mile one way trail that weaves up to the top of the ridge and then provides multiple vistas to overlook the winding Delaware River.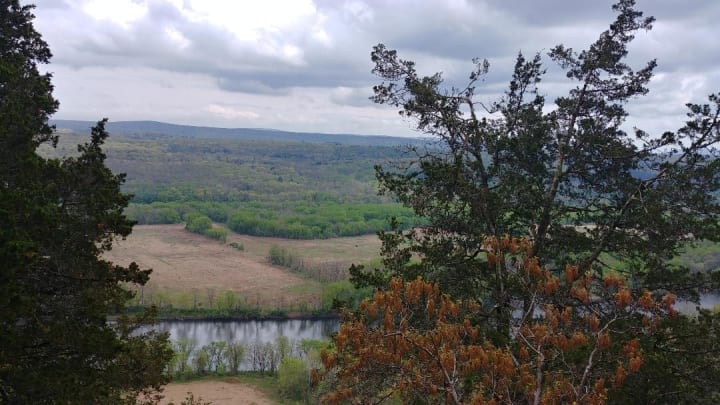 I came here multiple times with my boyfriend. We would tie up a hammock and overlook the green and blue world before us. He brought his guitar and I my writing and drawing supplies. There is an incline, but the trek up to the ridge is far easier than some others (including Mt Tammany) especially for the reward at the top.
Apparently, these views were so spectacular that early film crews used them as stand-ins for western landscapes. Actors such as Tom Mix, Walter Miller and Mary Pickford have been filmed on these cliffs.
The Poconos is still filled with natural gems and the ones I have described above are just a couple of my favorite examples from my time there. I recommend it for those with a desire for adventure and a thirst for the outdoors. While not the perfectly rural wilderness that I idealize from my childhood (and really who doesn't paint their early childhood home with rose colored glasses?), multiple conservation efforts have preserved massive green spaces to enjoy. Add it to your list. There are many solid spots to enjoy the natural world in all its glory.
Remember to check out my other stories on Vocal where I talk about food, games, and more! Also, check out my chainmaille shop here!