What Made People So Angry About This Picture of a Birthing Woman?
"I wouldn't show this image to my niece." How the most famous orgasmic birth caused uproar in the arts.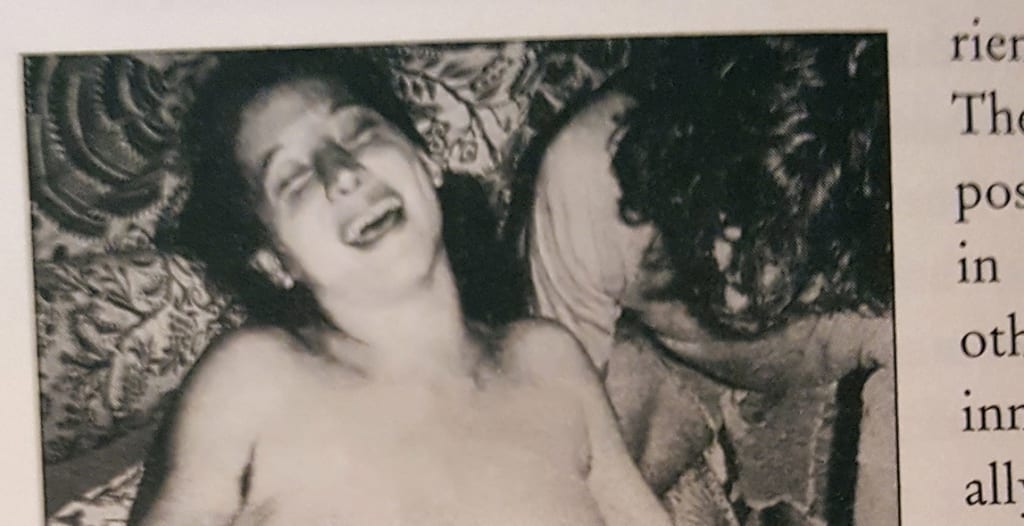 An image that has shocked, provoked and inspired mothers-to-be, world over.
Do you recognise this woman? Shot in the 1970s, it was just recently on exhibition alongside Tracey Emin and Paula Rego at the prestigious TJ Boulting in London.
It's an image that invokes both awe and disbelief. It's taken from one of the most famous childbirth books in history, Ina May's Guide to Childbirth, in which the original caption reads:
"Unmedicated, first time mother Terese, experiencing childbirth ecstasy."
Then, with a second image of her smiling as the head emerges further, the caption "Happy as can be."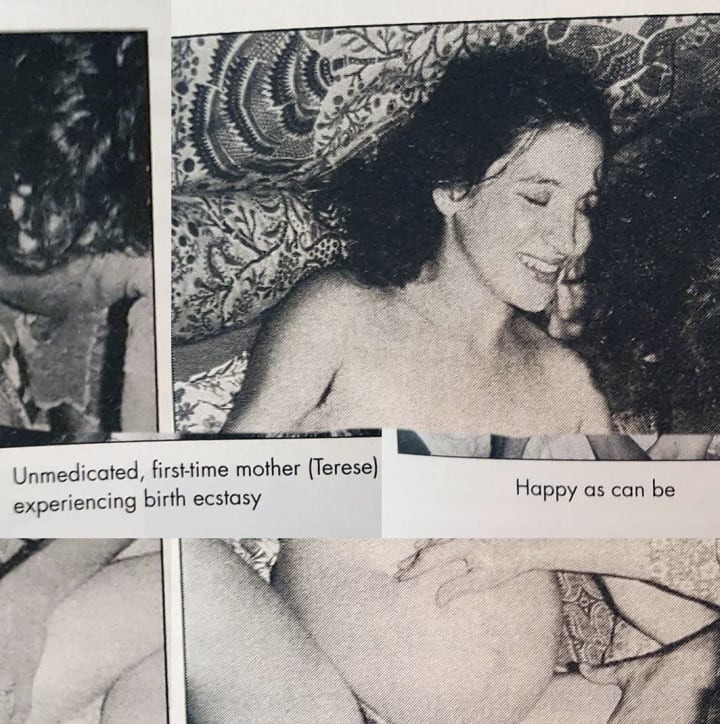 With a certain sad irony, the full image can't be shown on this website due to its restrictions on nudity. Click here to view the full image. (NSFW)
This was one of the first books that astounded me before I ever had children myself.
This double-page spread of Terese, smiling as she crowned her first baby, was my climax in a massive awakening that childbirth was not to be feared. The idea that birth could not only be doable, but enjoyable, blew my mind!
So as both mother and artist, I was fascinated that my favourite image from the American birth world, became canonised by the British art world. It was appropriated in 2008 by Hermione Wiltshire as an art piece, Terese Crowning in Ecstatic Childbirth (50 x 65cm), and now belongs to the Birth Rites Collection at Kings College London.
What's just as interesting is the controversy it's caused!
The Birth Rites Collection was started by mother and art curator Helen Knowles in 2006. It's a growing collection of contemporary art on childbirth, with over 70 pieces including paintings, photography, sculpture, film and new media work.
When it went on tour to the Glasgow Science Centre in 2008, Terese Crowning in Ecstatic Childbirth caused a "downright furore."
Helen describes in her essay, Feminism and Museums:
"The staff insisted it could not be shown in the entrance. When I was shuffled into a little room to try to discuss the reasons for this censorship, I was told, "I wouldn't show this image to my niece". When I asked what they deemed appropriate to be shown, the panel said, "you can exhibit the drawings by Suzanne Holtom of a forceps delivery". And yet no one was really willing to answer my question – why?

"Why did they need to "protect" their audience from a photograph of a birthing woman with an expression of euphoria and elation as the baby's head emerges from between her legs?"
"An animal disgust?"
Helen goes on to describe that when the work hung at Salford University, she'd regularly find post-it stick notes placed over the crowning vagina.
It was even done by midwives—and even when the picture was hanging in a private office!
"The look of pleasure on her face is suggestive of an orgasmic sexual experience. In a world increasingly exposed to viewing pornographic images of women in a sexually aroused state, it confuses and subverts the norm: birth, commonly viewed as painful and handled by medics, is not only enjoyable but also a highly sexual experience." (Knowles)
These were just some of the controversies. I listened to Helen recount even more when she and I both spoke on artist panel 'Birth, Body and Performance' at Brunel University in June 2018. She also adds, "the constant negotiation required to keep this ever-changing and pertinent group of art works on show never stops, but that is what makes the collection so very exciting."
Kings College London is the new proud home for the Birth Rites Collection (and includes a donated piece of my own, Aquadural, from Birth Undisturbed).
Just as the infamous Terese piece finishes its stint at TJ Boulting, it travels to another show opening at Richard Saltoun Gallery in London on 15th November 2019, entitled Matrescence, "a term developed by anthropologist Dana Raphael in 1973 in an attempt to theorise the transformational processes of becoming a mother—one that is never really fully resolved."
It seems the art world is increasingly turning its attention to birth of all kinds. Last year, Carmen Winant filled the MoMA with 2,000 diverse images of childbirth in what was praised by The New Yorker as "daring, bold move" by its curator Lucy Gallun. In the same year, Facebook and Instagram changed their terms to free images of childbirth from censorship—including breasts, blood, and vaginas, finally decategorising them away from violence and porn, and into family viewing.
I believe a turning of the tide for what I call 'high maternal art' is thoroughly here.
The Birth Rites Collection can be seen online at http://www.birthritescollection.org.uk/
art
About the author
I am a fine-art photographer and mother based in the UK, creating Birth Undisturbed, an award-winning series staging scenes of childbirth. (www.birthundisturbed.com). All proceeds from clicks and tips go toward the next in the series.
Reader insights
Be the first to share your insights about this piece.
Add your insights