Why I'm Obsessed with the Bloodshed of Birth
How it fascinated me as a child, and continues to inspire me today as an artist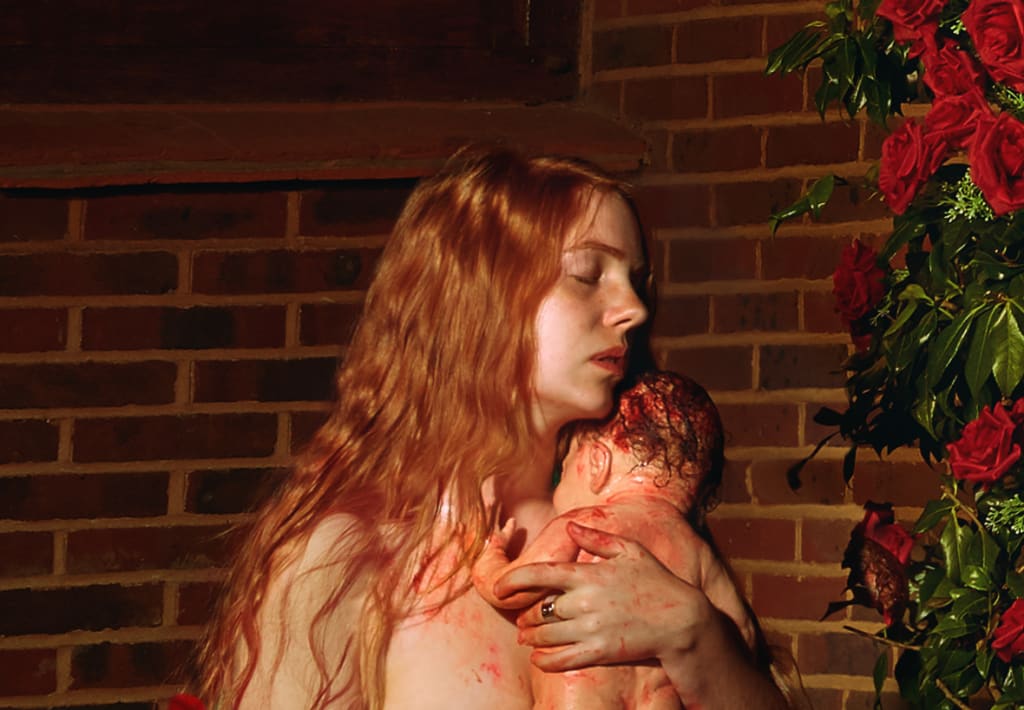 The moment a mother and a baby are born forever impacts them both. (Picture from Birth Undisturbed by Natalie Lennard)
When I was little, I was curious about childbirth simply because it was never talked about. A woman would grow a baby in her belly, it would become a big bump, then one day, a baby appeared as if by magic.
The "birth" wasn't talked about or pictured, but sounded so interesting. I wanted to hear the woman talk about what it was like. I wanted to see behind the curtain, for the flesh, the blood... A childlike intrigue for a mystery that wasn't so much 'morbid' curiosity, but the joyful inverse of death: the creation of new, bulging pink life.
Childbirth: so many contradictions.
Such bloodshed we only see otherwise in death or violence.
Such sight of nudity and genitalia we only otherwise see in sex or porn.
Nowhere else is all this so 'family safe,' so connected with joy and normality.
Birth happens thousands of times a day, yet for each woman only a few times if ever, and for each of us just once.
Such mystery, yet banality
Birth can happen at home, as easily as a bowel movement, the woman going back to her daily tasks. Or it can be a high-tech, medical, or surgical affair; sometimes a life-threatening day for both woman and child, involving weeks or months in confinement.
During giving birth, woman is at her most vulnerable, yet her strongest.
Birth has precipitated centuries of tools, drugs, and philosophies. Or it can need nothing but patience and a dark room.
Birth can be extremely painful, the hardest thing a woman experiences. Or, a woman may not even choose the word 'pain' to describe it.
More often, it's an exquisite blend of pain and joy entwined, the work of moving mountains: something unfathomable for our culture that likes black and white... something that needs many more pages to describe.
Trauma or joy
Birth can be traumatic, or the most joyous empowerment. Yet we cannot split births into positive or negative. Natural doesn't equal positive nor medical always mean negative.
Biological complications seldom take on such traumatic resonance as much as a lack of tenderness or support. A woman can be broken by simply how she was treated.
And then, how she feels during her birth isn't always the same as how she feels after. She is a different animal in birth, and will discover things upon reflection years later.
Still we've only talked of the woman...
The baby being born, going from womb to air—even in the most undisturbed birth—goes through tremendous upheaval, forever influencing their unique self.
And because we are human, we need to know pain and struggle to become strong, so being born with difficulty is not always negative, but a cog to the positive.
How complex birth is, and yet, we haven't even touched on the effect on the family and attendants who witness it; what someone once described as that 'disgusting miracle of nature.'
I am a photographer and mother so obsessed with birth I'm making a fine-art series all about it, Birth Undisturbed, which you can see at Birth Undisturbed. I recently started writing for Vocal to share my images and words—please check out my other articles and you're very welcome to share them anywhere you'd like. All revenue from clicks and tips go toward the continued making of my series. Thank you!—NL