Thinking of Trying Menstrual Cups? Here's 3 Reasons Why You Should
Easy, affordable, and supporting the people who actually use them, these silicone cups can (and will!) change your life.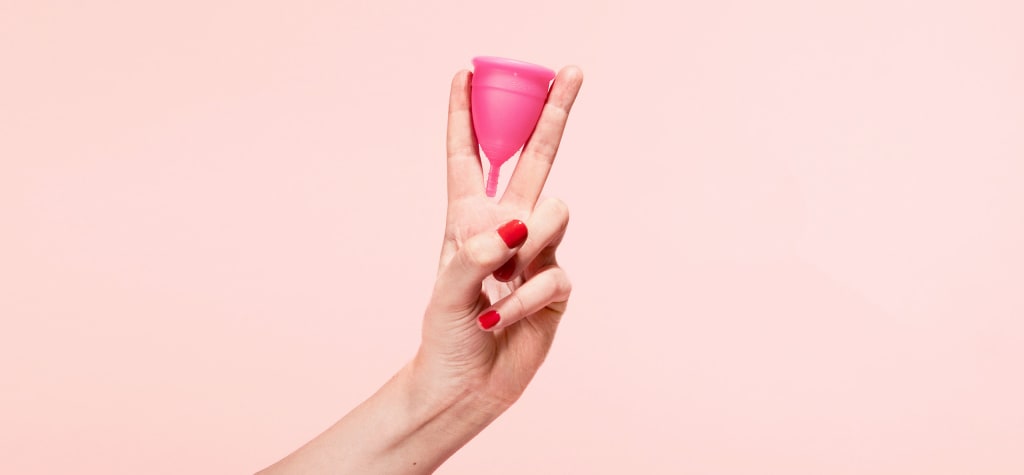 As I write this, I'm laying flat on my couch, using a kitten as a hot water bottle, going commando in my favorite, cutest leggings. Oh, and did I mention I'm on my period?
How do I dare?? The short answer: a menstrual cup.
The waste generated by pads and tampons has worried me since my first period, and I spent my teens and early twenties trying not to feel too bad about it. The average woman can use as many as 10,4000 tampons in her lifetime, though, so its hard not to feel guilty from time to time. Which is a shame, since its not like we ladies can help it.
This was the main reason I was driven to try a menstrual cup for the first time. The idea of a mess-free, waste-free period was so exciting! But there are other ways a purple silicone cup has made my life so much better.

1. They're super easy to use.
I'm squeamish and ultra-sensitive, so I've never cared for tampons. They say you're not supposed to feel the tampon; but the first time I ever used one, if felt like I was sitting on a stick. I couldn't wait to get rid of it.
If you're used to tampons, using a cup is just as simple. Instead of using an applicator, you fold the cup and insert it with your fingers—if you use applicator-less tampons, you're ahead of the game! The cup uses suction to form to the vaginal wall, keeping fluids within the cup, preventing leaks and TSS.
As with anything, it comes with a learning curve, but its easy to get a hold of. My recommendation is to get used to the idea of... well, spelunking. Its useful to check the suction seal, to make sure the cup has fully opened. Otherwise, you can end up with a nasty, and discouraging surprise. My advice is to not give up, and practice using the cup before your period starts.
The best part for me is that you seriously CANNOT feel these things. The first time I tried a cup, I couldn't believe the difference! Unlike a stick of compressed cotton, the silicone molds to your body, and moves as you move. You can sit, stand, run, swim, and do yoga on your period, and forget for a while that you're on it at all!
2. They're cheaper than you think.
When I first started looking into these little marvels, the top results were out of my price range. Lily Cup, Luna Cup, and Diva Cup are some of the best selling brands - costing upwards of $40 for a single cup! If you're like me, you're probably wary of spending so much cash for a product you aren't even sure you'll like. I wondered what to do about this...
Then, on a whim, I did a search on the Wish app and found TONS of medical grade cups for only a dollar a piece! With shipping, my cup only cost about five bucks. Wish has never failed me before, and it really came through on this one.
This is a great solution if you're curious, but don't want to shill out all that money on something that might not be right for you. These $1 cups come in at least two sizes and a rainbow of colors, and handle just like the branded ones.
The only downsides I've seen are that the silicone, while medical grade, does seem to stain after a few cycles, and doesn't come with a case or a bag to store it in while not in use. Neither issue takes away from its effectiveness.
However, once you've given the cheap on a shot an fallen in love with it, you'll find yourself wanting to buy a $40 cup, because...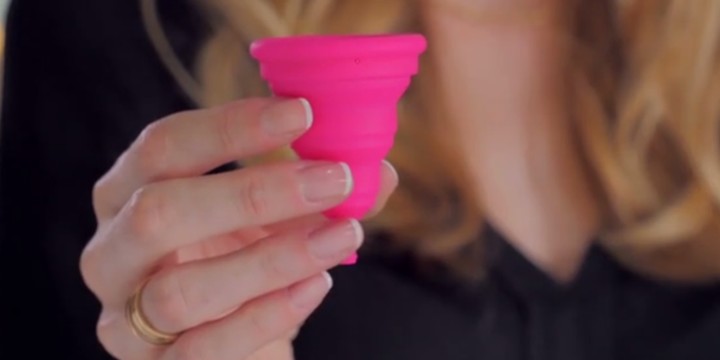 3. They are made by women, for women.
Brands like Always, StayFree, and Kotex make safe, clean periods possible for women all over the world. If you Google search for the people in charge though, you don't even get a person. Proctor and Gamble, Johnson and Johnson, and Unileiver, respectively, simply produce the products under those brands. And only one of these corporations is run by a woman at all.
Meanwhile, there's Karin Kohler (MeLuna), Celine Saliba (Fleurcup), Julie Weigaard Kjaer (Ruby Cup), Carinne Chambers-Saini (Diva Cup), Heli Kurjanen (Lunette), and I could just go on and on. The people making most menstrual cups are the same ones who actually need and use them. The way it should be.
I spent a good deal of time looking these fine ladies up. What really seems to unite them all in mission is the simple fact that females menstrate, and that its more of a hassel than it needs to be, and the time has come to change that. Thus, they've founded companies making a product that will improve all our lives.
By the way, Ruby Cup has a Buy One, Give One program—buy a Ruby Cup, they donate one to a woman or girl in a developing country. Here's a link to their page - its awesome.
And there are many, many more reasons you will find that this simple change will improve your life. Do your research, take the quizzes, and learn all about them. If its vlogs you're into, check out Precious Stars Pads and Put A Cup In It, both available on Youtube. Both these vlogs were SO helpful to me in the beginning, and I know you will find them helpful, too.