Wladimir Klitschko Leaves Nothing to Chance by Preparing 100%
Boxing is like a chess match for the heavyweight champ.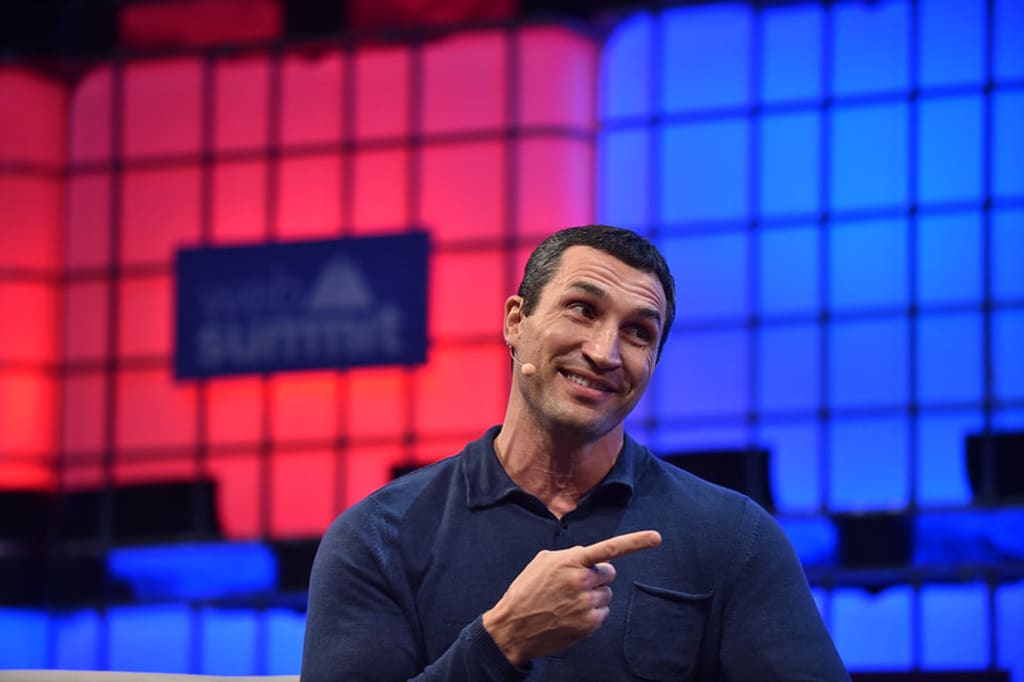 Photo by Web Summit
Heavyweight Champion Wladimir Klitschko was born in the Ukraine to a military father and spent much of his childhood moving around. The life on the run included the Czech Republic, Lithuania and Kazakhstan, but things settled down when California became his home front in 1991. Still, the slow down didn't obstruct his 59-3 career record, and the four heavyweight championship belts that he owns. On the way, the deadly blows he inflicts have him nicknamed the steel hammer. But being the toughest guy on Earth doesn't prevent him from admitting to a frailty that the rest of us could certainly identify with.
"I don't like to be hit," said Klitschko.
An acknowledgment that doesn't always sit well with the public. "People sometimes criticize me for being too defensive, but my strategy hopes to minimize the number of blows I receive," said the champ.
He also knows that the strategy works best when the other guy receives more on the chin. And that other guy could have been his own brother, who holds the remaining heavyweight championship belt.
Keeping the Belts and Parliament Seats in the Family
But who would have wanted to break up the brotherly fights in his household? "He's five years older than me, and while it would have been difficult to fight a guy who was so obsessed with sports, it was never about that. Traveling to some many different countries because of my father, I had one friend," said Klitschko. "It was my brother."
The same mindset applies to the professional ranks. "We're a team. We share these belts together, and we are never going to fight each other. I'm also really proud to have such a brother, and he's not just the heavyweight champ. He's also the leader of the UDAR party in the Ukraine and will soon be taking his seat in parliament," said Klitschko.
The Beginning, Back in the USSR, and a PhD
The decision to retire hasn't come yet for Vitali Klitschko, but the younger knows exactly when boxing first hit him. "One of the motivations for becoming a boxer was Rocky and Sylvester Stallone," said Klitschko.
The appreciation has now come full circle. "Never did I think I would end up co-producing Rocky - The Musical, and with the man that actually got me into boxing," said Klitschko. "We just had the premiere in Hamburg."
Germany closer to his origins, he remembers life on the far left and considers himself lucky to be able to draw comparisons. "Like anything else, there's pros and cons. I'm happy that I had a chance to live in both societies and see the difference between communism and capitalism," he said. "The experiences gave me the opportunity to learn from all kinds of people and mentalities. It's not something you learn by simply going to college."
On the other hand, the boxer didn't give himself a pass on higher learning and has earned a PhD in Sports Science. "I became interested as I was witnessing many young athletes with more talent than myself. They were being broken psychologically in the way they were trained. I set out to prove scientifically that the physical and the mental must be addressed with equal consideration to achieve the greatest success," said Klitschko.
All Talk and Promotion?
But while he doesn't include scientific dissertation among all the preflight hype, there's a definite certainty to the talk. "It's all real," he said. "Some fighters scream and pound their chest and others are more quiet. Either way, it's fun and helps build competition and creates a psychological aspect."
At the same time, he's found that all talk can quickly reveal itself once the time finally comes to put up. "Some people talk so much you wonder what it was all about once you get them in the ring. But no one was better at it than Muhammad Ali," he asserted.
In fact, Ali was so good that he made the stage all the greater for opponents like Joe Frazier. "In the 70s there were so many guys out there, but today there's no Joe Frazier unfortunately," said Klitschko. "It's not that there aren't good opponents, but it's also that no one could promote like Ali."
History, Friendship, and the Risks
Nonetheless, boxing history wasn't his strong point. "I really didn't know much of the history before I started fighting, but I slowly started to learn it as I grew up. So yes, learning of all the title defenses and amazing opponents of the time really says a lot," Klitschko reflected. "I also admire what Mike Tyson did. No one thought that as short as he was that he could generate enough punching power to be the champ."
The extremely close contact doesn't leave much room for friendship, though. "I have no friends who are boxers," he revealed.
But it's not really the pugilism that causes the disconnect. "We're from different countries, and we have our own training staffs. Then it's before the fight, during the fight and you move on," said Klitschko.
On the other hand, Klitschko knows that retirement may not so easily allow him to move on, but he accepts the risks. "Getting hit in the head isn't making you any smarter, but any job has its downside. Journalists go to dangerous places, politicians and celebrities are very susceptible to people who would do them harm," he said. "But you have to do what you believe in, because you think it's right for you."
Always a Chess Match
But once again, a strategy that minimizes the blows will hopefully give him a leg up. So he doesn't hesitate to hone his look ahead skills and doing so outside the ring is part of the program. "Chess makes you think and analyze. The whole idea is putting yourself in the shoes of your opponent, and this helps you prepare your own strategy as you compete," he reasoned.
In comparison, he finds that boxing is more likely to follow a script. "Boxing is very predictable—especially when you prepare properly. There's no such thing as a lucky punch," said the PhD.
So where does preparation fit into his three losses? "I wasn't motivated, and you lose when you're not focused. You have to watch tons of video, and in this, you can find the holes in someone's defense. So with 100 percent preparation, nothing can surprise you," he said.
It follows then that looking back is not in his nature_even when reflecting on his greatest victory. "When I retire I will tell you, because I feel my greatest win is always ahead of me," he concluded.
Please Like my Page on Facebook
Author can be reached at [email protected]
Reader insights
Be the first to share your insights about this piece.
Add your insights