'The World's End' is Not the End of the World for Simon Pegg
Sci-Fi movie delivers laughs for Simon Pegg of 'Star Trek'.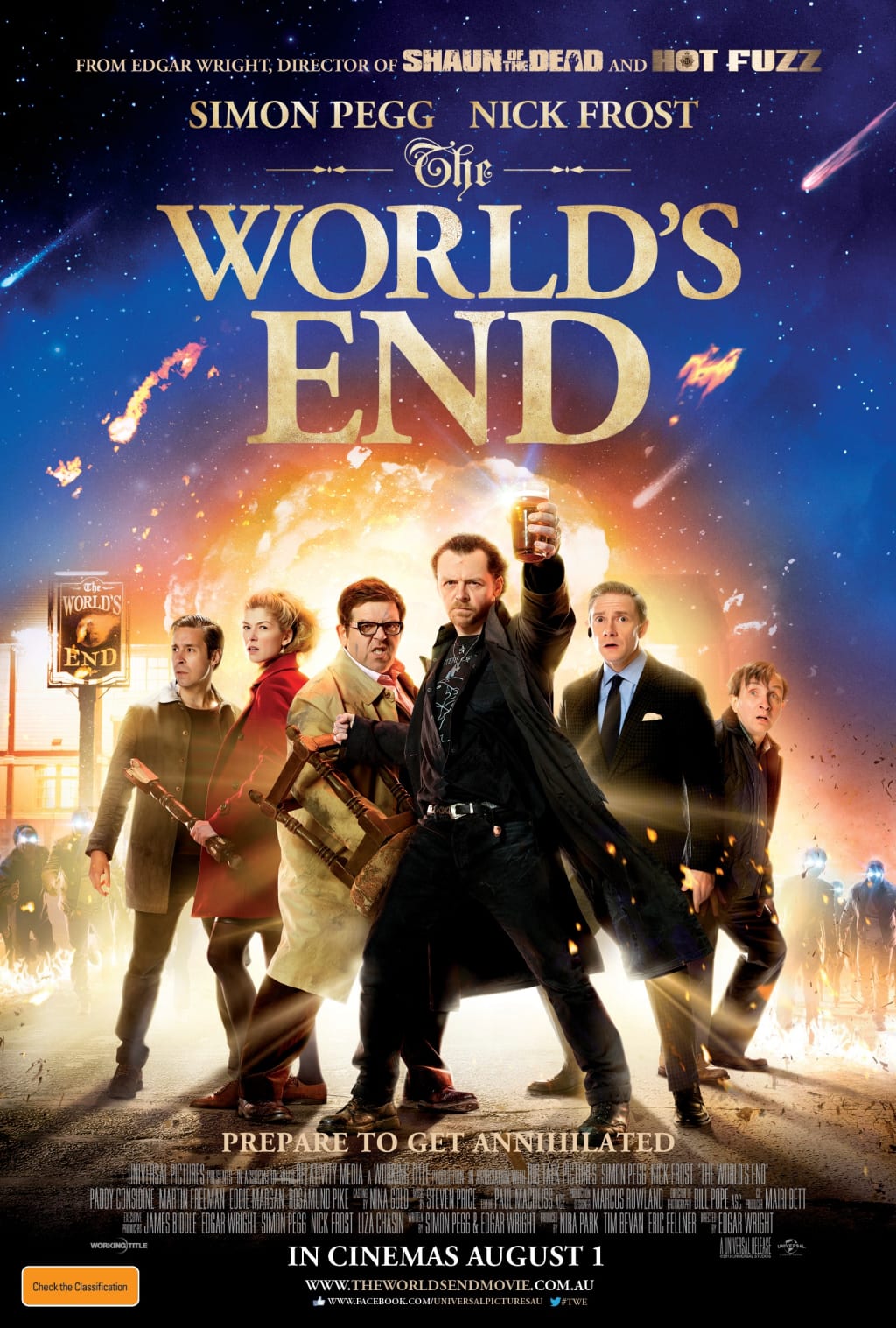 The Boys
The first years after college, getting the boys back together for homecoming was almost as seamless as lining up the next keg. But as the years progressed, bringing the past full circle fell victim to constraints such as family, work and sheer geography. That is until Steve started making threats as our 30 year anniversary loomed and permanent expulsions would be levied no matter the lame excuse. Simon Pegg knows the feeling and does his bit to recapture glory with atrophied friends in The World's End. So let's compare and contrast with this comedic sci-fi movie.
Our first big attempt came in 2006, and our instigator applied to the better angels of reminiscence from a trip to Plattsburgh the previous year. The preliminaries took place inside the inbred town of Willsboro, NY. "Tim, that 45 year old woman you put the moves on one night in the North Inn is still talking about you and would love to hook-up… I didn't give her your email address but I did give her Lisa's," Steve masterfully delivered the decadence in an email.
In hopes the whole thing didn't go up in smoke, he tried to entice with a storied cab ride and tobacco product called snuff that is snorted. "We hit every smoke shop south of the Canadian border and turned a 5 minute ride into a 1 hour quest. Once finding the right stash, Johnny excitedly snorted a tablespoon size portion, and before reattaching the back of his skull, he strung seven words together I've never heard. 'You do not want to try this. True to form, Johnny recovered seconds later, moderated his portions and we were slamming beers in the Monopole moments later."
Simon Pegg Makes his Homecoming Pitch
Unfortunately, the dissertation fell on deaf ears and the inadequacy of excuses did not sit well.
In accordance, Gary King (Pegg) was up to his task and poses the toppling of an old hurdle to ensnare his mates. "The plan is, we're going to go back to Newton Haven, we are gonna do the Golden Mile. And this time, we are gonna make it to The World's End."
Of course, none of his need reminding. "We hit pub one, and we hit it hard. There was drinking, there was fun, there was controversy, there were ladies, there were shots, there was drama, and of course, there was drinking," Gary lets us in on it.
Gary's impetus met by skepticism, he resorts to reason. "Why should getting older affect something as important as friendship?"
He's found a crack but all hinges on Andy who once fell serious prey to Gary's reckless pursuit of abandon. So the king lies. "Mum died," he tells Andy and his old quartet is back in the loop.
We found success ourselves in 2016, and we diverge again. We don't quite have a Gary who never let go and had his life spiral away, but we do have me.
Like a soul who never got closure at life's end, I'm hoping a turn into Monopole Alley conjures the girl in all her glory and provides me the words that still don't exist. The female procession actually endless, that's why I'm the first to sign on and the first to be disappointed.
Similar feelings of loss fuel Gary's drink and his domesticated accomplices lack of empathy have them reluctantly following. Andy plays headliner by ordering water, and Pegg sinks in the incisors. "A man of your legendary prowess drinking fucking rain. It's like seeing a lion eating some hummus," Gary can't believe his homecoming.
No such issue with my guys, we do converge on a similarity. Plattsburgh no longer is a place where the night teems with students trying to establish their own legacy. Apparently, they pursue immortality by studying.
Starbucks Menu Served with Aliens
As for Newton Haven, Starbucking has arrived. "Part of that nationwide initiative to rob small, charming pubs of any discernible character," Gary mourns the trend.
The effect seems to spill over into the populace too, but the actual reason is not quite as sinister as the misguided quest for higher learning. An alien race of robots formed hybrids with the people and envision global change for the flawed human race. What?
Yes, the movie takes a silly sci-fi movie turn, but the comedy doesn't and neither did ours. The boys certainly enjoyed four days of drunken golf, and Donny falling off his barstool made everyone proud.
I also stayed the course. I enjoyed the down times - kicking the hackie sack and the banter before actually going out. That makes sense since my favorite place in Plattsburgh was the library. A step removed from the main events, we did study, but there was plenty of goofing off and priming girls for the witching hour.
Of course, by then my efforts usually fell flat. However, our finale still had us all trying to out do each other and getting the upper hand among the female participants (even though none of them were actually trying to close).
Nonetheless, it was me who left the professionals in the dust. "If this was 30 years ago, all we would have to do is walk up the street a few blocks," I finally had the words for a lady that clearly was open to my advances.
So did I bust the constraints of my inept past. More importantly, how did Pegg square the past with the present and stay true to his quest - especially as his agenda is imperiled by invading sci-fi movie aliens.
The spoiler on me is some things never change, but you have to see The World's End to actually revel in the glory.
Reader insights
Be the first to share your insights about this piece.
Add your insights