Somers Red Storm Does the Little Things En Route to Undefeated Season
A Perfect Red Storm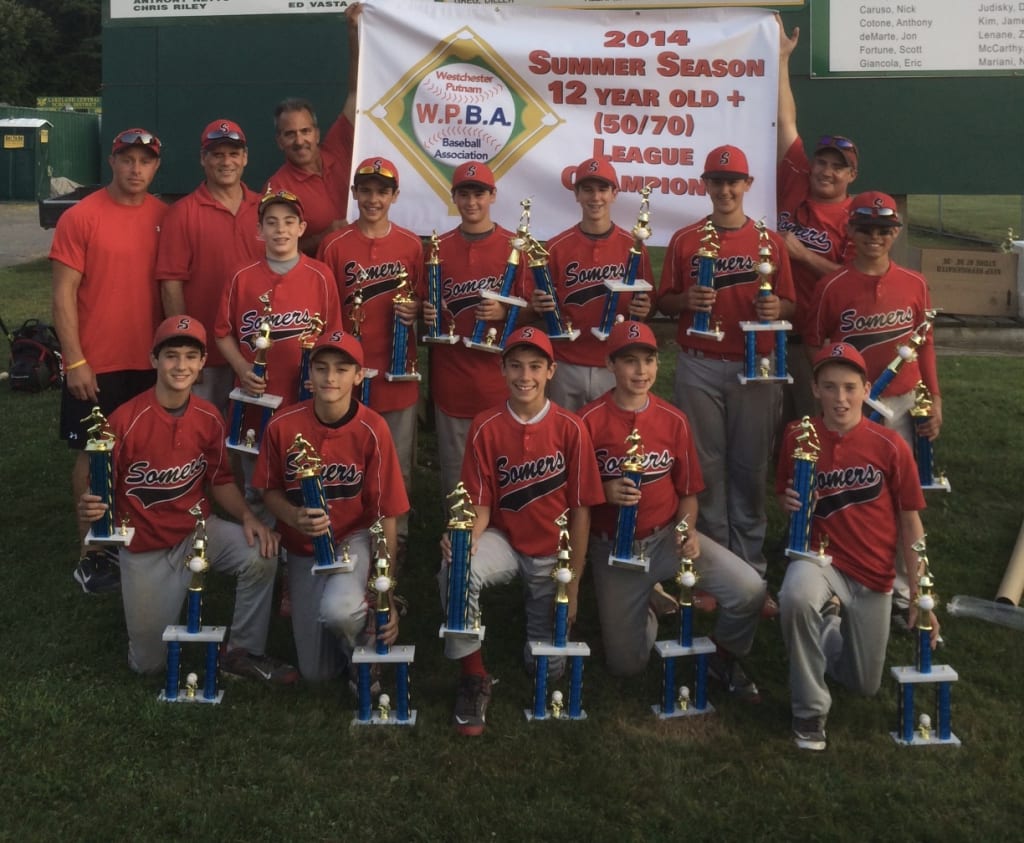 When compiling a 15-0 record in which your team outscores opponents 263-43, paring the unavoidable bloop with a multitude of blasts must be the general mindset. But en route to this undefeated onslaught, the coaches of the Somers Red Storm WPBA Little League team drills an understanding that baseball success largely hinges on maximizing the minutia
"The little things are what makes the difference," says head coach Joe Barbagallo.
Leveraging the ledger, that means moving the runners over with productive outs or taking a pitch if the runner is on the move. "We started that message last year, and we continue to reinforce it," said Barbagallo.
Of course, if the fundamentals succumb to a big bop, coaches doesn't give their best hitter a lecture on the basics. "Brandon LaSpina is hitting the ball really hard and leading the team in most batting statistics," said the head coach.
Solid Top to Bottom
Helping him ring up the ribbies, John Mollaghan does table setting and makes sure—for the meat of the order—that the meals are always on wheels. "His on base percentage is .657, he's fast and a good base runner," said Barbagallo.
Even so, the coach quickly realized that the bottom of the order would not only be able to roll the top but give it a run for its money. "In our first game, it took eight batters before we had an out," he recalls (while boasting a team OBA of .518).
Foretelling, in his estimation, the season's success.
Pitching and Catching Deep
Still, Barbagallo knows that keeping the ball down and hitting the corners makes all those runs across matter. "Our success is really built around our pitching," he says in singling out starters Joey Iorizzo, Mike Napolitano and Logan Carriero.
But in that regard, winning takes a backseat to preserving the health of his slingers. "I used to pitch, and nobody really took care of my arm," he said. "I ended up hurting myself so I try to focus the boys on throwing the ball right."
A caution he puts into practice. "If somebody has any issue we shut them down," said Barbagallo.
Luckily, his 11 man roster is the definition of depth. Great middle relief from Brandon LaSpina, Drew Lasher, and Joey Carino lets them mix and match, while son Michael Barbagallo and Dylan Morzillo put out the game ending fires.
Not overlooking catchers Jack Gorton and Anthony O'Donnell to drop the signs, the resulting goose egg in the loss column only provides a one game edge on Larchmont/Mamaroneck.
A 13-3 loss to Somers, a climatic final game awaits and then the playoffs.
Red Storm Thrives Under Pressure
Nonetheless, Barbagallo believes Somers holds an edge when the little things can't equal a two out clutch hit. Citing all the tournament play Somers did this spring, he said, "We have an advantage in the pressure situation because we put ourselves in that situation a lot."
Their performance at The Cooperstown Dreams Tournament in July speaks directly to this. Playing six preliminary games to bracket play, Somers ranked 31 of 104.
Barbagallo was particularly proud of the team's first round 10-6 comeback win against the 34 seed. But the fundamentals can only go so far when you share the bracket with a team consisting of players from all across Nevada and California. "I don't really want to say the score," he lamented the blowout to the second seed.
But conceding the details of the 24-0 drubbing was eased by the support his boys received from Somers fans. Every strike thrown, out recorded and batted ball was met with resounding cheers. "It was really a special game for us—even though we got beat so bad," he said.
Ready for the Future
Certainly doing Somers proud, Barbagallo notes that these kids not only play well inside the lines, but are pretty good at reading between them. "They all take their academics seriously and do very well in school," he asserted.
Looking forward, Barbagallo doesn't have a read yet on next year since teams usually disperse at the next level. He's got his pitch ready, regardless. "If this team stays together, I will assuredly being coaching them," he concludes.
Note: Red Storm won their final three games and then cruised to the championship. The Tuskers had 16-4, 1-0 wins over Lewisboro and Bedford and a 17-7 win over Mamaroneck in the final.
If you'd like a sports profile, game coverage at any level and/or photos, please contact me on Facebook at 914 318-0997 or [email protected]
Please like Somers Sports.
Photo Slideshows:
Reader insights
Be the first to share your insights about this piece.
Add your insights